With the growing popularity of air fryers, people have been experimenting with all sorts of recipes. But is it possible to cook meals without the basket?
The answer is yes – and this article will give you all the details you need to know about cooking without baskets in an airfryer. We'll discuss what types of food work best, how to set up the appliance correctly, and more!
With some knowledge and experimentation, you can turn your airfryer into a versatile kitchen appliance.
Can You Use Your Air Fryer without the Basket?
The answer is YES. However, it is not recommended. If you have to cook in your air fryer without the basket, keep the air fryer's airflow in mind and ensure it remains the same.
Why Would You Want to Use Air Fryer without a Basket?
Larger food portions: You might want to cook something larger that would not fit in the basket.
Two-level cooking: You can place the food on the bottom of your air fryer and place a baking sheet or tray on top to simultaneously cook two different types of food.
Cooking on skewers: Some people use skewers for cooking meat and vegetables in an air fryer, which would not work with a basket.
Specific cookware requirements: If you want to cook specific food that requires different cookware or additional utensils, you might need to remove the basket. Make sure the cookware is oven safe, though.
Your basket is damaged: If you do not have it or are damaged, it is best to obtain a replacement basket for your air fryer instead of attempting to cook without it.
The Consequences
Uneven cooking: The food may not cook evenly as the hot air may not circulate properly around the food without the basket. This can result in some parts of the food being overcooked and others being undercooked.
Burnt after-taste and Sticking: Without the basket, the food may come into direct contact with the heating element or the bottom of the air fryer. This can cause the food to burn, stick to the air fryer, or become difficult to remove.
Risks of a hazard: Cooking without the basket can also cause excess oil or grease to accumulate in the bottom of the air fryer, creating smoke or even a fire hazard.
Malfunction of the device itself: Cooking without the basket may cause malfunction to the air fryer. This is because the air fryer was not designed to be used without it.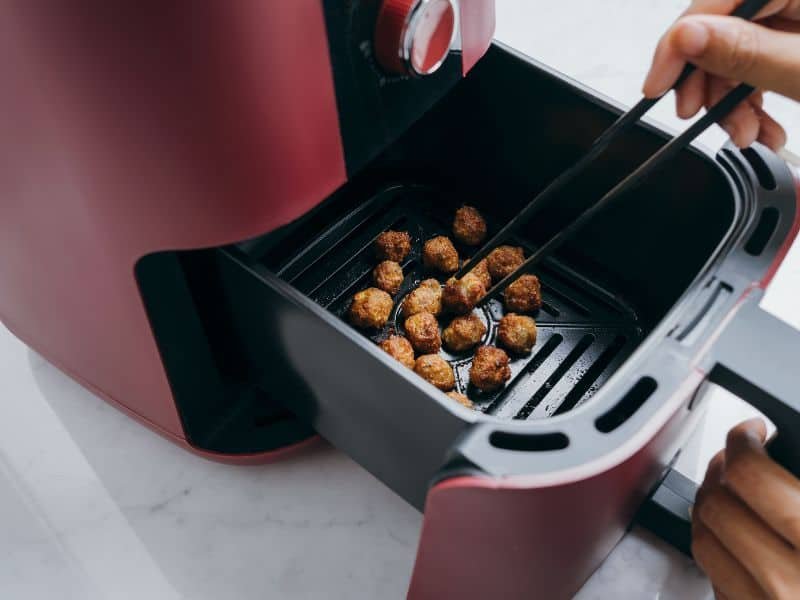 Factors to Consider
Is It Safe to Use Air Fryer without Basket?
Airflow is essential for air fryers to work appropriately, as the hot air circulation in the compartment enables it to cook food effectively.
Reduced airflow will negatively impact the performance of an air fryer and may make it unusable. Risk is only a factor when airflow is obstructed.
So if you want to cook without the basket, you must use other methods or ware that allow airflow of your air fryer.
The Best Alternatives
When evaluating the alternatives, consider their air permeability. Does air flow through the utensil? If so, you can choose it as an alternative for your basket. If not, find other alternatives.
Here are several alternatives for your basket replacement.
Invest in a series of wire or cooking racks that fit inside your air fryer. These will provide the same airflow as the basket, enabling you to cook your food without risks.
Invest in an air fryer oven accessories set with a baking pan and metal tray. These can be used to cook multiple types of food at once.
Use other oven-safe utensils like foil trays, cake tins, or microwavable containers. Ensure these utensils are tall enough to allow hot air to circulate them.
Depending on the food you are cooking, you may need a roasting pan, baking dish, or aluminum foil to ensure your food cooks evenly. Always ensure your dishes and cookware are oven-safe before using them in an air fryer.
Using a steamer basket is another great way to get the same air fryer results without the basket. Simply fill the basket with your food, place it in the air fryer, and cook for the recommended time.
A metal or wooden skewer is another excellent alternative to cooking without a basket. Thread your favorite items onto the skewer, place them inside the air fryer, and you're ready.
Air Fryer Ovens
If you want to cook more extensive food with an air fryer, then air fryer ovens might be the solution.
Air fryer ovens are a type of appliance that typically incorporates multiple functions such as air frying, baking, toasting, and broiling. They are generally larger than traditional air fryers and can provide greater meal capacity, making them suitable for family use or larger servings.
Air fryer ovens usually come with trays instead of baskets for cooking. These trays are comparable to baking sheets and can be positioned on racks inside the oven. The trays can contribute to a more even distribution of heat which facilitates turning or flipping of the food during the cooking process.
Air fryer ovens may come with multiple trays, which can be helpful when cooking larger meals. Additionally, some models may have a rotisserie function allowing users to rotate meats or whole chickens on a spit while cooked.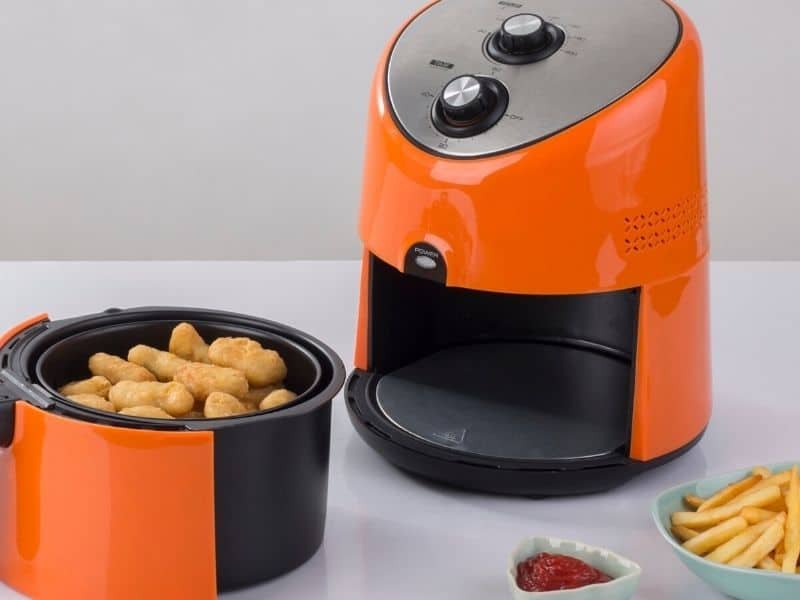 FAQs
Are air fryer ovens more expensive than regular air fryers?
Air fryer ovens are generally more expensive than regular air fryers due to their larger size and additional cooking functions. However, the exact price will depend on the air fryer oven's brand, size, and features.
Can air fryer ovens replace traditional ovens?
Air fryer ovens can be used for various cooking tasks, such as baking, toasting, broiling, and air frying.
However, they may not be able to replace a traditional oven completely as they typically have smaller capacities and may not have the same level of precision regarding temperature control.
How do you clean an air fryer oven?
To clean an air fryer oven, unplug the appliance and allow it to cool completely. Remove any excess food or grease using a paper towel or a damp cloth. If the trays are removable, wash them in warm soapy water and dry them thoroughly.
Use a soft-bristled brush to clean the heating element and other parts that cannot be removed. Finally, wipe down the exterior of the air fryer oven with a damp cloth and dry it thoroughly.
Was this article helpful?