UNSW Sydney's MBAX Technology program is a unique blend of business and technology courses that provides students with the skills they need to be successful leaders in the tech industry.
The program is designed for experienced professionals who want to learn how to manage and innovate in a rapidly changing technological landscape.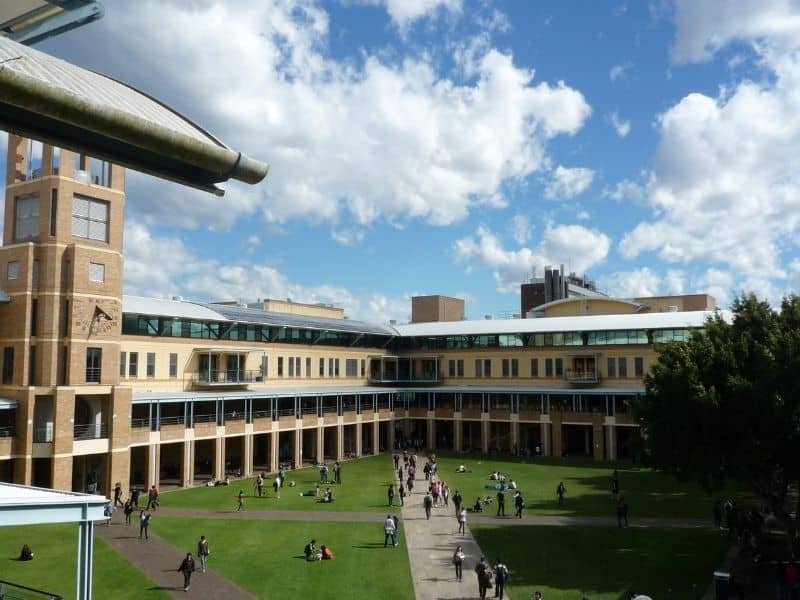 The University of New South Wales (UNSW Sydney)
About
The UNSW (University of New South Wales) Sydney is a public research university based in Sydney, New South Wales, Australia.
It is one of the founding members of Group of Eight, a coalition of Australian research-intensive universities.
Rankings
#4 in Australia (QS World University Ranking / QS WUR 2022)
#43 in the world (QS World University Ranking / QS WUR 2022)
#6 in Australia (Times Higher Education / THE 2022)
#70 in the world (Times Higher Education / THE 2022)
#3 in Australia (QS Graduate Employability Rankings 2020)
#32 in the world (QS Graduate Employability Rankings 2020)
Campus
The institution is organized into seven faculties, from which it awards bachelor's, master's, and doctoral degrees.
The main campus is located in Kensington, Sydney, 7 kilometers (4.3 mi) from the CBD.
AGSM is located at AGSM Building at Kensington Campus.
AGSM at UNSW Business School
About UNSW Business School
UNSW Business School is one of the world's best business schools, with 42 programs including 26 undergraduate and 26 specialist master degrees to choose from.
The institution was founded at the University of New South Wales in Sydney, Australia, and has been there since.
The campus is on College Rd, Kensington NSW 2052, Australia.
About AGSM (Australian Graduate School of Management) MBA
The Australian Graduate School of Management (AGSM) at the University of New South Wales Business School offers students with cutting-edge, hands-on learning. Students can flourish in a fast-paced society that demands new era leaders.
AGSM at UNSW Business School, as one of the most prominent international institutions in Australia, is located in Sydney and offers some of Australia's best MBA programs.
Students participate in an active learning atmosphere where they may get assistance from globally renowned academics with real-world business issues.
The AGSM's worldwide Alumni network of over 17,000 successful business executives is a result of peer-to-peer learning.
The University's Business School boasts an alumni network with more than 65,000 influential and international members.
MBAX at UNSW Rankings
#41 in the World (QS Global MBA Ranking 2021)
#4 in the World (QS Online MBA Ranking 2021)
#1 in Australia & #79 in the World (The Financial Times (UK) 2021 Global MBA Rankings)
#8 (The Forbes 2019 Global MBA Rankings)
MBA Accreditation
UNSW Business School has been awarded EQUIS accreditation by the European Foundation for Management Development (EFMD).
MBAX Technology
About MBAX (Online MBA)
The AGSM MBAX is one of the most established online MBA programs in the world.
It is ranked 4th in the world and #1 in the Asia Pacific for Financial Times 2021 rankings.
The major advantage of studying for an MBA at AGSM is that it provides you with the flexibility of customizing your degree from four distinct streams, including six core courses, six concentration choices, and at least one capstone course.
The duration of the program is 2-6 years depending on whether students choose an online or in-person format for their classes.
About MBAX Technology
MBAX Technology aims to gain the knowledge and skills needed for leadership roles where business and technology combine.
It covers topics not addressed in conventional business programs. And you can choose from a range of courses to tailor your MBA (Technology) to suit your career and passion
This degree is especially for:
Experienced managers and professionals working in a broad range of industries.
Those interested in expanding their career choices with in-depth business and technology expertise
Motivated people able to complete a challenging academic postgraduate program while working, and willing to apply new skills straight away in their workplace
Duration
The AGSM MBA (Technology) is a part-time program and can be completed in anywhere between 2 to 6 years.
The delivery mode is fully online, with face-to-face options.
Entry Requirement
There are two pathways into the MBAX Programs:
A strong undergraduate degree (or equivalent qualification) and a minimum of 2 years of professional or managerial work experience.
Or at least 6 years of professional work experience if you don't have an undergraduate degree or equivalent qualification.
Structure
MBAX Technology is a 12-course program.
The structure and courses are as follows.
Compulsory first course
Compulsory core course
Core courses – Choose four
Marketing Management
Accounting and Financial Management
Economics in Management Practice
Corporate Finance
Managing People & Organisations
Data Analytics and Decision-making
Law, Regulation & Ethics
Technology specialization courses – Choose six
Project Management
Intrapreneurship
Digital Innovation
Digital Strategy
Implementing Strategy
Managing with Digital Technology
Electives
Students can take up to two elective courses from any courses with an AGSM prefix
Tuition Fee / Cost
The 2022 fee per course is AUD$4,980 for the MBA (Change) / MBA (Technology) / MBA (Finance) core and specialization courses.
The total estimated cost of the program is AUD$59,760
Online Application
Check the entry requirements.
Apply Online
Complete and submit the online application via the UNSW Online Application
The program code for the MBAX is 8625
Provide Supporting Documentation
Selection Process
Your completed application once received, is sent to the AGSM MBA Admissions Selection Committee for review.
Follow Up if Required
An applicant may be contacted to organize an admissions interview (ideally, this will be in person, but maybe over the phone).
Outcome
An applicant is advised of the outcome of their application by email.
Response
In the case of a successful application and course placement offer, the applicant needs to notify his/her decision regarding acceptance of the offer or otherwise by the specified deadline.
Please note there is a non-refundable online application fee of $125 for International applicants.
Admission
Contact AGSM Recruitment and Admissions today:
T: +61 2 9931 9490 | E: mailto:[email protected]
MBA Scholarship
Every year there are over $1.8 million in scholarships to students in our full-time MBA program, and there are a variety of unique MBA scholarship opportunities for those interested.
They offer academic excellence scholarships, women-in-leadership scholarships as well military leader/community leadership awards.
Those awards apply to both Australian citizens AND international applicants who demonstrate an outstanding commitment or contribution either locally or globally.
You can the list of AGSM MBA Scholarship Programs here.
FAQs
What is MBAx?
MBAX is AGSM's Online MBA, the next generation of MBA is AGSM's online MBA.
The MBAX is an innovative online management education that allows students to specialize while also providing them with the skills they need to take advantage of opportunities.
What is MBAX UNSW?
The MBA (Technology) is part of the MBAX program, which allows you to specialize in your MBA while studying online.
What is AGSM MBA?
The AGSM MBA is a full-time, 12-month program that offers students the opportunity to specialize in one of three streams: finance, technology, or general management.
Was this article helpful?