When you are in Hobart city area and you need to find halal food, the most familiar taste and easy to find might be Nando's at North Hobart. To be exact, the Nando's restaurant is on 345 Elizabeth St, North Hobart, Tasmania, Australia.
Opening hours for Nandos North Hobart Tasmania: daily 11am – 10pm.
What is Nando's?
Nando's is a restaurant chain from South African that specializes in Portuguese-African food, especially grilled chicken. Founded in Johannesburg in 1987, Nando's operates over 1,000 outlets in 35 countries. Their logo is the famous Portuguese symbol, the Rooster of Barcelos.
The Most Favourite Menu at Nando's North Hobart Tasmania
The Famous Peri-peri Chicken
Nandos North Hobart Tasmania specializes in flame-grilled chicken, especially their famous hot and spicy flame-grilled peri-peri chicken. In fact, because of Nando's peri-peri chicken, this peri-peri sauce has become one of the most famous household names. Before grilling it, the chicken is marinated for 24 hours so the flavours get in deep. So, when you eat at Nando's, this peri-peri chicken is a must try.
Peri-peri is a special chili sauce from South Africa, that is made from peri-peri chilis. For centuries, the people of Southeast Africa have used peri-peri chilis for cooking their food. Now, combined with other ingredients, the peri-peri sauce has become one of the most hot sauce in the world.
Other Menu
Of course they also offer many other menu.
For snack menu, they have grilled chicken tenderloin, cheesy garlic mini pita, barbeque ribs, creamy hummus with peri-peri drizzle & pita, halloumi stick & drip, and the combination of grilled chicken tenderloin & cheesy garlic mini pita.
For chicken for one menu, they offer 1/4 chicken, 1/2 chicken. 4 grilled tenderloins, and 8 barbeque ribs.
For chicken to share, we can have whole chicken whole chicken with 1 large side, whole chicken with 2 large sides, 2 whole chickens with 2 large sides, 2 whole chickens with 3 large sides, mix platter – 1/2 chicken, and mixed platter – whole chicken.
They also offer burger, wraps,and pita menus, such as classic (burger), supremo (wraps), the halloumi (burger), smashed avocado and feta (wraps), chicken blat, double cheese & bacon, and the all in burger.
If you bring any children with you, you do not need to worry that they cannot finish their meals or if their meals are too hot. Nando's have special menu for kids, such as 3 peri-peri grilled tender meal and peri-peri chicken mini pita meal.
Besides above main menus, they also offer sides, salads & bowls, desserts, many kind of sauces, and drinks.
If you do not like hot and spicy food, you can always ask for the not so spicy sauce. The choices of chicken basting are extra hot, hot, mild, lemon & herb, BBQ, and plain-ish.
Reviews for Nando's North Hobart Tasmania
Google Reviews
"Great service..tables are clean..food was cooked and tasty"
"Amazing food, great staff and a good atmosphere, definitely a favourite!"
"I love it!!! Nice atmosphere, plenty of space and delicious chicken menu. Peri peri chips are the best as well. 🙂"
Tripadvisor Reviews
"I have had several visits to this restaurant in North Hobart for family birthdays or outings; it has a lovely vibrant atmosphere with interesting cultural decor, very friendly multicultural staff, fast service and delicious food with healthy options; prices are reasonable and good value for money. Only issue could be parking at peak times as it is located in the busy restaurant area of North Hobart; we have always managed to get parking but arriving early helps."
"Very tasty food with lively wait staff and good value for money. There are bottles of extra sauce, napkins and so forth available to enhance your dining experience."
"Very impressed with our meal, tasty and lots of it. Reasonably priced and very fast and friendly service. Decor was very nice and comfortable. We'll be back"
"Had the vegetarian burger, veggie pattie was nice with potatoe etc In the mix, bun not fully toasted enough, veggie patty was not all grainy and legumy like some veggie pattie options. Had relish, lettuce, but missed the avocado or had such little amount, couldn't notice it, so be sure to locate the avo in this $10 buck veggie burger. Added some peri peri chips and water. $17 all up for the burger, chips and water. Still expensive but ok i guess .…"
How to Get to Nando's North Hobart Tasmania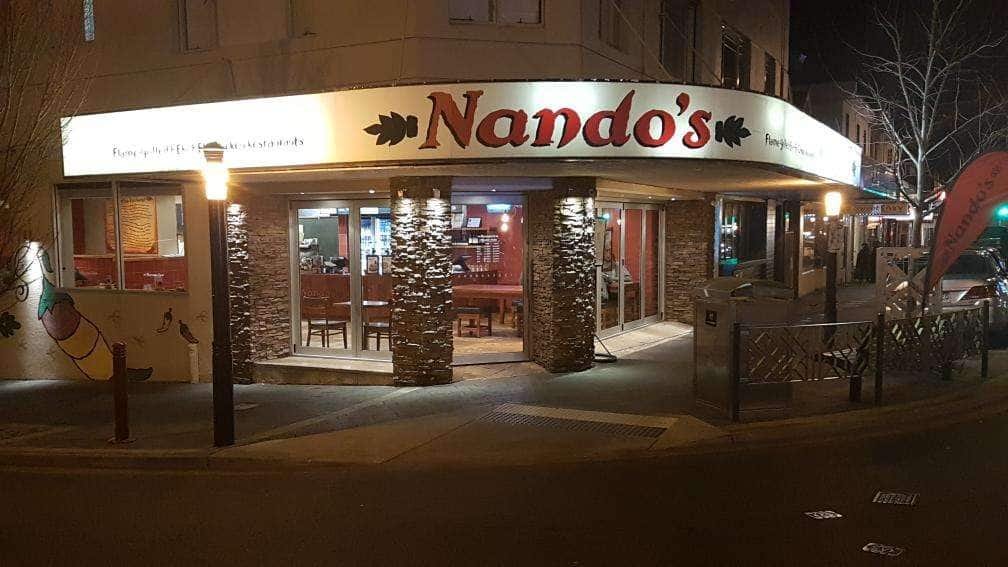 There are 2 Nandos outlets near Hobart. One is in North Hobart ( 345 Elizabeth St, North Hobart, Tasmania, Australia). This outlet is basically in downtown Hobart.
And the other is in Rosny Park (001/9 Bligh St, Rosny Park TAS 7018, Australia). It is located east of Hobart. From Hobart, you have to go across the Tasman Highway to get there.
The Nando's is located in the corner of Elizabeth St and Lefroy St. And there is a bus stop right in front of the restaurant. So it is very easy to get there.
This Elizabeth St can be considered as Hobart's food central. You can find so many restaurants with so many types of food along this street. There is even this state cinema, just one block from Nando's.
So, when you go to Nando's North Hobart, you get halal food restaurant and many other entertainment. Great place to visit.
You can check here for other great food in Hobart Tasmania.