Are you planning a trip to Northern Territory, Australia? With so many options and activities to choose from, it can be overwhelming to plan your itinerary.
Fear not, we have put together a 7-day itinerary that will help you make the most of your time in this stunning part of Australia.
From exploring the culture and history of Darwin to immersing yourself in the magical landscapes of Kakadu National Park, this itinerary offers a perfect balance of adventure and relaxation. Whether you're travelling solo, with friends, or with family, this itinerary can be customized to suit your needs and interests.
So pack your bags, book your flights, and get ready for an unforgettable journey through the Northern Territory. Let's dive into our 7-day itinerary and discover the best of what this region has to offer.
Day 1: Darwin
Darwin is a vibrant city with a unique mix of cultures, history, and natural beauty.
Here are some things you can do in Darwin:
Visit the Museum and Art Gallery of the Northern Territory to learn about the region's history, culture, and art.
Take a stroll along the Darwin Waterfront, a popular spot for swimming, sunbathing, and dining.
Explore the George Brown Darwin Botanic Gardens, which feature a wide variety of tropical plants and flowers.
Visit the Mindil Beach Sunset Market, which is held every Thursday and Sunday during the dry season. The market offers a wide variety of food, crafts, and entertainment.
For dinner, head to one of the many restaurants in Darwin that serve fresh seafood, Asian cuisine, and other local specialties. Don't forget to try the famous barramundi, a popular fish in the Northern Territory.
End your day by watching the sunset at the Darwin Esplanade, a scenic spot that offers stunning views of the sea and the city skyline.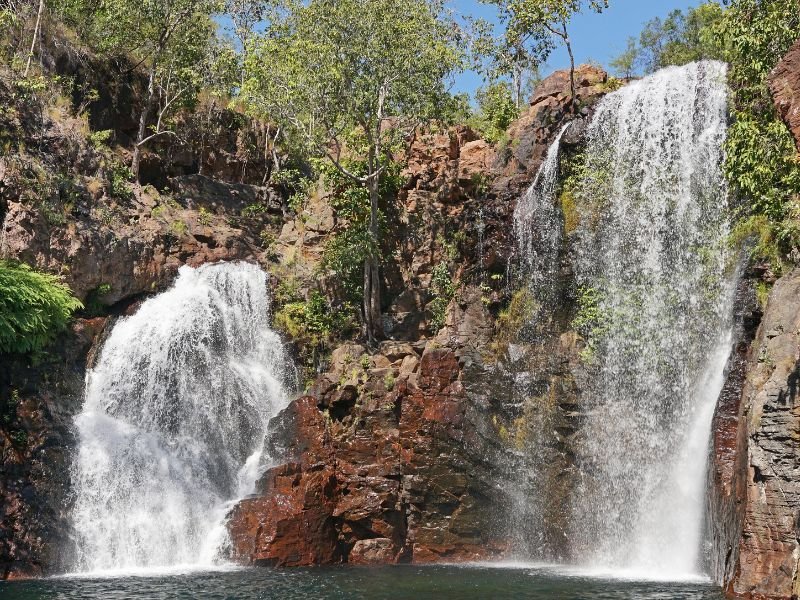 Day 2: Litchfield National Park
On day 2 of your Northern Territory itinerary, head to Litchfield National Park, which is located about 120 kilometers southwest of Darwin. The park is known for its stunning waterfalls, crystal clear pools, and sandstone pillars.
Several tour operators offer guided tours that take you to the park's main attractions, including Wangi Falls, Florence Falls, and Buley Rockhole. These tours typically include transportation, lunch, and entrance fees.
If you prefer to explore the park on your own, make sure to stop by Wangi Falls, which is one of the most popular attractions in the park. The falls cascade into a large swimming hole that is perfect for swimming and relaxing.
Another must-visit attraction in Litchfield National Park is Florence Falls, which features two waterfalls that plunge into a deep swimming hole. You can take a short walk to the viewing platform or hike down to the swimming hole for a refreshing dip.
Other attractions in the park include Buley Rockhole, which is a series of cascading waterfalls and swimming holes, and the Magnetic Termite Mounds, which are unique termite mounds that are aligned with the earth's magnetic field.
Overall, Litchfield National Park is a must-visit destination in the Northern Territory, and day 2 of your itinerary is the perfect time to explore its natural beauty.
Day 3: Kakadu National Park
On day three of your Northern Territory itinerary, it's time to explore the natural beauty and cultural significance of Kakadu National Park.
This UNESCO World Heritage-listed site is one of Australia's largest national parks, covering over 20,000 square kilometers of diverse landscapes, from wetlands and waterfalls to rugged escarpments and ancient rock art sites.
Start your day early and head to Ubirr, one of the park's most famous rock art sites. Here, you can see ancient Aboriginal rock paintings that date back thousands of years, depicting stories of the Dreamtime and the natural world. From the top of Ubirr's lookout, you can also enjoy panoramic views of the surrounding floodplains and escarpments.
After exploring Ubirr, it's time to cool off with a swim in one of Kakadu's many waterfalls. Head to Maguk (Barramundi Gorge) or Gunlom Falls, both of which offer crystal-clear swimming holes and stunning views. If you're feeling adventurous, you can even climb to the top of Gunlom Falls for an even more breathtaking vista.
In the afternoon, take a cultural tour with one of Kakadu's many Aboriginal-owned tour operators. You'll learn about the traditions and stories of the local Bininj/Mungguy people, and gain a deeper understanding of the park's cultural and ecological significance.
Alternatively, take a scenic flight over the park for a bird's-eye view of its diverse landscapes.
End your day with a sunset cruise on Yellow Water Billabong, one of the park's most iconic wetlands. Here, you can spot a wide range of wildlife, from crocodiles and water buffalo to colorful birdlife and fish. As the sun sets over the billabong, you'll be treated to a truly unforgettable Northern Territory experience.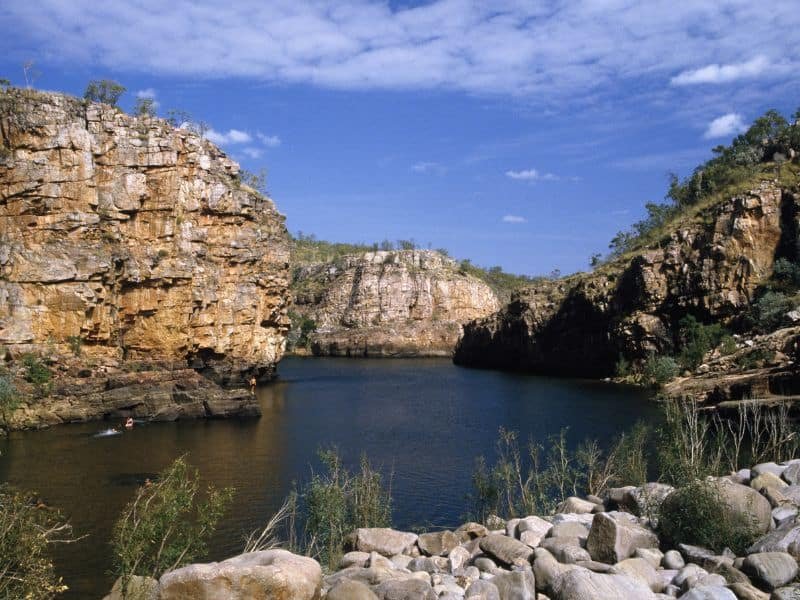 Day 4: Katherine
On the fourth day of your Northern Territory itinerary, you will head to the town of Katherine, which is located approximately 320 km southeast of Darwin. This town is the gateway to the stunning Nitmiluk National Park, which is home to the Katherine Gorge.
One of the best ways to explore the park is by taking a scenic boat tour along the Katherine River. The tour takes you through the gorge, which is flanked by towering sandstone cliffs and dotted with freshwater crocodiles. You can also take a dip in one of the many swimming holes in the park, such as Edith Falls or Leliyn Falls.
If you're interested in learning more about the local culture, you can visit the Top Didj Cultural Experience and Art Gallery. Here, you can learn about the traditional techniques of Aboriginal art and even try your hand at creating your own artwork.
Day 5: Nitmiluk National Park
On the fifth day of your Northern Territory itinerary, head to Nitmiluk National Park, which is only 30 kilometers from Katherine. The park is a natural wonderland, with stunning limestone cliffs, gorges, and waterfalls.
One of the best ways to explore the park is from the air on a helicopter trip, which will give you a bird's eye view of the breathtaking scenery.
You can take a scenic boat cruise along the Katherine River, which winds its way through the park and offers stunning views of the gorges and waterfalls.
For those who love hiking, Nitmiluk National Park offers a range of walking trails, from easy strolls to more challenging hikes. The Jatbula Trail is a popular multi-day hike that takes you through the heart of the park, past waterfalls, swimming holes, and ancient rock art sites.
After a day spent exploring Nitmiluk National Park, head back to Katherine for a relaxing evening. There are plenty of accommodation options in the town, from budget-friendly hostels to luxury resorts.
Day 6: Alice Springs
On Day 6 of your 7-day Northern Territory itinerary, you will be spending the day in Alice Springs, the heart of Australia's Red Centre.
Alice Springs is a vibrant town surrounded by stunning landscapes and rich cultural heritage. Here are some things to do and see in Alice Springs:
Visit the Royal Flying Doctor Service: Learn about the history of the world's first aerial medical service and how it provides healthcare to people living in remote areas of Australia.
Explore the Alice Springs Desert Park: This award-winning park is home to a diverse range of flora and fauna found in the Central Australian desert. You can also learn about the traditional Aboriginal uses of plants and animals.
Take a stroll through the Todd Mall: This pedestrian street is the heart of Alice Springs and is lined with shops, galleries, and cafes. You can also see the iconic statue of Albert Namatjira, one of Australia's most famous Aboriginal artists.
Visit the Alice Springs Telegraph Station: This historic site was once a vital link in the telegraph line that connected Australia with the rest of the world. You can learn about the harsh conditions faced by the telegraph operators and see the restored buildings and equipment.
You can relax and enjoy the sunset at Anzac Hill, which offers panoramic views of the town and the surrounding ranges.
On Day 7 of your itinerary, you will be heading back to Darwin, either by driving or flying, depending on your preference and schedule. This concludes your 7-day Northern Territory itinerary, which has taken you through some of the most iconic and stunning landscapes of Australia's Red Centre.
Day 7: Uluru
On the final day of your 7-day itinerary in the Northern Territory, you'll spend some time exploring the iconic Uluru and nearby Kata Tjuta.
Sunrise at Uluru
Start your day early and head to the Uluru-Kata Tjuta National Park for a breathtaking sunrise experience. Witness the stunning colors of the sun as it rises over the Uluru, and be sure to take plenty of photos to capture the moment.
After sunrise, take a walk around the base of Uluru and learn about its cultural significance to the Anangu people. You can also visit the Uluru-Kata Tjuta Cultural Centre to gain a deeper understanding of the local culture and history.
Kata Tjuta
Next, head to Kata Tjuta, a group of large, domed rock formations located about 30 kilometers west of Uluru. Take a hike through the Valley of the Winds to experience the stunning views and natural beauty of this unique landscape.
After your hike, enjoy a picnic lunch in the park before heading back to Uluru for some relaxation time. You can also take a scenic helicopter ride over Uluru and Kata Tjuta for a unique perspective on these incredible natural wonders.
As the sun sets on your final day in the Northern Territory, take a moment to reflect on the amazing experiences you've had over the past week.
The stunning scenery, rich cultural history, and warm hospitality of the locals make the Northern Territory a truly unforgettable destination.
Was this article helpful?