Most people don't know that you could cook fish in your toaster oven. You can make this yummy dish in just a few minutes and without much fuss.
There are ways of how to cook fish in toaster oven. You can bake any marinated or breaded fish recipes quicker with less energy. However, you can only bake a small batch at a time. 
So if you're looking for an easy way to enjoy cooking fish at home, then keep reading!
What is a Toaster Oven?
About toaster oven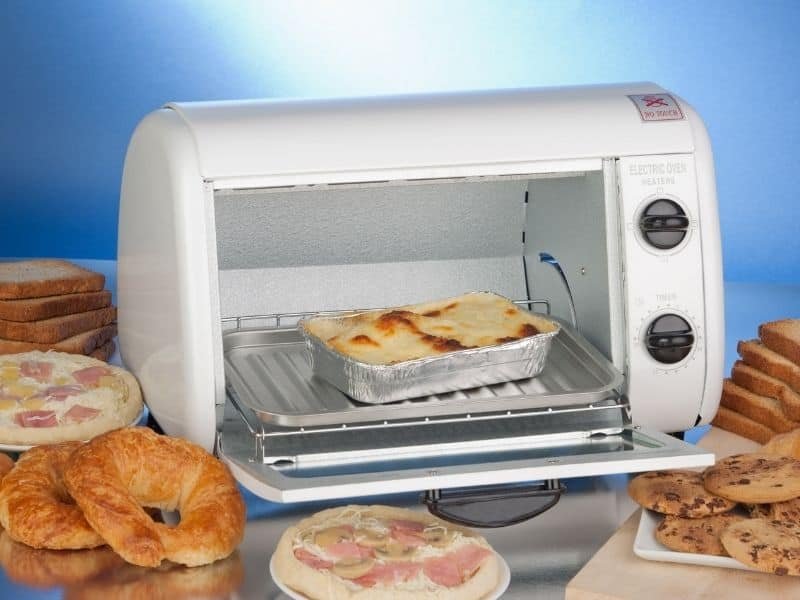 A toaster oven is an electric appliance that has a small drum and wire rack inside.
Toaster ovens are small electric ovens with toasting and limited baking and broiling capability.
In smaller apartments and recreational vehicles such as truck campers, they are especially beneficial since many users do not have a kitchen stove with an integrated oven.
 What is a toaster oven good for?
Toaster ovens can be used for both salty and sweet cooking. This is particularly beneficial for baked items like muffins or cookies.
The toaster oven is the ideal method to cook just a batch of cookies at once, especially if you like to keep cookie dough in the freezer and bake it off one piece at a time.
What's the difference between a convection oven and a toaster oven?
Toaster ovens function similarly to a traditional oven, while convection ovens include a fan to distribute hot air.
Convection ovens are typically superior for large-scale cooking, while toaster ovens are more for heating, browning foods, or cooking a small batch of delicious meals.
Why Do We Cook Fish in Toaster Oven?
There are four reasons why people prefer toaster oven salmon and other fish species such as cod, haddock, flounder, and Mahi over the average oven or conventional cooking methods.
Energy efficient
Using a toaster oven is more energy efficient than using an oven. Consider how much less power you use with a toaster oven versus an oven.
The guideline still holds if you have a gas oven or an outside grill, especially given recent price increases for oil and natural gas.
A toaster oven consumes less energy than a regular electric oven, according to industry experts. For example, a toaster oven uses 1/3 and 1/2 less energy to cook small meals than a traditional electric oven (1,200 to 1,400 watts).
Juicier fish
A toaster oven makes for a more juicy fillet. This is because it's simpler to prevent overcooking the salmon/fish fillets when using the toaster function.
Quicker preheat
It will take you less time to preheat your toaster oven. It preheats 30% to 50% faster than a conventional oven, depending on the size.
Great during summer
This toaster technique is ideal in the summer when using the stove generates a heated kitchen.
With the little heat output to the surrounding rooms, even using a small, countertop toaster oven does the job as well as, if not better, compared to range oven.
Some individuals resolve this issue by grilling on the porch. And it works too. Nothing, however, can compare to a toaster oven in the hot summer when you have to be inside for any reason.
How to Cook Fish in Toaster Oven?
In a toaster oven, you may cook almost any types of fish fillet, including cooking salmon, halibut, and any other wild fish of all kinds, in a matter of minutes. You can marinate the fish fillets and bake them as is. Alternatively, you may add crunch by coating the fish with crispy breadcrumbs.
Steps by steps for the simplest fish recipe
This is general baked fish directions using a toaster oven.
Preparation
Evenly spread a pat of butter for each fillet on a tiny pan or oven-safe dish that fits inside your toaster oven tray. This helps prevent the fillets from sticking and ensures easy removal without using foil.
Lay a thawed fillet fish skin side up on top of each pat of butter. The oils in the skin filter down through the flesh while it cooks, ensuring a juicy result.
Cook and Serve
Set dish or pan in the toaster oven and dark toast (or set to high) it (4.5 minutes).
Press start and let the fish toast until the oven automatically switches off.
Switch the toast setting to medium (2.5 minutes).
Press start and once again let the fish toast until the oven switches off.
Allow the fillets to sit in the toaster oven with the heat on for an extra 3-5 minutes after it has switched off without opening the door.
Remove the pan and test for doneness by using a fork.
They're done when you can easily pierce them using a fork. If you encounter some resistance, they might require one more light-medium "toasting" (additional 3-5 minutes) to be fully cooked. This is more likely if you are frying or grilling more than two fillets at once.
Remove from the toaster oven and serve immediately.
Cooking methods
Marinated Fish
For marination: In a small mixing cup, combine equal parts olive oil and an acidic liquid like red wine vinegar or lemon juice. Add aromatics to taste, such as fresh herbs, garlic, and onions as well as any other flavor components such as mustard, soy sauce, Worcestershire sauce, or hot sauce. Or you can use any other marination mixtures.
In a resealable plastic bag, combine the marinade with the fish fillets. Refrigerate for at least 30 minutes before cooking.
Preheat the toaster oven to 450 degrees Fahrenheit, or the highest setting, if your toaster oven has one. Cover the baking tray with aluminum foil or parchment paper.
Put the marinated fillets on a baking tray in a single layer, and into the toaster oven. Bake for about 7-10 minutes, or until the fish is cooked through, and flakes easily with a fork. When white fish are properly done, they should be opaque throughout.
Breaded Fish
Preheat the toaster oven to 375°F. Pat dry with paper towel, and season the fish fillets with salt and pepper.
Dredge each fish fillet in flour, then egg wash, and lastly bread crumb mixture. Turn the fish over in each dish to ensure they're well-coated.
Place the breaded fish fillets on a baking tray sheet with foil and toast in the toaster oven for 20 to 30 minutes, or until the fish flakes easily.
Turn the toaster to the broiler setting position. Toast for about five minutes on each side under the broiler for crispy skin. Serve piping hot.
Baked fish tips
Make certain that there is enough clearance between the fish on your baking tray. This baking fish technique works best for 1-4 fillets. If your toaster oven isn't big enough for both servings, you might alternatively use your normal oven.
Because fish cooks quickly and dries out if overcooked, be sure to check the correct temperature and minimum cooking time for baked fish.
You may use ordinary breadcrumbs or Japanese panko crumbs to bread fish; the latter tend to produce a crunchier covering.
Simple Oven Toaster Fish Recipes
Oven Toaster Lemon Garlic Salmon Recipe
Ingredients
2 cups baby spinach
1 clove garlic thinly sliced
2 skinless salmon fillet
½ teaspoon dried dillweed (optional)
¼ teaspoon salt
2 teaspoon olive oil
4 slices lemon
Instructions
Place the spinach and garlic over two layers of foil, equally divided. Top each with a piece of fish. Sprinkle salmon with salt and dill (if using).
Drizzle the fish with olive oil and garnish with 2 lemon slices. To seal, fold the foil edges and ends in toward the center. Place them on a baking sheet or parchment paper, seam side up.
In a toaster oven, cook salmon for 15-20 minutes (about 10 minutes per inch of thickness), or till fish is opaque and flakes readily when tested with a fork.
Remove the fish from the oven and set aside for 2 minutes. Open the foil and drain off any liquids.
Toaster Oven-Baked Sole with Asparagus Recipe
Ingredients
Cooking spray
½ pound(s) Asparagus, trimmed (about 10 to 12 spears)
1 tsp Olive oil
1/2 tsp Table salt ½ tsp, or to taste
1/4 tsp Black pepper, or to taste
3 Tbsp Grated Parmesan cheese
Parmigiano Reggiano, recommended
2 Tbsp Dried plain breadcrumbs, panko-variety
2 tsp reduced-calorie mayonnaise
1 tsp Chives, fresh, minced
8-oz (two 4-oz) Uncooked sole fillets
1/4 medium Lemon(s), cut into 2 lemon wedge
Instructions
Preheat the toaster oven to 450 degrees Fahrenheit. Cover a shallow 9-inch round or rectangular baking dish with cooking spray.
Fill the half of prepared baking dish with asparagus; drizzle it with oil and season to taste.
On a dinner plate, combine the cheese and bread crumbs; season to taste with salt and pepper. In a small shallow bowl, combine mayonnaise and chives.
Brush one side of each fillet with a /mayonnaise /mixture; press that side of the fish into the cheese mixture. Place the coated-side up fish on the other half of the prepared baking dish.
Bake time for about 10-12 minutes, or until the asparagus is tender and the fish is cooked through. Remove from oven to plates and drizzle with fresh lemon juice.
1 fillet and 1/2 of asparagus per serving
FAQs
Can I bake fish in my toaster oven?
Yes! It's a great way to prepare small portions in your regular oven quickly.
How long do you cook fish in the toaster oven?
The cooking time depends on the size and thickness of your fish fillets. Generally, for a baked fish recipe, you will bake it for about half the time as a full-sized oven unless otherwise stated in the recipe instructions. Your baked fish dinner is as simple as that.
How do you cook frozen fish in a toaster oven?
If your fish is frozen, place it in the toaster oven and bake for a few minutes longer than indicated. Then, check the temperature using an instant-read thermometer inserted into the thickest part of the fillet or salmon portion; when done, the internal temperature should be 145 degrees Fahrenheit.
What can you not cook in a toaster oven?
Toaster ovens are not intended to cook large quantities of food or bake. Therefore, you should make sure that your baking dish is big enough for the food you are preparing, so it fits easily in the oven.