No one enjoys a countertop covered in crumbs and splatters from your toaster oven. But what should you do if you don't want to put your toaster oven directly on the counter?
Rest assured; there are plenty of options for protecting your counter from the heat and mess of a toaster oven! Some of the most popular ones are trivets, silicon mats, non-slip insulator mats, to baking sheets. You can even make your own counter-protector.
Let's explore some of the best solutions.
What to Put Under Toaster Oven
Trivets or Hot Pads
The most obvious solution is the simplest one. Trivets and hot pads are an easy way to protect your counters from the direct heat of a toaster oven.
They provide padding between your appliance and the surface, so any heat the appliance generates won't damage the countertop. Plus, they can be easily removed when it's time for cleaning.
When looking for trivets or hot pads, make sure they are made with heat-resistant materials like silicone or metal.
Silicone Mat
Another option is to use a silicone mat. Silicone mats are made from heat-resistant material and come in various sizes, making them perfect for protecting your countertop from the heat of your toaster oven.
They can be easily cut-to-fit for any surface, plus they're durable, non-stick, and easy to clean.
Non-Slip Insulator Mat
A non-slip insulator mat may be the way to go if you want a more permanent solution. These mats are made from temperature-resistant silicone and can withstand up to 500°F of heat.
They come with an adhesive backing, so you can easily stick them onto your countertop for added protection. Plus, they come in various sizes and colors, so you can easily find one to fit your kitchen style.
Baking Sheet
Another great option is using a baking sheet as a makeshift trivet. This will create enough space between the appliance and countertop and catch any crumbs that may fall through during use.
Make sure you get one that is large enough so it doesn't slide around when used with your appliance! And don't forget – baking sheets come in all sorts of fun colors which could brighten up your kitchen even more!
An Over-the-Range Shelf
If you're looking for something more permanent, an over-the-range shelf may be just what you need. This type of shelf is designed to fit underneath kitchen cabinets to support heavier items like microwaves and toaster ovens without damaging the cabinet finish or counter surface below it.
It's also easy to install and will provide a sturdy base for your appliance without taking up too much space in your kitchen.
DIY Solutions
If you're feeling particularly crafty (or if purchasing extra items isn't in the budget right now), there are some DIY solutions as well!
One option is repurposing large cutting boards as protective mats underneath your toaster oven. Not only will this provide additional cushioning between the appliance and the countertop's surface, but it'll also give you an extra surface for chopping vegetables or assembling sandwiches without having to pull out a large cutting board every time.
Another solution is using multiple layers of aluminum foil underneath the appliance, but be warned—this isn't very attractive or aesthetically pleasing!
Why Do You Need Counter Protector
Here's why you need one!
Protection for your counters: A counter protector will help protect your counters from heat or spills from your toaster oven. This can help prolong the life of your counters and keep them looking nice.
Easy to clean: Counter protectors are typically made from materials that are easy to wipe clean, so it will be much easier to clean up any spills or crumbs that might fall on them.
Non-slip surface: Some counter protectors come with a non-slip surface to keep your toaster oven in place, which can be especially useful if you have kids or pets running around.
Decorative: Some counter protectors come in different colors and designs, which can be an excellent way to add a pop of color or design to your kitchen.
Where to Place Toaster Oven in the Kitchen
Here are a few things to keep in mind when deciding where to place your toaster oven:
Make sure it's near an outlet.
Keep it away from anything flammable.
It can be placed on a countertop, under the cabinets, or on a shelf.
If you're tight on counter space, it could also be placed in a cabinet when not in use.
Please keep it in a convenient spot where you can easily access it.
Safety Tips
Using a toaster oven can be fun and convenient, but it's important to remember the safety tips for using an appliance like this.
Always make sure that the toaster oven is unplugged when not in use.
Be sure to use oven mitts when removing items from the toaster oven.
Keep a fire extinguisher nearby in case of any accidents.
Never leave the appliance unattended while it's in use.
Ensure all cords and wires are tucked away so they won't get caught on anything or cause a hazard.
Never put any metal items inside the toaster oven.
Keep children away from the appliance when it's in use.
Clean up spills and crumbs regularly so they don't build up and become a hazard.
Follow the manufacturer's instructions for the best results and safety!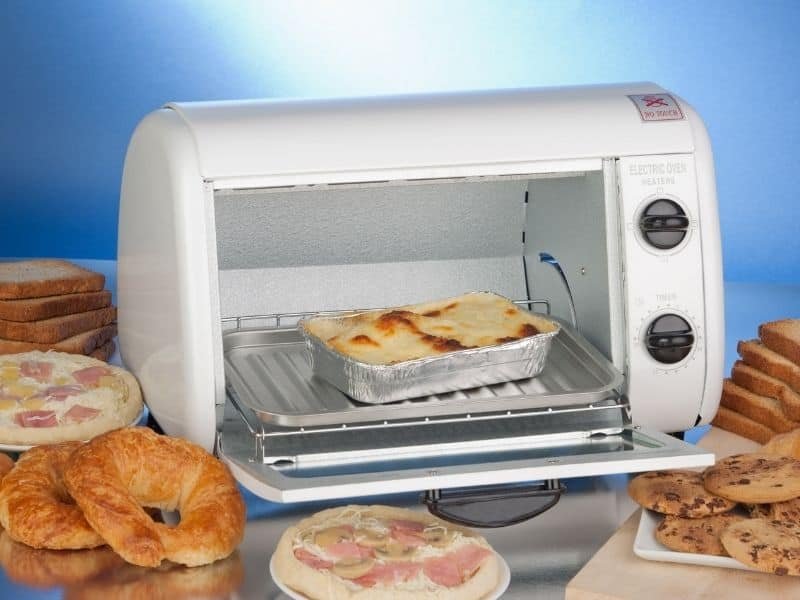 FAQs
What are some benefits of using a toaster oven?
They are often smaller, making them more convenient for small kitchens. Toaster ovens also heat up faster than traditional ovens, so they can be a good option for quick meals or snacks.
Additionally, toaster ovens typically use less energy than full-sized ovens, making them more environmentally friendly.
What types of foods can be cooked in a toaster oven?
They are ideal for baking or roasting small quantities of food, such as chicken breasts, fish fillets, or cookies.
They can also be used to reheat food or prepare frozen meals.
How do you adjust the temperature on a toaster oven?
The temperature on most toaster ovens can be adjusted by turning a knob or pressing buttons on the control panel. The specific instructions will vary depending on the make and model of the appliance. It is vital to consult the owner's manual for guidance on properly adjusting the temperature setting.
How do you know when food is cooked correctly in a toaster oven?
Each appliance model will have its own set of recommended cooking times and temperatures for various types of food. Following these guidelines will help ensure that food is cooked evenly and correctly.
Was this article helpful?