Contrary to popular opinion, not all meat pies are created equal. There are so many variations of meat pies that you can try. Do you want to try the best meat pie recipe Donna Hay? Let's find which recipe is the best for you!
In this blog post, we'll show you the best recipes for making mouth-watering meat pies from Donna Hay that is sure to be an instant hit with friends and family!
What Is Meat Pie?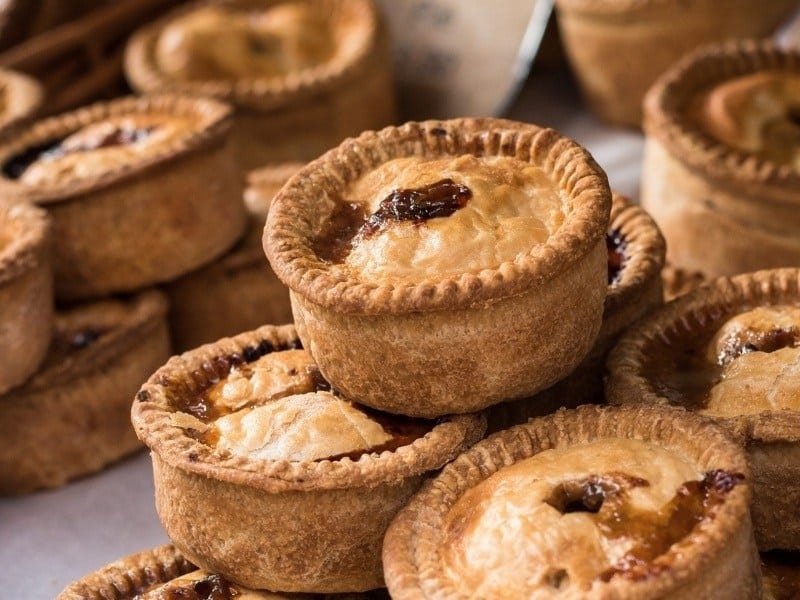 Meat pies are popular in Australia, New Zealand, Canada, Europe, and the United Kingdom. They are typically made with a chunky filling of meat and often other savory ingredients.
Pastry crusts are often baked, fried or deep-fried at a high enough temperature to cause the Maillard Reaction (changing of color and improved flavor). Depending on how the pastry is prepared it might also acquire a rich, flaky structure.
Australian meat pie is a small-sized, hand-held pie with diced or minced meat and gravy. This dish can be found in takeaways and from restaurants often offering pies as one of their menu items.
This dish is iconic and a staple of Australian food. It was described by former NSW Premier Bob Carr in 2003 as Australia's "national dish".
Who Is Donna Hay?
Donna Hay is an author and food stylist from Australia who has written 27 bestselling cookbooks, including the 'new easy' series. She is best known for her style of cooking that aims to make healthy cooking as simple and delicious as possible.
Hay has been a judge for MasterChef Australia since 2013.
She began hosting her own cooking show, "Fast, Fresh, and Simple" which aired on Channel 9 in 2011.
Donna Hay Meat Pie Recipe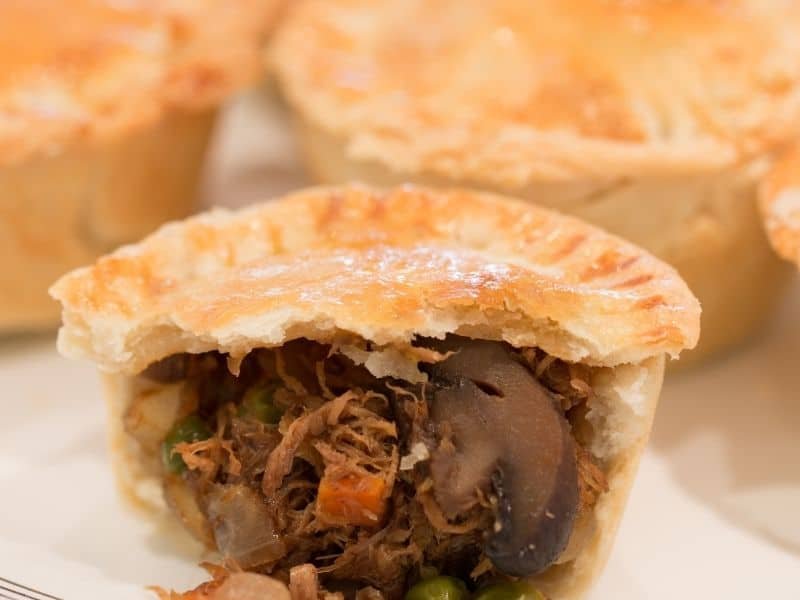 Donna Hay Beef Pie – Classic Beef and Mushroom Recipe
Ingredients
2 Tablespoons extra virgin olive oil
6 eschalots (French shallots), peeled and halved
450-gram mixed mushrooms halved
½ cup sage leaves
¼ cup (35 gram) plain (all-purpose) flour
1 kg chuck steak or beef brisket, trimmed and cut into 3cm pieces
sea salt and black pepper
2 Tablespoons tomato paste
1 cup (250 ml) red wine
3 cups beef stock ((750 ml)
1 egg, beaten
store-bought tomato chutney to serve
Hot Water Pastry
300-gram unsalted butter, chopped
1⅓ cups water (330 ml)
5 cups (750 gram) plain all-purpose flour
1 teaspoon sea salt flakes
Making the Filling
Preheat the oven to 180°C (350°F).
Heat half of the oil in a large, heavy-bottomed ovenproof saucepan over high heat. Add the eschalot, mushroom, and sage and cook for 3–4 minutes or until golden brown. Remove from the pan and set aside.
Add flour, beef, salt, and pepper to a medium bowl for the meat pie and toss to coat.
Heat the remaining oil in the pan. Cook the beef, in batches, for 6 minutes or until golden. Add the mushroom mixture to the pan, add tomato paste and cook with wine and stock.
Cover beef with a lid and cook in the oven for 1 hour 30 minutes or until cooked to desired doneness.
Making Hot Water Pastry Donna Hay
While the beef cooks, make the hot water pastry. Put butter and boiling water to measure in a large skillet over high heat.
Remove the dough from the heat and stir in flour and salt until a smooth dough forms. Turn out onto a surface, dust with flour, and knead until smooth and elastic.
Cut the large dough square in half and roll each piece between sheets of non-stick baking paper to 3mm thickness.
Making the Pies
Cut out six 9-inch rounds to line the bases of six lightly greased 9-inch metal pie tins. Fill the shells with beef mixture.
Cut out 6 circles of dough to fit your pies. Brush the edges of the pie with an egg wash before placing a pastry lid onto each, or use any leftover dough from this step as lids for the rest. Press and seal the edges together using a fork before cutting open small slits on top.
Cook for 20–25 minutes or until golden.
Serve with tomato chutney. Make 6.
Lamb, Mint, and Rosemary Pie Recipe
Ingredients
1 Tablespoon olive oil (extra virgin)
1 brown onion, chopped
2 cloves garlic, crushed
1 carrot, peeled and finely chopped
400-gram lamb mince
1 cup (250 ml) tomato puree
2 Tsp store-bought mint jelly
¼ cup chopped rosemary leaves
sea salt and cracked black pepper
5 sheets of store-bought shortcrust pastry, thawed
1 egg, lightly beaten
12 sprigs of rosemary for decoration
Making the Pies
Preheat the oven to 200°C (400°F).
Heat oil in a frying pan. Add onion, garlic, and carrots, cooking for 5 minutes or until softened.
Cook the meat, stirring up any lumps with a wooden spoon. Cook for 5 minutes or until it becomes brown.
In a saucepan, combine tomato purée with mint jelly and chopped rosemary. Add salt and pepper to taste. Once the mixture is warm, turn off the heat and let it cool completely.
Cut twelve 11cm-rounds of pastry and line each one to fit the muffin tin, ensuring enough room for both the pastry and the contents.
Divide the lamb between 2 pie dishes. Cut 12 x 8cm rounds from the remaining pastry. Brush edges of the pastry with water and top each pie with a round; press to seal edges.
Brush each pie with some beaten egg, and top each pastry with a sprig of rosemary.
Bake for 20–25 minutes or until golden.
Serve with tomato sauce. Makes 12.
Chicken and Leek Pie Donna Hay Recipe
Donna Hay chicken and Leek Pie is quite easy. Just follow the recipe.
Ingredients
1 Tablespoon olive oil (extra virgin olive oil)
6 X 150-gram chicken thigh fillets, chopped
40-gram butter
2 small leeks, sliced
2 cloves garlic, crushed
2 Tsp thyme leaves
¼ cup (35 gram) plain all-purpose flour
2 cups (500 ml) milk
sea salt and cracked black pepper
2 X quantities shortcrust parmesan pastry (see below)
1 X quantity eggwash (see below)
Shortcrust parmesan pastry
2 cups (300 gram) plain all-purpose flour
1 cup (80 gram) finely grated parmesan
150-gram cold butter, chopped
1 teaspoon sea salt flakes
1 egg
1 Tsp cold milk
Eggwash
1 egg, lightly beaten
2 Tsp single (pouring) cream
Making Donna Hay Shortcrust Pastry
To make the egg wash, combine the eggs and cream in a bowl.
For a shortcrust pastry, start by placing the flour, cheese, butter, and salt ingredients into the food processor. Process for 1-2 minutes or until it is fine, like breadcrumbs.
Add the egg and milk into the food processor. Process for 2 minutes or until a smooth dough forms. Wrap in plastic wrap and refrigerate for 30 minutes.
Making the FIlling
Preheat the oven to 180ºC (350ºF).
Heat oil in a frying pan over medium heat and cook chicken for 4-5 minutes or until it's golden brown, then remove from pan.
Add the butter, leeks, garlic, and thyme to the pan and cook for 7–8 minutes or until softened. Add flour and continue cooking for 2 minutes. Add milk (seasoned with salt and pepper) to the mixture and continue cooking for 3 more minutes until thickening.
Return the chicken to the sauce and refrigerate until cooled completely.
Making the Pies
First, roll half the pastry between two sheets of non-stick baking paper to about 3mm thick. Then line a lightly greased round 31cm pie tin with the pastry.
Fill with the chicken mixture.
Roll the remaining pastry out between two sheets of non-stick baking paper to 3mm (slightly more than 1/8″) thick. Place it over the filling in the pie dish and trim off any excess dough around the edges.
Brush with the eggwash.
Then bake for 35–40 minutes or until the pastry is golden. Serves 4.
Other Donna Hay Pie Recipes
Donna Hay chicken pie
Beef and Red Wine Pie Donna Hay
Donna Hay Chicken Pot Pie
Donna Hay Meat Pies
Tomato Chutney Recipe Donna Hay
For other Donna Hay meat pie recipes, please check here.
FAQs
Can I use puff pastry instead of shortcrust?
The two are not the same. They behave differently because of what they're made from and how they should be cooked. Puff pastry is usually baked at higher temperatures than shortcrust, which means it will probably need a slightly different cooking time and technique.
How do you keep puff pastry from getting soggy on the bottom?
A few tips for the best results with puff pastry dough are to keep it cool so that the fat doesn't melt before baking. A warm filling will help result in an even crust. Preheat the oven and cook at the temperature specified, first poking small holes with a fork as directed by your recipe. Apply an egg wash if desired.
How long can puff pastry sit before baking?
Always preheat your oven for at least 15-20 minutes before baking because puff pastry needs heat to rise and puff. Place pastries about 1 inch apart.
See also: Vanilla Slice Recipe Donna Hay – The Perfect Dessert
Was this article helpful?