Doesn't a gooey slice of vanilla sound like the perfect way to end your day?
The best part is that it's so easy to whip up! This recipe covers you whether you're looking for something light or decadent.
The perfect dessert is always the one that tastes like home. Vanilla Slice Recipe Donna Hay does just that, and it's as simple as pie.
This recipe featured vanilla custard sandwiched between sweet shortbread pastry and topped with a generous sprinkling of icing sugar.
The best part? You can prepare this deliciousness for your guests in less than an hour.
Vanilla Slice Recipe Donna Hay
Donna Hay Vanilla Custard Slice Recipe
Ingredients
Two sheets of store-bought puff pastry, thawed.
1½ cups (375ml) milk
1½ cups (375ml) single (pouring) cream
60g unsalted butter, chopped
2 tsp vanilla extract
⅔ cup (150g) caster sugar
⅓ cup (50g) cornflour
½ cup (125ml) water
Six egg yolks
icing (confectioner's) sugar for dusting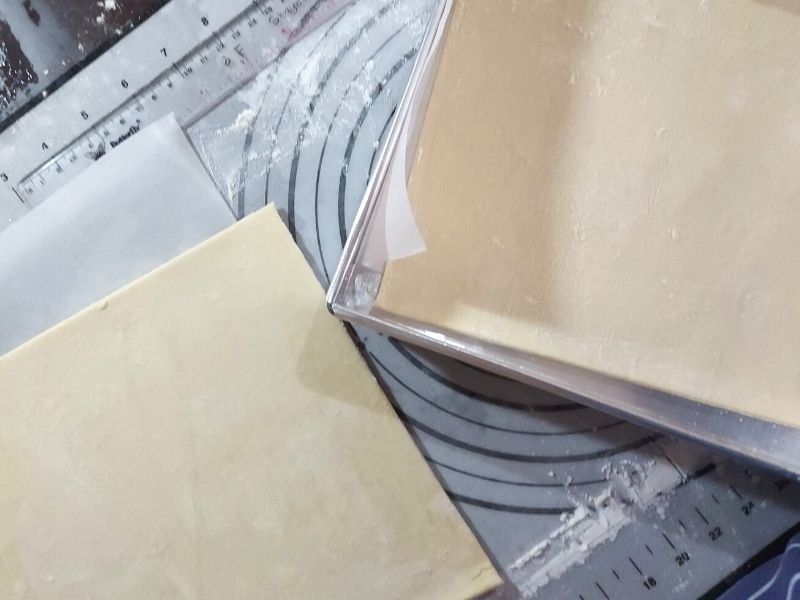 Directions
Preheat the oven to 180ºC (350ºF).
Place pre-rolled sheets on a non-stick baking tray lined with parchment paper to assemble the pastry. Top each pastry sheet with more parchment and an additional baking tray to keep the thickness together.
Bake for 20-25 minutes or until golden. Cool on wire racks completely and trim the pastry to 22cm squares.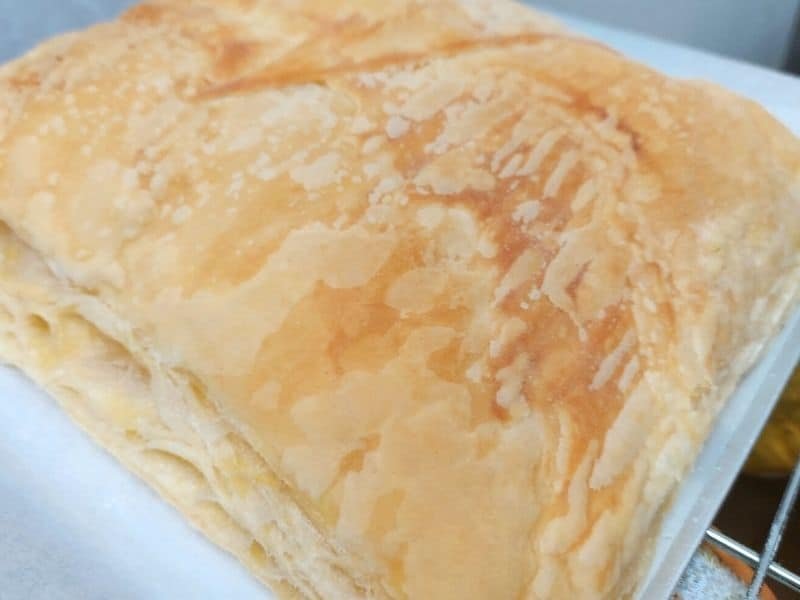 Place the milk, cream, butter, sugar, and vanilla in a medium saucepan over medium heat. Once it reaches just below boiling point, remove it from heat.
Mix cornflour and water with the hot milk mixture, then whisk in egg yolks. Bring to the boil while constantly stirring for 30 seconds-1 minute or until thickened.
Place one cooked pastry sheet at the bottom of a lightly greased cake tin. Place the custard and remaining pastry on top and press down gently.
Refrigerate for 3–4 hours or until set—dust with icing sugar and slice to serve.
Makes 12.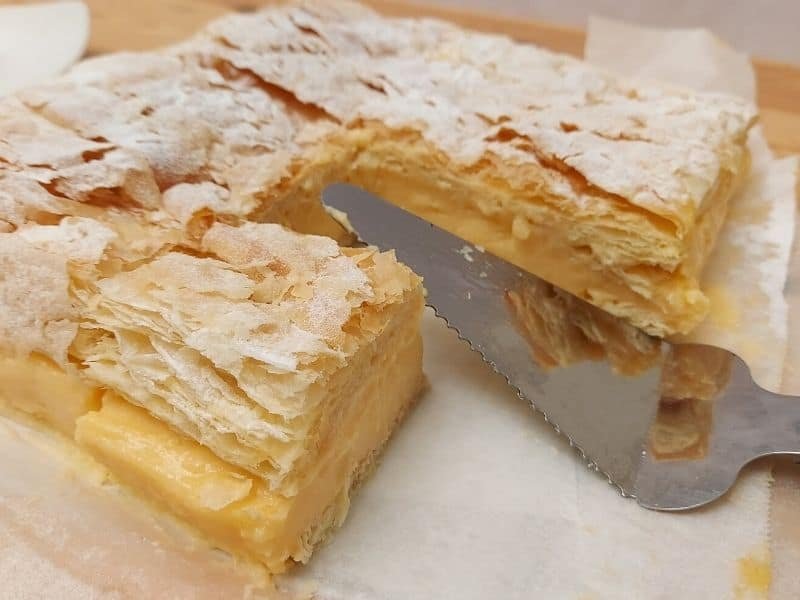 Donna Hay Vanilla Slice with Vanilla Bean Praline Recipe
Ingredients
Filling
2¼ cups (560ml) milk
2¼ cups (560ml) single (pouring) cream
90g unsalted butter, chopped
1½ cups (330g) caster (superfine) sugar
Two vanilla beans split, and seeds scraped.
⅔ cup (100g) cornflour (cornstarch)
¾ cup (180ml) water
Nine egg yolks
Rough Puff Pastry
3 cups (450g) plain (all-purpose) flour, plus extra for dusting
450g chilled unsalted butter, chopped into 2cm pieces
1 cup (250ml) iced water
Vanilla Bean Praline
½ cup (110g) caster (superfine) sugar
¼ cup (60ml) water
One vanilla bean split and seeds scraped.
Directions
Making the Rough Puff Pastry
Place the flour and butter in a large bowl. Using your fingertips, rub the butter into the flour until roughly combined (the butter should still be lumpy, about 1cm pieces). Make a well in the center, add the water, and mix it into a dough using a butter knife.
Turn out onto a lightly floured surface. Roll the dough out to a 20cm x 50cm rectangle (there will still be lumps of butter in the pastry).
Starting at the short top edge, fold the pastry down to the middle, and fold the bottom up to overlap the top. Turn the pastry a quarter turn, and roll out again to a 20cm x 50cm rectangle.
Repeat the folding process five more times. Wrap in plastic wrap and refrigerate for 1 hour to firm.
Preheat the oven to 200°C (400°F). Halve the pastry and roll it out on a lightly floured surface to make 2 x 30cm x 40cm rectangles—line 2 baking trays with non-stick baking paper.
Place on the trays and bake for 30–35 minutes or until golden brown and puffed. Allow cooling completely.
Line a 20cm x 30cm slice of tin with non-stick baking paper, leaving 4cm of paper over the rim. Trim each pastry sheet into a 20cm x 30cm rectangle and use 1 to line the base of the tin.
Making the Filling
Place the milk, cream, butter, sugar, vanilla bean, and seeds in a medium saucepan over medium heat. Bring to just below the boil. Remove from the heat and discard the vanilla pods.
Place the cornflour and water in a small bowl and mix to combine. Add the cornflour mixture and egg yolks to the milk mixture, return to the heat and whisk for 30 seconds or until thickened.
Pour the mixture into the tin, smooth it into an even layer, and top it with the second pastry sheet.
Refrigerate for 4 hours or until completely cold and set.
Making the Vanilla Bean Praline
Line a small baking tray with non-stick baking paper. Place the sugar and water in a small saucepan over low heat and cook for 4–5 minutes or until the sugar is dissolved. Increase the heat to high and cook, without stirring, for 8–9 minutes or until dark golden brown.
Remove from the heat, add the vanilla seeds and stir to combine. Carefully pour it onto the tray and allow it to cool completely.
Once the praline is set, break it into pieces and place it in a mortar. Pound with a pestle until fine.
Finishing
Cut the slice into lengths, place onto serving plates and sprinkle with the vanilla bean praline to serve.
Serves 8–10
Source: https://www.donnahay.com.au/
Best Vanilla Slice Recipe
Vanilla Slice Recipe Masterchef
This recipe is adapted from Jack Junior Masterchef Australia.
Preheat the oven to 180°C.
Line an 18cm x 18cm baking pan with greaseproof paper and grease it.
Place the pastry sheets on oven trays and cut them into 18cm x 18cm squares. Prick the pastry with a fork and bake for 20–25 minutes or until golden brown. Allow cooling on a wire rack.
For the custard, pour the sugar, powder, and half of the cream into a saucepan and cook over medium heat until the mixture boils and thickens. Stir in the vanilla bean paste.
Add the milk and cream in a slow, steady stream while whisking until smooth. Pour into a large serving dish and cover with cling film to prevent skin from forming. Place in the fridge to cool.
For the icing, in a medium bowl, beat butter, vanilla, icing sugar, and water with a fork until smooth.
To assemble, trim the pastry if necessary and lay one sheet on the bottom of the prepared pan. Layer half of the custard on top of the pastry and spread evenly. Covering the slice with the third pastry sheet, spread icing over the top. Repeat with another layer of pastry and the remaining custard.
To serve, place a vanilla slice on a plate, drizzle with chocolate sauce, and dust with icing sugar.
Vanilla Slice Recipe Variations
There are many variations of this dessert:
Sao Biscuit Slice
Pink Slice
Lemon Custard Slice
Coffee Custard Slice
Passionfruit Slice
And unlimited many more variations
What Is a Vanilla Slice in Australia?
Australian Vanilla Slice Recipe
It usually comes in bakeries or cafes in Australia but can also be referred to as a 'snot block' due to its creamy consistency.
Every year, the Great Australian Vanilla Slice Triumph competition is held to determine the best vanilla slice baker. Judging criteria include "when tasted, should reveal a custard with a creamy smooth texture and a balance of vanilla taste with a crisp, crunchy pastry topped with a smooth and shiny glaze/fondant."
French Vanilla Slice Recipe Taste
The Australian interpretation of the vanilla slice has been described as a uniquely Australian food, but it may have come from France and initially resembled the French mille-feuille.
Who Is Donna Hay?
Donna Hay is a famous Australian food stylist and author. She is best known for her 27 published cookbooks, including the 'new easy' and the famous 'fast, fresh, simple.'
In 2011, Hay created a television series for Channel 9 called "Fast, Fresh, and Simple." This 13-part show featured many recipes from her book of the same name. Over the past few years, Hay has been a guest judge on MasterChef Australia, which airs on Network Ten.
FAQs
How do you cut a vanilla slice without squashing it?
To successfully cut this pastry without squashing the custard from the middle, use a small sharp knife and make ten even-sized marks around your pastry before cutting through only the top layer.
What is the difference between a Bavarian slice and a vanilla slice?
A Bavarian Slice is a more indulgent and posh version of the custard slice.
How long does a vanilla slice last?
It is best eaten when made and stored in an airtight container in the fridge for up to 2 days.
Can I freeze the vanilla slice?
Place into an airtight container in the freezer – this 3-step process will keep your slices tasting amazing once defrosted.
See also: Annabel Langbein Ultimate Pavlova Recipe: The Delicious All-Time Favourite.
Was this article helpful?