Pavlova is a delicious dessert that Australia has enjoyed for many years. It consists of layers of fluffy, meringue-based cake and whipped cream, topped with fresh fruit or other flavorings such as passionfruit sauce.
The dessert became popular throughout the country during World War II because it was easy to make and hearty.
The dish is a classic Australian dessert, one of Australia's most popular desserts. It was created by an Australian chef in honor of the Russian ballerina Anna Pavlova, who visited Sydney back in 1935.
What is Pavlova?
Pavlova is Australia's favorite dessert. It's made up of airy, crispy meringue and a soft marshmallow-like filling with fruit inside. A true Australian treat!
A perfect mix of crisp and airy, the meringue dessert is truly one-of-a-kind. A large amount of whipped egg whites gives it an incredibly light texture. Just enough sugar syrup ensures that the surface crisps up into a delicate crust, while also making sure the inside remains moist.
If you're looking for something more decadent, try adding your favorite fruit flavors like strawberry or lemon to give it some extra flair!
Pavlova Dessert Origin
First of all, it's named after Russia's prima ballerina Anna Pavlova who was an international superstar in the early 1900s. She toured Australia and because her spellbinding performances were so popular with people here she became very well known to them as 'Pavlova The Divine'.
The dessert is believed to have been created (or at least renamed) in honor of the dancer either during or after one of her tours to Australia and New Zealand in the 1920s.
Apart from its beauty, what makes this dessert dish so special is that it's made up of a type of meringue that is fluffy like whipped cream filling and also has egg whites in it.
To top everything off, there are fresh fruits to go inside including kiwi fruit, strawberries, and rhubarb which brings out flavors while adding another visually stunning touch to the classic look.
The early history can be traced to Australia, where recipes for a very similar dish date back to 1906. It was called "cream cake".
Then Emily Futter's 1922 book Australian home cookery contains the first recipe we know today that resembles modern-day one and is not yet known by that name. The dish was named "meringue with fruit filling."
Meringue-Based Dessert Popular in Australia
This introduction is a guide to one of Aussie's favorite desserts. Filled with fascinating facts and amusing anecdotes, you'll learn how the dessert originated in New Zealand and was given its name after a famous ballerina from Russia who toured Australia.
Why is Pavlova Popular in Australia?
The dessert is synonymous with summer celebrations, a refreshing sweet treat on an often hot and sticky day. With many Australians being brought up to believe it to be the invention of Australians, it's no wonder they feel such a strong affinity for this dish. The only problem is that New Zealanders also have their own claim to fame when it comes to Pavlova as well.
What is the Difference Between a Meringue and a Pavlova?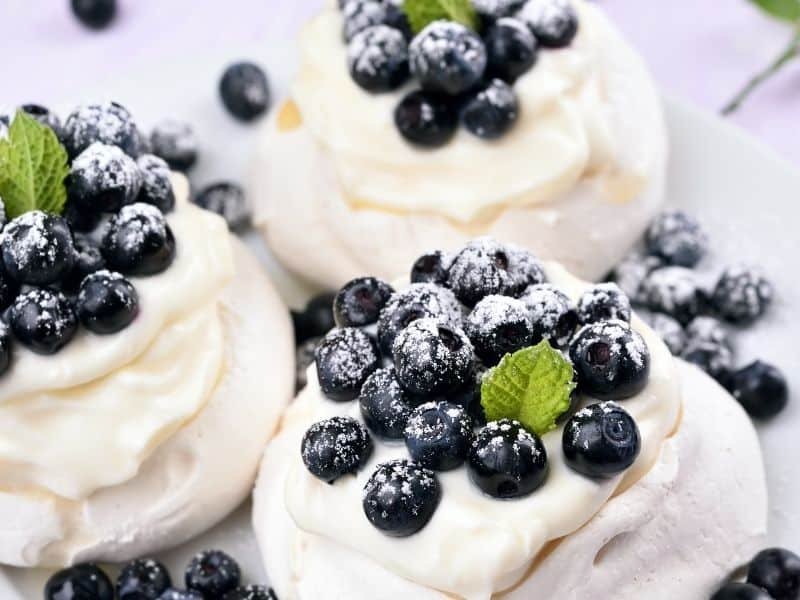 Meringue and pavlova are both egg-white desserts that have similar cooking methods. Meringues tend to be crispy throughout, while pavlovas are crispy on the outside, but a little softer and fluffy like a marshmallow on the inside.
So basically, a pavlova is a meringue-based dessert, but with a twist. Definitely not a classic meringue.
How Can I Find Pavlova Near Me?
There are a few ways to find Pavlova near you, but if you want it done right, go with Google Maps! With just a click of your mouse or tap on your phone screen, you'll have the perfect way to find out where the best place in town is for this delicious treat!
However, you can actually find it at most grocery stores or other restaurants that have an international menu!
How to Make Pavlova?
Basically, in every Pavlova recipe, there are 3 components: the meringue base, the whipped cream, and fresh fruits.
The dessert is not only delicious but also pretty easy to make. Follow these simple steps:
take the egg whites (room temperature),
whip them until they are fluffy and stiff peaks form
add the sugar
stir for at least two minutes
fold in the whipped cream
pipe onto a baking sheet lined with parchment paper
bake for one hour
allow cooling then top as you wish!
Variations on the Traditional Recipe
It is an easy dessert that can be made with ingredients you are likely to have in your kitchen. It's perfect for any occasion, but especially the holidays. Here are a few variations of the traditional recipe.
For chocolate lovers, try adding melted chocolate chips and cocoa powder to the meringue mixture before baking it for about 30 minutes at 350 degrees Fahrenheit.
If you want something fruity, add fresh fruit when serving after it has cooled down from being baked in the oven. Strawberries or raspberries work well as do bananas or pineapple if they're available! Be creative and experiment with different fruits until you find one that fits your taste buds best! You could even use blueberries.
Variations of Recipes
Traditional Recipe
Ingredients
4 egg-whites
1 cup caster sugar
2 teaspoon of cornflour
1 teaspoon of lemon juice
1/2 teaspoon vanilla extract
300 ml carton of cream, whipped
3 bananas, peeled, sliced
250-gram punnet strawberries, hulled, quartered
2 kiwi fruit, peeled, sliced
4 passionfruit, pulp
Method
Preheat oven to 150°C. Line an oven tray with baking paper.
In a large, clean bowl, using an electric mixer put the egg whites in and whip them until they form soft peaks.
Gradually add sugar, one tablespoon at a time. Once you've added enough to dissolve the sugar and thicken up your mixture, beat in cornflour as well as lemon juice with vanilla extract.
Spoon this onto the prepared tray before forming it into a 20cm round shape that has been slightly hollowed out on top.
Bake for 20 minutes. Reduce oven to 120°C, and bake for further 45 minutes. Allow cooling in the turned-off oven with the door ajar to fully dry out before you take it out of there!
Spread some cream over it and top it with bananas, strawberries, and kiwi fruits. Then drizzle with passionfruit for a dessert that will brighten up your day like no other.
Lemon Pavlova Recipe by Nigella
Ingredients
6 egg whites
375 grams caster sugar
2½ teaspoons cornflour
2 unwaxed lemons
50 grams of flaked almonds
300 ml double cream
325 grams jar of lemon curd
Method
The oven should be preheated to 180°C/160°C Fan/gas mark 4/350°F. Beat the egg whites until satiny peaks form, then beat in the sugar a spoonful at a time until the meringue is stiff and shiny.
Sprinkle the cornflour over the meringue, then grate in the zest of 1 lemon and add 2 teaspoons of lemon juice.
Gently fold until everything is thoroughly mixed in, and then mound the mixture on a lined baking tray to make an even layer about 10 inches wide. Use your spatula or knife to smooth out the sides of this cake as well.
Place in the oven, then immediately turn the temperature down to 150°C/130°C Fan/gas mark 2/300°F, and cook for 1 hour.
Remove from the oven and leave to cool, but don't leave it anywhere cold as this will make it crack too quickly. When you're ready to eat, turn the dessert onto a large flat plate or board with the underside uppermost. This is so the tender marshmallow belly of the pav melds with the soft topping.
Toast the flaked almonds, by frying them in a dry pan over medium to high heat until they have started to color. Shake the pan at regular intervals and don't let them burn. This doesn't take more than a minute or so. When they're done, remove them with tongs (or fingers) onto an awaiting cold plate for maximum crunchiness!
Whip the cream until thick and airy but still with a voluptuous softness, and set it aside.
Spread the lemon curd atop your meringue base with this spatula then cover it in whipped cream before topping off with zest from that remaining grapefruit! Sprinkle on some almonds for crunch to complete this triumphant dish.
This blog post should give you some information about the history of this popular dish, as well as how to make one yourself! Have you ever tried this airy dessert? Let us know in the comments below what your favorite part of it was.
FAQs
What is the name of the popular Australian/New Zealand dessert, named after a famous ballerina, made from egg whites and sugar and topped with cream and strawberries?
Pavlova! It's a meringue-based dessert named after the famous ballerina Anna Pavlova. It's typically made with egg whites, sugar, cornflour, and lemon juice, and is often topped with cream and fresh fruit.
Is pavlova Australian?
It is a traditional Australian dessert that has been enjoyed for decades.
The dish was named after the Russian ballerina, Anna Pavlova, who toured Australia and New Zealand in the 1920s.
What are the ingredients?
Egg whites, sugar, cornflour, lemon juice, vanilla extract, double cream, and fresh fruit.
Was this article helpful?