There are many types of mountain pies to choose from. What's your favorite?
Some of the most popular types of mountain pies are:
Sour Mountain Pies: Pizza Pies, Breakfast, Chicken Salad Melt, Monte Cristo, Avocado Toast, Caprese Pies, and many more.
Sweet Mountain Pies: Apple, Cherry, Banana Cream Pie, PB&J, and other delicious flavors.
What are the other delicious types of mountain pies? This blog post will help you decide which kind of pie suits your taste buds best!
What is a Mountain Pie?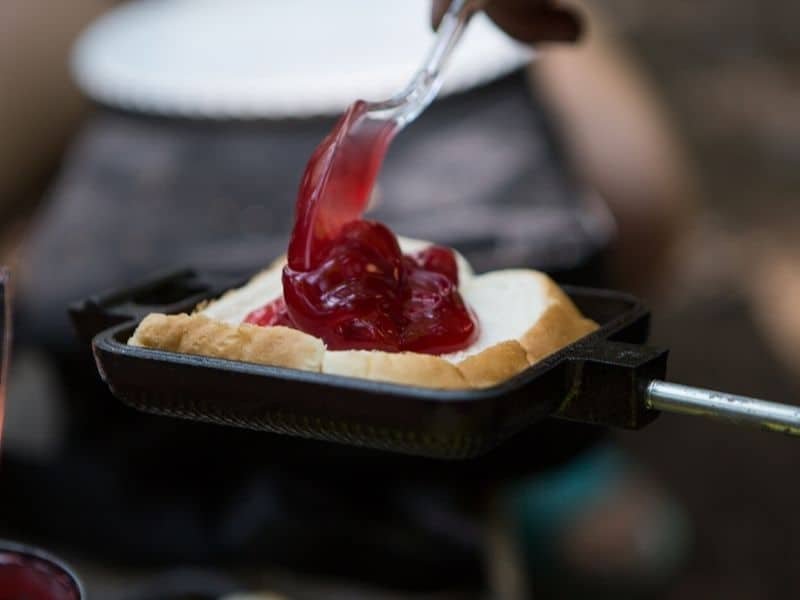 Mountain pies, also known as campfire pies or pudgy pies, are hand pies. They are usually made with two buttered pieces of bread and some pie filling.
Traditional flavors include fruit pies such as apple or cherry and pizza.
You usually make mountain Pies with a campfire pie iron.
26 Mountain Pies Types
Savory Mountain Pies
These savory mountain pies can be a hearty meal during camping. You can enjoy breakfast, lunch, and even dinner.
Meat Options
Here are the most famous mountain pies with meat fillings:
1. Pizza Pies
Pizza pies consist of white slices of bread with pepperoni slices, tomato sauce, cheese fillings, or any other favorite pizza filling (a.k.a Grandma Pie).
2. Sausage & Gravy with Beans or Potatoes
Bacon-wrapped BBQ Pork Loin Sliders on Hawaiian Rolls
3. BLT
BLT pie is bacon and Tomatoes fillings with sourdough bread slices.
4. Breakfast
Bacon or sausages, egg, and cheese, inside slices of white bread.
5. Cheeseburger
Cheeseburger pie is a mix of ground Beef, American Cheese, onion, mustard, and ketchup in pieces of white bread.
6. Chicken salad melt
Chicken salad melt pies are slices of rye bread with shredded chicken and cheddar cheese or swiss cheese fillings.
7. Taco
Taco pies are taco meat, cheddar cheese, and tomatoes inside slices of white bread.
8. Monte Cristo
Monte Cristo pies are slices of white bread filled with egg, ham, butter, mustard, and Gruyere cheese.
Vegetarian Options
Here are some of the most popular vegetarian pies fillings:
9. Potatoes and cheese (a.k.a Tater Tot)
Potatoes and cheese pies are tomatoes, mushrooms, and spinach fillings in sourdough bread slices.
10. Avocado Toast
Avocado and egg in wheat bread slices.
11. Bean Sandwich
Baked beans inside pieces of white bread.
12. Caprese
Caprese mountain pies are Italian bread pieces filled with basil leaves, mozzarella, and tomatoes fillings.
13. Sauteed Vegetables
Sauteed vegetables pies are sourdough bread slices with various roasted vegetables and cheese fillings.
Sweet Mountain Pies
Apple and Cherry are the most popular sweet pie fillings.
14. Apple Pie
Apple pies consist of cinnamon, sugar with apple filling, and inside slices of white bread or cinnamon bread.
15. Cherry Pie
Sugar and cherry filling in pieces of white bread.
16. Sour Cream Pie
Sour cream pie is pie filling made with sour cream, sugar, and lemon juice in white bread slices.
17. Strawberry Pie
Strawberry pies are slices of cinnamon or white bread filled with strawberries and whipped cream.
18. Coconut Cream Pie Slice (a.k.a Bummer Bertha)
This pie slice is vanilla wafers filled with coconut milk fillings inside slices of white bread.
19. Peanut Butter & Jelly
This PB&J pie is two slices of bread with peanut butter and jelly fillings.
20. Blueberry Pie (a.k.a Blue Moon)
Blueberry pie is sourdough bread filled with blueberries, sugar, lemon juice, and cinnamon.
21. Chocolate-Cherry Pie (a.k.a the Black Forest)
This pie is Sourdough bread filled with cherries, dark chocolate chips, sugar, vanilla extract, lemon juice, and flour for thickening purposes.
22. Peanut Butter & Chocolate Pie (a.k.a S'mores Oreo Pie)
Two slices of bread filled with a mix of peanut butter and chocolate chips. It is topped off with crushed oreo cookies on top for an added crunch!
23. Banana Cream Pie (aka Banana Boat)
This pie is slices of brioches with pie filling, bananas sliced in half lengthwise, nutmeg or cinnamon on top. A scoop of vanilla ice cream is optional but recommended for a decadent treat!
24. Chocolate Cream Pie (aka Silk)
Pie filling in the center, chocolate chips around the edges of pie crust pieces. Optional: vanilla ice cream on top for an extra sweet treat!
25. Key Lime Pie
Pie filling in the center, graham cracker crust pieces around the edges of pie crust. Optional: whipped cream on top!
26. Peanut Butter Cream Pie (aka Shoofly)
A mix of peanut butter and brown sugar filling inside white bread slices. Delicious with some chocolate chips too! Optional: vanilla ice cream on top.
Pizza Mountain Pies
One of the most famous mountain pies is pizza.
These pizza pies consist of white slices of bread with pepperoni slices, tomato sauce, cheese fillings, or any other favorite pizza filling (a.k.a Grandma Pie).
Other favorite fillings include Ham, turkey, roast beef, and cheese in white or wheat bread.
What are moon pies made of?
Moon Pies are a classic Southern dessert that is made with marshmallows and cookies. They are typically enjoyed as a snack or dessert. Moon pies can be enjoyed plain or with different flavored fillings.
Some popular variations include chocolate, vanilla, strawberry, and banana.
Moon pies are a must-have for any Southern cookout!
Sweet Mountain Cherries
Sweet mountain cherries are one of the most delicious and nutritious fruits you can enjoy. These plump, juicy berries are packed with antioxidants, vitamins, and minerals, making them a great addition to any diet. What's more, sweet mountain cherries are perfect for both cooking and snacking.
Whether you bake them into a pie or simply enjoy them straight from the bag, these versatile berries are sure to please.
So next time you're looking for a delicious and healthy treat, reach for some sweet mountain cherries. Your taste buds will thank you!
How to Make Mountain Pies?
Mountain Pie Tips
Mountain pies are pretty easy to make. However, be careful with the iron cast because it gets scalding.
Here are some other things you should consider when creating your masterpiece.
Don't use raw meat when making a sandwich. The campfire may be hot, but the sandwich maker isn't hot enough to cook the meat.
Don't put mayonnaise inside the pie maker. Mayonnaise doesn't like to mix with heat, and it can go bad quickly.
Don't use raw eggs. Instead, cook the eggs first and then put them inside the bread. The bread gets too soft, and the egg may not get cooked enough if you don't cook it before putting it in.
Do not use lettuce when you are cooking. It wilts and gets slimy when it is heated.
Avoid raw vegetables. They tend to release a lot of liquid while they are cooking. Sautee them instead. But make sure to drain off the liquid before putting it inside the bread.
Use the sauce to dip the bread. This way, the bread doesn't get mushy.
Don't limit yourself to white bread. Instead, try different types of bread choices. Some of the favorite bread types that are excellent for mountain pies include brioche, sourdough, and wheat bread.
How to Make a Mountain Pie
To make a good pie, you need an excellent maker. When looking for a pie iron, look for one made of heavy-duty cast iron.
These things work well. They give you sealed edges and browning. Here are the steps to making great mountain pies:
Build a nice campfire.
Open the pie maker and place it on a flat surface.
Take one slice of bread, and butter the side that will be touching the pie maker.
Butter another piece of bread and lay it on the other side of the maker.
Add ingredients to one side of the buttered bread.
Close the maker and cook it.
Once you are done making the pie, carefully take it out of the maker. Please put it on a plate. But don't touch it because it is hot.
Let food cool so that you won't get burned by it.
Popular Mountain Pie Recipes
Mountain Pie Pizza Recipe
Pizza pie is one of the most famous mountain pies. It is very easy to make. And you can put anything you have inside the pies. So do not get restricted by the recipe.
Prep/Total Time: 10 min.
Ingredients
1 tablespoon butter, softened
2 slices of white bread
1 tablespoon pizza sauce or tomato sauce
4 tablespoons shredded part-skim mozzarella cheese, divided
4 slices pepperoni
1 tablespoon chopped green pepper, optional
Directions
Put butter on bread slices.
Place one piece in a sandwich iron, buttered side down.
Put some pizza sauce or tomato sauce on one side of the bread. Sprinkle it with cheese, pepperoni, and green peppers if wanted.
Put cheese on top of the sandwich. Add bread, buttered side up. Close the iron.
Cook over a hot campfire. Cook it until it is brown and the cheese is melted. Turn it occasionally for 3-6 minutes.
Simple Fruit Mountain Pie Recipe
This is a simple recipe. You can use this recipe for most fruits, including apple, cherry, blueberry, strawberry, and other fruits.
Serves: 1
Ingredients
1 tablespoon butter, softened
2 slices of white bread
Fruit or Pie Filling (Apple, Cherry, Blueberry, Strawberry, etc.)
Directions
Butter one side of the bread. Put the bread with butter on it into the iron.
Put the pie filling on one piece of bread. Then, put another slice of bread on it, and spread butter on top of the bread.
Close pie iron over the sandwich and cook over hot coals until warm and crisp.
The time to cook the pie depends on how hot your coals are. Check after 3 minutes. If ready, flip the pie iron over and continue cooking the other side.
When the sandwich is done, take it out of the fire, let it cool, and eat it.
FAQs
Are mountain pies a Pennsylvania thing?
Yes. They are trendy in Pennsylvania.
How do you use a campfire pie maker?
You place the bread between two slices of pie iron and then put it over your hot coals. You cook until golden brown and crisp on both sides.
How do you keep mountain pies from sticking?
You should butter one side of the bread and place it between two pieces of pie iron with the buttered sides touching. The heat will make the butter crispy. Check every few minutes while cooking because everyone's fire is different.
How do you clean a mountain pie maker?
Clean the pie iron with a wet paper towel or soft sponge. Do not use soap because it can make your food taste bad.
Was this article helpful?