If you love camping, you will be familiar with bush pies. Bush pies are the best meals the be had in the outdoors. However, not many people know that there are so many delicious and favorite types of bush pies that you can try.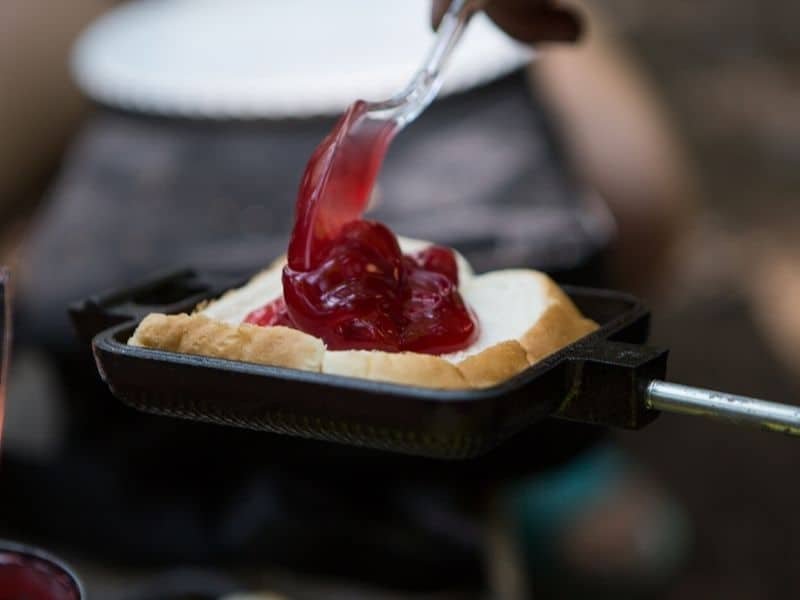 In this blog post, we will talk about bush pies, the 28 most favorite types of bush pies, and how to prepare them.
What is Bush Pie?
The bush pies are also called by other famous names, such as mountain pies, hobo pies, campfire pies, pie irons, or pudgy pies.
A bush pie is basically a camp cooking. It is a sandwich grilled inside a cast-iron pie iron (available where camping equipment is sold). The pies are the perfect camp food and the easiest best meals that can be made while camping, RV-ing, or picnic in the outdoors.
The variety of bush pie ingredients is only limited by the imagination, though we typically make some variation of a pizza bush pie as a main course and either pie filling or thickened local berries for dessert.
Pie Iron Pans
Cast-iron pie iron is the pan that is used to make bush pies. It is also called bush pie iron, campfire cooking iron, campfire pie iron, sandwich iron, or campfire sandwich maker.
The rectangular base of the pie iron is joined by two long handles that can be clasped together, and they are available in a single or double size.
Pie irons, which are simple in concept and appearance, allow you to toast a sandwich over a campfire by enclosing the ingredients between two slices of bread.
Pie irons come in all shapes and sizes and their uses are countless. Campers and RVers have come up with a variety of ingenious methods to utilize the pie irons for cooking breakfast, lunch, dinner, and desserts.
Another advantage of pie irons is that they can be readily stored – whether you have a tiny pop-up camper or a bigger Class C motorhome with more storage.
28 Most Favorite Types of Bush Pies
Bush pies are great for breakfast, lunch, dinner, or in between. There is an unlimited type for pies. They can be sweet pies or savory pies.
Here are the 40 most favorite types of both sweet and savory bush pies that you can try for your next outings.
Sweet Bush Pies (Campfire Desserts)
#1 Apple Mountain Pies
Apple pies are always the best. Just mix thinly sliced apples with sugar, spread them inside the bread, and cook them over a campfire.
#2 Cherry Pie
Cherry iron pie is very simple to make. Just spread canned cherries as fillings (add sugar if necessary), and you will have great desserts.
#3 Chocolate Pie
Who doesn't love chocolate? Chocolate bush pie is as simple as putting chocolate bars inside two slices of bread and cook them over a campfire.
#4 Nutella and banana
The combination of Nutella spread and banana is always delicious.
#5 Nutella and Marshmallows
Do you want some marshmallows for your dessert? Just have the combination of Nutella and marshmallows for your fillings.
#6 Nutella and Strawberries
This filling is also an all-time favorite. The combination of Nutella and strawberries cannot go wrong.
#7 Peanut Butter and Jelly
The classic PB & J fillings make you feel at home.
#8 Honey and Peanut butter
Do you want something nutty sweet and healthy? Just have honey and peanut butter fillings.
#9 Apples and Cinnamon Sugar
When apples and sugar are not enough, just add a dash of cinnamon, and your pie will taste much better.
#10 Apple Butter and Fruit
Have apple butter and fruit filling for healthy desserts.
#11 Chocolate Chip Cookie Pudgy Pies
Just bring your favorite chocolate chip cookie dough while camping. When it's time to cook, just put it inside the bread, and you will have delicious desserts.
#12 Blueberry Cream Cheese Stuffed French Toast
Stuff the french toast with blueberry and cream cheese fillings for a tasty breakfast.
#13 S'more Pudgy Pie
Top your marshmallow with chocolate bars, graham crackers, and other ingredients for a tasty treat.
#14 Pumpkin Pie
Just mix canned pumpkin pie filling with a dash of nutmeg and ginger, you will have excellent pumpkin pies.
Savory Bush Pies
These types of pies are usually also called Pie Iron Pizza Pockets or Campfire Pie Iron Pizza.
#1 Tomato, Mozzarella & Basil Grilled Cheese
This is a classic combination, and it will taste much better when you cook the sandwiches over the campfire.
Just have some bread with mozzarella cheese slices inside while camping. When it's time to eat, add basil leaves and tomato slices on top of the cheese for an awesome sandwich.
#2 Mozzarella Cheese and Pepperoni Pizza
The smell of melting mozzarella cheese and pepperoni is enough to make you drool.
Just add some filling like pizza sauce, chopped ham, and sliced bell peppers before cooking over the campfire. Yummy!
#3 Spinach, bacon, feta, mushrooms, and onion
Have some toast with feta cheese and shredded mozzarella while camping. When it's time to eat, add bacon bits, chopped mushrooms, spinach leaves, and onion slice on top of the cheese for a tasty treat.
#4 Sausage, scrambled egg, and cheddar cheese
If you feel like having a savory breakfast, this is the perfect one for you. Just add some cheese and sausage with scrambled eggs inside while camping. When it's time to eat, top everything with cheddar cheese slices before cooking over the campfire.
#5 Avocado, scrambled egg, bacon, and tomato
Top your toast with avocado while camping. Add scrambled eggs along with bacon bits and sliced tomatoes on top of the avocados for an awesome treat.
#6 Ham and cheese
Just put some cheese and ham on top of the bread while camping. Cook everything over the campfire until the cheeses are melted nicely.
#7 Tuna Salad and Cheddar Cheese
Mix some tuna salad from canned tuna, top with cheddar cheese, and cook until the cheese is melting.
#8 Spicy Grilled Cheese
Add some sliced jalapeño peppers and pepper jack cheese on top of the bread while camping. When it's time to eat, just cook everything over campfire for a delicious spicy treat.
#9 The Monte Cristo
Dip the bread in egg before putting them in the pan. Add ham and swiss cheese on top of the bread, and then spread it with a bit of mustard and mayonnaise. That makes the perfect Monte Cristo in the outdoors.
#10 Coney Dog Pie
Fill the bread with chili, cheddar cheese, and chopped onions while camping. When it's time to eat, drizzle the pies with ketchup to make them taste like the real coney dogs.
#11 Sheperd's Bush Pie and Mash
Mix some mashed potatoes and ground beef inside the bread, add shredded cheddar cheese on top of everything, and cook until all ingredients are cooked nicely.
#12 Chicken Pot Pie
Mix some shredded chicken, peas, and carrots inside the bread while camping. Top everything with mashed potatoes before cooking over the campfire for a tasty treat.
#13 Cheeseburger Pies
Add some pickles and ground beef along with shredded cheese inside the bread while camping. When it's time to eat, drizzle ketchup on top of everything for a delicious cheeseburger treat.
#14 Pie Iron Tasty Tacos
Just top your tortillas with ground beef, chopped cheese, and salsa before putting them inside the pie iron. Cook everything over the campfire until all ingredients are cooked nicely.
How to Make Bush Pies
Making bush pies is basically pretty simple. Just toss everything you want in the pies inside the sandwich, then cook them with the camping iron.
Method
What you need:
A camping cooking iron
Sliced bread
Non-stick spray or butter
Filling of your choice
What to do:
Spray both sides of the iron with a non-stick spray.
In a mixing bowl, combine all of the ingredients. Butter two slices of bread and butter on both sides.
Put a slice of bread on one side, spread your favorite fillings on the other side, put another slice of bread on top, close the sandwich maker tightly, remove excess bread, and toast it over a fire.
Rotate the iron every minute or so until everything is melted evenly, and the bread is golden brown (about 4 minutes).
Apple Mountain Pie Recipe
Prep/Total Time: 10 min.
Ingredients:
Apples – Thinly sliced so they can cook over a campfire.
Bread – White bread is best for campfire pies.
Butter – Salted or unsalted butter or even margarine
Lemon Juice – Fresh squeezed lemon juice.
Brown Sugar
Granulated Sugar
Directions:
Thinly slice the apples.
Put all of the ingredients in a bowl. Except for the bread and butter, mix them together until it is mixed well.
Butter two pieces of bread, both sides.
Put a piece of bread on the bottom of the pie cooker. Fill it with apple filling then put another piece of bread on top and close the lid.
Hold the heated pan over the fire until each side is brown.
Pizza Mountain Pies
Prep/Total Time: 10 min.
Ingredients:
1 tablespoon butter, softened
2 slices white bread
1 tablespoon pizza sauce
4 tablespoons shredded part-skim mozzarella cheese, divided
4 slices pepperoni
1 tablespoon chopped green pepper, optional
Directions:
Spread butter over bread slices. Place one slice in the pie iron, buttered side down.
Spread pizza sauce on the bread. Put pepperoni, cheese, and green pepper on top of the sauce. Close the iron.
Cook over a hot campfire until the cheese melts and the outside of it becomes golden-brown. Cook for 3-6 minutes, turning occasionally.
See also: 21 Easy Breakfast Ideas When Camping