Have you ever wondered what Aussies like to do in their spare time? Sure, we know they love a good barbeque and a cold beer, but when it comes to the type of dancing that's popular Down Under – here's where it gets interesting.
The most beloved dance among Australians has been around since the early 20th century. In fact, some would say this particular move is so iconic that nearly every Aussie knows how to bust out these moves at any point in time!
So, what is it? If you guessed Ceroc…you'd be right on the money!
Dancing in Australia is one that brings joy and happiness to the people of this great continent. So what exactly does it entail? What is the most popular type of dance in Australia?
Well, there are many different styles of dancing in Australia, from traditional indigenous Australian dances to contemporary western ones. Let's find out!
The Most Popular Type of Dance in Australia
Traditional Indigenous Australian Dance
The use of animal imitations in Aboriginal traditional dances is very common, particularly to help tell stories and bring the Dreamtime to life. The tales and dances might also be used as an initiation or coming-of-age ritual.
There are many different types of rituals and ceremonial dancing. But they all include a combination of dance, music, customs, and sometimes elaborate body adornments and costumes. The various body paintings represent the type of ceremony being conducted.
What is an Aboriginal Corroboree?
A Corroboree is an Australian Aboriginal traditional ceremony in which participants express themselves through dance, music, and costume to connect with the Dreamtime. The real ceremony is sacred to them, and outsiders are not permitted to participate or watch the event.
The word "corroboree" in general Australian culture is used to denote Australian Aboriginal dance performances these days, although it derives from the Sydney area's indigenous people. In some areas, indigenous individuals perform corroborees for visitors.
Most Popular Aboriginal Dances
There are countless types of Australian dance traditions that have existed for thousands of years.
Here are some of the traditional Aboriginal dances that are quite well known and often performed for visitors.
The Silent Snake: Pamagirri
The Warning Dance: Gurrunga
The Cassowary Dance: Bundara
The Mosquito Dance: Ngukum
Sugar Bag: Muguy
The Kangaroo Dance: Marloo
Shake-a-leg: Warran Jara
Australian Bush Dance
The Australian bush dance is a type of dance originating from Australia, particularly those danced to the music of a bush band. The bush dancing routines are based mostly on traditional folk dances from the United Kingdom, Ireland, and central Europe.
Here are several most popular bush dances in Australia.
Céilidh (aka Pride of Erin)
The Céilidh (also known as the "Pride of Erin") is a popular Irish dance that originated in Ireland and is frequently performed in Australia.
A traditional Gaelic (Irish) social gathering known as a Céilidh is an evening of Gaelic folk music and dance. These Irish folk dances are still much popular in Ireland, Scotland, and Australia.
The Lancers (aka Quadrille of the Lancers)
The historic dance known as Quadrille is also popular in Australia. In a rectangular formation, four couples perform the historic dance Quadrille. It may also be referred to as "The Lancers," and it serves as the introduction to traditional square dancing.
The Lancers dance got its name during the 1820s when the lance was becoming a very popular cavalry weapon in the military. The original name of the Lancers dance (or Lancier) was called the Quadrille of the Lancers and later changed to simply Lancers.
In Australia, these dances are frequently taught in community centers and dance schools.
Waves of Bondi
The Waves of Bondi is an authentic Australian dance with an Irish influence, which originated in Sydney.
Begin with two groups of women and men, who begin with various line dancing techniques sort steps. The ladies and males eventually end up as partners performing the steps together.
Melbourne Shuffle
The Melbourne Shuffle, also known as Rocking, is a popular Australian dance. It's a dance that emerged in the late 1980s in Melbourne, Australia's underground rave music scene.
Fast heel-and-toe action with a style that matches various types of club music is the foundation of the dance. People who dance the Shuffle is commonly known as Rocker.
New Vogue
The New Vogue was created in the 1930s. And it has since become an essential component of Australia's ballroom scene.
In social events and dance competitions, the New Vogue has the same significance as Latin or International Standard dances. It is made up of a sequence of dance movements. Sequence dancing is a type of dance that involves performing a set number of steps to music.
Nutbush
The Nutbush, as it is more commonly known, is a classic Australian line dance that has been taken around the world by TikTok dances.
The Nutbush has been a popular dance in Australia since the 1980s, and it is frequently seen at schools, parties, and community events. In Australia, the dance has grown such popularity that it has been incorporated into several state school curriculums.
Australian Ballet
The Australian Ballet is Australia's most renowned classical ballet company. It is based in Melbourne and performs works from the classical repertoire as well as contemporary pieces by notable Australian and international choreographers.
In 2010, the Australian Ballet performed around 200 times in major cities and outlying regions. They also performed internationally.
Regular venues include the Melbourne Arts Center, Sydney Opera House, Sydney Theatre, and Adelaide Festival Center. They are popular places for people to go to see a ballet performance in Australia.
Popular Dances
Other popular dances in Australia that have different styles of dance include some of the popular dances in the world.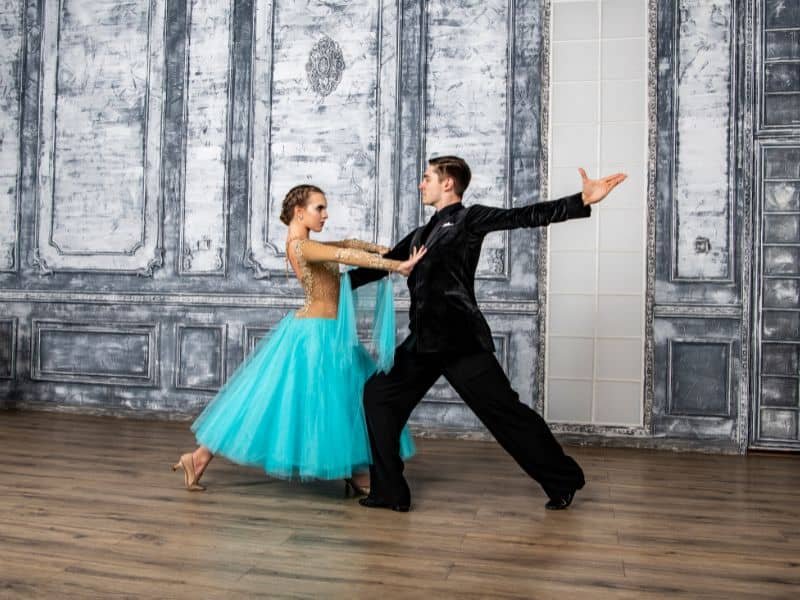 Ballroom Dance
A ballroom dance is a group of partner dances, which are performed to the accompaniment of music.
The original style of dancing that emerged in 14th century Spain was known as "dancing pairs" or couples, who would face each other in various formations. It later spread throughout Europe and eventually reached North America during colonial times.
The most occurring types of ballroom dances are the Waltz, Tango, Foxtrot, and Quickstep.
Contemporary Dance (Modern Dance)
Contemporary dance is a broad genre of dance performance that makes use of modern movement.
It can be associated with both classical ballet and contemporary styles like jazz, tap, hip-hop, flamenco, lyrical and postmodern to create new work.
Contemporary dances emerged in the late 1950s when there was an increase in the number of dance works that explored the relationship between movement and music.
Hip-Hop Dance
Hip-hop dance refers to street dance styles primarily performed in hip-hop music.
It is now used as the basis for a variety of street dances, including breakdancing and turning popular, which became in Australia during the 1960s.
There are many different types of Hip Hop dancing that can be done with or without props, costumes, or equipment.
Jazz Dance
Jazz dancing is a term that describes choreographed dances set to jazz music.
It can be considered as an improvisational style of theatrical dancing involving partnering with either one or two partners, and it emerged in the United States during the 20th century.
There are many different types of Jazz Dance including Broadway Jazz, Street Jazz, Blues Jazz, and Jazz Funk.
Tap Dancing
Tap dancing is a form of dance involving the striking of the feet or shoes in specific rhythms.
It became widely known when used as an accompaniment to various dances from popular music, musical theatre, and films throughout much of the 20th century.
There are many different styles of tapping including classical ballet tap, rhythm tap, swing tap, and Irish tap.
Getting to Know
What is a Dance?
Dance is an art form that is full of joy and happiness. It includes physical activities such as moving to music, rhythmically and in a structured or improvisational way using patterns of steps and gestures.
Health Benefits
Dancing may be a fantastic method to stay healthy for people of all ages, sizes, and shapes. Almost all aspects of dance have several physical and mental advantages.
Here are several health benefits of dancing:
With increases in blood and oxygen flow, your heart and lungs will benefit from better conditions.
Improve your muscular strength, endurance, and motor fitness.
Improved cardiorespiratory (or aerobic) fitness
Increased muscle tone and strength
Weight management
Increased bone mass and protection against osteoporosis are among the benefits.
Improved coordination, agility, and flexibility
Improved spatial awareness and balance
Increased physical confidence
Improved mental functioning
Better mental health and general well-being
A greater sense of self-assurance and self-esteem
Social skills are improved.
General Tips
Learning and starting to dance is great. However, don't get too excited. There are several general tips that you need to consider before starting your dancing.
If you have a medical condition, are overweight, are over 40 years of age, or are unfit, go check with your doctor.
You should do warm-ups before starting to dance. This is important because you need to make sure your muscles are ready and that you don't hurt yourself and risk injury.
Drink lots of water before, during, and after a dance.
Wear layers of clothing that you can take off if your body gets warm.
Be sure to wear shoes that are fitted to the type of dance you do.
When you are dancing, it is important to take breaks between dance sessions.
Don't push yourself too far or too fast. If you are a beginner, that is even more important.
Try to move in a way that is graceful and smooth.
Ask your dance instructor if you are holding the correct form.
After you dance, cool down. Stretch your muscles to help them relax.
If you want to learn new dance moves, then sit and watch other people first. If you are already tired, then your chance of getting injured goes up.
Perform exercises that make your legs stronger.
FAQs
What are the 3 main types of dance?
The foundations utilized in ballet are frequently employed by other types of dance. There are three primary categories: classical ballet, neoclassical ballet, and contemporary ballet.
What is the most popular dance in Australia?
Some of my favorite dances are the Irish Céilidh, "Pride of Erin" and the quadrille "The Lancers." Locally originated dances include the "Waves of Bondi", the Melbourne Shuffle, and New Vogue. The Australian Ballet is a company that does classical ballet.
What is Aboriginal dance used for?
It is common for Aboriginal dancers to imitate animals in their dances. This helps tell stories and brings the Dreamtime alive. The dance could also be used as an initiation process, or to celebrate a life event.
Do other countries do the Nutbush?
Australia is the only country that does the Nutbush City Limits dance. No other country does it.
See also: Why is cricket the most popular sport in australia?
Was this article helpful?