Vienna sausages are one of my favorite snacks. I love them because they're delicious and portable. But did you know that they can also be a meal? They're a great way to get protein when you're on the go.
Vienna sausages are a perfect choice if you are looking for a delicious and convenient snack or meal! These little sausages are packed with flavor, and they can be enjoyed in a variety of ways.
This blog post will discuss some of the best ways to enjoy the sausage. We will also provide some recipes to turn these sausages into a delicious and satisfying meal.
Tasty, Delicious Vienna Sausages
They are small, thin sausages that are typically made from pork. They originated in Austria and are a popular food item in many European countries. They can be eaten as a snack or as a meal.
What are the Sausages Made of?
Typically, these sausages are made from pork. However, they can also be made from beef or chicken. The meat is chopped into small pieces and mixed with spices and other ingredients. The mixture is then placed in a casing and cooked.
They are usually flavored with salt, pepper, and mustard. Other common ingredients include onion, garlic, and paprika.
Taste and Smell
Vienna sausages have a strong, distinct flavor. They are slightly salty and have a smoky taste.
The sausages also have a slightly sweet taste. When they are cooked, they give off a faint smell of pork.
Are They Healthy?
These sausages are a good source of protein. However, they are high in sodium. They are also low in calories and fat.
If you are looking for a healthy snack or meal, they are a good choice. Just be sure to watch your sodium intake.
How to Enjoy the Sausages
The Best Snack for Any Occasion
Vienna sausages are an excellent snack for any occasion. You can enjoy them on their own, or you can add them to a variety of dishes.
Here are some ideas for how to enjoy the sausages for a snack:
Add them to a charcuterie board
Serve them with crackers and cheese
Wrap them in a piece of bread or a tortilla for a quick and easy sandwich.
Wrap them in bacon
Cut them into bite-sized pieces and add them to a salad
Enjoy them as an hors d'oeuvre with some mustard and pickles.
Or you can eat them on their own with a dipping sauce such as ketchup or mayonnaise.
As you can see, there are many ways to enjoy them. They are perfect if you're looking for a quick snack or a more substantial meal!
Perfect for a Quick Meal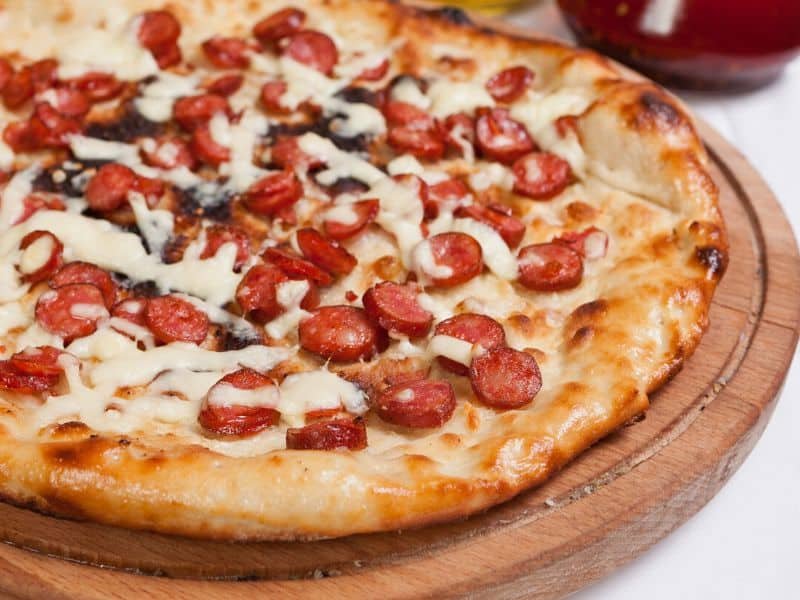 The sausages are also great as part of a quick meal. Many recipes include Vienna sausages as an ingredient.
Here are some ideas for how to turn them into a meal:
Add them to a pasta dish
Make a sausage and pepperoni pizza
Wrap them in a tortilla with some cheese and vegetables for a quick and easy burrito.
Serve them with rice and beans for a complete meal.
Add them to a stew or soup.
There are endless possibilities when it comes to recipes that include this type of sausage. Get creative and see what you can come up with!
Recipes for a Satisfying Meal
Now that we've discussed some of the best ways to enjoy them, let's talk about how to turn them into a meal.
Vienna Sausage and Rice: This dish is a quick and easy way to turn them into a meal. Simply cook the sausages and rice together in one pot. Here are some recipes that will show you how to do just that:
Vienna Sausage Casserole: This casserole is a hearty and filling meal that will leave you feeling satisfied. It's perfect for a winter night.
Vienna Sausage Stew: This stew is packed with flavor and nutrients. It's a great way to use up any leftover sausages.
Easy Ways to Cook Them
The sausages can be cooked in a variety of ways.
They can be boiled, grilled, baked, or even microwaved. It is essential to cook them until they are heated.
To boil, place them in a pot of boiling water. Cook for about five minutes or until heated through. If you're not sure how to cook them, here are some instructions:
To grill, preheat the grill to medium-high heat. Grill the sausages for about five minutes or until heated through.
To bake, preheat the oven to 350 degrees Fahrenheit. Bake for about 15 minutes or until heated through.
To microwave, place them on a plate and microwave for about two minutes, or until heated through.
As you can see, they are a versatile food item. They make a great snack or meal and are perfect for when you're on the go.
So, pick up some Vienna sausages next time you're looking for something delicious and convenient. Your taste buds will thank you!