If you're looking for a new and exciting snack, look no further than the Chiko Roll! This Australian classic is a must-try for anyone visiting or living in Australia.
They are made with beef, barley, cabbage, and spices and can be eaten warm or cold. They're the perfect snack for on the go.
So, if you're looking for something new and exciting to sink your teeth into, give it a go!
The Popular Australian Snack
About
Chiko Roll is a popular snack in Australia that consists of beef, barley, cabbage, and spices. It was first created in 1951 by Frank McEncroe and is now manufactured by Simplot Australia.
The snack is typically eaten cold or warm and can be found in most convenience stores across Australia.
What Is It Made Of?
It is made with cabbage, barley, carrot, green beans, beef, beef tallow, wheat cereal, celery, and onion.
The filling is partially milled and packed in a thick mixture of egg and flour pastry tube, intended to endure handling at football games. The roll is generally deep-fried in vegetable oil.
Why Is It So Popular?
It is a convenient snack that can be eaten on the go. It is also filling and has a long shelf life, which makes it ideal for camping trips or picnics.
The snack is also affordable and easy to make at home.
Chiko Roll Vs. Spring Roll: What's the Difference?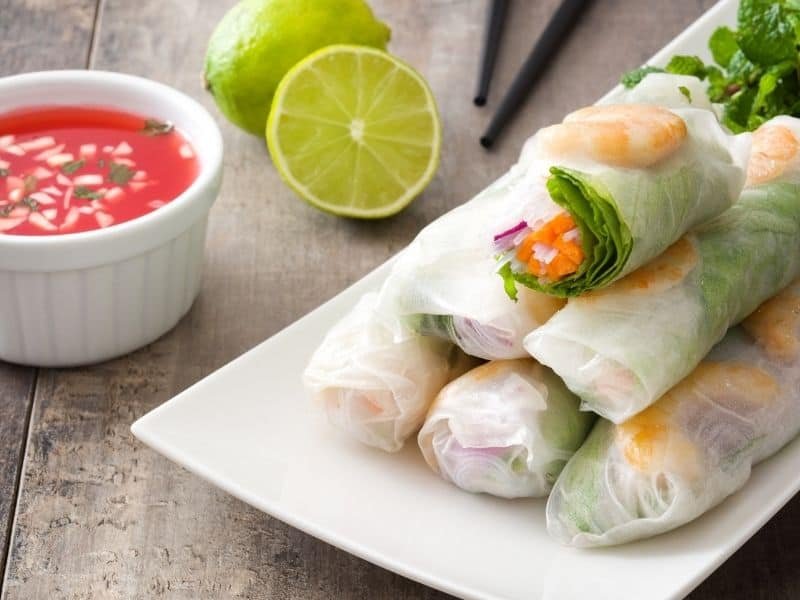 Chiko Rolls and spring rolls are both popular snacks that originated in Asia. However, there are some key differences between the two.
Chiko Rolls are made with beef, barley, cabbage, and spices, while spring rolls are typically made with vegetables or pork. Spring rolls are also smaller and thinner.
Chiko Rolls are typically deep-fried, while spring rolls are usually pan-fried or steamed.
Where Can You Find Them?
They can be found in most convenience stores across Australia. You can also find them at many supermarkets and online retailers.
Or you can find the takeaway rolls at your local fish and chip stores.
How to Enjoy It
There are many ways to enjoy it. You can eat it as is or add your toppings, such as ketchup, mayonnaise, or BBQ sauce.
You can also wrap it in a piece of bread to make a sandwich or cut it up and use it as a topping for salads or pasta dishes.
No matter how you enjoy it, one thing is for sure: the roll is a delicious and unique snack you need to try!
How to Make It?
Why Do You Want To Make It at Home?
There are several reasons why you want to make it yourself at home.
You can control the quality of ingredients, it is more affordable, and you can make it exactly to your liking.
You will have to make it yourself when you are not in Australia and craving this Aussie snack.
How to Cook
What You Will Need:
500g beef mince
½ cup pearl barley
¼ head cabbage, shredded
½ teaspoon curry powder
½ teaspoon garlic powder
½ teaspoon onion powder
½ teaspoon salt
¼ teaspoon black pepper
250g egg roll wrappers
Vegetable oil for frying
Instructions:
Making the filling:
In a large bowl, mix together the beef mince, pearl barley, cabbage, curry powder, garlic powder, onion powder, salt, and pepper.
Wrapping the rolls:
Place an egg roll wrapper on a clean work surface.
Scoop ¼ cup of the filling onto the wrapper.
Folding the rolls:
Fold the bottom corner of the wrapper up over the filling.
Fold the two side corners, then roll up tightly to enclose the filling.
Deep-frying the rolls:
Pour vegetable oil into a large saucepan or wok to a depth of about 15cm. Heat over medium heat until the oil reaches 180°C on a candy thermometer.
Carefully lower the rolls, in batches, into the hot oil and fry for about minutes, or until golden brown.
Drain on a paper towel. Serve with your favorite dipping sauce.
Enjoy!
Air-frying:
If you want to avoid deep-frying, you can also air-fry them. Preheat your air fryer to 200°C.
Place the rolls in the basket, making sure not to overcrowd it.
Cook for about 12 minutes, or until golden brown.
Variations
If you want to make vegetarian or vegan versions, you can substitute the beef mince for tofu or mushrooms.
You can add other vegetables to the filling, such as carrots, green beans, or corn.
You can use rice paper wrappers instead of egg roll wrappers for a gluten-free option.
The Chiko Roll is a delicious and convenient snack you can enjoy in many different ways.
Whether in Australia or not, give this unique snack a try!
Was this article helpful?