Do you want to make a quick and easy but hearty meal for your family but don't have a lot of time? This Halal Snack Pack Recipe is the perfect solution! The best part is that this recipe is halal-friendly, so everyone can enjoy it.
What's your favorite snack pack? We all have our own preferences. But in this post, we will show you how easy it is to make an Australian HSP at home.
This will help with saving time and money because it'll be much less expensive than buying one from a fast-food restaurant, kebab shop, or convenience store. You won't believe just how simple it really is.
What is a Halal Snack Pack (HSP)?
A halal snack pack is a fast food dish popular in Australia which consists of meat that has been certified as being halal (usually lamb, chicken, or beef), chips, sauces such as chilli sauce, garlic sauce and barbecue sauce. Yoghurt, cheese jalapeño peppers, and tabbouleh are common additions.
The snack pack was traditionally served in a styrofoam box or other disposable containers. It has been described as a staple takeout dish in kebab shops across Australia.
One of the many names for this dish is "halal snack pack," and some restaurant menus refer to it as a "snack box", "mixed plate, or HSP". The Macquarie Dictionary chose the term "People's Choice Word of the Year" for 2016.
Why Make Your Own HSPs?
Most kebab shops in Australia sell halal snack pack as their staple food. So, if you suddenly crave some HSP, you can actually find it quite easily.
However, making your own Halal Snack Packs can save time and money because it'll be much less expensive than buying one from a fast-food restaurant, kebab shop, or convenience store. It's easy to make these for yourself as well.
What You Need to Make Your Own HSPs
The chips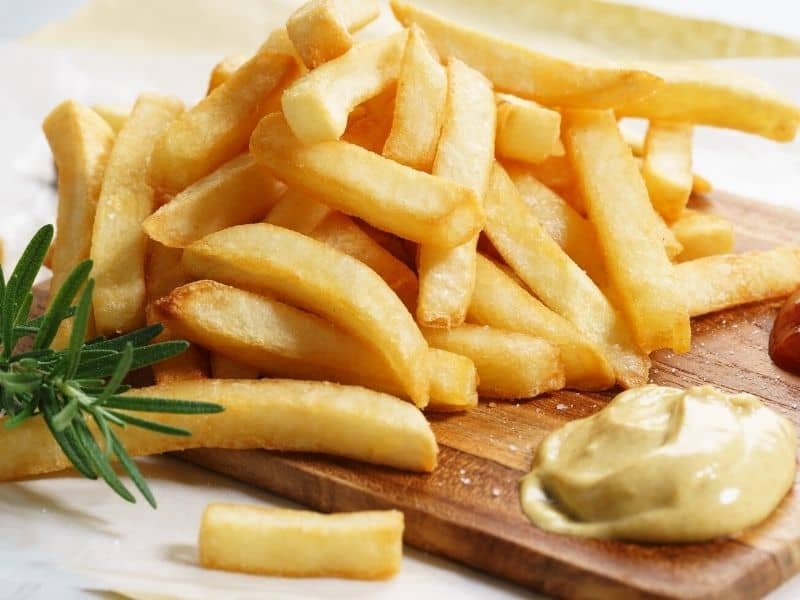 The thick, crisp, and hot chicken-salted cheese-sprinkled chips provide the base for this flavorful dish.
"Holy trinity" sauces
There are three common sauces that typically go on meats. First, the sauce is spread in a criss-cross manner over it evenly. There are three options: chilli, garlic and barbecue. If you must add something from the other side of the spectrum such as humus or sweet chili sauce, a good option would be tomato sauce
Halal-certified doner kebab meat
Shaved doner kebab meat is put on a grill and then put on top of the chips. Lamb, beef, or chicken are all great choices as well as a mix for those who do not want anyone's particular flavor too strong.
Shredded cheese
Sprinkle the shredded cheese over hot chips, then another layer of the cheese is added after the meat. "You can never have enough cheese," says Dastyari.
What Is Doner Kebab and How Is It Compared to Any Other Kebabs?
Doner kebab is meat that has been grilled on a vertical rotisserie, sliced off, and then served in pita bread with salad or vegetables.
The word "doner" comes from the Turkish language "döner", which means to turn around."
Doners are different from other types of kebabs because they are generally made with the meat stacked vertically in layers to ensure all areas of the meat remain moist when cooked.
Doner kebabs come from Turkey and were introduced to Europe by Turkish immigrants who adapted their traditional roasted lamb dish into a sandwich form that was convenient for busy Europeans, especially those living in large cities.
Halal Snack Pack Recipe
Traditional Australian HSP Recipe
Prep time: 1 hr
Cook time: 30 min
Servings: 2
Ingredients
For the meat
1 lb leg of lamb finely sliced
4 tablespoons extra virgin olive oil
1 lemon freshly squeezed
3 cloves garlic crushed
2 teaspoons ground cumin
2 teaspoons smoked paprika
2 tablespoons finely chopped fresh parsley
2 teaspoons freshly ground black pepper
2 teaspoons salt
3 oz. grated cheddar
Sauces and condiments
Hot sauce
Yogurt sauce
Barbecue sauce
Garlic aioli sauce
Hummus
Jalapeño pepper
For the chips
1½ lb large potatoes
3 cups vegetable oil (or beef fat)
Fine salt
Directions
Meat
Prepare the marinade.
In a bowl, add the olive oil, lemon juice, garlic, cumin, smoked paprika, parsley, pepper and salt.
Mix well.
Add the meat and thoroughly impregnate the meat with this mixture.
Cover the bowl with plastic wrap and let the meat marinate in the refrigerator for 6 hours.
Take the lamb out of the refrigerator and bring it to room temperature for an hour.
Cook the meat on the barbecue, in the pan or on a grill, over medium heat.
Let stand for 20 minutes.
Chips
Peel the potatoes and soak them whole in lukewarm water for 15 minutes.
Rinse them thoroughly.
Cut them into ½ inch (1 cm) thick slices, then cut these slices into ½ inch (1 cm) wide sticks.
Rinse the fries under cold water by rubbing them to remove the starch.
Drain and dry them with a cloth.
Heat the beef fat or frying oil to 300F / 150C in a fryer or in a deep pan (the temperature is very important).
First frying
Dip the fries in the fat, stirring them occasionally.
Fry them for 5 minutes. They should not get too much color and should be soft enough when removed from the oil.
Drain and let cool.
Second frying
Immerse the fries a second time with the fat at 340F / 180C.
As soon as they turn golden, take them out and drain. Season with salt immediately.
Assembly of the halal snack pack
Reheat the lamb at medium heat for 2 minutes.
Spread the hot fries on a plate and immediately cover them with grated cheese.
Place a generous layer of meat on top and finish with the sauce (or sauces) of your choice, and decorate by alternating the layers.
Add a few slices of jalapeño peppers on top.
Serve immediately.
Vegan HSP Recipe
Prep time: 5 min
Cook time: 20 min
Servings: 4
Ingredients
Chips
Topping
400g can lentils
400g can red kidney beans
1/2 cup walnuts
100g mushrooms
1 tbsp smokey paprika
1 tsp cumin
1 tsp garlic powder
2 tbsp vegetable gravy powder
1/2 cup water
Garlic Sauce
1/2 tsp garlic (crushed)
1 cup vegan mayonnaise
Other Sauces
Vegan BBQ Sauce
Sriracha Hot Sauce
Directions
Slice up your potatoes into big chips
We used an air fryer to cook these, but you can put these into the oven for 30 mins at 220 C
While the potatoes cook, blend up your walnuts, then empty into a large bowl. Blend up the mushrooms and place them into the same bowl. Drain the red kidney beans and then blend up and empty into the same bowl.
Combine the paprika, cumin, garlic powder, and gravy powder into the same bowl with the other ingredients. Drain the lentils and place them into the same bowl. Combine and slowly introduce the water.
Once fully combined, it will look very wet, but pour this into a hot saucepan and cook on high for 5 mins, stirring constantly. Reduce the heat to low and continue to stir until it becomes thick. (5 mins)
For the garlic mayo, combine the garlic and the mayonnaise and be ready to pour over the top.
To plate, put the potatoes down, then top with your Topping, then cover in garlic mayonnaise, BBQ sauce, and Sriracha. 
Serve immediately.
FAQs
What sauces go on a halal snack pack?
The single greatest defining trait of the Halal Snack Pack, besides it halal accreditation, is the selection and application of sauces. The ultimate is considered to be the "holy trinity": garlic sauce, barbecue sauce and chili sauce. Some choose hummus, others sweet chili paste; however no one  ever leaves out
How is HSP meat made?
The Halal snack pack simply contains layers of hot chips, kebab meat (chicken or lamb) and Cheese. Although most original sauce is okay, a 'perfect' criss-cross with garlic, chili, and barbeque sauce is considered the Holy Trinity.
What is halal butcher?
Halal is the Arabic word for "permissible." Halal food follows Islamic law and forbids pork or any other type of meat not slaughtered according to Islamic law.
How does cheese become halal?
Halal cheese must have a non-animal rennet added. Vegetable or microbial rennet are most commonly used, but the taste of these varieties differs depending on your personal preferences.
How many calories are in a snack pack Halal?
The average quantity per regular serving of halal snack pack (470g): 354.7 Cal.
See also: The Famous Halal Snack Pack: Australian Halal Meal Options