Chiko Rolls are a popular Australian street snack. You can buy them at the stalls. And you can also buy the frozen ones and fry them yourself.
But, if you prefer healthier food, you must know how to cook a Chiko Roll in an air fryer. It is less greasy and less time to cook.
All you need to do is put it in the air fryer for about 15 minutes. And you can even make it extra crispier too.
What is a Chiko Roll, how to make it, and what tips and tricks for air fryer Chiko roll to make it crispier without being greasy? This article will tell you and show you how to cook this popular Australian street snack with ease!
What Is a Chiko Roll?
About
Chiko Rolls are a popular Australian street snack. The first Chiko Rolls were inspired by Chinese egg rolls, which Chinese-Australians invented.
Designed to be eaten without a plate or cutlery, Chicko Rolls first sold in 1951 as the "Chicken Roll" despite not containing chicken. The snack was designed to be easily carried and consumed on the go, particularly without utensils. Simplot Australia began producing it in 1995 under the name "Chiko Roll."
It is served as either a single or double roll-up. The latter—typically two rolls in tandem—is more common for takeout purposes.
Chiko Roll Ingredients
What's in a Chiko roll? Chiko rolls are typically composed of cabbage, barley, carrot, green beans, beef, beef tallow, wheat cereal, celery, and onion.
The filling is partially mashed and enclosed in a thick mixture of egg and flour pastry tube designed to survive handling at football matches. The roll typically deep-fries in vegetable oil.
Nutritional Information
Exact ingredients: Wheat flour, cabbage, water, cooked barley, carrot, beef, animal fat, wheat cereal, celery, onion, green beans, textured soy protein, salt, sugar, acidity regulator (450, sodium bicarbonate), hydrolyzed vegetable protein, spices, emulsifier (471), colors (102, 110), flavor enhancer (635), antioxidant (320). No artificial flavors or preservatives.
How Do You Usually Cook Your Chiko Roll?
Takeaway
Fish and chip shops in Australia buy them frozen in quantity, already cooked. The chip shops deep-fry them up for you to reheat them, put sauce on them if desired, and serve them in small, narrow bags with the Chiko brand logo on them. You eat the rolls out of hand.
The Best Way to Cook Frozen Chiko Rolls
Deep-fry
The popular snack is typically deep-fried in vegetable oil.
Chiko Roll in Oven
Can you cook Chiko rolls in the oven? Yes, you can.
The benefits of cooking frozen Chiko rolls in the oven are that they will be crispy on the outside and soft on the inside. They will also not have as much of a frying taste to them.
Frozen Chiko Roll in Air Fryer
You can also cook frozen Chiko rolls in air fryer.
Chiko Roll Air Fryer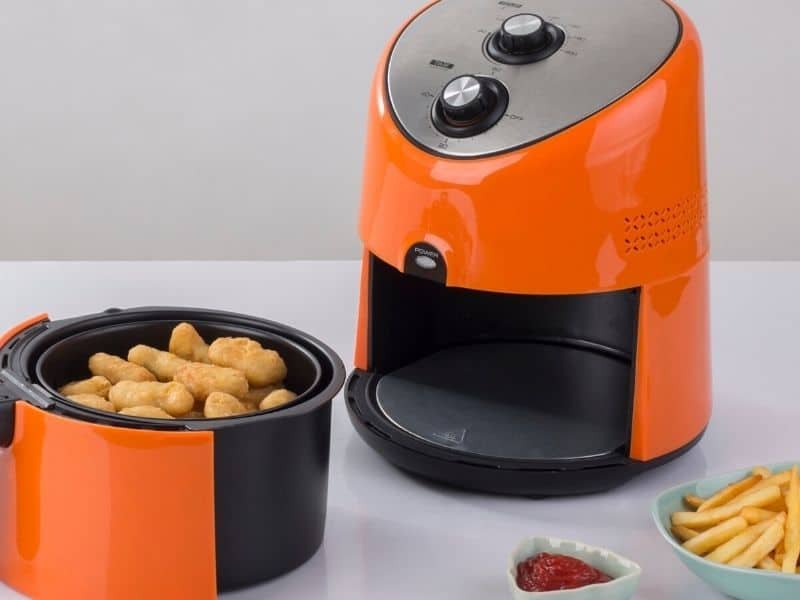 Benefits of Cooking with an Air Fryer
Air fryers use hot air instead of oil, and because they are less greasy than deep fryers, it is a great choice for cooking food items that have been coated in breading or batter.
Air fryer cooking time takes less time to cook food than deep fryers. Why? Because they can cook food at lower temperatures.
An air fryer is also a good choice for people who have an allergy to oil or are vegetarians, as it does not require any cooking oils.
Cooking Chiko Roll in an Air Fryer
Chiko Roll in air fryer is the healthier way to cook them as fast as possible.
The air fryer is great for cooking as you do not need to use much oil to get them crispy. It will also have your meal cooked in less than twenty minutes.
I find the air fryer much easier to use than the traditional oven or deep fryer.
How to Cook a Chiko Roll in an Air Fryer?
How Long to Cook Frozen Chiko Roll in Air Fryer?
It should take about 15 minutes to cook a frozen Chiko Roll in an air fryer. Ensure to preheat the air fryer before adding, and check for doneness after 15 minutes.
If it is not fully cooked, continue cooking it in 5-minute increments until it is fully cooked.
Steps to Prepare a Chiko Roll in an Air Fryer Recipes
This is how to cook frozen Chiko Rolls in Air Fryer:
Ingredients
4 Chiko roll frozen
1 tsp cooking oil
Directions
Preheat the air fryer temperature to 200 °C (390ºF), and it will take roughly 5 minutes for the air fryer to heat.
Place it into the air fryer basket.
Lightly spray all sides with cooking oil.
Air fry Chiko Roll for 12-15 minutes or until hot in the center.
Serve & Enjoy.
Tips
A single roll should be enough for one person so that this recipe can serve four people.
The preparation time is only 5 minutes, and the cooking time is 15 minutes. So the total cooking time is 20 minutes.
The oil will help them get an extra crispy batter. If you want to keep things as healthy as possible, leave the oil out.
For side dishes, homemade baked potatoes, bread rolls, or oven-fried steak fries are perfect. Other options like potato salad, coleslaw, or pasta salad will also work nicely.
How Do You Cook Frozen Chiko Rolls in the Oven?
How Long to Cook Chiko Rolls in Oven?
They can be cooked in the oven for 15 minutes at 350 degrees Fahrenheit.
How to Cook Chiko Rolls in Oven?
This is how to heat Chiko rolls in oven:
Preheat your oven to 350 degrees Fahrenheit.
Spread some cooking oil on a baking sheet and place the pieces on the sheet.
Bake for 10-15 minutes, or until they're golden brown and crispy around the edges.
Serve warm with your favorite dipping sauce!
FAQs
Are Chiko rolls pre-cooked?
Yes, Chikko Rolls are pre-cooked and frozen. You need to reheat them using a deep-fryer or air-fryer to eat them.
How many calories are in a Chiko Roll air fryer?
Chiko roll calories are 375 Calories. That includes nutrition value of:
17.6 grams of Fat
41.6 grams of Carbs
4.8 grams of Fiber
12.8 grams of Protein
How long do you put Chiko rolls in the air fryer?
It usually takes 15 minutes to cook in an air fryer.
What sauce do you have with a Chiko roll?
The sauce is usually tomato sauce, chili sauce, or BBQ.
Can you still buy Chiko rolls?
Yes. One of Australia's most iconic foods has been popular from the moment it first appeared. They are still a favorite at sporting events and restaurants right across Australia.
What's the difference between a Chiko roll and a spring roll?
The main ingredients are mutton, barley, cabbage, carrots, celery, rice, and seasonings. In contrast, spring rolls mainly have carrots and cabbage with some other vegetables added.
Was this article helpful?