If you are looking for a delicious treat that is uniquely Australian, then the Lamington Cake may be just what you're looking for. It's a moist chocolate sponge cake covered in coconut and dusted with sugar, dipped in iced coffee or tea to coat it in chocolate, and rolled up into a scroll shape.
The history of the lamington is unknown, but its popularity has grown exponentially since the 1990s when it began appearing on supermarket shelves as an Autralian alternative to American-style layer cakes.
What is a Lamington Cake?
Lamingtons are one of Australia's most famous cakes. It is a sponge cake dipped in chocolate icing and then rolled in desiccated coconut.
According to the history of the lamington, the cake was created by an Australian baker for the Governor of Queensland, Lord Lamington, to serve at a picnic in 1896. They were originally called "Lord Lamingtons," but quickly became known as "Lamingtons."
History of Lamington Cake?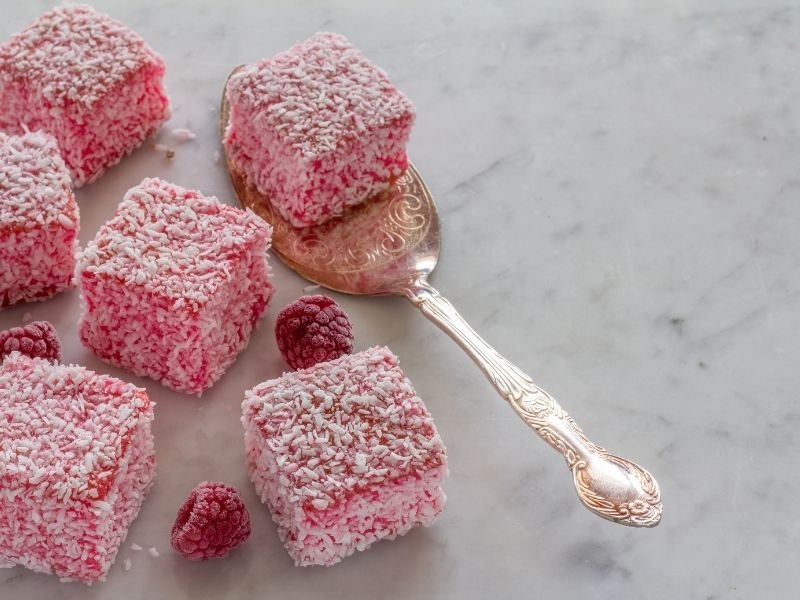 What is the history of the lamington?
You may know these delicious treats as Lamingtons but did you also know that they are named after Lord or Lady Limington? Apparently, the first mention of this name goes back to June 1927. So if we believe it's true, then this is where they got their famous moniker.
The identity of the recipe's inventor has also been debated. Most stories attribute its creation to Lord Lamington's chef, Armand Galland, who was called upon at short notice to feed unexpected guests and used only left-over ingredients in his dish. This version of events is supported by Lady Lamington in her memoirs.
The Lamingtons' First Appearance
Some people believe that the Lamington was first served in Toowoomba when Lord Lamington, Governor of Queensland at that time, took his entourage to Harlaxton House to escape the steamy heat of Brisbane. Others claim it was invented by Lord Lamington's baker Galland at Queensland's Government House during a busy period leading up to Federation. Still yet another alternative claim is that Lord Lamington had been offered some sponge square cake soaked with chocolate and then sprinkled with desiccated coconut because he found them much more appealing than they were previously without these additions.
The first known mention of "Lamington cake" appears in an 1896 newspaper account of a "Lamington Function" at Laidley in Queensland. The event was hosted by Lord Lamington (although he did not attend) and also featured various dishes with the same name. So it is unclear whether or not this particular dish has any relation to his lordship's origins.
Lord Lamington – Governor of Queensland 1896 – 1901
Charles Alexander Napier Cochrane-Baillie, 2nd Baron Lamington or better known as Lord Lamington was a British politician and colonial administrator who served as the Governor of Queensland from 1896 to 1901. His laconic style is still used in today's diplomacy for its simplicity.
Lord Lamington is best known in Australia for allegedly giving his name to the lamington, a popular Australian cake consisting of a cube of sponge cake dipped in chocolate icing and sprinkled with desiccated coconut. You'll often find this dessert at most cake shops as well as high-end restaurants because it's so decadent!
Bloody Poofy Woolly Biscuits
What is the story behind the term "Bloody Poofy Wooly Biscuits?
The stories of the creation of the Australian lamington vary widely, although in most versions the chef for Lord Lamington, Armand Galland, at Queensland's Government House devises the cake either by accident or due to a shortage of ingredients. Lord Lamington is said to have referred to them as "those bloody poofy woolly biscuits."
Why is the Lamington an iconic Australian cake?
The Lamington is a true Australian icon, although it is also very popular in New Zealand. You can't get these fluffy, delicious cakes when visiting our shores. A souvenir that will take home the memories of your trip Down Under? It doesn't get much better than this!
Every year on July 21st, Australia celebrates National Lamington Day. This event was established to celebrate a very tasty cake and encourage people all over the world to try it for themselves! The Australian National Lamington Day also encourages everyone who tries this Aussie delicacy to share their experience online with friends so we can get more of these cakes in our lives.
Why should you try it out for yourself?
The Australian Lamingtons is everyone's favorite.
You can dress this up for any occasion or just have it on hand as an easy dessert recipe because you never know when the company might come over. But if you want to go all out then top with crushed ice and whip cream for a positively scrumptious desert (rough idea from here).
Where can I buy one in Australia?
Lamingtons is a popular Australian dessert. If you want to buy it in Australia, head down to your local supermarket or bakery for a taste! It is available in almost all department stores, grocery stores, bakeries, and cake shops.
You can also order it online. Most online marketplaces in Australia offer these lamingtons.
How to make a Lamington Sponge Cake?
Use the following instructions: combine flour, milk, butter, and sugar in a saucepan over medium heat; let it cook until thickened as long as you constantly stir it.
Remove from stovetop and cool slightly before adding vanilla extract, powdered wheat gluten, or baking powder to your mix, and then adding shaved coconut if desired.
Cool again for 10 minutes before frosting with either an egg white batter or whipped cream then cut into squares of coated goodness that are sure to disappear quickly!
Recipes for Australian Lamingtons
Classic Lamington Recipe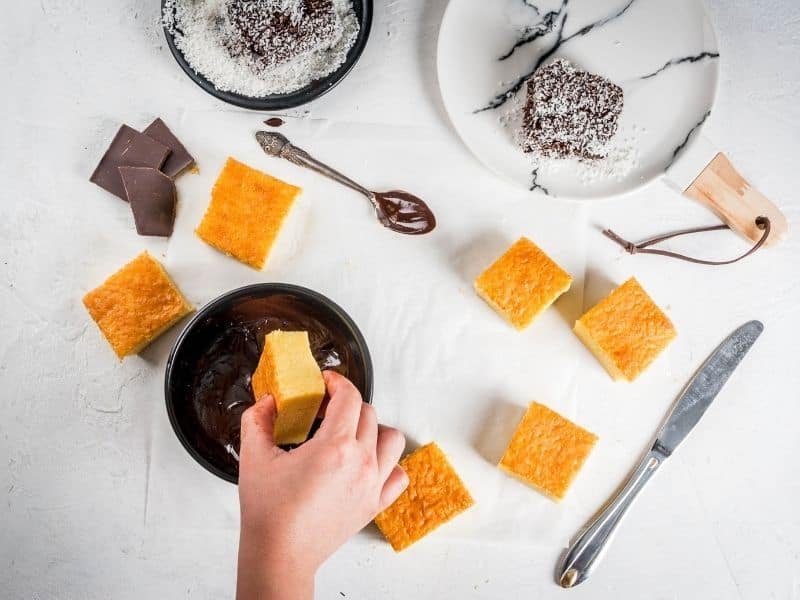 Ingredients
Sponge cake
70 grams (1/2 cup) plain flour or all-purpose flour
35 grams (1/4 cup) cornflour or cornstarch
1/2 teaspoon baking powder
3 large eggs, room temperature
50 grams (1/4 cup) caster sugar
2 tablespoons milk
1 tablespoon butter
Chocolate icing
40 grams (1/2 cup) cocoa powder
250 grams (2 cups) icing or powdered sugar
2 tablespoons unsalted butter, melted
120 ml (1/2 cup) milk
120 grams (2 cups) shredded coconut
Method
Preheat the oven to 180 degrees Celsius. Grease and line an 8-inch baking square tin with baking paper. Use a little more grease on the inside of the tinfoil as well!
Sift flour, cornflour, and baking powder twice into a large mixing bowl. Set aside for now so we can make the dough before it gets too hot in here!
In a separate mixing bowl, crack two whole eggs and start beating them with an electric whisk. Once the egg starts to get foamy, add sugar one tablespoon at a time until they're thick and fluffy like marshmallow fluff.
Continue to beat the eggs until they are thick and voluminous – this can take 5-8 minutes.
Meanwhile, add milk and butter to a small microwave-safe bowl and heat for 30 seconds or until butter is melted. Leave to cool slightly.
When the eggs are ready, gently add the sifted flour mixture and pour butter down the side of your bowl. Gently fold them together with a knife until they just combine! Be careful not to over mix or you'll make all that air disappear from our eggy batter.
Add mixture to the prepared cake tin and bake for 20-23 minutes. Check on it every 10 minutes or so to see how well done it is as different ovens cook differently. Let cool completely before frosting
To make the chocolate icing, sift the cocoa powder and icing sugar. Add melted butter and milk for a smooth finish.
Cut the sponge cake into 12 squares. Carefully and quickly dip each piece of cake into chocolate, let the extra chocolate drip off then cover in coconut. Transfer the coated square cakes to a rack with baking paper underneath it so you don't make too much mess!
Repeat with the remaining 11 squares.
Conclusion
The Lamington cakes are uniquely Australian treat that you might not have come across before. If you're in the market for some delicious and refreshing afternoon tea, this dessert could be just what you need!