Fish is a great meal that can be cooked in many different ways. One of the best ways to cook fish is in an electric steamer.
Here are how to cook fish in an electric steamer:
Put water on the bottom of your steamer.
Lay the fish on the steamer's rack.
Steam for 4-8 minutes, or until the fish is done.
How many ways can you cook fish in the steamer? What makes this cooking method so popular? And what are the recommended steamers? Keep reading to find out.
Why Do You Use Electric Steamer to Cook Fish?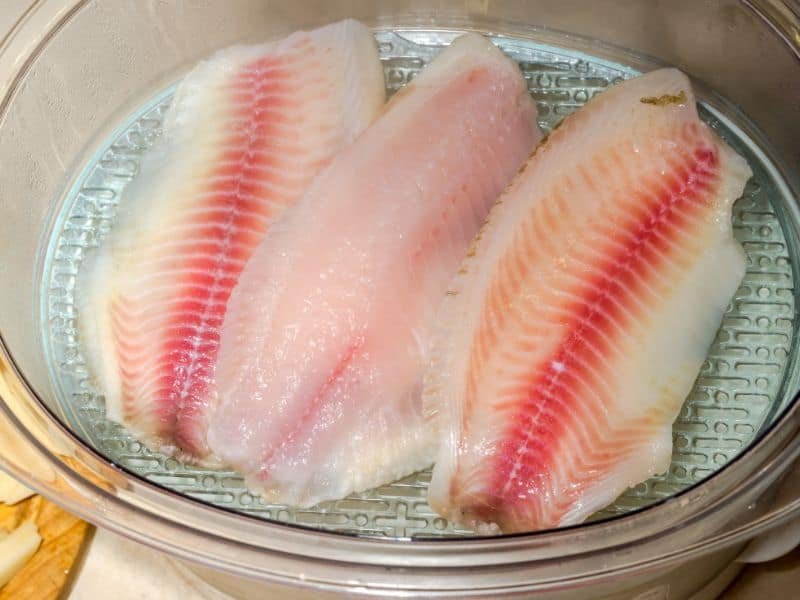 If you have a steamer, you already have a jump on getting a nutritious meal on the table in no time.
An electric steamer is designed to cook food with just water and heat. It does not use oil or butter, so you don't have to worry about adding extra fat or calories.
You can steam cook fish fillets if you prefer, or cook the fish whole if it fits in the steamer.
Cooking fish in it is a good idea because the flavors of the fish can come through without being overwhelmed by any other seasonings you might put on it.
How to Cook Fish in Electric Steamer?
Here are several recipes for cooking fish. Let's see which one you want to try first!
Simple Steamed Fish Recipe
Yield 4 servings
Cook time 10 minutes
Ingredients
1 ½ pounds cod or other fillets, in two pieces, or 1 large halibut steak
2 tablespoons extra virgin olive oil
2 tablespoons hoisin sauce (if you like)
Juice of 1/2 lemon
Coarse salt to taste
Instructions
Put water on the bottom of your steamer. Turn it on and cover it. Once the water is boiling, start cooking!
Lay the raw fish fillet on the steamer tray. Make sure that it is elevated above the water and cover it again.
Steam for 4-8 minutes, or until the fish is done. (A good-size halibut steak may take 10 or even 12 minutes.)
Remove the piece of fish to a warm plate. Drizzle with olive oil and lemon juice.
Cut into small pieces, put salt on them, and then serve.
Cooking Frozen Steak in a Steamer
Tips and cooking time
Steaming fish steaks is very quick. However, when cooked from the frozen state, they take twice as long to cook as thawed fish.
Allow about 20 minutes for every inch of thickness. For example, a one-inch-thick steak will take roughly 20 minutes to cook, while a one and a half inches thick steak will take approximately 30 minutes.
Turn the fish over halfway through the cooking time.
When the fish is done, it will be completely opaque and flake when you touch it with a fork.
Instructions
Place a large saucepan with 1 inch of water at the bottom.
Put your steamer rack in the saucepan, then lay the frozen fish steak on the shelf. The water level should not touch your fish.
If you want to season the fish, then sprinkle the fish with salt. You can also squeeze some lemon juice on it if you wish.
Easy Way to Steam Salmon
Ingredients
1 1/2 pounds salmon filet, preferably wild, skinned
2 teaspoons extra virgin olive oil
1/2 teaspoon sea salt
1/2 teaspoon ground black pepper
1/2 teaspoon granulated garlic
3 cups water
1 bay leaf
2 garlic cloves peeled and crushed
1 cup white wine optional. Add 1 cup of water if not using
1 handful fresh thyme sprigs or 2 teaspoons dried thyme
1 lemon quartered and squeezed into water and rinds added
A few pinches of salt and pepper
Instructions
Cut the salmon filet into four equal portions. If one has a flatter, thinner end, fold it under first to make an identical piece.
Drizzle the oil, then sprinkle with salt, pepper, and garlic.
Add water, bay leaf, garlic, wine, thyme, lemon, salt, and pepper to a pot. Let it boil with the lid on for 20 minutes. Then turn it down to a low simmer and let it cook for 20 minutes more.
Spray your steamer rack with oil or a non-stick spray, add the salmon to the pot, and put a lid on it. Steam for 5-6 minutes. Salmon should be at 145º when measured with a thermometer.
Serve warm or chilled with a sauce of your choice.
What is an Electric Steamer?
About
An electric steamer is an oven that uses steam to cook food. Instead of using dry heat like a conventional oven, it cooks with moist heat.
They are typically used for your favorite foods from fish, vegetables, meat, and poultry, but they can also be used for various foods such as rice or desserts.
How Does It Work?
The electric steam cooker works by heating water in the bottom of a food compartment. Once that water is boiling, it creates hot steam that rises and cooks your food.
This means that you can gently cook fish and use it to reheat or keep food warm in addition to steaming.
You can purchase two types: stovetop models and countertop models. A stovetop model has a pan with an insert for cooking vegetables or fish, while a countertop model looks similar to a microwave oven.
Types of Food Steamers
Steamer Basket (Stovetop Steamer)
A stovetop steamer is an insert that sits over a pot on your stove. This steamer can steam vegetables, dumplings, and fish fillets.
If you're using the basket for veggies or other items like shrimp, put them in first (since they will take longer), then add the food you want to cook quickly.
Electric Steamer (Countertop Steamer)
An electric food steamer works like a steam basket, but it's a self-contained portable product that takes care of the chore for you on your countertop.
Add the water and the veggies you intend to steam, then close and lock the lid. After that, select an option from your appliance's menu. That's all there is to it.
A power indicator light shows when the steamer is on, and easy-to-operate controls for setting the cooking time.
Tips for Food Steamer Cooking
You know what type of food steamer is for cooking. Here are some tips that will help you learn how to use it.
Don't add too much water.
Never add too much water to your electric cooker. Doing this will make it take longer for the food to cook, and you risk boiling away all that hard-earned steam, leaving little moisture in which to cook.
Boil the water first
You might find that the final dish is better when you first bring the cooking water to a boil and then add your vegetables or other food items.
Once the water is boiling, simply add all your veggies, close the lid and allow the steaming process to start.
Cut the veggies or fish into the same sizes and shapes.
The time it will take to cook depends on the type and size of your vegetables or fish, so just be sure to cut all items into similar sizes and thicknesses before cooking them.
Take a peek
Don't be afraid to open the lid and check on your food from time to time course. Of course, you can always close it again if you find that everything is cooking just fine. Still, there are times when opening the steamer will allow you to take advantage of all those wonderful aromas for enhancing your dish with spices or even butter.
Steam more than just vegetables and fish in your steamer
You don't have to avoid trying other types of food like rice or desserts. You can steam them just as easily, with great results every time. You only need to remember that dessert items such as cakes will take less time than vegetables since they don't have as much water in them.
Don't steam for too long.
You don't want to steam your food for too long. If you do, you risk overcooking it, which will affect both its quality and flavor.
Enhance the steam by using stock & herbs
You can have flavorful fish by adding stock and herbs before turning on your appliance.
Instead of just plain ole water, try using chicken or vegetable broth. Perhaps add salt or lemon to the water before it starts boiling.
If you feel extra adventurous, add some herbs to the water, such as rosemary sprigs, sliced garlic, dill sprigs, or lemongrass.
Cover the food with a cloth or a plate.
Not only does this process allow for faster cooking and perfect steaming, but it also helps to retain moisture in your food while keeping the flavor intact.
Recommended Electric Steamers
Here are what Amazon.com recommends.
Hamilton Beach Digital Food Steamer
Hamilton Beach Digital Food Steamer for Quick, Healthy Cooking
Stackable Two-T tier Bowls for Vegetables and Seafood
Plus Rice Basket,
5.5 Quart,
Black & Stainless Steel
4.5 out of 5 stars
Ovente Electric Food Steamer
5 Quart electric food steamer
Double Tier Stackable Baskets
BPA-Free Basket and Rice Bowl
Stainless Steel Base Steamer
Three transparent bowls
60-Minute Timer
400 Watts of power
Fast Steaming for Vegetable and Fish,
Silver
BELLA Two-Tier Food Steamer
800W Electric Food Vegetable Steamer BPA-Free
Healthy, Fast Simultaneous Cooking,
Stackable Two-tier Bowl and Baskets for Vegetables or Meats,
Vegetable Steamer Basket, Stainless Steel Folding Steamer Basket Insert for Cooking
Rice/Grains Tray,
Auto Shutoff & Boil Dry Protection (for safe cooking)
7.4 QT,
Black
Vegetable Steamer Rice Cooker
6.3 Quart Electric Steam Appliance
Timer for Healthy Fish, Eggs, Vegetables, Rice, Baby Food
by Classic Cuisine
Ashley Electric Food Steamer
Foldable 2 Tier
Built-in timer
Auto Shutoff (the timer ends when the water tank or water reservoir is empty)
Quick Cooking Steamer
Cuisinart Digital Glass Steamer
A powerful steam system with 5L dishwasher-safe glass pot
One Size
Stainless Steel
60-minute countdown timer
Best budget steamer: Russell Hobbs three-tier food steamer,
Best steamer design: Morphy Richards compact Intellisteam food steamer,
FAQs
What can you cook in an electric steamer?
You can cook vegetables, rice, seafood, and more. Refrigerate leftover steamed fish in an airtight container.
Is steaming an excellent way to cook fish?
Yes, you can steam fish. Steaming is pretty healthy because it doesn't require using oils or butter to flavor your food, so things like fish and vegetables turn out delicious without all the fat.
What fish can you cook in a steamer?
You can steam just about any type of fish, but the most popular are trout and salmon.
Can you put foil in an electric steamer?
No, foil cannot be used in electric steamThis is because the. This is because the foil will not conduct heat properly and cause the steamer to short circuit.
Related Topics
Do You Steam on High Heat?
Yes, I steam my food on high heat. The best way to cook steamed foods is to put them into a pot with water, cover the pot, turn the stove on medium heat, and let the food simmer for about 10 minutes.
This method allows the steam to circulate throughout the pot, which helps keep the food moist. If you use too much water, then the food may become soggy.
Which Fish is Best for Steaming?
The best fish for steaming is Tilapia. This is because they are easy to cook, and do not require much attention while cooking. They also taste great when cooked.
Is Steamed Fish Good for Weight Loss?
Yes. Steamed fish is good for weight loss, compared to fried fish.
Steaming fish allows you to consume less unhealthy fats and calories, thus potentially reducing your risk of obesity and heart disease.
What Temperature Do You Cook Salmon to?
The best way to cook salmon is at 400 degrees Fahrenheit for about 10 minutes per inch thickness. This method produces a flaky texture and keeps the fish moist.
If you do not want to use a grill, you can also bake the salmon at 350 degrees for 15 minutes per inch thickness.
What Temperature Should Cooked Fish be?
The ideal temperature for cooking fish is 140 degrees Fahrenheit, which is about 60 degrees Celsius. This ensures that the fish remains moist while retaining its flavor. If you cook fish at too high a temperature, the proteins will become dry and tough.
How Do I Use a Steamer?
You should place the ingredients at the bottom of the steamer basket, and then add boiling water until it reaches halfway up the sides of the basket. Cover the top of the steamer with aluminum foil or plastic wrap, so that no moisture escapes. Turn the heat down to low, and allow the food to cook for about 10-15 minutes.
What's the Healthiest Way to Cook Fish?
The best way to cook fish is to grill it. This method helps retain nutrients and flavors. Grilling also adds flavor to the food. If you want to use another cooking method, try baking or broiling.
Can You Cook Chicken in an Electric Steamer?
Yes. The best way to cook chicken is to boil it for about 10 minutes per pound.
If you want to steam the chicken, then place the chicken into a pot filled with water and bring it to a boil. Once boiling, reduce heat to medium and cover the pot. Steam the chicken for 15-20 minutes until cooked through.
Can You Cook Pasta in an Electric Steamer?
Steaming dry pasta is not an option. Dry pasta steams into a sticky, lumpy, sticky mass. However, you can steam fresh pasta or reheat steamed pasta.
How Do I Season My Fish?
Fish needs salt. Salt makes the fish more flavorful. It also prevents the fish from drying out during cooking.
To season your fish, sprinkle some kosher salt on the surface of the fish before placing it in the steamer. Alternatively, you can rub the fish with olive oil and sprinkle it with salt.
Was this article helpful?