Have you ever wanted to cube a round steak like a professional chef? If so, you've come to the right place!
To cut your round steak into cubes, you need to slice the meat across the grain into thin slices, then turn each slice 90 degrees and cut it into cubes. To ensure that your pieces are uniform in size and shape, keep your knife blade angled slightly away from you as you're cutting.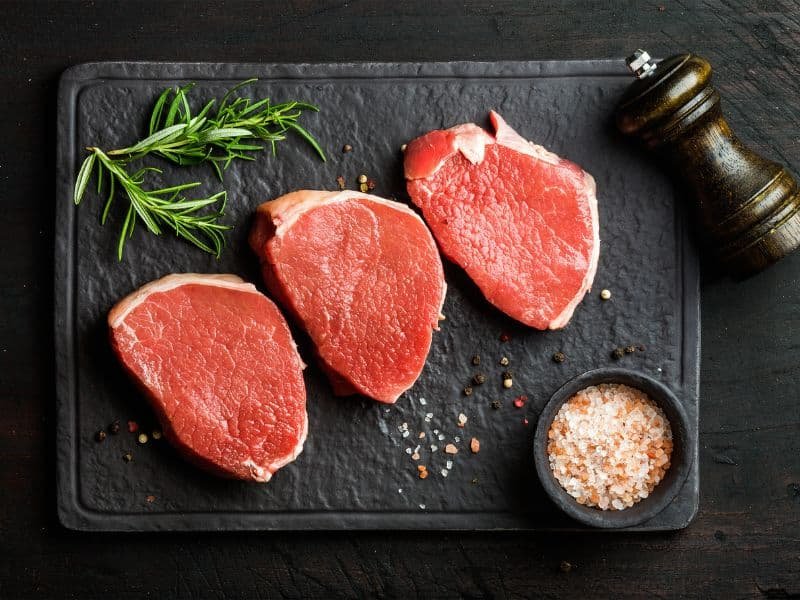 This blog post will follow my tried-and-true technique for cubing round steak. This method is easy and yields perfect cubes every single time.
So get ready to learn how to cut round steak like an expert!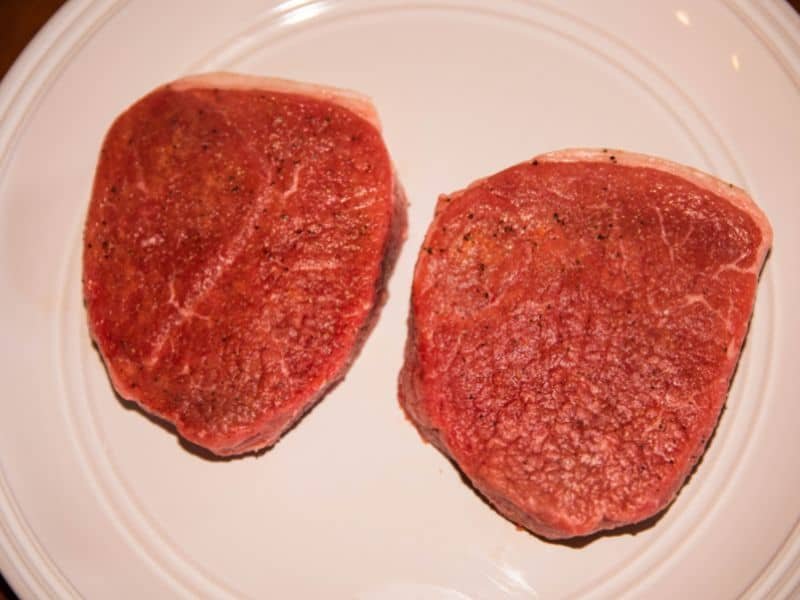 Why Do You Want to Cut Round Steak into Cubes?
Round steak is a relatively tough cut of meat, and when it's cooked whole, it can be difficult to chew. But cubing the steak breaks down the muscle fibers and gives it a tender texture.
Cubes of round steak are also great for stir-fries, stews, kabobs, fajitas, and other dishes. They cook quickly and evenly, making them perfect for weeknight dinners and entertaining guests.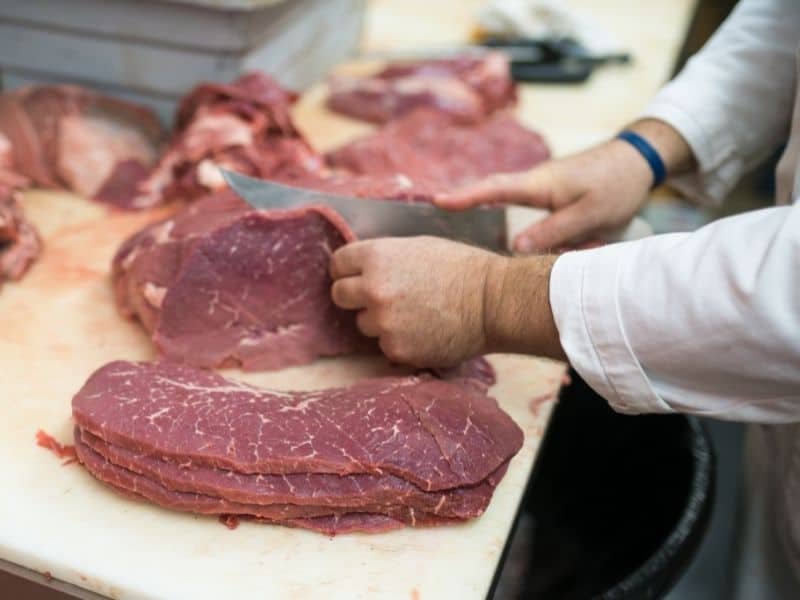 How to Cut Round Steak into Cubes: Step-by-Step
Step 1 – Preparing the Meat
Choosing the right cut of meat: Use top-round steak or bottom-round steak.
Room temperature: If you have frozen meat, ensure your round steak is at room temperature before starting.
Trimming the fat: Cut off any excess fat from the steak. This will make it easier to cube and also reduce the amount of fat in your finished dish. The more uniform your cuts are, the better your cubes will look and cook.
Chilling the meat to make cutting easier: Place the steak in the refrigerator for about 30 minutes. This will make the meat firmer and easier to handle.
Step 2 – Preparing the Tools
Choosing the right knife: Use a sharp chef's or butcher's knife. Make sure your knife is very sharp before starting to cube the steak. If necessary, sharpen the blade with a sharpening steel or stone.
Additional tools that may be helpful: A cutting board and a ruler are also beneficial for measuring and keeping your cubes uniform in size.
Step 3 – Cutting the Round Steak
Slice across the grain: You need first to identify the direction of the grain (or muscle fibers) and then cut perpendicular to the grain. This means that instead of cutting across, you should make thin slices along the entire length of the steak.
Slice the steak into thin slices (no more than 1/4-inch thick): Slicing it into thin slices will make it much easier to cube up later. If you have one handy, use a sharp knife or meat slicer for this step; otherwise, use a regular kitchen knife and take your time slicing the steak evenly.
Cutting the slices into cubes: Once all of your slices are ready, cut them up by cutting each into small cubes (about 1/2-inch cubes). Again, using a sharp knife or meat slicer can help speed up this process, but it's unnecessary; take your time and ensure each cube is even in size to cook evenly.
Tips for achieving uniform cubes: Keep your knife blade angled slightly away from you as you're cutting. Turn the strip onto its side and slice it into cubes at an angle, ensuring that all of your slices are even thick. This might take some practice at first, but soon enough, you'll have perfectly cubed pieces of steak!
Tips
Storing the cubes
Proper storage techniques: Place your cubed steak in an airtight container or zip-top bag and store it in the refrigerator for up to 4 days.
Suggestions for freezing: The cubes can be frozen for up to 3 months, but be sure to thaw them before cooking.
Cooking the cubes
Season the meat: Once all your cubes are ready, you can season them as desired and cook them up however you like!
What to cook: Whether you're making stir fry or kabobs, these tasty cubes of round steak will surely please everyone at the dinner table!
Cooking time: It will vary depending on how thickly your cuts were made, so keep an eye on them as they cook for the best results.
FAQs
How do I make sure my round steak cubes are tender?
Cut your round steak cubes against the grain to ensure that they are tender. This will help break down the muscle fibers and make them more tender when cooked.
Can I use any round steak for making cubes?
Yes, you can use any round steak for making cubes. Cube steaks are typically made from a round steak or round roast found on a cow's hind end.
However, you can also use other cuts of beef, such as sirloin or chuck roast, if you prefer.
Should I use a specific type of knife for cutting round steak?
While you don't necessarily need a special knife for cutting round steak, a sharp chef's or boning knife can make the job easier and more precise.
Do I need to marinate the steak before cutting it into cubes?
No. You don't need to marinate the steak before cutting it into cubes. However, if you plan on cooking the cubed meat in a marinade later on, you could choose to marinate it beforehand for added flavor
Was this article helpful?