If you are looking for an easy appetizer for your next party, you may consider Lil Smokies. These little sausages are a favorite among party-goers and are very easy to prepare.
But are Lil Smokies pre-cooked? Yes, they are fully cooked. But it is recommended to heat the links thoroughly.
This blog post will answer these questions and provide tips for preparing it for your next gathering!
Are Lil Smokies Precooked?
The answer is YES. Lil Smokies are fully cooked and ready to eat. However, thorough heating is recommended to avoid any foodborne illnesses or stomach upset.
Essentially little hot dogs, these sausages are easy to heat up and make great appetizers or snacks.
About
Little Smokies, also known as cocktail wieners, are delicious small sausages in various flavors. The most well-known brand is probably Lit'l Smokies®, made by Hillshire Farms, but other brands are available in the US and internationally.
Flavors include beef, pork, cheddar, chipotle peppers, and even turkey.
How to Heat
There are three methods to heat the links. You can place them in a microwave, on the stovetop, or in the oven.
No matter which method you choose, be sure to heat Lil Smokies thoroughly before eating so you and your guests can enjoy them at their best!
Microwave
The easiest way to heat them is in the microwave. Place them on a plate and heat them for about 20-30 seconds or until hot.
Stovetop
Another option is to simmer them in water for about 2-4 minutes until thoroughly heated.
Oven
Or you can bake them in the oven. Bake them in a shallow pan in a preheated 350°F oven for 12-14 minutes.
How to Cook
You can also cook those little sausages to create other delicious dishes. Some of the most popular ones are crockpot sausages, pigs in a blanket, or bacon-wrapped sausages.
You can also add them to casseroles and soups or even make pizza!
How do you make them? Here are several easy recipes that will help you make the most of your little sausages:
Crockpot Little Smokies
These little smokies are a party favorite! Just pop them in and let them cook all day long.
Ingredients:
1 (14 oz) package of little smokies
1 (12 oz) bottle of chili sauce
1 (6 oz) can of tomato paste
3/4 cup brown sugar, packed
2 tsp prepared mustard
1 tsp garlic powder
Instructions:
Place little smokies in a 4-qt. Slow cooker.
Whisk chili sauce, tomato paste, brown sugar, mustard, and garlic powder; pour over smokies.
Cover and cook on low for 2 hours or until heated and flavors have melded.
Serve with toothpicks.
Pigs in a Blanket
These fun and delicious little links are perfect for parties, snacking, or as a side to your favorite meal.
Ingredients:
One package of Lil Smokies sausages
One can of refrigerated crescent rolls
Instructions:
Preheat oven to 350°F.
Unroll crescent dough onto a flat surface, separating it into triangles. Cut each triangle in half lengthwise and set aside the cut-off pieces.
Roll out one of the sausage links in each piece of dough and place it on an ungreased baking sheet or pan.
Bake for 8-10 minutes or until crescent dough is golden brown.
Serve them with your favorite dipping sauce, or eat them plain!
Bacon-wrapped Sausages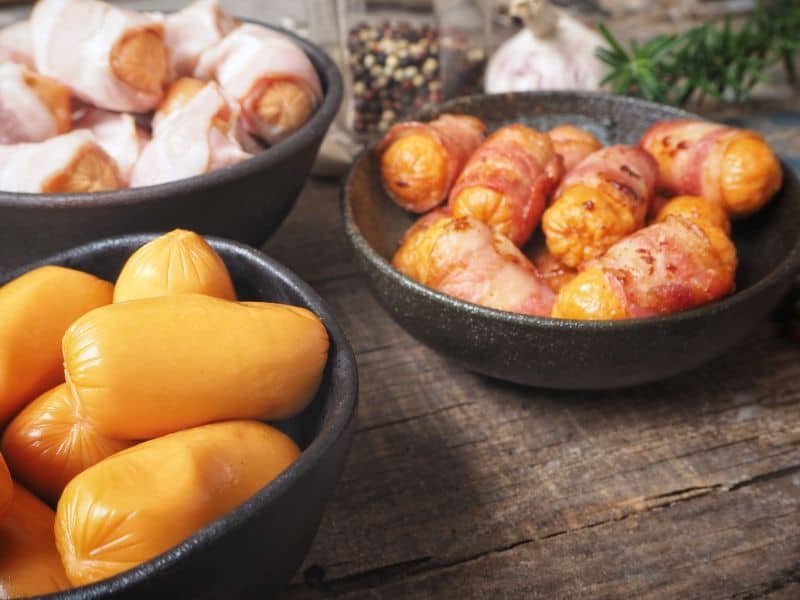 These are the perfect party appetizer! They're easy to make, and everyone loves them.
They're bacon-wrapped, so they're sure to be a hit.
Ingredients:
1 (14-ounce) package of little smokies
6 strips of bacon, cut in half
Instructions:
Preheat oven to 350 degrees F (175 degrees C).
Wrap a strip of bacon around each little smokie. Secure with a toothpick if necessary.
Place on a baking sheet lined with parchment paper or foil.
Bake for 25 minutes in the oven or until the bacon is crisp.
Serve them with ketchup or your favorite dipping sauce.
FAQs
Are all smoked sausages fully cooked?
Yes, all smoked sausages are fully cooked. They are smoked and then fully cooked. This is done to prevent bacteria growth and to ensure that the sausage is safe to eat.
Are little smokies just hot dogs?
No, little smokies are not just hot dogs. They are a type of sausage that is made with smoked meat.
On the other hand, hot dogs are processed meat, usually made with pork, beef, or turkey.
How can you tell if sausage is precooked or raw?
The easiest way to tell is by looking at the color. Raw sausage is generally gray or pink, while the precooked sausage is usually brown.
Another way to tell is by smell. Raw sausage smells gamey or earthy, while precooked sausage smells more like bacon or ham.
Was this article helpful?