From its red-desert landscapes to its unique cultural diversity, Western Australia is a fascinating place. With so much to explore, it's no wonder why people flock to the region each year.
Exploring the Culture
Exploring the culture of Western Australia can be an exciting and rewarding experience, from experiencing the Aboriginal culture and the natural landscape to exploring the vibrant food and wine scene. Western Australia is home to some of the most incredible landscapes, wildlife, and ecosystems in the world.
Not to mention, WA offers some great culinary experiences too! With a huge range of locally sourced seafood, fresh produce, and award-winning wines, it's hard not to be impressed by what Western Australia has to offer.
Visiting places such as Perth's Kings Park or taking a trip to the Margaret River region to taste some of the region's world-renowned local wines can give you an insight into some of Western Australia's most iconic cultural experiences.
A trip to Perth's Kings Park or Margaret River regions for their world-renowned wines is a must for any visitor. Come study and experience it all for yourself!
Cultural Attractions
From exploring ancient Aboriginal sites to experiencing the vibrant music and art scenes, it's no wonder so many people are drawn to this destination to study.
From the Aboriginal rock art dotting the Kimberley region to the vineyards of Margaret River, there's something for everyone in this charming state.
And if a study isn't your thing, you can always go on an adventure and explore the stunning beaches, gorges, and national parks of Western Australia.
Whether you're looking for a study destination or a fun place to adventure, Western Australia is an amazing destination.
From the world-famous Wave Rock formation in Hyden to discovering the history behind Perth's early settlers at Fremantle Prison, there are endless opportunities for travelers to immerse themselves in Western Australia's culture and traditions.
Again, Western Australia is home to life-changing experiences. With stunning sights like Wave Rock and Fremantle Prison, life will be filled with fun and adventure.
From learning about the history of Perth's settlers to admiring the breathtaking rock formations, life can become more enriching when exploring what Western Australia has to offer.
The Landscape
The state capital of Perth is a vibrant and modern city that enjoys an enviable location right on the coast. It's famous for its stunning beaches, renowned wineries, and culinary offerings, as well as its lively nightlife.
The landscape of Western Australia is also home to some of the world's oldest geological features, including limestone caves and fossil-rich dunes. It is a great place to live, with its amazing nature and stunning views.
From the unique wildlife to the diverse cultural experiences, WA has so much to offer those who live there and visit.
With its stunning coastlines, breathtaking beaches, and vast stretch of the outback, Western Australia offers a truly unique experience for visitors and locals alike. Meanwhile, life in Western Australia is truly something special.
Whether you're a tourist or local, life here is something that will stay with you forever.
Natural Wonders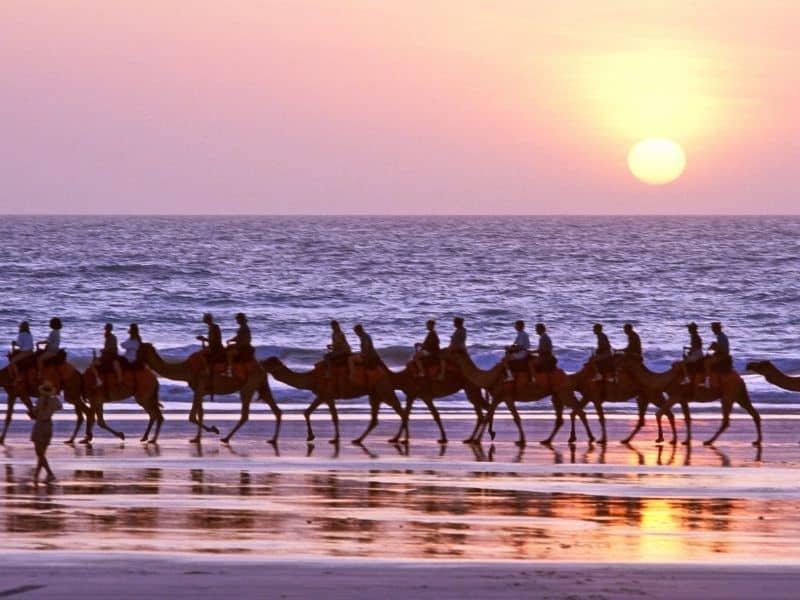 The stunning white beaches of the remote coastal town of Broome are the perfect place to soak up the sun and explore the pristine coastlines, while nature lovers will appreciate the vast array of flora and fauna in its many national parks.
Whether you're seeking a relaxing beach holiday or an adrenaline-filled trek across the bush, Western Australia won't disappoint.
Another must-see natural wonder in Western Australia is Karijini National Park, with its deep gorges and spectacular canyons, which provide an unforgettable experience for nature lovers and adventurers alike.
With ancient, 1.8 billion-year-old rock formations, powerful waterfalls, and spectacular scenery, Karijini is a must-see attraction when visiting Western Australia, particularly when you're in Perth. From 4WD adventures to incredible camping spots, Karijini National Park offers endless opportunities for exploration and discovery.
Western Australia also offers an array of other incredible sights, such as the dramatic Kalbarri National Park and the remote Margaret River area, which feature some of the country's most stunning beaches and caves. Thereafter, life in Western Australia never disappoints.
The Kalbarri National Park is a site to behold with its dramatic cliffs and ocean views, while the Margaret River region is a hidden gem with world-famous beaches and limestone caves to explore. From urban life in Perth to unparalleled coastal experiences, WA really has it all!
Animals & Wildlife
People from all over the world come to live in this amazing part of Australia, where they can admire the beauty and diversity of this incredible place. From kangaroos hopping around to quokkas living on Rottnest Island, these creatures live and thrive in the wilds of this state.
In addition to these native species, Western Australia also has a fantastic variety of marine life in its waters, with humpback whales, dolphins, sea turtles, and rays all known to visit the area during their migrations each year.
Moreover, the study of Western Australia's unique wildlife is an ongoing process, as even more wondrous creatures are discovered each year.
From majestic land-based animals to the amazing marine life in its waters, the diversity of species found in this part of the world makes it an ideal study site for scientists and nature lovers alike!
Unique Experiences
From exploring the ruggedly beautiful Kimberley region to swimming with whale sharks in Ningaloo Reef, Western Australia offers a range of unique experiences unlike any other part of Australia.
Live the ultimate outback adventure and explore ancient caves, visit spectacular gorges, and camp beneath a sky of stars in some of the most remote parts of our beautiful country.
There's also plenty to do in the cities, with live music, cultural events, and stunning beaches. Western Australia truly has something for everyone!
Furthermore, Washington is a renowned destination for its stunning landscapes and unique wildlife. It offers visitors the chance to explore and experience the captivating attractions of Rottnest Island, Pinnacles Desert, and many more! Make sure to visit Western Australia and have an unforgettable time.
To Conclude
From its vibrant red-desert landscapes and stunning coastlines to its diverse cultures and customs, you're sure to find something that will capture your heart in this remarkable part of the world.
Whether you're looking for adventure, relaxation, or something in between, Western Australia has something to offer everyone. So what are you waiting for? Come explore Western Australia and discover something new!
Was this article helpful?