The Gold Coast is a popular tourist destination, attracting visitors from all over the world. With so many restaurants to choose from, it can be difficult for tourists and locals alike to find the best steak houses Gold Coast area.
Luckily for you, we have compiled this list of 10 great places that serve up some amazing cuts of beef. Let's explore!
The Amazing Gold Coast in Queensland
The Gold Coast is home to many tourist attractions that offer a plethora of things to do for both the young and old. The coastline offers beautiful beaches, world class surf spots and some of the best surfing in Australia.
There are also plenty of theme parks to choose from on the coast, such as Dreamworld or Sea World which provide hours of entertainment with exciting rides and animal shows.
If you want something more active there are bike trails throughout the area that allow visitors to explore our natural environment while getting in some exercise at the same time. 
The Gold Coast is an excellent place for tourists who enjoy water activities because it has several options for anyone looking for something different. You can go whale watching on a boat tour, take out kayaks or paddleboards for a leisurely paddle, or try your hand at surfing.
The Gold Coast is also home to plenty of excellent restaurants, so you will have no trouble finding something that satisfies whatever craving you are looking for.
List of Best Steak Houses Gold Coast
Best Steak on Gold Coast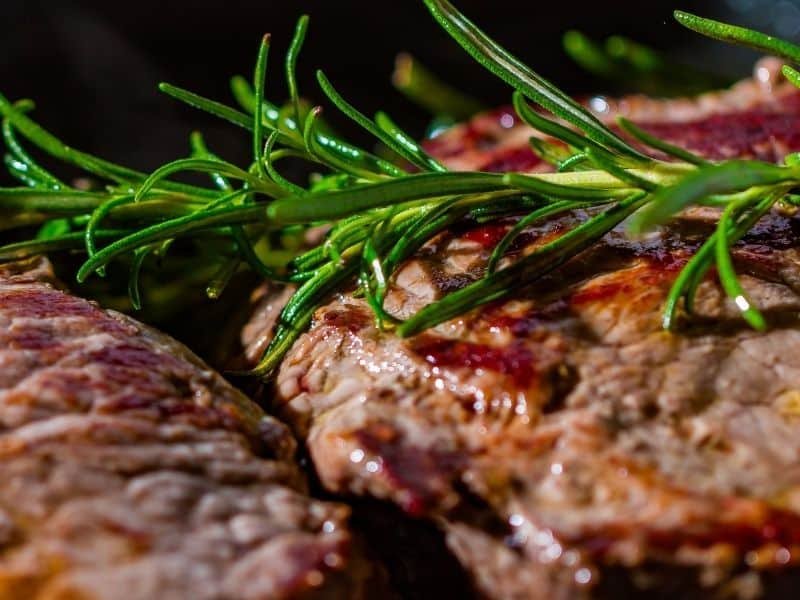 Best Steak – Glenelg Public House
Address: 9/2460 Gold Coast Hwy, Mermaid Beach QLD 4218, Australia
Pricing range: $$-$$$
Opening hours: Mon – Tue (closed), Wed – Thur (5-11pm), Fri – Sun (12-11pm)
Recommended menu: Whole flat iron, T-bone
Website: http://www.theglenelgpublichouse.com.au/
Review:
"They have a great selection of steaks (and a variety of halal options). The food was cooked perfectly and the staff was extremely friendly and helpful. There was a bit of wait for the food but not too long and understandable as the place was crowded. Great dinner venue!" (Google Review)
" Surprisingly great food & service

Visited while we were there for a family trip in GC, there were only a handful of nice restaurants we were able to go to with our little one, so we ended up picking Glenelg thinking it was a more upmarket steakhouse. We decided to get a kids meal for the little one as for us go with the t-bone with a couple of sides, didn't want to fill ourselves up before the steak and also didn't want to drag the meal on for the little one. T-bone came out and was amazing, melts in your mouth, perfectly cooked to medium rare. We truely enjoyed the experience. highly recommend if you are in the area." (Tripadvisor Review)
Harry's Steak Bistro & Sports Bar
Address: 1744 Gold Coast Hwy, Burleigh Heads QLD 4220, Australia
Pricing range: $$-$$$
Opening hours: Mon – Tue (5-9pm), Wed – Thur (5-10pm), Fri – Sat (12-11pm), Sun (12-9pm)
Recommended menu: Wagyu Rump, Scotch Fillet
Website: https://harryssteakbistro.com.au/
Review:
"The place looks expensive but it was a lot cheaper than I thought. Really enjoyed the food and the mocktail. Overall 100% Happy. ????" (Google Review)
"Forget the Surf Club…..best steak meal in years!

3 meals ordered – 2 different meat cuts + 1 salmon & conversation stopped….that says a lot for our chatty family. Great personal service. Value for the high quality produce – each plate worth every cent! Am surprised it is not fully booked every night.

[ Oh & truffle fries are totally worth the upgrade ]" (Tripadvisor Review)
Black Angus Bar & Grill
Address: Mantra Wings Surfers Paradise, 2893 Gold Coast Hwy, Surfers Paradise QLD 4217, Australia
Pricing range: $$$$
Opening hours: Mon – Thur (4.30-9pm), Fri – Sun (11am-11.30pm)
Recommended menu: Wagyu Eye fillet
Website: https://www.facebook.com/blackangusbarandgrill
Review:
"Fantastic table service, great food. I got the salmon which was lovely & partner had got a steak which he says was average.

Good cocktail list too.

Only down fall was the bathroom was too far away which was inconvenient." (Google Review)
"Yum!! Entrees and mains! ⭐️⭐️⭐️⭐️⭐️

The bread with roasted garlic, Angus butter and beetroot hummus was delicious!! And meatballs omg so good, my 18mth old literally licked the plate!! English tea is also beautiful and fancy tea bag, fancy cup and pot mains are just as beautiful – can't type more!! Eating!!" (Tripadvisor Review)
Mike's Kitchen Rib & Steakhouse
Address: 2 Gooding Dr, Merrimac QLD 4226, Australia
Pricing range: $$-$$$
Opening hours: Mon – Fri (5-9pm), Sat – Sun (11.30am-3.30pm, 5-9pm)
Website: http://www.mikeskitchen.com.au/
Review:
"Busy atmosphere, I recommend booking in advance! Fantastic wait service. Efficient & professional staff. Lighting is created to set an mood however is a little more dark than desirable & would benefit from being slightly more lit up. Food was prompt to be prepared. Flavoursome meals, well sized also." (Google Review)
"Waiter made the night special

Wet for date night on a Friday, We wanted to go the week earlier but could only get a 5pm or 8pm option so we left it a week. The waiter Rod from France was a good a waiter I have had for a long time. Knowledgeable, great with suggestions and a great sense of humour and a great sense of timing. My wife had the ribs I had the eye fillet. Both were fantastic. Thanks Rod for a lovely evening." (Tripadvisor Review)
Seven Brothers Steakhouse
Address: 10A Frank St, Labrador QLD 4215, Australia
Pricing range: $$-$$$
Opening hours: Mon (closed), Tue – Thur (5-9pm), Fri – Sun (11am-2pm, 5-9pm)
Recommended menu: Dry Age Prime Rib, Tomahawk Steak
Website: http://www.7brothers.com.au/
Review:
"5 star food here. Everything was such high quality, fresh and beautiful. Love how the place is kid friendly and a very relaxed atmosphere. We had a great night. I'm already deciding what I will try next." (Google Review)
"A very special dinner for my parents

Shout out to this amazing new restaurant in Labrador, Qld that provided setvice above & beyond anything I've ever experienced! Arranged to have dinner delivered to my 92 & 94 yr-old parents who live close by..,and their meals arrived on restaurant plates & were delivered right to their table! My parents loved their steak & salmon meals along with their delicious desserts & I was then blown away when Adrian tells me that the meals were complimentary! This was so unexpected but I'm beyond grateful that there are still caring companies like Seven Brothers who can show such care for my parents. A wonderful display of the ethos & values of their company – I'll certainly be dining there next time I'm on the Gold Coast. Thank you Seven Brothers for giving my parents a delightful date night!" (Tripadvisor Review)
Bondi Grill'e
Address: 5/110 Marine Parade, Coolangatta QLD 4225, Australia
Pricing range: $$-$$$
Opening hours: 5 – 8.30pm
Recommended menu: Surf 'n Turf Rib Eye, Lamb Cutlets
Website: http://www.bondigrille.com.au/
Review:
"Best ribs, bar none! The staff was absolutely amazing, and the food was great! We'll 100% be back on our next visit to the Gold coast" (Google Review)
"Awesome Food

The best ever steak I've ever eaten in the world!! amazing. !! I will be back with my family. I highly recommend this place to anyone who loves a great meat, ribs or burgers. Service is friendly and welcoming" (Tripadvisor Review)
Outback Steakhouse Pacific Fair
Address: Pacific Fair Shopping Centre, Hooker Boulevard Pacific Fair Shopping Centre 1608, 2-30 Hooker Blvd, Broadbeach QLD 4218, Australia
Pricing range: $$-$$$
Opening hours: 10.30am – 10pm
Recommended menu: Outback Special, New York Strip Steak
Website: http://outbacksteakhouse.com.au/
Review:
"The restaurant it's a really meat restaurante have a lot cuts for the meat, so you have the possibility to choose a cut you really like! The food was great, I ordered my meat well done and they didn't burn my food! So that's great, the salad was taste and the staff was really nice!" (Google Review)
"An ideal option at Pacific Fair

Good selection on the menu. The food was good and the service was fine. An ideal option if looking for something more substantial to eat at Pacific Fair." (Tripadvisor Review)
Best Ribs in Surfers Paradise
Hurricane's Grill Surfers Paradise
Address: Soul Broadwalk, 1/4-14 The Esplanade, Surfers Paradise QLD 4217, Australia
Pricing range: $$-$$$
Opening hours: Sat – Sun (12-10pm), Mon – Fri (12-3pm, 5-10pm)
Recommended menu: Steak and Rib, Ribs
Website: https://www.hurricanesgrillandbar.com.au/surfers-paradise/
Review:
"Simply rib is the best! It's very delicious!

Good location with beautiful ocean view anytime and good atmosphere!

Staff provided very good service,

It deserves to get 5 stars!

Rib should be a best friend with beer! Loved it!" (Google Review)
"An experience but too expensive

We had the 1/2 beef and 1/2 pork ribs and they were cooked to perfection, so delicious.

We also had the seafood platter and while most of the seafood was yummy and well cooked, the lobster was over cooked and tough. It was definitely overpriced considering the main draw for us was the lobster.

The service was good and staff were friendly." (Tripadvisor Review)
"The Gold Coast is a popular tourist destination, attracting visitors from all over the world. With so many restaurants to choose from, it can be difficult for tourists and locals alike to find the best steak houses in Gold Coast area.

Luckily for you, we have compiled this list of 10 great places that serve up some amazing cuts of beef. Let's explore!" (Tripadvisor Review)
Smokehouse Meat & Co Bar and Grill
Address: Phoenician Resort, Shop 4/90 Surf Parade, Broadbeach QLD 4218, Australia
Pricing range: $$-$$$
Opening hours: Tue – Sun (12-10pm), Mon (5.30-9pm)
Recommended menu: Ribs, Wagyu Scotch Fillet, Tomahawk
Website: http://www.smokehousemeatcogrill.com/
Review:
"Amazing food and drinks. Staff was very friendly and helpful! Tried the Kobe waygu beef and it was worth every cent" (Google Review)
"Delicious

We had the burger, ribs and wings. All delicious. Added to the friendly service means we will definitely be back" (Tripadvisor Review)
Brazilian Flame Bar & Grill
Address: T2.04 Soul Boardwalk, 4 The, Esplanade, Surfers Paradise QLD 4217, Australia
Pricing range: $$-$$$
Opening hours: 12 – 10pm
Recommended menu: Tritip Steak, Rump Cap
Website: https://brazilianflamebg.com.au/
Review:
"Food was a mixed between over cooked and just right. Staff did their best but it was lacking. Also depending on where your sitting and the rotation of the meats going around your either in the flight path or left wanting. Overall I wouldn't bother coming back especially for the price we paid." (Google Review)
"Meat Heaven

Now this is one of my favourites by far some of the tastiest bbq meats that just keeps on coming all the wait staff could not do enough for you an around dining experience" (Tripadvisor Review)