Brisbane is a great place to enjoy the Australian lifestyle. Whether you are looking for beaches, mountains, or city life, Brisbane has everything you need. It is also home to some of Australia's best steak houses. Let's find the best steak restaurants in Brisbane!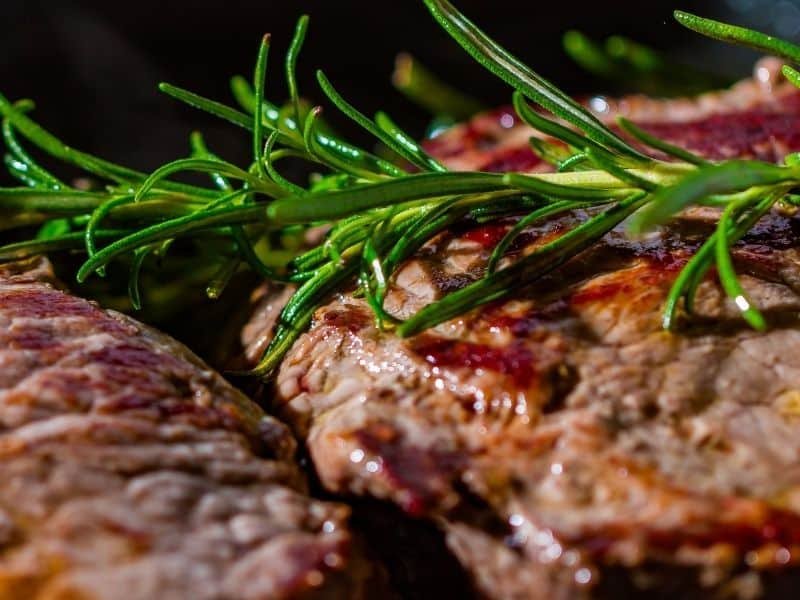 If you're in search of quality food and amazing service, then this list will help point you in the right direction.
Black Hide Steakhouse – Petrie Terrace
Black Hide is the best steak house in Australia, and it's not hard to see why. They work exclusively with Stanbroke Beef so that you can get your fill of delectable wagyu cuts like eye fillet, ribeye, or sirloin for a big hunger should you desire. Try their Tomahawk cut which weighs 1.2kg Angus beef – perfect if this has been on your mind as well!
Address: 36 Caxton St Petrie Terrace, Brisbane, Queensland 4000 Australia
Price range: $$$$
Achievement: Awarded Good Food Guide Chef Hat 2016/17, Australia's Best Steak Restaurant – National Restaurant & Catering Awards for Excellence 2016, Queensland's Best Steak Restaurant – QLD Restaurant & Catering Awards for Excellence 2019, Chefs Hat – Gault & Millau l'expert Gourmand 2017
Recommended Menu: WAGYU MARBLE SCORE 5+, ANGUS MARBLE SCORE 3+, Gambaro's Daily Fish
Reviews:
Superb -best steakhouse in Australia?
Black Hide steak house at the treasury is worth the trip alone. This is a superb steak house – possibly the best in Australia. The ambience, the service (a Frenchman) and the tomahawk were sensational. As an avid steak house lover and regular traveller to the USA's top steak houses (pre COVID) this is on par with the world's best. I can't recommend Black Hide at the Treasury highly enough. (Tripadvisor)
Walter's Steakhouse – Brisbane CBD
"Walter's Steakhouse is unlike any other steak house in Brisbane with Chef Pete Clarke cutting and dry-aging all the steaks on site. The menu features a small selection of cuts, but if you're looking for something special then I recommend their signature wet age porter house." "The sides to pair it are just as drool worthy – think creamed spinach that's definitely more butter than raw ingredients, cauliflower gratin and warm pecan pie to finish off your meal!"
Address: 219 Alice Street Corner of Edward Street, Brisbane, Queensland 4000 Australia
Price range: $$-$$$
Recommended Menu: Signature Steak, Porterhouse, Cream Spinach
Reviews:
Top notch service and steak
Dined here as a group of 5 on a busy Friday night. Service was attentive and genuinely friendly. Meals were on point. We shared a few signature steaks, bloody delicious. Enjoyed the evening and would have no hesitation recommending to others who enjoy a drink and a great steak. (Tripadvisor)
Black Hide by Gambaro – Brisbane CBD
Black Hide Restaurant opened its second steak house in the Brisbane CBD, partnering with Treasury Brisbane. Only a few steps from Queen Street Mall and within an easy stroll of South Bank Parklands is Black Hide's newest spot which overlooks the river for all who want to enjoy some delicious cuisine on their lunch break or by day/night entertainment!
Address: Top of Queen Street Mall, Treasury Casino Building Level 1,, Brisbane, Queensland 4000 Australia
Price range: $$$$
Recommended Menu: WAGYU MARBLE SCORE 5+, ANGUS MARBLE SCORE 3+, Gambaro's Daily Fish
Reviews:
Well worth the visit
First time here, had heard so much about it and we were totally satisfied. Entrees of oysters and scallops were close to the best we have ever had and the steaks were cooked to perfection. A special thank you to the staff that looked after us and a special mention to Victoria our waitress who was amazing! Well done, cant wait to come back. Prices are up there but well worth it. (Tripadvisor)
Moo Moo – Brisbane CBD
Moo Moo's is a steakhouse that knows the secrets to cooking beef just right. With an open grill, coal and wood for extra flavor, there are loads of different cuts on their menu including T-Bones and tomahawks with Wagyu striploins or rump caps as well. If you have any doubts about what cut suits your taste buds best don't worry they also offer in house dry aged Black Angus steaks which will leave you feeling satisfied!
Address: The Port Office, Stamford Plaza Cnr Edward & Margaret Street, Brisbane, Queensland 4000 Australia
Price range: $$$$
Recommended Menu: T-bones, Tomahawk, 9+ wagyu steak
Reviews:
Excellent!
We had an absolutely fantastic night at Moo Moos. Everything was perfect. The atmosphere, meals, wine choices and service was outstanding!
Thank you to all the team that made our evening so so enjoyable.
This was our first experience at the restaurant and we loved every moment. (Tripadvisor)
Les Bubbles – Fortitude Valley
Les Bubbles is a steakhouse that would be right at home in Paris, France. Their signature dish is a juicy medium rare cut of beef accompanied by an unlimited supply of fries (yes, French fries!) All you have to do is choose your sauce and away you go- don't forget about the crème brulee for dessert!
Address:144 Wickham St, Brisbane, Queensland 4006 Australia
Price range: $$-$$$
Recommended Menu: Served with a soft leaf salad and bottomless fries, with your choice of; Sauce Café de Paris Sauce Bearnaise Green Peppercorn & Cognac Our signature dish is traditionally seared to be served medium-rare.
Reviews:
A great lunch regular
This place has become one of our favourite Saturday lunch spots. Something as simple as Steak & Fries could get boring but it's done so well & the accompaniments are spot-on. Fantastic wine selections & excellent service always cap off a great afternoon. (Tripadvisor)
Breakfast Creek Hotel – Breakfast Creek
Brekky Creek Hotel is one of the few restaurants to offer a steak dinner in Brisbane. The steaks are sourced from Queensland, and you get to select your own cut that has been chargrilled on their grill since 1967! You can also order appetizers like bacon sauce covered with coleslaw or even slices of tomato for an added burst of flavor paired with a roll, potato side dish and slice bread all served up by friendly staff members who have worked at Brekky Creek for decades—even though it's such cutting edge establishment serving tastes just as good as dishes offered around town today.
Address: 2 Kingsford Smith Dr, Brisbane, Queensland 4010 Australia
Price range: $$-$$$ (Quick Bites, Steakhouse, Bar)
Recommended Menu: WAGYU RUMP – Graziers Australian Beef Wagyu, RIB FILLET – Maranoa District QLD
Reviews:
Great selection of food
Saturday night is always going to be busy here because the food is amazing. Book in advance to avoid disappointment.
Great selection of food but steak is their speciality. You can definitely taste that the food is freshly prepared and although it's a large venue the wait time was reasonable. Steak was perfectly cooked to order.
Staff here are friendly and helpful – would definitely recommend. (Tripadvisor)
The Boatshed – Toowong
The Boatshed at The Regatta is the perfect place to make your inner caveman come out and enjoy a really good steak. Get yourself one of their eye fillet, rib-fillet or sirloin steaks before adding on some blue cheese wedges for an extra kick, grilled local prawns or crispy onion rings if you want that "extra something."
Address: 543 Coronation Drive Toowong, Brisbane, Queensland 4066 Australia
Price range: $$-$$$
Recommended Menu: OP Rib – On the bone, Angus Tomahawk, Wagyu Sirlion
Reviews:
The Boatshed. Best steak in Brisbane!!
Best steak in Brisbane. Immaculate service. Angus looked after us like royalty and matched superb wines with our meals. Tomahawk steak a standout! I'll be back ???? (Tripadvisor)
The Morrison – Woolloongabba
The Morrison is a Woolloongabba institution that has been serving perfectly grilled meats to Brisbane's steak loving masses since long before your parents were born. The 180+ days grain-fed 400g rump goes for $31, while the 800g(!) version is a very reasonable $47. Along with a range of sauces, there are three mustard options you can opt for and also some interesting toppings like Oysters Kilpatrick or sautéed field mushrooms at an extra cost of course!
Address: 640 Stanley Street Woolloongabba, Brisbane, Queensland 4102 Australia
Price range: $$-$$$
Recommended Menu: Rump 400grams (QLD Darling Downs), Dry Aged Rib Eye on the Bone (Darling Downs), Oysters Kilpatrick
Reviews:
Awesome Ribs
Awesome ribs, we went with family on a Wednesday night, the ribs were awesome, the lamb shanks were mouth watering, the entree's were great, great place will come again. (Tripadvisor)
Blackbird Bar & Grill – Brisbane CBD
When you think Blackbird, don't just focus on their infamous cocktails and the good times they have outback. They also happen to do a mean steak in their restaurant! More than one actually—you'll find everything from tenderloin to some Wagyu rum too! Be sure not to miss out on the Dutch cream potato that's baked right there at a table with parmesan butter for even more flavorful goodness.
Address: 123 Eagle St, Brisbane, Queensland 4000 Australia
Price range: $$$$
Recommended Menu: Sirloin, Lamb Shoulder
Reviews:
We Will DEFINITELY Return to Blackbird!!
My wife & I enjoyed a FABULOUS casual Sunday lunch in the bar area at Blackbird, and couldn't have been more pleased or satisfied with our entire experience! From being warmly welcomed; to being offered our choice of table (check out the photo of the view!!); followed by genuinely nice and friendly service; the quality of food (we shared crumbed Whiting with fries, and a Blackbird burger with fries); serving sizes; we agreed Blackbird delivers an outstanding dining experience, and EXCELLENT "value for money ". (Tripadvisor)
Florentine Italian Grill and Wine Room
Address: 5 Kyabra Street, Newstead, Brisbane, Queensland 4006 Australia
Price range: $$-$$$
Recommended Menu: Bistecca Florentine a steak
Reviews:
Excellent service and succulent streak
What a most amazing dinner experience. Not only was the fillet steak succulent and simply delicious, the service was attentive and personal. ask for Les and you will be sprinkled with his unique hospitality and kindness. I recommend you dine at this restaurant. lots of on street parking available. clean and well maintained amenities in the restaurant (which I like rather than using a share amenity). the decor is cozy and authentic and the menu and beverage selection will suit everyone. — at Florentine Italian Grill and Wine Room. (Tripadvisor)