Tentang Universitas Adelaide
Universitas Adelaide merupakan universitas publik yang terletak di Adelaide, South Australia. Berdiri pada tahun 1874, universitas ini merupakan tertua ke-3 di Australia.
Kampus utama univesitas ini berlokasi di North Terrace di pusat kota Adelaide, yang terletak dekat dengan Art Gallery of South Australia, South Australian Museum dan State Library of South Australia.
Universitas Adelaide memiliki 4 kampus. 3 kampus terletak di South Australia: Kampus North Terrace di tengah kota, Kampus Roseworthy di Roseworthy, dan Kampus Waite di Urrbrae. 1 kampus berlokasi di Melbourne, Victoria. Universitas ini juga beroperasi di daerah lain, seperti Thebarton, Pusat Wine Nasional di Adelaide Park Lands, dan di Singapore pada Ngee Ann-Adelaide Education Centre.
University of Adelaide Ranking di Australia dan Dunia
Versi QS World University Ranking (QS WUR)
Peringkat 106 di Dunia (2021)
Peringkat 8 di Australia (2021)
Top 100 untuk 16 bidang akademik (2019)
Versi Ranking Dunia Lainnya
Peringkat 118 di Dunia (Times Higher Education / THE 2021)
Peringkat 7 di Australia (Times Higher Education / THE 2021)
Peringkat 152 (Academic Rankings of World Universities / ARWU)
Peringkat 73 (US News – Best Global Universities 2021)
Top 100 untuk 14 bidang akademik (ARWU 2021)
Peringkat 139 (CWTS Leiden Ranking 2021)
Lokasi Kampus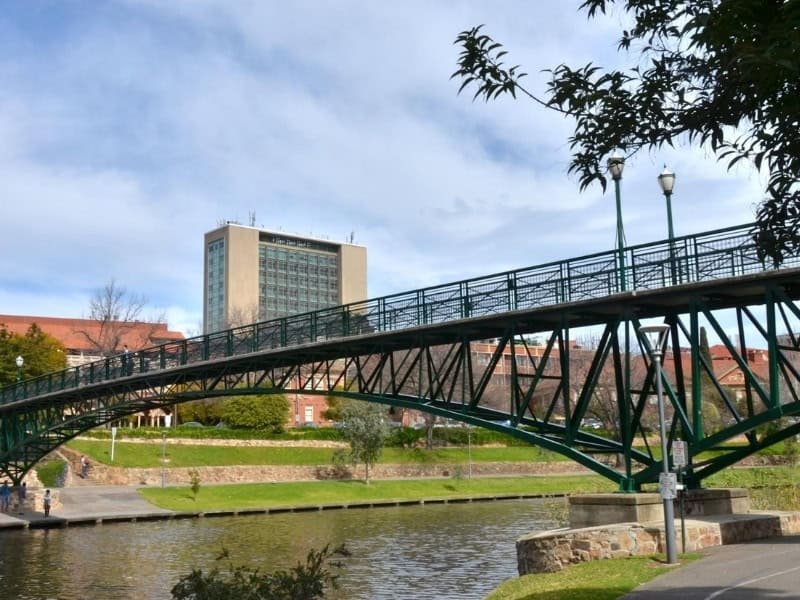 Kampus North Terrace
Alamat: 259 North Terrace, Adelaide SA 5000, Australia
Kampus ini merupakan kampus utama, tempat dimana hampir semua pengajaran dan riset diselenggarakan.
Kampus Roseworthy
Alamat: Mudla Wirra Rd, Roseworthy SA 5371
Kampus ini merupakan pusat pengajaran program undergraduate (S1), pelatihan postgraduate (S2), riset, dan fasilitas klinik. Kampus ini juga merupakan pusat animal and veterinary science research di South Australia.
Kampus Waite
Alamat: Urrbrae SA 5064 (sekitar 7 kilometer di arah tenggara kota Adelaide)
Dengan luas sekitar 184 hektar, kampus ini merupakan pusat penelitian terbesar untuk agrikultur dan wine, dan keahlian pengajaran di belahan bumi bagian selatan.
Kampus Melbourne
Alamat: 370 Docklands Dr, Docklands VIC 3008
Jurusan di University of Adelaide
Faculty of Engineering, Computer & Mathematical Sciences
School of Petroleum
School of Chemical Engineering
School of Civil, Environmental & Mining Engineering
School of Computer Science
School of Electrical & Electronic Engineering
School of Mathematical Sciences
School of Mechanical Engineering.
Faculty of Health and Medical Sciences
School of Dentistry
School of Medicine
School of Nursing
School of Public Health
School of Psychology
Faculty of the Professions
School of Architecture, and Built Environment
Adelaide Business School
School of Economics
Adelaide Law School.
Faculty of Sciences
School of Agriculture, Food, and Wine
School of Physical Sciences
School of Biological Sciences
School of Animal and Veterinary Sciences.
Faculty of Arts
Elder Conservatorium of Music
School of Humanities
School of Education
School of Social Sciences
The National Centre for Aboriginal Language and Music Studies (NCALMS)
Pendaftaran untuk International Students
Langkah pendaftaran untuk pendaftaran international students (siswa internasional):
Cari jurusan untuk program kuliah atau gelar yang diinginkan di sini: degree-finder
Untuk mencari informasi tentang universitas Adelaide: memutuskan bidang pilihan
Untuk submit pendafratan: submit an application (termasuk program penggantian untuk siswa yang sedang belajar di Universitas Adelaide atau untuk mendaftar program postgraduate/S2)
Untuk mengetahui lebih banyak tentang Universitas Adelaide, dapat cek langsung di sini https://www.adelaide.edu.au/
Untuk informasi mengenai universitas-universitas lain di Adelaide bisa cek di sini (Studi di Adelaide).
Was this article helpful?