Salmon and potatoes are a match made in heaven! The savory, tender salmon pairs beautifully with the earthy flavor of potatoes. But why stop at just plain boiled or mashed potatoes?
Some of the best potatoes to serve with salmon include Hasselback, scalloped, twice-baked, and many more. They may be boiled, baked, roasted, fried, or mashed.
Today I'm going to share with you seven delicious potato recipes guaranteed to take your salmon dish to the next level. Let's get cooking!
7 Best Potatoes to Serve with Salmon
#1 – Hasselback Potatoes
Hasselback potatoes have become popular over the last few years, and it's easy to see why! They're so fancy looking, but they're effortless to make.
These thin-sliced potatoes are crispy on the outside and creamy on the inside, making them a perfect complement to salmon.
To make them:
Preheat your oven to 400 degrees Fahrenheit and wash four large potatoes.
Slice each potato lengthwise about ¼ inch thick, but make sure not to cut all the way through.
Place your sliced potatoes on a baking sheet lined with parchment paper and bake for 30 minutes.
Drizzle generously with olive oil before serving.
#2 – Scalloped Potatoes
Scalloped potatoes make an excellent side dish for any occasion, but they pair exceptionally well with salmon fillets!
The key to making perfect scalloped potatoes is using the right potatoes. I like to use Yukon Gold potatoes because they have a nice creamy texture and a buttery flavor that goes so well with the cheesy sauce.
To make them:
Preheat your oven to 375 degrees Fahrenheit. Grease an 8-inch baking dish with butter or olive oil.
Peel and thinly slice 4 large Yukon Gold potatoes into rounds and place them in layers on the bottom of your greased baking dish.
In a saucepan over medium heat, whisk together 1 cup of heavy cream, 1 tablespoon of Dijon mustard, 1 teaspoon of garlic powder, ¼ teaspoon of white pepper, ½ teaspoon of salt, and 2 tablespoons of freshly grated Parmesan cheese until smooth.
Pour this mixture over the potato slices in your baking dish and bake for 45 minutes until fork-tender.
Finish off by topping with additional Parmesan cheese before serving!
#3 – Twice Baked Potatoes
Twice-baked potatoes are always a crowd favorite!
They are potatoes that have been boiled, then mashed, and mixed with butter, milk/cream, shredded cheese, salt, and pepper. They are then put back into their skins and baked again.
To make them:
Preheat your oven to 400 degrees Fahrenheit and start by washing 4 large russet potatoes thoroughly before puncturing each one several times with a fork or sharp knife.
Bake these on your oven rack for 50 minutes (or until tender). Once cooled enough to handle, cut each potato lengthwise in half before scooping the insides into a large bowl (leave about ¼ inch of potato flesh attached).
Mash up those insides with 3 tablespoons of softened butter, 1 cup sour cream, and ½ cup shredded cheddar cheese until creamy before spooning back into each potato skin half-top with more cheese if desired.
Then return to the baking sheet lined with parchment paper for another 15 minutes in the oven until golden brown on top!
Serve alongside some delicious salmon fillets for added flavor contrast – yum!
#4 – Parmesan Roasted Potatoes
These potatoes are a fan favorite and are sure to please the whole family. All you need is your favorite type of potato (we like Yukon Golds), olive oil, garlic cloves, Parmesan cheese, salt, and pepper (to taste).
Preheat your oven to 400°F, then cut the potatoes into bite-size pieces.
Toss them in a bowl with olive oil, garlic cloves, Parmesan cheese, and salt/pepper until they're evenly coated.
Spread onto a baking sheet and bake for 25 minutes or until golden brown and crispy. Yum!
#5 – Crispy Garlic Herb Potatoes
If you're looking for something with a bit more crunch, these crispy garlic herb potatoes should do the trick!
These are easy enough for even novice cooks to master — all you need is your favorite type of potato (we like russet), butter or olive oil, minced garlic cloves, fresh herbs (thyme/rosemary work great!), salt/pepper (to taste) plus any other seasoning of your choice.
Start by preheating your oven to 450°F, slice the potatoes into wedges, and toss them in a bowl with butter or olive oil until evenly coated.
Add in the minced garlic cloves, herbs & seasoning, then spread out onto a baking sheet lined with parchment paper.
Bake in the oven for 25-30 minutes or until golden brown & crispy – Enjoy!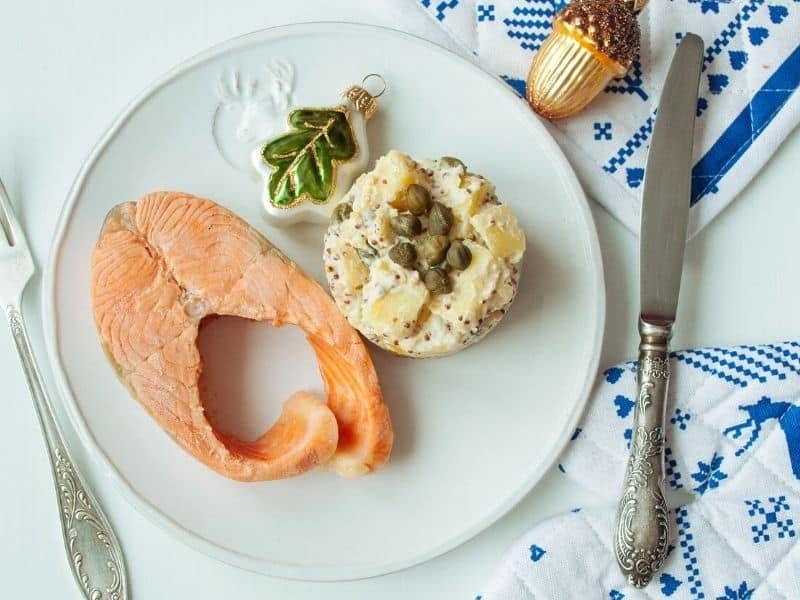 #6 – Potato Salad
This potato salad recipe is perfect for a light, healthy lunch or dinner.
There are endless variations of potato salads, but I like to keep mine simple with only a few ingredients.
Start by boiling 3-4 large potatoes until fork tender, then drain and set aside to cool.
Mix 1 cup mayonnaise (or Greek yogurt), 2 tablespoons Dijon mustard, ¼ cup shredded Parmesan cheese, 1 teaspoon lemon juice, ½ teaspoon salt, and ¼ teaspoon black pepper until combined.
In a large bowl, mix the cooled potatoes along with 2 diced hard-boiled eggs, ¾ cup chopped celery, and 3 tablespoons finely chopped fresh parsley.
Add in the mayonnaise mixture and gently stir everything together until well combined.
Serve the potato salad and some fresh salmon fillets for a delicious meal everyone will love!
#7 – Fingerling Potatoes with Lemon Butter
Fingerling potatoes with lemon butter is a great side dish to any meal. The potatoes are crispy on the outside and soft on the inside, and the lemon butter adds a delicious flavor that everyone will love.
This dish is effortless to make.
First, preheat your oven to 400 degrees. Then, rinse the potatoes and slice them in half lengthwise.
Next, spread the potatoes on a baking sheet and drizzle them with olive oil. Be sure to coat them well so they will be nice and crispy.
Then, bake in the oven for 20-25 minutes until golden brown.
While the potatoes are baking, melt some butter in a small saucepan over low heat. Add fresh lemon juice and a pinch of salt to the butter and mix.
When the potatoes are done, they can be drizzled with lemon butter and served as a side dish. Enjoy!
Types of Potatoes
There are many varieties of potatoes, each with its unique flavor and texture. Some famous potatoes include Yukon Gold, russet, fingerling, red bliss, and sweet potatoes.
Yukon Gold Potatoes
Yukon gold potatoes are a variety of known for their waxy texture and buttery flavor. They are perfect for boiling, mashing, or roasting and are an excellent choice for dishes like potato salad or shepherd's pie.
These potatoes are available year-round but peak in the late summer and early fall. Look for potatoes that have smooth, unblemished skin, and avoid those with green spots or bruises.
Store potatoes in a cool, dark place (preferably between 45 and 50 degrees Fahrenheit) to keep them from sprouting.
Russet Potatoes
Russet potatoes have a higher starch content than other potatoes, so they're good for baking, mashing, and frying. They're also an excellent choice for making potato chips because their high starch content makes them crispy when fried.
These potatoes are named for their rough, brown skin, which is thicker than the skin of other types of potatoes. The flesh of a russet potato is light brown and has a dry, mealy texture.
Some folks say that russet potatoes taste earthy or nutty, while others find them bland. I happen to like their unique flavor.
Red Potatoes
Red potatoes are a type of round, red-skinned potato. They have a waxy texture and a slightly sweet flavor] perfect for roasting, mashing, or boiling.
These potatoes are also a good fiber, potassium, and vitamin C source. So they're not only delicious, but they're also good for you.
I always try to keep a few red potatoes in my pantry to cook them up whenever the mood strikes me.
Sweet Potatoes
Sweet potatoes are a great source of dietary fiber, vitamins A and C, and minerals, including potassium and manganese. They also provide some protein and B vitamins.
These potatoes can be roasted in the oven, boiled or mashed, or made into fries or chips. They are also popular in many recipes, including casseroles, pies, pancakes, and waffles.
Fingerling Potatoes
Fingerling potatoes are small, thin potatoes that are shaped like fingers. They have waxy skin and creamy, smooth flesh. Fingerling potatoes can be roasted, boiled, or mashed.
They are available year-round but are most widely available in the fall and winter.
Fingerlings potatoes are usually more expensive than other potatoes because they are challenging to grow. They tend to have a higher moisture content than other potatoes, so they spoil more quickly.
FAQs
How long should you cook the salmon?
It depends on the thickness of the salmon fillet, but typically around 8-10 minutes on each side should result in a fully cooked salmon.
Can you cook the salmon with the skin on?
Yes, many people prefer to leave the skin on while cooking as it can help keep the salmon moist and add some extra flavor.
What temperature should you cook the salmon?
A general rule of thumb is to cook salmon at 350 degrees Fahrenheit.
Can you cook salmon in a skillet, or should it only be cooked on a grill?
Either method can work well for cooking salmon. Make sure to use a non-stick cooking spray or oil to prevent sticking.
Can you bake the salmon instead of cooking it on the stovetop?
Yes, baking is another great option for cooking salmon. You can also try wrapping it in foil with some lemon slices and herbs for added flavor.
What type of seasoning is best for salmon?
It depends on preference, but some popular options include dill, lemon pepper, or a blend of garlic and herb seasonings.
Is it safe to eat the skin of cooked salmon?
Yes, as long as it is fully cooked, it is safe (and tasty!) to eat the salmon's skin.
Was this article helpful?