Reheating dauphinoise potatoes can be a bit tricky – you don't want them to end up too dry and crusty, nor too soft and gooey in the middle.
So, how to reheat dauphinoise potatoes? You can reheat them using an oven, a stove, or even a microwave. Just make sure to thaw them before reheating for the best result.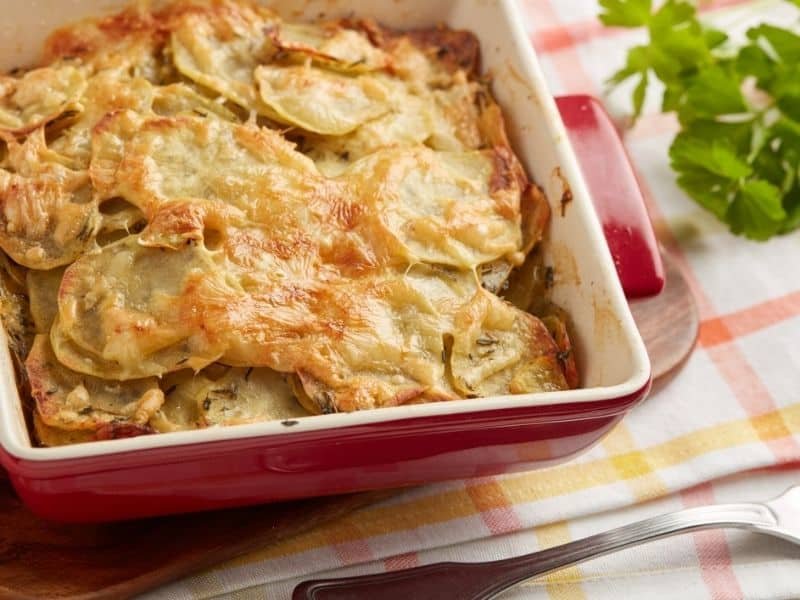 This blog post will share our favorite method for reheating dauphinoise potatoes to be delicious every time.
About Dauphinoise Potatoes
What are dauphinoise potatoes?
Potatoes Dauphinoise or Gratin dauphinoise is a French dish made with sliced potatoes baked in milk, cream, and cheese.
The dish is comfort food. It's one that everyone loves when it comes out of the oven.
It's a great side dish for any meal – from breakfast to dinner. And it's easy enough to make at home.
It has a history dating back to the Dauphiné region of France.
This French potato side dish uses the gratin technique to bake sliced potatoes in milk or cream.
How to Reheat Dauphinoise Potatoes?
Why do you want to reheat them?
Leftover potato dauphinoise
There are a few reasons why you might have leftover dauphinoise potatoes.
Maybe you made too much, or perhaps you had some for dinner, and now you want to enjoy them for lunch the next day.
Leftover dauphinoise potatoes can be a little bit of a challenge to reheat. You don't want them to get dry and crusty, but you also don't want them cold and gooey in the middle.
Preparing them in advance
You might also cook them days in advance. You can reheat them when you're ready to eat.
Refrigerated dauphinoise potatoes can last up to 5 days, so make sure you eat them during that time frame.
Reheating using an oven
This is the most common technique of reheating dauphinoise potatoes because it maintains the potatoes' texture and flavor.
When reheating frozen potatoes in the oven, leave them to thaw overnight in the fridge first. This will ensure that they can be quickly rewarmed.
Here are the steps of reheating the dish using the oven:
Preheat the oven to 350F before you do anything else.
Place the potatoes in an oven-safe dish. Cover the dish with aluminum foil so that you can trap heat inside.
Place the dauphinoise potatoes inside the oven and let them reheat for 20-25 minutes on the middle rack.
If you want the dauphinoise potatoes to have a crispy outside, take off the foil paper from the bowl, test potatoes for tenderness, and bake without the tin foil for 5-10 minutes, or until golden and crispy.
Remove the dauphinoise potatoes from the oven.
Place them on a plate, and serve them while hot to enjoy the best flavors.
Using a stove
When using this method to reheat frozen dauphinoise potatoes, thaw them overnight for the best results.
Here are the steps of reheating the dish using the stove:
Put your potatoes in a pot, and place the pot on a stove. Turned the stove to medium to low heat so that the potatoes do not burn.
Cover the pot with a lid so that the heat can circulate to the dauphinoise potatoes.
Allow the potatoes to reheat for 15-20 minutes. Make sure you do not scald the bottom of the potatoes.
When done, remove them from the pot and place them on a plate.
Serve them while hot to enjoy the best flavors.
Using a microwave
This is the fastest and most convenient method of reheating dauphinoise potatoes.
You don't have to worry about thawing the dauphinoise potatoes overnight in the refrigerator. You can directly reheat the potatoes from the frozen state with the microwave.
You need to know that reheating using the microwave doesn't brown them.
Here are the steps of reheating the dish using a microwave:
Place the dauphinoise potatoes in a microwave-safe dish and cover the bowl using plastic wrap.
Leave one side of the bowl slightly open. This will help to enable heat to freely circulate within the dauphinoise potatoes. Heating the food unevenly can leave cool pockets where bacteria can thrive.
Place the dauphinoise potatoes in the microwave oven and let them reheat on high heat for about 3 minutes.
Check on the progress of the dauphinoise potatoes. The internal temperature should read above 165 degrees If they are still not hot, reheat them again for another 3 minutes.
Serve the dauphinoise potatoes while hot for the best results.
The Differences between Dauphinoise Potatoes with Other Potato Dishes
Dauphinoise Potatoes vs. Potato Bake
Dauphinoise Potato is a type of potato bake dish that you usually cook in milk or cream, using the gratin technique.
A potato bake (or baked potato) is a preparation of potatoes. You can cook the potato bake with various types of toppings or condiments and make them into multiple types of dishes. And one of the dishes that use potato bake is Dauphinoise Potatoes.
So, Dauphinoise is basically a type of potato bake dish.
Dauphinoise potatoes vs. potato au gratin
Initially, Dauphinoise potatoes and potatoes au gratin are similar but different kinds of dishes. Although, nowadays, these two dishes are interchangeable.
A gratin is a dish made from thinly sliced vegetables, cheese, and butter. Creamy sauces are usually used to make gratin potatoes.
The difference between dauphinoise potatoes and potato gratin is that Dauphinoise starts with raw potatoes, but gratin starts with boiled potatoes.
A gratin dauphinoise is made by thinly sliced (not pre-cooked) potatoes, adding milk or cream, and sometimes Gruyère cheese.
Potato au gratin uses boiled or cooked potatoes from the beginning.
Dauphinoise potatoes vs. Dauphine potatoes
Although they have a similar name, Dauphinoise potatoes are not the same as Dauphine potatoes.
Pommes dauphine (also known as dauphine potatoes) are crispy potato puffs. They are about the size of quenelles or balls. You make them with mashed potatoes and choux pastry.
Then you fry them at 170° to 180°C.
Dauphinoise potatoes vs. scalloped potatoes
Dauphinoise potatoes are also different from Scalloped potatoes.
This dish is a breeze to create – just layer potatoes and bake them in a luxurious mix of creamy milk and heavy cream!
How to Make Dauphinoise Potatoes
Ingredients
knob unsalted butter for greasing
1kg waxy potato or starchy potatoes (Desirée, Yukon Golds, or Russet Potatoes)
150ml full-fat milk
142ml carton double cream
1 garlic clove, peeled and halved
2 sprigs thyme
pinch freshly ground nutmeg
25g parmesan, freshly grated
Method
Heat the oven temperature to 160C/140C fan/gas mark 4. Line a baking dish with baking parchment paper, then butter the paper.
Peel and slice potatoes using a mandolin or sharp knife. Pat dry.
Heat the milk and cream in a pan, then add the garlic and thyme. Simmer until boiling, then remove from the heat and let it cool before straining into a jug. Sprinkle with a dash of ground nutmeg and keep warm.
Layer half the potatoes in the oven dish, overlapping the slices, sprinkling each layer with a pinch of salt and pepper.
Pour over half the cream mixture and layer the rest of the potatoes. Then add another layer of cream, and scatter over the grated cheese.
The cooking time is 60-75 minutes. Bake until the potatoes are tender and the top is golden brown.
Leave to stand for 5 mins, then cut into six individual portions and serve.
FAQs
Can you freeze dauphinoise potatoes made with cream?
You can freeze dauphinoise potatoes that are made with fresh cream. Put them in an airtight container or resealable plastic bag, and store them in the freezer for up to two months.
What do you eat dauphinoise potatoes with?
You can eat dauphinoise potatoes with a variety of things. You can serve them with roasted meats, grilled fish, or vegetables. You can also have them as a side dish.
Can I make dauphinoise potatoes without cream?
Yes, you can make dauphinoise potatoes without cream. Just replace the cream with milk.
how long can you keep dauphinoise potatoes in fridge?
You can freeze and reheat dauphinoise. Just put them in an airtight container and store them in the freezer for up to two months. When ready to reheat, thaw them overnight in the fridge and then bake at 180C/160C fan/gas until hot throughout.
Was this article helpful?