Are you in charge of making Sunday lunch for the family but don't know what to cook? Look no further – this simple yet scrumptious Potatoes Dauphinoise recipe from Mary Berry will have everyone asking for seconds.
Here's how you can make this delicious potato dish that is quick, easy to prepare, and sure to please the entire family.
Dauphinoise Potatoes for Sunday Lunch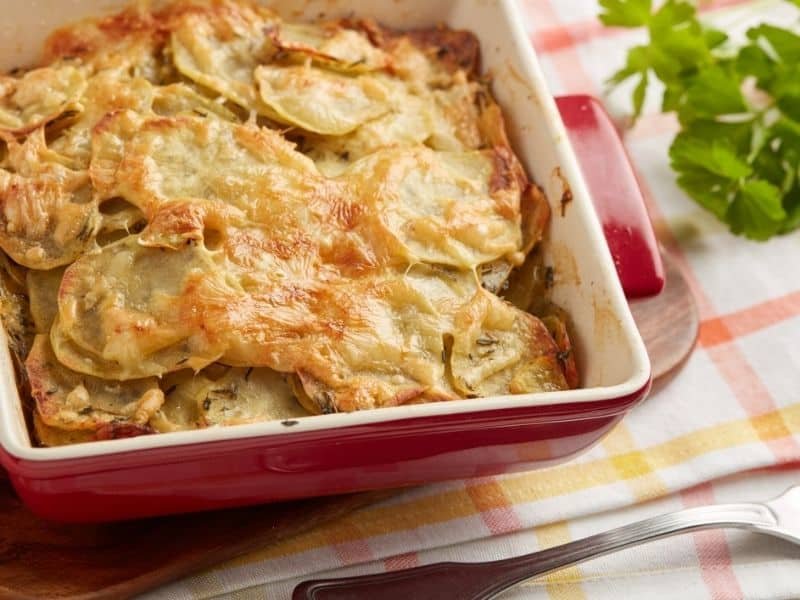 Dauphinoise potatoes, also known as Potatoes au Gratin, is a classic French side dish made with thinly sliced potatoes cooked in cream and cheese. This creamy and cheesy potato dish is perfect for Sunday lunch because it's easy to make and can feed a large crowd. Plus, the combination of cream, butter, garlic, Gruyere cheese, and thyme gives this dish a fantastic flavor that everyone will love!
With its creamy texture and savory flavor, this classic French side dish will surely be a hit with your family and friends!
Potato Dauphinoise: Mary Berry Recipe
This recipe is inspired by Mary Berry's family Sunday lunch. It's classic, simple, yet delicious. Let's try.
Serve: 6 – 8
Cooking time: 60 minutes
Ingredients:
750g (1lb 10 oz.) sweet potatoes, peeled
750g (1lb 10oz) King Edward potatoes, peeled
300ml (½ pint) double cream
150ml (¼ pint) chicken or vegetable stock
50g (2 oz.)Parmesan cheese, grated
Directions:
Preheat the oven up to 220°C/Fan 200°C/Gas 7, and have a buttered 2-2.4 liter 3 ½ – 4-pint shallow ovenproof dish ready!
Slice the sweet potatoes and King Edwards into thin, uniform pieces using a sharp knife or your food processor's slicing blade.
Carefully arrange a single layer of your chosen type of potatoes in the buttered dish and sprinkle with salt, pepper, and other herbs (if desired). Generously drizzle over some cream or stock to add extra flavor.
Begin layering the potatoes and cream, interspersed with stock, until you've used all of your ingredients. Use your hands to compress the potatoes into the liquid so they are completely submerged.
Top it off with cheese and cover securely with foil for baking.
Place in the preheated oven and bake for approximately 40 minutes. Then, remove the foil to continue baking for another 25-30 minutes until it's a beautiful golden brown and your potatoes are cooked.
Allow it to rest for 5 minutes before serving.
Source: maryberry.co.uk
What to Serve with Dauphinoise Potatoes
Your Main Course Options
Dauphinoise potatoes are a great side dish, but they don't quite constitute an entire meal. So, you'll need some other options!
Here are a few of our favorites for creating the perfect Sunday lunch menu:
Roast Chicken – Always a crowd-pleaser and pairs perfectly with dauphinoise potatoes. It's also relatively simple to prepare – rub some olive oil over the chicken, season it with salt and pepper, and put it in the oven!
Grilled Salmon – A great option if your guests prefer seafood. It's packed with flavor and nutrients and pairs wonderfully with dauphinoise potatoes. Brush some lemon juice over the fillets before grilling them for extra flavor.
Vegetarian Lasagna – For vegetarian guests (or anyone who wants something different!), try making lasagna. Layer lasagna noodles with ricotta cheese and your favorite vegetables (mushrooms, spinach, peppers), then bake until golden brown.
Side Dishes
Don't forget the sides! Here are some tasty accompaniments for your Sunday lunch spread:
Green Salad – A crisp green salad is always welcome at dinner parties. Choose fresh mixed greens and top them off with tomatoes, cucumbers, carrots, or any other vegetable you like. Drizzle some olive oil over the salad before serving for added flavor.
Roasted Carrots – Roasted carrots are a great option if you want something more substantial than salad without going overboard on calories. Toss diced carrots in olive oil and seasonings of your choice (cumin works particularly well) before baking them in the oven until lightly browned around the edges.
Mashed Sweet Potatoes – Sweet potatoes are always delicious as part of a Sunday lunch menu, especially when mashed up into creamy goodness topped with butter or cinnamon sugar.
About Mary Berry
Dame Mary Rosa Alleyne Hunnings, better known as Mary Berry, is an English food writer, chef, baker, and television presenter. She is best known for her role as a judge on the popular BBC show The Great British Baking Show.
Berry trained at The Cordon Bleu in Paris and Bath School of Home Economics. In the swinging '60s, she became the cookery editor of Housewife magazine before becoming a household name with her series of cooking shows and books.
Her recipes are renowned for their simplicity and deliciousness, making her one of the most beloved chefs in Britain today.
FAQs
What is the origin of the dish Potatoes Dauphinoise?
Potatoes Dauphinoise has French origins and was reportedly first made in the Dauphiné region of southeastern France.
What ingredients are typically used in Potatoes Dauphinoise?
The ingredients typically used in Potatoes Dauphinoise include potatoes, cream, garlic, salt, pepper, and butter.
How is Potatoes Dauphinoise prepared?
Potatoes Dauphinoise is typically prepared by slicing potatoes thinly, then layering them in a baking dish with cream, garlic, salt, pepper, and butter. The dish is baked until the potatoes are tender and golden brown.
What is the typical serving size for Potatoes Dauphinoise?
The typical serving size for Potatoes Dauphinoise is about 1-2 servings.
What are some common variations of Potatoes Dauphinoise?
Some common variations of Potatoes Dauphinoise include adding shredded cheese or crumbled bacon to the dish before baking.
Was this article helpful?