There's nothing quite like a cheesy, creamy potato dish to make your mouth water. And when that potato dish is dauphinoise potatoes, well, it's heaven on a plate.
This blog will quickly show you how to make the perfect dauphinoise potatoes. So gather up your ingredients and get cooking!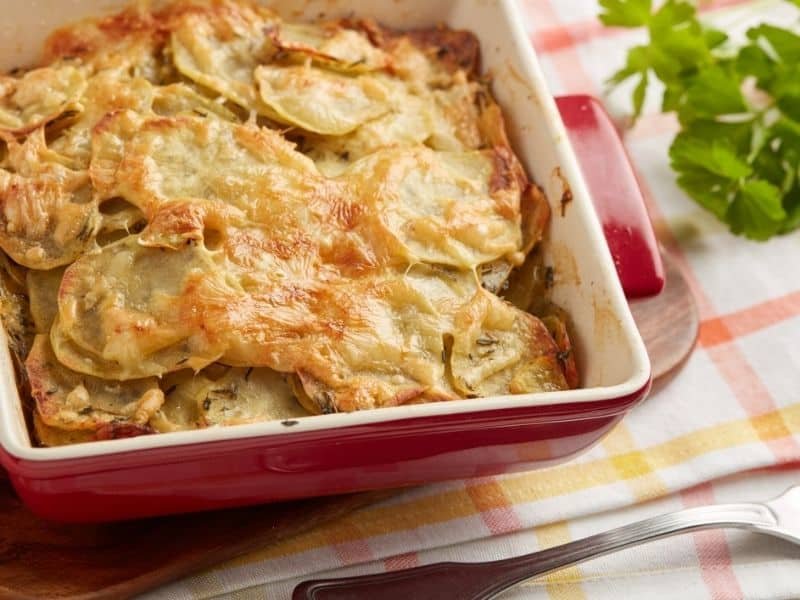 What Are Dauphinoise Potatoes?
Dauphinoise potatoes are a French potato dish typically consisting of thinly sliced potatoes layered in cream and cheese. The word "dauphinois" refers to something from the Dauphiné region in southeast France, so these potatoes are French at their core.
Classic Dauphinoise Potatoes
This dish has variations, but the classic recipe calls for whole milk, heavy cream, Gruyère cheese, and nutmeg. You'll often see recipes that call for Parmesan cheese, but I find that the Gruyère provides more than enough flavor.
Cheese For Dauphinoise Potatoes
Cheese is a must for dauphinoise potatoes! It gives them a delicious, creamy texture and flavor you can't beat. I like to use Gruyère or Comté cheese for this dish, but any good melting cheese will work.
Potatoes Dauphinoise Recipe
Ingredients:
One large or two small russet potatoes, peeled and sliced thin
1 cup heavy cream
1/4 teaspoon freshly ground black pepper
1/4 teaspoon garlic powder
Three tablespoons of unsalted butter, melted
1/2 cup grated Parmesan cheese
Instructions:
Preheat the oven to 425 degrees F (220 degrees C). Butter a 1-quart baking dish. In a large bowl, combine the potatoes, cream, pepper, garlic powder, and butter. Pour the mixture into the prepared dish. Sprinkle with Parmesan cheese.
Bake for 25 minutes in the preheated oven or until potatoes is tender and golden brown. Serves 2 to 4.
What to Eat With Dauphinoise Potatoes
I like to keep the sides light and simple for a dish as rich and creamy as dauphinoise potatoes. A green salad with a light vinaigrette is always a good option, or you could try steamed broccoli or green beans.
If you're looking for something a little heartier, roasted Brussels sprouts would be great!