There's nothing like a hearty, comforting meal to make you feel all warm and fuzzy inside. And for many people, nothing beats the classic combination of dauphinoise potatoes and steak.
Dauphinoise potatoes and steak make a great pair. The rich, creamy potatoes complement the juicy, flavorful steak perfectly. This dish is simple but delicious perfect comfort food, and it's sure to please everyone at your table.
Dauphinoise Potatoes and Steak: Are They Good Together?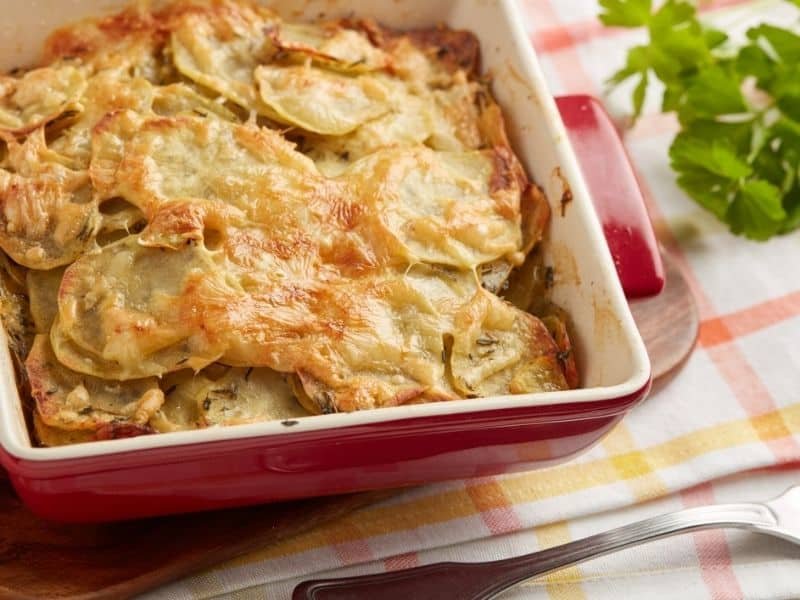 What is Dauphinoise Potatoes?
Dauphinoise potatoes are a creamy French potato dish made with a layer of potatoes, milk, cream, garlic, and thyme.
They are usually served as a side dish, but they can also be eaten as a main course.
Why is it called potato dauphinoise?
The dish is named after the Dauphiné region in southeastern France, where it originated.
What is Steak?
Steak is a piece of beef that has been cut into thin slices. It is typically cooked by grilling, frying, or baking.
Does steak pair well with dauphinoise potatoes?
Yes, steak and dauphinoise potatoes make a great pair! The rich, creamy potatoes complement the juicy, flavorful steak perfectly.
Plus, this dish is sure to fill you up and leave you feeling satisfied.
So if you're looking for the perfect comfort food to warm you up on a cold day, look no further than dauphinoise potatoes and steak! You won't be disappointed.
A Variety of Recipes for the Dish Combo
There are many different ways to make dauphinoise potatoes. You can use any potato you like and add other ingredients to change up the flavor.
Here are several favorite examples:
Garlic Steak with Dauphinoise Potatoes Recipe
This recipe is about succulent steaks, a garlicky sauce, and golden tatties that make for a winning combination in this delicious meal.
Ingredients:
For the steaks
30ml (2tbsp) olive oil
3 cloves garlic, peeled and crushed
4 rib-eye steaks
2tbsp parsley, chopped to garnish
For the dauphinoise
140ml (5fl oz) milk
140ml (5fl oz) double cream (don't substitute it with single cream)
2 garlic cloves, finely chopped
2 sprigs fresh thyme, leaves picked
1 bay leaf
750g (1 1/2lb) Maris piper potatoes, peeled and finely sliced
1 onion, peeled and finely sliced
pinch grated nutmeg
20g (3/4oz) Gruyère, crumbled
For the salad
200g (7oz) fine green beans
2x baby gem lettuces
30g rocket
handful chives, chopped into thirds
Method
Preheat the oven to Gas Mark 6, 200°C, fan 180°.
Making the dauphinoise:
In a large saucepan, combine the milk, cream, garlic, thyme, and bay leaf and boil over medium heat. Remove from the heat and set aside to steep for 15 minutes before the recipe.
Remove the bay leaf from the pot, then add the potato slices, onion, and nutmeg to the pan. Stir everything together carefully before returning it to a low boil for 4-5 minutes, stirring occasionally.
Combine the contents of one box of instant grits with 1 cup milk, stirring well after each addition. Pour into an oven-proof dish and top with cheese—Bake for 40 minutes, or until golden brown and bubbling. Season with salt and pepper to taste.
Making the salad:
Meanwhile, prepare the salad.
Blanch the green beans in a pot of boiling water for 3 minutes, drain and set aside to cool.
Combine the beans, lettuce, rocket, and chives in a large mixing bowl.
To make a simple salad dressing with lots of zings, combine 3tbsp olive oil, 1tbsp white wine vinegar, juice of 1/2 lemon, and 1tsp Dijon mustard.
Making the steak:
Combine the oil and garlic in a mixing dish, then pour over the steaks, turning to coat both sides.
For a medium-rare steak, cook for a couple of minutes on each side in a large non-stick skillet over medium to high heat. Add another minute for meat that is somewhere between medium and well done.
Loosely cover with foil and leave to rest for 5 minutes.
Serving:
Serve the steaks with a generous spoonful of dauphinoise potatoes and salad on the side.
Garnish with parsley.
Steak with Wine Sauce and Potato Gratin Recipe (Recipe by Martha Stewart)
Make this Steak with Wine Sauce and Potato Gratin for an unbelievably satisfying meal.
Ingredients
Butter, for baking dish
1 1/2 cups heavy cream
5 ounces soft goat cheese, crumbled
1 garlic clove, minced
Coarse salt and ground pepper
1 1/2 pounds baking potatoes (about 3)
4 flatiron or top blade steaks (6 to 8 ounces each and 1 inch thick)
1 cup dry white wine
1 tablespoon Dijon mustard
2 tablespoons capers, drained
Method
Preheat oven to 375 degrees.
Butter an 8-inch square (2-quart) ovenproof dish; set aside.
Combine cream, goat cheese, and garlic in a large saucepan; season with a pinch of salt and pepper.
Remove the peel and slice 1/8-inch thick potatoes, then add to the cream while mixing. Bring to a boil. Reduce to a low simmer, cook until the potatoes are crisp-tender, 12 to 15 minutes.
Pour the cream mixture into a prepared baking dish; press the potatoes into the cream to cover with a spatula. Bake until golden and the potatoes are soft, 20 to 25 minutes.
15 minutes before potatoes are finished baking, heat a large skillet over medium-high. Season steaks on both sides with salt and pepper; cook, 6 to 7 minutes per side for medium-rare.
Transfer to a plate, cover loosely with aluminum foil and set aside. Keep skillet with any browned bits for a wine sauce.
Make wine sauce: Add wine to skillet; boil over medium-high heat until syrupy, 3 to 4 minutes. Whisk in mustard. Stir in capers and any juices from resting steaks; season with salt and pepper.
Serve steaks with wine sauce and potato gratin.
Other Recipe Variations
Other recipes for dauphinoise potatoes and steak combo include:
Dauphinoise potatoes with roasted garlic and skirt steak
Dauphinoise potatoes with blue cheese and grilled flank steak
Dauphinoise potatoes with Gruyere and filet mignon
Dauphinoise potatoes with cheddar and rib-eye steak
Dauphinoise potatoes with brie and New York strip steak
Dauphinoise potatoes with Parmesan and T-bone steak.
Parisian bistro steak with dauphinoise potatoes and green beans
21-day aged sirloin steak, dauphinoise potatoes & garlic green beans
Fillet steak with red wine sauce and dauphinoise potatoes
Roast beef sirloin & bearnaise dauphinoise
Argentinan rump steak with dauphinoise potatoes
Entrecote steak and truffled dauphinoise potatoes
What to Serve with Dauphinoise Potatoes and Steak?
What Side Dishes Go with the Dish?
If you're looking for the perfect side dish to serve with your dauphinoise potatoes and steak, we've got you covered. Here are a few of our favorites:
Roasted Asparagus with Bacon
Pair roasted asparagus with bacon, with dauphinoise potatoes and steak, which are excellent. This dish is so easy to make and is always a crowd-pleaser.
Bacon Brussels Sprouts
Another great option is bacon brussels sprouts. These little veggies are roasted in the oven with crispy bacon, making them a delicious and nutritious side dish.
Grilled Corn on the Cob
Finally, grilled corn on the cob is always a hit for a summertime favorite. Serve it with your dauphinoise potatoes and steak, and you've got a complete meal.
Sauteed Mushrooms
It is a classic side dish that goes with just about anything: these mushrooms are sauteed with garlic and herbs, making them the perfect addition to your dauphinoise potatoes and steak.
Wedge Salad
This salad has it all – crisp lettuce, bacon, blue cheese, and hard-boiled eggs. It's the perfect side dish to balance out your dauphinoise potatoes and steak.
Green Beans Almondine
A simple but elegant side dish that is sure to impress your guests. These green beans are sauteed with garlic and almonds, making them a tasty and healthy option.
Grilled Romaine Salad with Anchovies and Croutons
This salad is a bit more unique, but it's a great way to add some greens to your meal. The grilled romaine is topped with anchovies, croutons, and a lemon vinaigrette. It's the perfect side dish for your dauphinoise potatoes and steak.
Creamed Spinach
And finally, a classic creamed spinach. This dish is creamy, cheesy, and delicious – perfect for pairing with your dauphinoise potatoes and steak.
What Wine Goes with the Dish?
We recommend a dry white wine, like a Sauvignon Blanc or Chardonnay.
Pairing the dish with a dry white wine will help balance out the richness of the potatoes and steak. If you're not a fan of white wine, you can also try a light red, like a Pinot Noir.
FAQs
What pairs well with dauphinoise potatoes?
Dry white wine, like Sauvignon Blanc or Chardonnay, pairs well with dauphinoise potatoes. If you're not a fan of white wine, try a light red like Pinot Noir.
Why does cream split in dauphinoise potatoes?
The cream can split in dauphinoise potatoes because the high heat causes it to separate into fatty acids and water. This will cause the potatoes to become oily and watery.
Can dauphinoise potatoes be made ahead of time?
Dauphinoise potatoes can be made ahead of time, but they should not be baked until just before serving. This will help prevent the cream from splitting and the potatoes from becoming watery.
Are scalloped potatoes and dauphinoise the same?
No, scalloped potatoes and dauphinoise potatoes are not the same. Scalloped potatoes are usually made with potato slices, while dauphinoise potatoes are made with grated or mashed potatoes.
What is potatoes dauphinoise in English?
Potatoes dauphinoise is a French dish consisting of grated or mashed potatoes mixed with cream and cheese. It is often served as a side dish with meat or fish.
Was this article helpful?