There's nothing quite like the comfort of a good pot pie. This classic dish is perfect for a cold winter day and will warm your heart and soul. The pies can be made with different ingredients so that you can tailor them to your tastes.
In this blog post, we will discuss the history and give tips on making the perfect one yourself!
What is Pot Pie, and Where Did it Come from?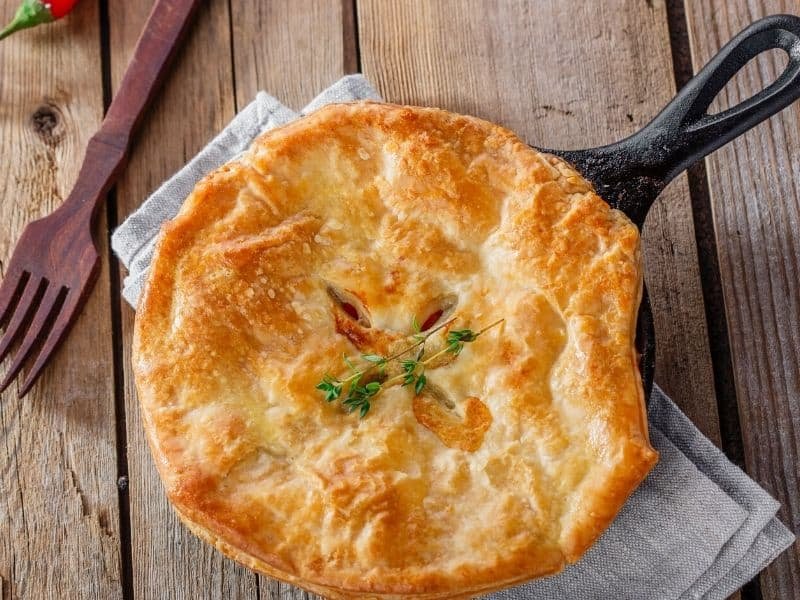 Pot pie is a type of pie that is typically made with a meat filling and a pastry crust. The dish is believed to have originated in England and has been around for centuries.
They were initially designed to be portable meals that could be taken on long journeys.
The pies became a popular dish in America during the 18th and 19th centuries. They were often made with game or poultry, such as chicken pot pie, as these were the most affordable meats at that time.
The pies were also a convenient way to use up leftover scraps of meat and vegetables.
Today, They are still popular comfort food. You can find them in grocery stores, restaurants, and roadside diners.
While the ingredients and methods of preparation have changed over the years, it remains a delicious and satisfying dish.
The Different Types
Nowadays, there are all sorts of different pot pies to choose from. Here are a few of the most popular:
Chicken Pot Pie: This is the most classic type. It is typically made with a creamy chicken filling and a flaky pastry crust.
Beef Pot Pie: This variation is made with beef instead of chicken. It is usually a bit heartier and more filling than the chicken pot pie.
Vegetarian Pot Pie: This pie is perfect for those who do not eat meat. It is typically made with a mixture of vegetables, such as potatoes, carrots, and peas.
Seafood Pot Pie: This is made with seafood, such as shrimp, lobster, or crab. It is often lighter and more delicate than other types of pot pies.
How to Make It
Now that you know more about the dish, it's time to learn how to make one! Here is a simple recipe for chicken pot pie:
Ingredients:
One pound of boneless, skinless chicken breasts
One can of cream of chicken soup
One cup of frozen mixed vegetables
One teaspoon of dried thyme
One half of a sheet of puff pastry, thawed
One egg, beaten
Instructions:
Preheat the oven to 375 degrees.
In a large pot, cook the chicken breasts until they are cooked. Remove from pot and shred into small pieces.
Mix the chicken soup, frozen vegetables, thyme, and shredded chicken in the same pot.
Pour the mixture into a large pie dish.
Cover with puff pastry and brush with beaten egg.
Bake for 30 minutes, or until the crust is golden brown.
Enjoy!
What to Serve with the Dish
This type of pie is typically served with a side of green beans or a simple salad. However, you can serve it with any side dish you like. Mashed potatoes, rice, and even macaroni and cheese would be delicious!
The most popular side dishes for chicken pot pie include :
Green beans
Mashed potatoes
Macaroni and cheese
Rice
Salad
As you can see, pot pies are a versatile and delicious dish. Whether you're looking for comfort food or a tasty meal, They will hit the spot.
Tips and Tricks
Here are several tips and tricks to make the best pies:
If you're short on time, you can use frozen puff pastry dough instead of making your own.
You can use any meat that you like. Turkey, ham, and even lamb would be delicious!
Don't forget to season your filling with salt and pepper. This will help to bring out the flavors of the ingredients.
If you want an extra crispy crust, try to brush it with a beaten egg before baking.
Pot pies are typically served as a main dish. However, they can also be served as an appetizer or side dish. Just cut them into smaller pieces!
The leftover can be stored in the fridge for up to four days. Reheat them in the oven or microwave when ready to enjoy them again.
They are a great option whether you're looking for classic comfort food or something new and exciting. With so many different types, there's sure to be a pot pie that everyone will enjoy.
So what are you waiting for? Get cooking!