There's nothing quite like a warm, hearty meat pie to comfort you on a cold day. This Australian classic is the perfect comfort food, and it's easy to make at home!
The recipe for Australian meat pie calls for diced or minced beef, pie crust base, and puff pastry topping. This type of pie is a small-sized, hand-held pie that is crunchy on the outside but soft on the inside.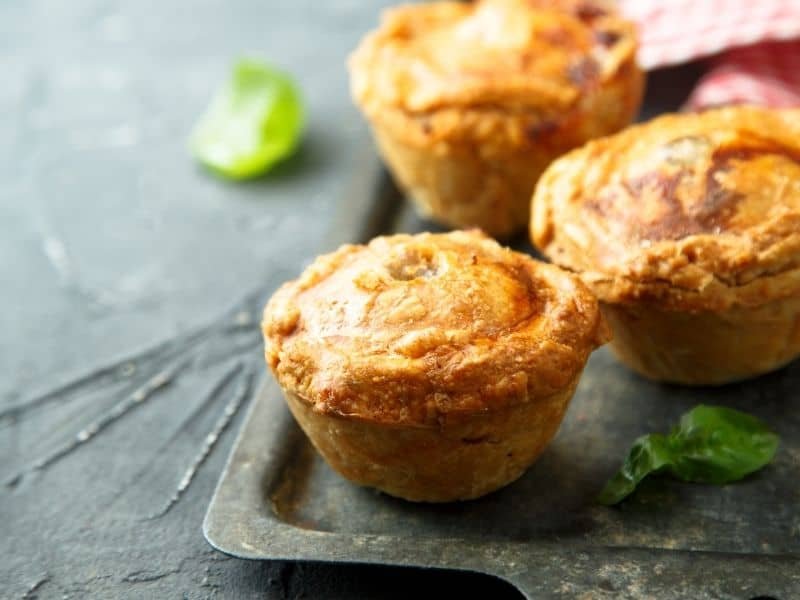 This blog post will give you the perfect recipe. So grab your aprons, and let's get cooking!
Australian Meat Pie: What Is It?
Australian meat pie is a small-sized, hand-held pie with diced or minced beef inside and cooked in an oven until golden brown on top with a pastry bottom crust that is soft to the touch.
In Australia, meat pies are typical food. They are an iconic Australian dish and can be found in bakeries all across the country.
There are many fillings for these pies: beef, chicken, or vegetable. These pies can be eaten hot or cold depending on preference and convenience.
This dish can be found in takeaways in Australia, and restaurants often offer pies as one of their menu items.
The Australian meat pies are comfort food and are not uncommon to find at local sporting events like cricket matches and picnics when you're out enjoying nature around your neighborhood!
Recipe for Australian Meat Pie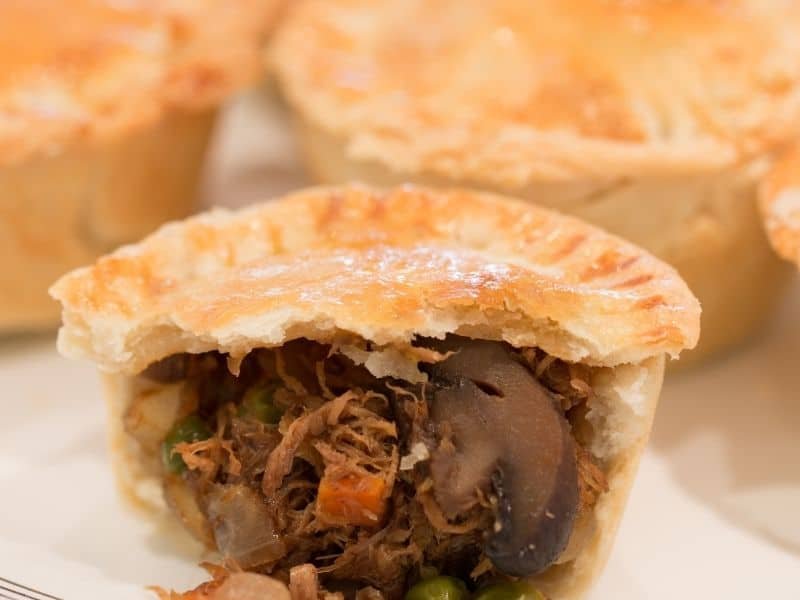 How to make meat pies
So what makes an Aussie pie so great? The pastry crust must be crunchy on the outside but moist and tender on the inside and have enough butter or margarine to cling together correctly without being too greasy.
And, of course, they require filling – this is where things get creative!
Here's an overview of what makes a great meat pie.
Pie crust base
For the pie crust base, you can use shortcrust for the base because it won't go soggy and has the strength that you can pick the pie up with your hands.
Fit the shortcrust pastry (homemade or store-bought) in the pie tins, and then blind-bake them so they don't go soggy once filled.
You don't have pie tins? Use large muffin tins or ramekins.
For convenience, you can use store-bought pie dough for both. In Australia, shortcrust pastry is available frozen in square sheets. Refrigerated pie crusts (the rolled-up kind) are acceptable if you live in the United States or Canada.
Meat pie filling
You cook the pieces of meat long and slow for the beef filling, so the beef becomes ultra-tender, and the sauce develops incredibly deep, rich flavored gravy.
The old-school version is made with beef mince (ground beef).
But nowadays. people use diced or chunky beef because the flavor of chunky beef pies is better. You can brown the pieces beautifully, forming the sauce's flavor base.
Puff pastry topping
The topping or lid of the Aussie meat pie is that flaky golden puff pastry topping. You just use the store-bought.
You use puff pastry for the pie lid because it cooks quickly and is light, flaky, and crunchy.
Australian Meat Pie Recipe
Ingredients
Pie Base – Choose ONE:
1 1/2batches homemade shortcrust pastry
3 frozen shortcrust pastry sheets, thawed (300g/10oz)
2 refrigerated pie crusts (US/Can)
Pie Lid:
3 frozen sheets of puff pastry, just thawed (300g/10oz)
1 egg, lightly whisked
Filling:
1.25 kg / 2.5lb beef chuck, cut into 2.5cm/1″ cubes
1/2 tsp each salt & pepper
2 – 3 Tbsp olive oil
1 onion, diced
4 garlic cloves, minced
5 tbsp flour, plain/all-purpose
1 1/4 cups beef stock, low sodium
3 cups (750 ml) red wine, dry, full-bodied
2 tbsp tomato paste
1 tsp Worcestershire sauce
2 tsp black pepper, coarsely ground
2 bay leaves
Instructions
Filling:
Sprinkle beef with 1/2 tsp salt and pepper.
In a large heavy-bottomed pot, heat 1 tbsp oil over high heat. Brown the 1/3 portion of the beef, then remove it from the pan. Repeat with the rest of the meat and add more oil if necessary.
Reduce to medium-high heat. Add the garlic and onion, and cook for 3 minutes.
Add flour, and stir through.
Stir in beef stock very gently while stirring continuously. Add wine, tomato paste, Worcestershire sauce, pepper, and bay leaves when the flour is completely dissolved.
Place the beef back in the pot, cover it with the lid and simmer gently.
Simmer for 1 hour 45 minutes. Remove the cover and simmer for 30-45 minutes longer, stirring frequently, or until the beef is fork-tender and the sauce has reduced to a thick gravy that covers the meat.
Remove from stove, cover, and let it cool.
Pastry:
Preheat oven to 180C/350F.
Cut out 6 rounds from the shortcrust pastry and drape it over the pie tins.
Place the pies on a tray. Fill each pie with large parchment/baking sheet pieces, then top with pie weights or dried beans.
Blind baking for 20-25 minutes in the preheated oven, remove, then use paper overhang to remove pie weights carefully.
Return the pie crust to the oven after 5 minutes or until the crust is golden brown and dry. Remove from the oven.
Assemble pies:
Fill the pie base with cooled beef mixture, and push down to fill. It should be slightly mounded.
Cut a round from partially thawed puff pastry with a knife for the lid. Cut them slightly larger than the cooked pastry base's edge.
Brush the edge of the pie crusts with egg, then place the lid on the filling, and press the edges of the pastry to the shortcrust pastry to seal.
Brush the lids with egg and cut a 1cm / 0.5′′ incision in the middle using a small knife.
Bake for 25-30 minutes or until deep golden and puffed.
Devour the meat pie piping hot and fresh, topped with tomato sauce or ketchup if desired!
Simple Aussie Meat Pie Recipe
Now, if you don't have time for the above recipe, let's try this recipe instead. This recipe is more straightforward and much faster to make.
Ingredients
1 onion finely chopped
500g beef mince
1 cup water
2 beef stock cubes
1/4 cup tomato sauce
2 tsp Worcestershire sauce
1 pinch of salt and pepper to taste
3 tbsp plain flour
1 sheet of shortcrust pastry
1 sheet puff pastry
1 egg to glaze
Method
Cook meat and onion until meat is well browned.
Add ¾ cup water, stock cubes, sauces, and seasonings. Season with salt and pepper.
Bring to a boil and simmer for 15 minutes.
Combine the flour and remaining water. Add to the meat while it's still warm and bring to a boil for 5 minutes. Allow cooling before serving.
Line a pie tin with the shortcrust pastry.
Spoon in the cooled meat mixture. Moisten the edges of the pastry with water.
Place the puff pastry on top of the filling, pressing down to seal the edges and trimming if necessary, then egg it.
Bake at 230C for 15 minutes. Reduce heat to 190C and bake for a further 25 minutes until golden.
Tips for Making Meat Pie
Brown the beef well. This adds so much flavor to the dish.
Don't overcook the beef. Beef that is too tough will make your meat pie hard to eat.
Make sure the filling is piping hot before putting the pastry on top. This will help to cook the pie correctly.
Use good quality shortcrust and puff pastry for best results.
Use a sharp knife to cut the vents at the top of the pie. This will help the steam escape while it's cooking.
Cutting the vents too big will cause the filling to spill out, so be careful.
If you want a crispy pastry, you can cook the pie on a wire rack over a baking tray.
Use good quality beef for the best flavor. I like to use chuck steak because it's nice and fatty. This gives the pie a vibrant flavor.
You can add other vegetables to the filling if you like. Carrots, peas, and corn all work well in meat pies.
If you're using store-bought pastry, make sure you thaw it out before you use it.
Use cubed beef instead of minced beef to boost the sauce's flavor.
Start the day before. Make the filling the day before you want to eat it and store it in the fridge. This will give the flavors time to develop.
Don't reduce the sauce too much. You want the filling to be nice and moist, not dry.
Make sure you have everything you need before you start cooking. Nothing is worse than starting to cook a dish and realizing you're missing an ingredient.
FAQs
What to serve with Australian meat pie?
There are many different ways you can serve Australian meat pie. Some people like to eat it with mashed potatoes, while others prefer to eat it independently. You can also serve it with a side of green beans or carrots.
What is an Australian meat pie called?
Australian meat pie is also known as simply meat pie.
What is a meat pie made of in Australia?
In Australia, a meat pie is typically made with beef, although you can also find pies made with lamb or chicken. The filling is usually stewed with onions and gravy; other vegetables like carrots or peas are also added.
The pie is then encased in either shortcrust pastry or puff pastry and baked until golden brown.
What are the ingredients in a meat pie?
The ingredients in a meat pie vary depending on the recipe but typically include beef, onions, gravy, and shortcrust or puff pastry.

Was this article helpful?