What could be more comforting than Australian comfort food? From meat pies to pavlova, we have a wide variety of dishes perfect for satisfying our cravings.
One of the most popular comfort foods in Australia is the dim sim. This delicious snack is made with pork, beef, or chicken and is typically served with a sweet and sour sauce.
If you're looking for a tasty way to warm up this winter, give dim sims a try!
What is Dim Sim?
A dim sim is a Chinese-inspired meat and vegetable dumpling-style snack food popular in Australia and New Zealand to a lesser extent.
The dish is said to be an iconic food from Melbourne.
It was developed in Melbourne by a Chinese immigrant from Guangdong, William Chen Wing Young, the father of Australian celebrity chef, author, and TV personality Elizabeth Chong.
The name derives from the pronunciation diim syiim (點心) in Toisanese, the predominant dialect spoken at the time by central Melbourne's Chinese community.
What is it made of?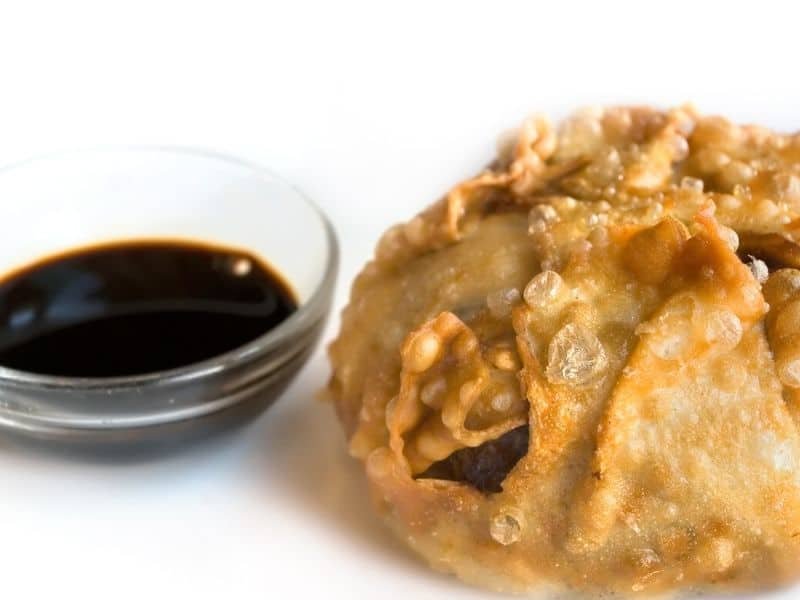 The filling of a dim sim is usually a mixture of minced meat (pork, beef, or chicken are the most common) and chopped vegetables (such as cabbage, carrots, onion, and celery) bound together with starch.
The wrapper is made from wheat flour dough rolled thin and steamed.
Dim sims are typically rectangular or sometimes a larger circular shape. They can be served deep-fried or steamed and often dressed in soy sauce.
Dim Sim Vs. Dim Sum: What's the Difference?
Although dim sims and dim sum may sound similar, they are pretty different. Dim sum is a traditional Chinese dish that consists of small bite-sized portions of food served in steamer baskets or on small plates.
Dim Sim is a Chinese-influenced snack often shaped like Siu Mai and consists of meat and vegetable filling wrapped in pastry.
So, while dim sims are inspired by Chinese cuisine, they are their unique dish.
How to Cook Dim Sims?
Cooking from Frozen
There are two ways to cook frozen dim sims – steamed or fried.
To steam dim sims, fill a steamer basket with water and place it over a pot of boiling water. Then, add the dim sims to the basket and cover them with a lid. Cook for about 12 minutes or until the pastry is cooked through.
To fry dim sims, heat a generous amount of oil in a frying pan over medium heat. Add the dim sims to the pan and cook for about 12 minutes or until golden brown.
If you want to cook using an air fryer, cook frozen dim sims at 200C/400F for 14 minutes.
Serve with soy sauce, and enjoy!
The Original Recipe by Elizabeth Chong
Ingredients:
1 packet of wonton wrappers (yellow or white)
500g minced pork
½ cup shredded cabbage (lightly blanched and squeezed out)
½ cup celery (finely chopped)
3 spring onion stalks (finely chopped)
½ cup water chestnuts (finely chopped)
1 tbsp cornflour
2 tsp salt
2 tsp sugar
2 tsp light soy sauce
½ tsp sesame oil
1/4 tsp white pepper
Method:
Mix all the ingredients in a large bowl.
Place one teaspoon of filling in the middle of each wonton wrapper, shaping it into a pot-shaped shape.
Add more filling to the 'petal' until it is full.
Steam the dim sims in a steamer basket covered with a damp tea towel for 20 minutes, then drizzle with soy sauce and serve.
What to Serve with Them?
Dim sims are often served as part of a larger meal or snack. They can be served with soy sauce, sweet and sour sauce, or chili sauce. Dim sims can also be added to soup or stir-fry for extra flavor.
The side dishes that go well with dim sim are rice, noodles, and vegetables.
Thanks for reading, and I hope you enjoy this recipe. No matter how you want them, dim sims will surely be a hit! Let me know how it goes in the comments below.
Was this article helpful?