Potato salad is a staple dish for any summer cookout, picnic, or barbecue. It's filling, delicious, and easy to make. However, it can quickly become a caloric nightmare if you're not careful about what to eat with potato salad.
Here are what goes with potato salad:
Side dishes: Grilled corn, Vegetables, Coleslaw, etc.
Main dishes: Hamburgers, Grilled salmon, Lemon roasted chicken, etc.
And many more.
We've put together this list of the perfect meals that go with potato salad that will satisfy your appetite without blowing your diet!
What is Potato Salad?
Potato salad is a dish that typically consists of boiled potatoes, mayonnaise, and various other ingredients, including celery, onion, salt, pepper, mustard, and vinegar.
It can be served as an appetizer or side dish and a common side dish at picnics and potlucks.
What Goes with Potato Salad?
Potato salad is a classic summer dish, but what do you serve with it? Here are some ideas for what to serve with potato salad.
From grilled veggies to fruit salads, there's something for everyone! Enjoy your next picnic or BBQ with these tasty sides.
Side Dishes: What Goes Well with Potato Salad?
Here are some favorite potato salad side dishes no one will say no.
Grilled Corn
This is a summer classic. Grilling corn takes it to the next level and gives you something delicious but healthy to serve with your potato salad! It also has some crunch that will contrast nicely with the softness of your potatoes.
Just make sure not to overcook it! The last thing you want is mushy grilled corn.
Grilled Vegetables
If you're looking for a healthy side dish to go with your potato salad, look no further than grilled vegetables. They're easy to make and taste great! Plus, they'll help fill you up without ruining your diet.
Choose veggies you like – we recommend zucchini, squash, peppers, and onions.
Fruit Salad
Nothing says "summer" better than a fruit salad! The sweet, juicy fruits will pair well with your potato salad.
This is also one of the healthiest side dishes you can choose because it's naturally high in fiber and nutrients. Berries are especially good for this dish as they're not too watery or mushy.
Coleslaw
Coleslaw is another classic side dish that goes well with potato salad. It's made of shredded cabbage and carrots, so it has a bit of crunch. Plus, the dressing gives it a lot of flavors – perfect for complementing your potatoes!
Try a creamy slaw texture if you want something different from coleslaw. It's made with mayonnaise and sour cream, giving it more flavor than your average coleslaw!
Macaroni Salad
Macaroni salad is another great side to go with your potato salad. It has a lot of flavor and texture, so it will add some var. You can ensure it at home from scratch; then, you can be sure that the ingredients are fresh and healthy.
This dish also keeps well in the fridge for several days so that you can make it ahead of time.
Pasta Salad
Pasta salad is another side dish that goes great with potato salad. It's made of cooked pasta, veggies, and a dressing – it has the perfect amount of crunch and flavor to complement your potatoes!
You can make lots of other kinds of pasta besides regular pasta. Make bow tie or rotini spaghetti, couscous, or quinoa.
Fruit Salad
Fruit salad is a healthy and refreshing choice for your potato side dish. It will complement the flavors of your potatoes but give you something different to eat other than creamy mayonnaise!
Berries are delicious in this bowl type because they're not too watery or mushy – try strawberries, blackberries, and blueberries.
Watermelon
Nothing goes better with potato salad than watermelon. It's the ideal summer food – sweet, juicy, and refreshing! Plus, it has just enough crunch to contrast well with your soft potatoes. Just make sure not to over-season it so that you don't lose the natural flavor of this delicious fruit.
Watermelons can be a little tricky to cut. If you're having trouble hacking it up, try using this trick: First, trim off the ends of your watermelon and then slice into quarters (like you would when carving a pumpkin). Then use an ice-cream scooper or knife to scoop out all of the flesh in one big chunk!
Chips and Salsa
Chips and salsa are a classic pairing, and for a good reason. The crunch of the chips goes well with the smoothness of the salsa, and both flavors are enhanced by each other.
This is a great side dish for your potato salad because it's easy to make and doesn't require cooking. Just open a bag of chips and a jar of salsa, and you're good to go!
If you want something with a bit more flavor, try making your homemade salsa. It's easy to do and takes only a few minutes – plus, you can customize it however you want. Try adding diced tomatoes, onions, cilantro, avocado, or jalapeno for a unique flavor combo.
Corn on the Cob
Corn on the cob is another classic side dish with potato salad. It's light, refreshing, and perfect for summer BBQs! Plus, it only takes a few minutes to cook, so you can whip it up quickly while your potatoes are boiling.
Baked Beans
Baked beans are a hearty and flavorful side dish that goes well with potato salad. They're made of cooked beans, sauce, and bacon – perfect for satisfying your hunger!
You can make them from scratch or buy a can of pre-made baked beans.
What Main Dish Goes with Potato Salad?
Grilled Hamburgers
Who doesn't love a good grilled burger as the main dish? The smoky flavor of the meat goes great with the creamy potato salad. Plus, it's an easy dish to make – all you need is some ground beef and a grill!
Try making sliders if you want something different from regular burgers. They're mini-burgers that are fun to eat and suitable for parties. You can even make your buns from scratch!
Sliders also let you use different ingredients than the regular burger recipe – try experimenting with different meats, cheeses, veggies, sauces, or seasonings. The possibilities are endless! Remember not to overcomplicate things – the best sliders are the simplest ones.
Hot Dogs
Hot dogs are another classic BBQ food that goes great with potato salad. Plus, it's easy to cook them on the grill! Just get your hot dog rolls ready and throw some franks on the grill – you'll have dinner in no time. If grilling isn't your thing, try throwing a few wieners in a pan on the stove.
For a fun variation, try making chili dogs instead of regular ones. All you need is some chili (either homemade or from a can), hot dog rolls, and cheese!
Grilled Chicken
It is a healthy and delicious option for your potato side dish. It's perfect if you're looking for something a little bit lighter, and the flavor goes great with mayonnaise-based salads like potato salad.
Plus, it's easy to make – season some chicken breasts with salt, pepper, and whatever else you prefer, then throw it on the grill!
You can also try making chicken thighs if you want something different from regular breast meat. Chicken thighs are darker and fattier than white meat, but they have great flavor – plus, they're cheaper to buy, so that's always nice. You need to be careful not to over-cook them, or you might find yourself with a mess.
Tuna Sandwiches
Tuna sandwiches are a great lunchtime meal. You can make this dish easy by opening a can of tuna and mixing it with mayonnaise.
You can add onions or pickles to your grilled fish. You can also add hot sauce if you want something spicier.
Hamburgers with Buns
Hamburgers and potato salad go together. They're both smooth and crunchy. The flavors of both foods combine well to give a delicious taste.
You can make them on the grill or pan – it doesn't matter! Just throw some hamburger meat on the grill, slap a bun on top of it, add some cheese and veggies if you want to get fancy, then stuff your face!
Grilled Ham Steak
Ham is a great alternative to burgers or hot dogs. It has a smoky flavor that goes well with potato salad and is affordable.
Breaded Fish Fillets
Breaded fish is a delicious meal, and it's also pretty easy to make. All you need are some fillets (you can use any kind), an egg wash, bread crumbs, salt/pepper/other seasonings of your choice; then, just dredge the meat in the mix!
Pan Seared Fish
Pan searing a fish fillet is an easy way to prepare this great dish. The flavor goes well with potato salad, and the pan-seared fish has crispy skin, which isn't something you can say about most salads!
Grilled Shrimp
Grilled shrimp is a fun alternative to burgers and hot dogs. The flavor goes well with potato salad, plus it's super easy to make! All you need are some fresh shrimps that have been peeled and deveined, then throw them on the grill – either pre-made or homemade.
Grilled Pork Chops
Grilled pork chops are a great alternative to chicken. The taste goes well with potato salad and is also cheaper than most other meats – which is always nice! All you need for this dish is some pork chops (you can choose between loin or rib), salt/pepper of your choice, then throw them on the grill!
Turkey Sandwich
Turkey sandwiches are a great way to combine potato salad and bread in one meal. You can use any bread you want – it doesn't matter!
Hot Dogs with Buns
Just like hamburgers, hot dogs and potato salad are a classic combo. The difference is that hot dogs can also be cooked in a pan on the stove if you're not feeling the grill heat.
Plus, they're always a hit at parties – who doesn't love an excellent ol' fashioned hot dog?
Chicken Drumsticks
Chicken drumsticks are a great option. They have a lot of flavors, and they're affordable, so they're perfect if you're on a budget.
You can cook them in the oven or on the grill – make sure to brush them with some melted butter cooking them. They'll come out nice and crispy!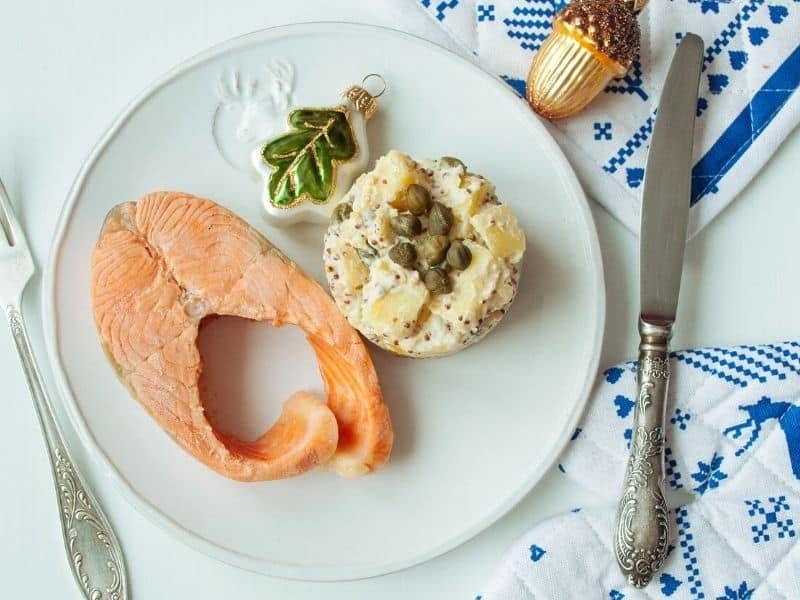 Smoked Salmon
It has a strong flavor and is perfect if you want to switch things up from the typical side dishes.
Barbecue Ribs
Ribs are a more indulgent option, but they're worth it. There's nothing quite like the taste of BBQ-rubbed ribs, and they go great with potato salad.
Macaroni and Cheese
Last but not least, macaroni and cheese are always a hit. It's easy to make and perfect for any occasion – everyone loves it! You can either use a box mix or create your homemade sauce.
Lemon Roasted Chicken
Lemon roasted chicken is a great option to mix things up. It's light but flavorful, and the lemon pairs well with the potatoes.
You'll need fresh lemons, olive oil, salt, pepper, garlic cloves, and chicken breasts or thighs.
Roasted Turkey
Turkey is a great alternative to ham. It's still got that smoky flavor, but it's also a little bit healthier than some of the other options on this list – plus, if you're looking for something fancier and more filling, roasted turkey can be your new best friend!
What Goes with Potato Salad for Dinner?
What goes good with potato salad for dinner? There are endless possibilities when pairing potato salad with dinner entrées.
Grilled Chicken or Fish
Treat it with grilled chicken or salmon for a simple yet delicious option. You could also mix things up by incorporating some of your favorite herbs and spices into the salad, such as dill, parsley, thyme, or black pepper.
As for condiments, a dollop of sour cream or Greek yogurt is always a nice touch, or you could try serving the potato salad with a warm vinaigrette dressing. The sky's the limit!
Ham, Chicken, or Steak
Some of our favorites include ham, chicken, and steak. You could also serve grilled vegetables or a simple green salad. Whatever you choose, we're sure you'll love the combination of flavors and textures!
Roasted Turkey, Chicken, or Beef
For a heartier entrée, try pairing potato salad with roasted turkey, chicken, or beef.
Here are some other ideas to get you started:
Hamburgers
Hot dogs
Barbecue ribs
Macaroni and cheese
Lemon roasted chicken
What to Serve with Potato Salad Vegetarian?
There are many great options for dishes to serve with potato salad, but one of the best is another type of salad.
Green Salad
A green salad with a light vinaigrette pair perfectly with the creaminess of potato salad.
Brown Rice of Quinoa
If you're looking for something a little heartier, try serving brown rice or quinoa on the side.
Veggie Burger
Finally, consider pairing potato salad with a delicious veggie burger to wow your guests!
How to Make Potato Salad?
Summer is full of cookouts, pool parties, and get-togethers with friends and family. If you're looking for a dish to bring to your next gathering, look no further than potato salad.
This classic side dish is easy to make and tailored to your taste preferences. Follow this simple recipe to create the perfect potato salad for your next event.
Potato Salad Recipes
Ingredients:
Potatoes (choose your favorite variety – waxy potatoes like Yukon Gold or red potatoes are a good option)
Mayonnaise (you can use homemade or store-bought)
Yellow onion
Celery stalk
Pickles (optional but recommended)
Mustard (optional)
Salt and pepper to taste
Instructions:
Start by boiling your potatoes. Once cooked, chop them into small pieces and set them aside. You can either peel them or leave the skins on – it's up to you.t
Next, dice the onion and celery stalk. Add them to the potatoes.
Add in the mayonnaise, pickles, mustard (if using), salt, and pepper. Mix everything until it's evenly combined.
Chill your potato salad for at least an hour before serving. This will allow the flavors to meld together and make your potato salad extra delicious!
Potato salad is the perfect addition to any meal, so don't be afraid to try out new recipes. This recipe will help you get started on your quest for delicious side dishes that pair perfectly with barbecue favorites like chicken and ribs.
How to Serve Potato Salad?
When it comes to serving potato salad, there are a few things you need to keep in mind.
First, ensure the potatoes are properly cooked – you don't want them too hard or too soft.
Second, the dressing should be flavorful but not overwhelming.
And finally, don't forget the toppings! Some good options include chopped eggs, grilled onions, and shredded cheese.
When it comes to portion size, a good rule of thumb is to provide about half a cup per person. This can vary depending on how many other dishes are served, but it's always better to err on caution and have too much than not enough.
Things to Make with Potato Salad: Recipe Variations
If you're looking for a bit of a twist on the classic potato salad recipe, try adding some different ingredients. Some ideas include:
Grilled chicken
Bacon
Corn
Asparagus and Green beans
Tomatoes
Black olives
Roasted red peppers
Be creative and have fun with your potato salad recipes!
Tips and FAQs
What side dishes go with potatoes?
Some of our favorite combinations include mashed potatoes with sautéed onions and garlic, bacon bits mixed in with butter for frying the potatoes, and cheese mixed into the mashing process and on top at the end.
What vegetable goes with potato salad?
Many vegetables go well with potato salad, including but not limited to celery, onion, green pepper, and radish.
Some people prefer to keep their potato salad simple with just potatoes and mayonnaise, while others like to add a variety of flavors and textures with different vegetables.
What meat goes with potato salad?
There is no wrong answer regarding what meat goes with potato salad. You can go the classic route and pair it with ham or chicken, or mix things up a bit and try smoked sausage or shrimp. No matter what you choose, your guests are sure to love this delicious dish!
What sandwich goes with potato salad?
There is no denying that potato salad is one of the most delicious sides out there. But what sandwich goes best with it? Here are a few ideas to get you started.
Grilled cheese. The classic grilled cheese sandwich pairs perfectly with potato salad. The creamy, dreamy classic comfort food combination is sure to please any crowd.
BLT. A BLT sandwich is always a good idea, and it goes great with potato salad too! The crispy bacon, fresh lettuce, and juicy tomatoes complement the rich and creamy potato salad. Yum!
Turkey club. If you're looking for a heartier option, a turkey club sandwich is a great choice.
How do you make potato salad taste better?
One way to make potato salad taste better is to add in some flavorful ingredients, such as onion, celery, or bacon. Another way is to dress it up with a flavorful dressing, such as mayo, vinegar, or mustard.
What to serve with potato salad and baked beans?
Some great options to serve with potato salad and baked beans are hamburgers, hot dogs, or chicken skewers. You could also try serving fried onion rings, corn on the cob, or fruit salad.
Was this article helpful?