Northwestern University Ranking QS WUR 2021
The QS World Ranking system is a ranking of universities around the world. It's based on six indicators: academic reputation (40%), employer reputation (10%), faculty/student ratio, citations per faculty, international staff and students, and proportion of international teachers.
Northwestern University Ranking QS WUR 2021 in ranked number 29. Here are the details:
#29 QS World University Ranking
#30 Graduate Employability Ranking
#16 US Universities
#11 QS WUR Ranking by Subject
Ranking by Subject (under 30):
Material Science #11
Business & Management Studies #14
Chemistry #14
Economics & Econometrics #14
Communication & Media Studies #15
Social Sciences & Management #19
Psychology #22
Engineering – Chemical #27
Accounting & Finance #29
About Northwestern University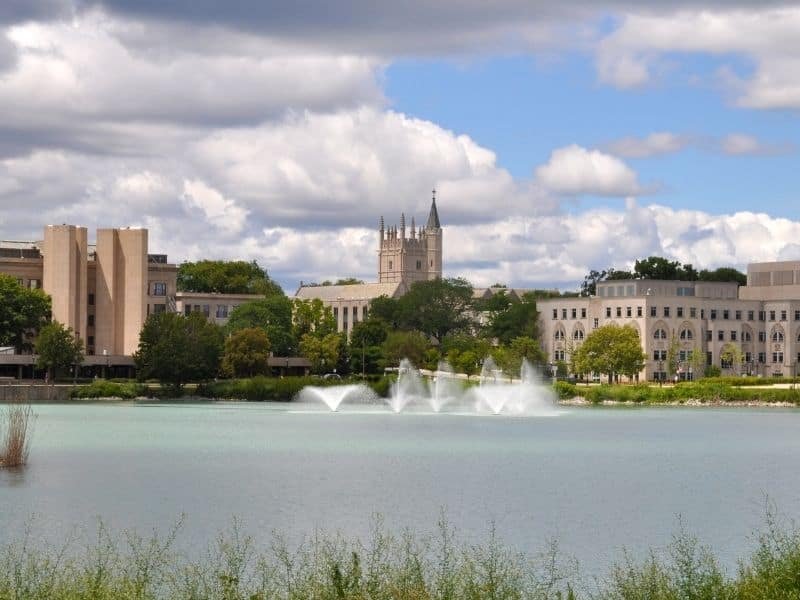 Northwestern University is a leading private research and teaching university with two campuses located on Lake Michigan, Illinois: the 240-acre main campus in Evanston, about 12 miles north of downtown Chicago, and a 25-acre campus in Chicago. A third campus is located in Doha, Qatar.
Northwestern has over 8,000 full-time undergraduate students and over 13 thousand graduate and professional students; they are members of the Big Ten conference for their athletic teams called Wildcats that were founded back in 1857 here at this very school where it all began!
Ranked 9th among national universities by U.S News and World Report, Northwestern is recognized nationally and internationally for its educational programs. Need-based financial aid is available to international students seeking undergraduate degrees from this prestigious university who want the best education but cannot afford it without assistance with their finances. From a humble start in 1851 as Evanston College of Illinois, today's Northwestern University has now grown into one of America's leading institutions of higher learning.
Website: https://www.northwestern.edu/
Where is Evanston – Illinois?
Evanston is a city in the Chicagoland area. Located in Cook County, Illinois, United States, it situated on the North Shore along Lake Michigan. Evanston is 12 miles (19 km) north of Downtown Chicago and bordered by Skokie to the west and Wilmette to its northern part while bordering with an edge touching onto Chicago's southern side as well as Lake Michigan at their east end.
Incorporated back in 1863 before being developed into one of our country's leading research universities – Northwestern University- this small suburb has grown from just 74,486 people inhabiting it ten years ago today until now hosting over 82 thousand residents here within these very borders!
Is Northwestern a top university?
Northwestern University is one of the top Private universities in Evanston, United States. It is ranked #29 in QS Global World Rankings 2021.
Is Northwestern a top 10 school?
Northwestern University continues to be ranked among the top 10 national universities by two major rankings organizations — U.S. News and World Report, and The Wall Street Journal and Times Higher Education.
How prestigious is Northwestern University?
Northwestern is not too well known outside IL. Although it's rated #12 by USNWR, that seems overly inflated. In terms of UC Berkeley rated #20, it has a world reputation, known for its Nobel prize winners and world-class research. It is rated #3 or #4 on the international lists right behind Harvard and Stanford.
Is Northwestern Ivy League?
Northwestern is not technically an Ivy League. The Ivies include Harvard, Yale, Princeton, Columbia, University of Pennsylvania, Dartmouth, Cornell, and Brown. No universities have been added to or removed from the Ivy League roster since its founding.
What is Northwestern famous for?
Located in Evanston, Illinois, Northwestern University is known as an "Ivy of the Midwest." The school features prestigious, top-tier programs in academics and performing arts, all while being a member of the Big 10 athletic conference.
Is it hard to get into Northwestern?
Northwestern is one of the most competitive private colleges or universities in the US, with a 10.70% acceptance rate, an average of 1480 on the SAT, an average of 33 on the ACT, and a rough average unweighted GPA of 4 (unofficial).
What Courses Are Available at Northwestern University for International Students?
The University has 12 colleges and schools.
Undergraduate and graduate schools
Evanston Campus
The Bienen School of Music
Weinberg College of Arts and Sciences
School of Communication
School of Education and Social Policy
McCormick School of Engineering and Applied Science
Medill School of Journalism, Media, Integrated Marketing Communications
School of Professional Studies
Courses in Undergraduate Study
Industrial engineering
Journalism
Philosophy
Political science
Slavic language and literature
Graduate and professional
Evanston Campus
Kellogg School of Management
The Graduate School
Chicago Campus
Pritzker School of Law
Kellogg School of Management
Feinberg School of Medicine
School of Professional Studies
Courses in master's degrees and PhDs Study:
Law
Gender studies
Business
Media, technology and society.
Northwestern University in Qatar
What major is Northwestern known for?
The most popular majors at Northwestern University include Econometrics and Quantitative Economics; Journalism; Psychology, General; Political Science and Government, General; and Neuroscience.
Is Northwestern Kellogg prestigious?
The Kellogg School of Management is a business school located at Northwestern University in Illinois. It is considered one of the most prestigious business schools in the United States.
Is Northwestern competitive?
Regardless of the GPA scale your high school used, Northwestern is considered an extremely competitive school. While Northwestern admissions consider all official grades, test scores, and transcripts, they adhere to their "fit factor" when it comes to determining a student's application status as well.