What's better on cold winter nights than a hot bowl of vegetable soup? This hearty dish is perfect for warming up and satisfying your hunger.
But what should you serve alongside it to make the perfect dinner meal? The most popular option is the grilled cheese sandwich. However, you can also pair it with crusty bread, salad, pasta, and many more.
Here are the eleven delicious ideas and how to make them!
What to Serve with Vegetable Soup
Nothing is better than a big bowl of vegetable soup on a cold winter night. Plus, it's pretty darn tasty if you make it right. 😉
But even the best bowl of soup can be made even better by adding a few delicious sides. Here are 11 of my personal favorites to complete your dinner:
Grilled Cheese Sandwiches
There's nothing quite like a classic grilled cheese sandwich to satisfy your comfort food cravings.
Making a great grilled cheese sandwich is all about the cheese. You want to use a good, melty cheese that spreads quickly and creates a gooey, delicious sandwich.
Our favorites include American, cheddar, Swiss, and pepper jack. For an extra-special treat, try using artisan bread and gourmet cheese.
Crusty French Bread
A warm, crusty loaf of bread is the perfect way to mop up every last drop of soup. There's nothing like a fresh loaf of crusty French bread!
The key to getting nice crusty bread is to use high-protein flour like bread flour and to make sure you let the dough rise for long enough. You can also create a nice crust by brushing it with an egg white or olive oil before baking.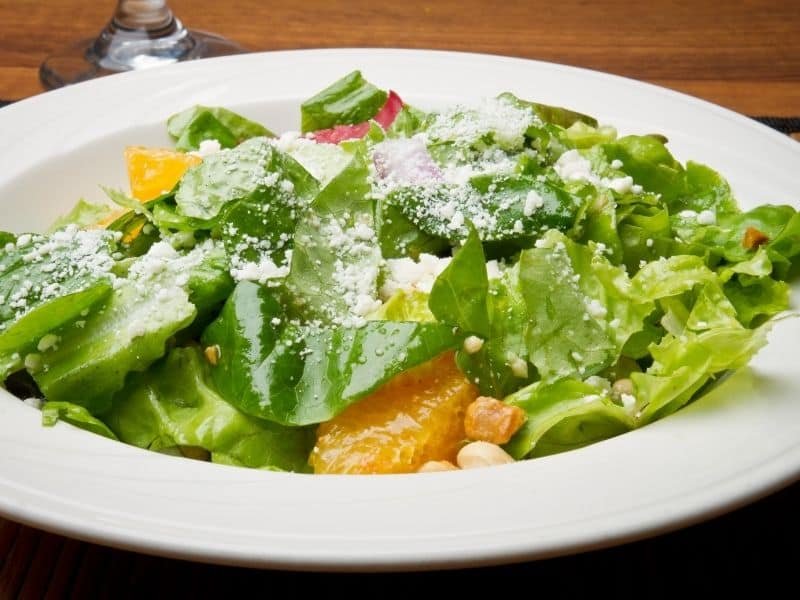 Salad
A simple green salad is a great way to add healthy greens to your meal. Plus, the crunchy texture contrasts nicely with the creamy soup.
Roasted Vegetables
Roasted vegetables are a great way to add extra flavor to your soup.
My favorite roasted vegetables include broccoli, cauliflower, Brussels sprouts, carrots, sweet potatoes, and butternut squash. I usually roast them in olive oil with some salt and pepper, but you can get creative with your seasoning too.
Cheesy Garlic Bread
Cheesy garlic bread is the best. You can put whatever you want on it. I like to put mozzarella cheese and Parmesan cheese on mine, with a bit of garlic powder. It's perfect.
I think it's the perfect food because it's carb-heavy and cheesy, so it feels like you're indulging yourself. And garlic is excellent for your health, so you can also feel good about eating it.
Baked Stuff Potatoes
Stuffed potatoes are a classic comfort food dish that can be made with various fillings. They're perfect for a dinner party or a weeknight meal when looking for something hearty and satisfying.
Pair them with your soup for the ultimate comfort food meal. My favorite fillings include ground beef, cheese, pulled pork, bacon, and chives.
Fried Rice
Fried rice is a popular and easy side dish that's great for soaking up the flavor of your soup.
It's made with cooked white or brown rice, chopped veggies like carrots and peas, scrambled eggs, and soy sauce. Add some other ingredients like ham or chicken to make it extra tasty.
Pasta Salad
It's made by tossing cooked pasta, veggies like tomatoes, onions and peppers, cheese, and a creamy dressing together in a big bowl.
It's great because everyone can customize their portion by adding as much or as little of each ingredient as they want.
And it's incredibly versatile, so you can make all kinds of different variations depending on what ingredients you have on hand.
Fruit Salad
Fruit salad is a healthy and delicious side dish that adds extra color to your soup. It combines chopped fruit like strawberries, grapes, mangoes, bananas, and kiwis with a sweet dressing.
It's great for a picnic, outdoor gathering, or an easy side dish for your weeknight dinner.
Traditional Cornbread
There are many recipes for cornbread, but I think the best cornbread is made with nothing more than cornmeal, salt, baking powder, and water. Some folks like adding sugar or butter to their cornbread, but I find it doesn't need it.
The key to making good cornbread is to use a hot skillet or griddle so that the bread can get a nice crispy crust.
Apple Pie
What's better than a bowl of comforting soup? A slice of homemade apple pie, that's what! Apple pie is one of my all-time favorite desserts because it reminds me of home.
A traditional apple pie comprises sliced apples, sugar, cinnamon, flour, butter, and an unbaked crust. Once you've got the basic recipe, you can get creative and add other ingredients like nuts or raisins to make it extra tasty.
Sandwich to Serve with Vegetable Soup
A grilled cheese sandwich. Other good options include a ham and cheese sandwich, a turkey and cheese sandwich, or a simple PB&J sandwich.
Healthy Soup Accompaniments
What to Serve with Carrot Soup
There are so many great options for what to serve with carrot soup!
You could go simple with grilled cheese sandwiches or croutons or get a bit more sophisticated with a panini or slider topped with smoked gouda and crispy prosciutto.
Another great option is to serve some warm naan bread brushed with olive oil and sprinkled with fresh herbs like parsley or cilantro.
And finally, no soup meal would be complete without freshly baked cookies on the side! Try out my recipe for easy oatmeal cookies—they're perfect for dunking into your soup bowl.
What to Serve with Cabbage Soup
While cabbage soup is a complete meal, it can also be paired with other light dishes to make a hearty and healthy meal.
Some good options include grilled chicken or fish, steamed vegetables, whole grain toast or crackers, and fruit.
Are you feeling adventurous? Try serving the soup with some international flare by pairing it with pierogies, dumplings, or even ramen noodles.
No matter what you choose, enjoy!
Soup Accompaniment Recipes
Here are some of our top recipes for delicious and healthy accompaniments to any bowl of soup.
Grilled Cheese Sandwich Recipe
Ingredients:
1 loaf of bread, sliced
4 tbsp butter, softened
8 oz cheese, thinly sliced or grated
Directions:
Preheat a large skillet or griddle over medium heat.
Spread one side of each slice of bread with butter.
Arrange the slices in pairs, butter side down.
Top each pair of bread slices with a layer of cheese.
Cook until the bread is golden brown and the cheese has melted, flipping halfway through cooking.
Serve immediately alongside your favorite soup for a delicious and hearty meal any time!
Fruit Salad Recipe
Ingredients:
1 cup strawberries, diced
1 cup blueberries
2 kiwis, peeled and diced
¼ cup sweetened condensed milk or honey, to taste
Directions:
In a large bowl, combine the strawberries, blueberries, and kiwi.
Add the sweetened condensed milk or honey and gently stir until the fruit is evenly coated.
Serve immediately or store in the refrigerator for later. Enjoy!
FAQs
Can this vegetable soup be made in a slow cooker?
Yes, the recipe for this vegetable soup can easily be adapted for a slow cooker. Simply add all ingredients to the slow cooker and cook on low for 8 hours or high for 4 hours.
Can the vegetable soup be frozen for later?
Yes, this vegetable soup can be frozen for up to 3 months. Let it cool completely before transferring it to a freezer-safe container or bag—Thaw in the refrigerator before reheating and serving.
Is there meat in this vegetable soup?
No, this vegetable soup is entirely plant-based and contains no meat or meat products.
Can I substitute any of the vegetables in the recipe?
Absolutely! Feel free to use your favorite vegetables or whatever you have on hand instead of any listed in the recipe.
Can I add noodles or rice to the soup?
Yes, cooked noodles or rice can be added to the soup at the end of cooking for added texture and heartiness.
Is this vegetable soup gluten-free?
As written, this vegetable soup is gluten-free because it contains no wheat-based ingredients.
However, if adding noodles or other possible sources of gluten, please check labels carefully to ensure that it remains gluten-free.
Can I make this soup vegan/dairy-free?
To make this vegetarian soup vegan/dairy-free, omit the optional sprinkle of Parmesan cheese at the end and use a plant-based alternative if desired.
Was this article helpful?