Goulash is a hearty and satisfying dish that can be served with various side dishes. It's an easy go-to meal when you're short on time but want to serve something delicious.
Here are what to serve with Goulash:
Csipetke
Caesar Salad or other kinds of fresh salad
Creamy Mashed Potatoes
Rice
Bread
Roasted Brussel Sprouts
Baked Apples with Cinnamon & Brown Sugar
And many more.
This blog post will offer tips for serving goulash with various recommended pairings, as well as recipes for the perfect accompaniments.
What is Goulash?
About
Goulash is a traditional Hungarian dish. It is a soup or stew made from beef, pork, or veal and vegetables seasoned with paprika and other spices.
It's traditionally eaten during the winter months when there's nothing else available.
Goulash is a Hungarian dish popular throughout Central Europe, although it's also eaten in other parts of Europe.
It's a national dish and a symbol of Hungary.
What is the Difference Between Goulash and Stew?
Goulash is a type of stew made with beef, pork, or veal.
Stew is a generic term for dishes cooked in liquid and usually include vegetables and meat.
There are many different types of stews, including beef stew, chicken stew, lamb stew, seafood stew, and vegetable stew.
What is the Difference between American Goulash and Spaghetti?
American Goulash and Spaghetti are favorite dishes with some similar ingredients.
The noodles and sauce are cooked separately and then combined when serving in spaghetti.
On the other hand, American Goulash is made by cooking the noodles and sauce together in a pot.
Why is American goulash different?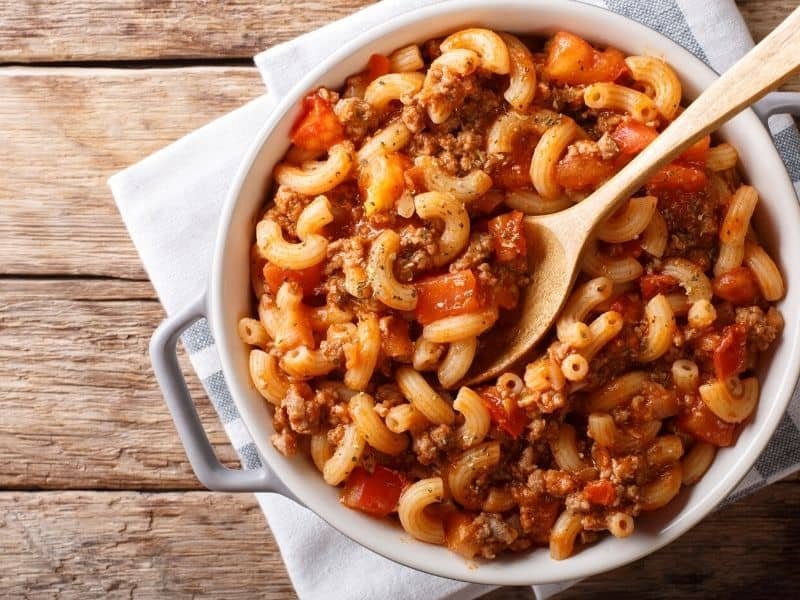 The American version of goulash is a spin-off of the Hungarian recipe but much simpler and quicker to make.
The Hungarian version of goulash involves beef, tomatoes, lots of paprika, onions, and usually, potatoes and carrots. Beyond that, you can add anything to make the dish great.
American version of Goulash, on the other hand, usually includes elbow macaroni, cubed steak, ground beef (or hamburger), and tomatoes.
The tomatoes can be canned whole, tomato sauce, tomato soup, or tomato paste. It also has cheese, typically not in the Hungarian version but still delicious.
What is the Best Cut of Meat for Goulash?
Lean ground beef chuck will give you the best results and flavors to make this goulash recipe.
What to Serve with Goulash?
Goulash is traditionally served with a dollop of sour cream and a jar of hot paprika at the table.
Some good crusty bread is also a great call and will soak up all the delicious broth left behind in the bowl.
What other dishes to serve with Goulash? Here are some of the most common ones:
Csipetke
Some Hungarians like to serve their goulash accompanied by csipetke, which are small, fingernail-sized, pinched noodles.
Caesar Salad or Other Favorite Fresh Salad
A fresh salad with your goulash is a great way to cut the fat and get in some healthy vegetables.
When serving goulash, you can also serve it with classic American dishes like mashed potatoes, rice, or any other starch-based side dish that will absorb lots of liquid.
Creamy Mashed Potatoes
One great choice for serving with goulash is mashed potatoes because they will help to thicken the liquid.
Rice
Another option is rice (white or brown), cooked in beef stock and water instead of water alone if you prefer a richer flavor.
Bread
Serve fresh bread on the side so that guests can sop up the delicious goulash gravy.
Roasted Brussels Sprouts and Bacon with Pecans
This recipe pairs well with any hearty main dish, but it's especially good with goulash.
Classic Caesar Salad
A classic salad is always a great option to serve with any meal, and it goes especially well with goulash.
Honey-Butter Carrots
This simple side dish is perfect for adding sweetness to your dinner table.
Green Bean Casserole
This Thanksgiving favorite will complement your goulash perfectly.
Garlic Knots
Garlic knots are small pieces of dough that have been shaped like knots and covered in sauteed garlic butter.
These delicious garlic knots are the perfect appetizer for your goulash feast.
Cornbread
Cornbread is a type of quick bread made with cornmeal, flour, eggs, milk, baking powder, butter or oil, and salt.
It's perfect for soaking up the gravy from your goulash.
Parmesan Roasted Broccoli
Thanks to the Parmesan cheese and garlic, this broccoli side dish is crispy and flavorful.
It's a great way to add some vegetables to your meal.
Slow Cooker Honey-Garlic Baby Back Ribs
These delicious ribs will make your guests feel like they're truly dining in a restaurant.
Serve them with goulash for a complete and hearty meal.
Pumpkin Pie
No holiday meal would be complete without pumpkin pie, which is easy to make in the slow cooker.
An apple or a slice of pumpkin pie will round out your goulash dinner perfectly.
Buttered Saltine Crackers
Serve these simple buttered crackers on the side for guests to enjoy with their goulash.
Potato Pancakes
These potato pancakes are a delicious and hearty way to start your goulash dinner.
They're perfect for soaking up the sauce from your goulash.
Fruit Salad
A fruit salad is a great way to add sweetness and color to your meal.
It's also a healthy option that will balance out all the richness of your goulash dinner.
Spaetzle Dumplings & Gravy
This traditional German dish is perfect for pairing with your goulash.
It's a delicious way to add some variety to your meal.
Creamy Polenta
Polenta is a cornmeal-based dish that can be served either creamy or solid.
Serve it as a side dish with your goulash for a delicious Italian-style meal.
Cabbage Rolls with Sour Cream Sauce
These cabbage rolls are a hearty and delicious way to eat your vegetables.
The sour cream sauce is the perfect topping for these tasty rolls.
Baked Apples with Cinnamon & Brown Sugar
These sweet and crunchy apples are the perfect dessert for your goulash dinner.
They're simple to make and taste amazing.
Rice Pilaf
This rice pilaf is a flavorful and easy side dish that goes well with almost any meal.
It's perfect for pairing with your goulash.
Buttered Egg Noodles or Spaetzle
Serve these delicious egg noodles or spaetzle with your goulash for a hearty and filling meal.
Garlic Cheese Bread
This simple garlic cheese bread is the perfect accompaniment to any dish, but it's especially good with goulash.
Blueberry Pie Bars
These blueberry pie bars are crispy on the outside and gooey on the inside.
You'll love their buttery crust and sweet blueberry filling.
Breadsticks
Serve these delicious breadsticks with your goulash for a flavorful and unique side dish.
How to Make Goulash?
Hungarian Goulash Recipe (Gulyás) Recipe
Hungarian Goulash is a hearty and rich soup that tastes wonderful in the winter months!
Meat chunks are thickened with paprika and cooked in a tasty broth.
Ingredients
2 ½ pounds chuck roast, trimmed from excess fat and cut into 1-inch chunks
Salt and The Spice Hunter Black Pepper, to taste
2 tablespoons vegetable oil
3 large onions, chopped or sliced
2 celery ribs, chopped
2 red bell peppers, diced
6 cloves garlic, minced
3 tablespoons sweet paprika
½ teaspoon caraway seeds, crushed or ground
½ cup tomato passata (pureed tomatoes)
3 bay leaves
6 cups beef broth
4 large Yukon Gold potatoes, peeled and cut into 1-inch cubes
2 large carrots, peeled and cut into 1-inch pieces
Instructions
Season the beef chunks generously with salt and pepper.
In a large Dutch oven, heat the oil over medium-high heat and brown the beef on all sides, about 1 to 2 minutes per side, working in batches. Remove to a platter and set aside.
Lower the heat to medium. Add the onions and cook until translucent, 2-3 minutes.
Then, stir in the celery and red bell peppers, cooking until softened, about 5 minutes. Finally, add the garlic and cook for a minute until fragrant.
Stir in the paprika and mix to combine, letting it cook for a few seconds so it can release its flavors and aroma.
Pour in the beef broth and tomato sauce, and add the caraway seeds, bay leaves, and a small pinch of salt and pepper.
Bring to a boil, then cover and simmer for 1 to 1½ hours or until the beef is soft but not falling apart when cut with a fork.
Stir in the potatoes and carrots, cover, and continue cooking for 30 to 45 minutes, or until the root vegetables are tender and the beef is fall-apart tender. Add more broth if needed.
Taste and add salt and pepper if needed.
Easy American Goulash Recipe
Old Fashioned Goulash is the same American goulash recipe you grew up with. A hearty recipe that the entire family can enjoy any night of the week. 
Ingredients
1 pound elbow macaroni
2 pounds ground beef
1 onion, finely chopped
3 cloves garlic, minced
1 Tbs Worcestershire sauce
2 (15 oz) cans tomato sauce
2 (14.5 oz) cans petite diced tomatoes
1 1/2 Tbls Italian seasoning
2 tsp salt
1/2 tsp black pepper
1 cup cheddar cheese, shredded
Instructions
Preheat oven to 350 degrees.
Bring a large pot of water to a boil. Reduce the time it takes for the macaroni to cook by 3 minutes. Drain and place in an ice bath until completely cool, about 30 minutes.
Put the ground beef in a large pan and sauté, occasionally stirring, for 6-7 minutes or until browned. Remove any fat from the pan.
Mix in garlic and cook for 1 minute until fragrant.
Add in Worcestershire sauce, tomato sauce, and diced tomatoes. Mix until combined.
Stir in Italian seasoning, salt, and pepper. Taste and adjust seasonings to taste.
Mix in cooked macaroni and cheddar cheese. If the skillet is heat safe, you can place it in the oven for 20-25 minutes until bubbly and cheese are melted. Or transfer to the casserole dish and bake.
Tips
Making ahead of time
As the recipe is written, this meal is excellently prepared ahead of time.
In fact, it gets even better as it sits. The flavors intensify and meld together.
How to Store Goulash
Leftovers from beef goulash should be refrigerated.
If you've made so much, you can't eat it all within 4 days. Then, you can turn to your freezer for some help.
Can You Freeze Goulash?
Yes! Simply cool before transferring it into a freezer bag or container. It will keep for three months in the freezer.
How to Reheat Frozen Goulash
It would be best if you thawed frozen goulash in the refrigerator overnight before cooking it. It may then be reheated on the stovetop, carefully stirring every so often.
FAQs
What is Goulash eaten with?
Goulash is typically eaten with crusty bread, which gives it an extra layer of flavor.
What side dish goes with Hungarian Goulash?
A good side dish to serve with Hungarian goulash is steamed carrots or boiled potatoes.
What veg goes with Goulash?
A good side dish to serve with goulash is boiled potatoes.
Where is Goulash served?
Goulash is a popular dish in Hungary and Slovakia. It can also be found throughout Austria, Germany, Italy, Romania, and the Czech Republic.