Chicken en croute is a delicious and savory dish that will please any crowd. It's the perfect centerpiece for any dinner party or family meal, but what should you serve alongside it?
Never fear. I have ten fantastic side dishes that will be a great accompaniment to this tasty meal!
10 Chicken en Croute Sides
#1 – Roasted Asparagus
Asparagus is a classic vegetable side dish that pairs perfectly with your chicken en croute. Roast it in the oven with olive oil and garlic for an easy, flavorful side.
To take it up a notch, top your asparagus with fresh grated Parmesan cheese before putting it in the oven.
#2 – Garlic Mashed Potatoes
Mashed potatoes are always a popular choice at dinnertime. Mix in roasted garlic cloves for added flavor when mashing up your potatoes. The garlic adds just enough kick to make these mashed potatoes stand out from the rest.
If you're feeling adventurous, try adding some chives or cheddar cheese too!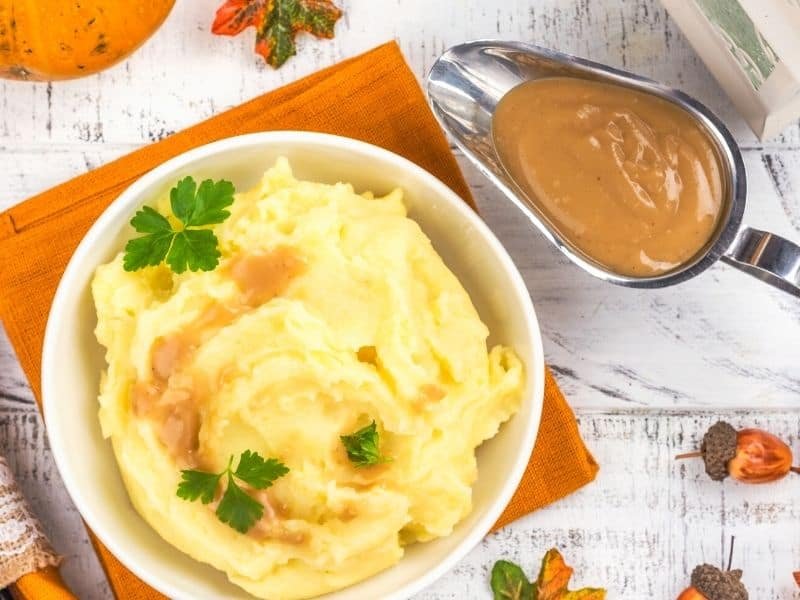 #3 – Roasted Brussels Sprouts
Another excellent vegetable side dish that goes well with chicken en croute is roasted Brussels sprouts. Toss them in olive oil and salt before roasting them in the oven until they are golden brown and crispy on the outside.
Add some bacon bits or diced onions for an extra flavor punch!
#4 – Baked Sweet Potatoes
Sweet potatoes are one of my favorite things to bake. They're healthy, delicious, and so easy to make.
Bake them in the oven until they are soft and tender. Top them with a dollop of butter and some cinnamon or brown sugar for an extra-sweet treat!
#5 – Creamy Macaroni & Cheese
For something a little more indulgent, macaroni and cheese is always a hit at any dinner table!
Make your homemade version using sharp cheddar cheese and creamy béchamel sauce. Or opt for something even easier, like store-bought macaroni & cheese cups that only take minutes to heat up in the microwave!
#6 – Roasted Root Vegetables
Roasted root vegetables such as carrots, parsnips, turnips, potatoes, etc., are hearty enough to satisfy even the hungriest of eaters! Toss your root veggies with olive oil and seasonings before baking them in the oven until they're tender and golden brown on the outside.
Serve them alongside your chicken en croute for an added boost of flavor and nutrition!
#7 – Couscous Salad
Couscous is one of those versatile ingredients that can be used in many ways. For an easy side dish that comes together quickly, try making a couscous salad.
Start by cooking the couscous according to package instructions, then mix in diced cucumbers, tomatoes, olives, feta cheese, and herbs of your choice. Drizzle some olive oil on top for extra flavor, and enjoy!
#8 – Caesar Salad
A salad makes a great light side dish paired with heavier entrees like chicken en croute. So why not whip up a classic Caesar salad?
Make sure to use freshly made dressing (or skip making it yourself altogether) for maximum flavor impact, then top it off with crunchy croutons or Parmesan shavings for texture contrast before tossing everything together just before serving!
#9 – Fruit Salad
Fruits add sweetness to most meals. And you can balance out all those savory flavors by making a fruit salad.
Mix whatever fruits you have on hand—berries work exceptionally well here—then drizzle honey over each bowl before serving. You'll get those beautiful sweet notes without overwhelming all those wonderful savory flavors from your main course!
#10 – Quinoa Pilaf
Quinoa pilaf is an excellent alternative if you're looking for something heartier than salads but still want something light enough not to weigh down your dinner plate too much.
Start by cooking the quinoa according to package instructions, then stir in cooked vegetables like mushrooms or bell peppers along with freshly chopped herbs like parsley or cilantro before serving warm alongside your entrée plate!
About Chicken en Croute
Chicken en Croute is a French dish of boneless, skinless chicken breasts wrapped in a flaky dough-like puff pastry. The dough is baked until golden brown, and the chicken is cooked.
This dish can be served as an appetizer or a main course, either hot or cold, and it's perfect for a party because it can be prepared and popped into the oven before serving.
Chicken en Croute also makes a great leftover meal because it reheats well in the oven or microwave.
How to Serve the Dish
Chicken en croute can be served in a variety of ways. Some popular methods are:
With a light sauce, such as a white wine sauce or mushroom sauce
With a mustard cream sauce
With gravy
As part of a buffet, where guests can help themselves to slices of the chicken en croute
On its own as an appetizer or main course.
Whatever your preferred method, Chicken en Croute is sure to be a crowd-pleasing dish that both adults and children will enjoy!
FAQs
How is the chicken prepared for the dish?
The chicken is first deboned and stuffed with a mixture of diced vegetables, herbs, and other ingredients before being wrapped in puff pastry and baked.
What could other protein options be used in place of chicken in this dish?
Other poultry options, such as duck or turkey, could be used, or even meat, such as beef or pork, could be substituted.
What types of vegetables are commonly used as the stuffing for chicken?
Onion, celery, mushrooms, and carrots are common choices, but diced vegetables that complement the dish's flavors can be used.
Can this dish be made vegetarian or vegan?
It would be possible to modify the dish by using a plant-based protein alternative for the filling, such as tofu or tempeh, and omitting any dairy products in the pastry dough.
Is it necessary to use puff pastry for this dish?
Puff pastry is traditional for chicken en croute. However, other types of pie crust or even phyllo dough could also be used.
Can this dish be made ahead of time and reheated before serving?
The dish can be prepared and reheated before serving, although care should be taken to ensure that the pastry does not become too soggy.
Are there variations on this dish where different sauces or toppings are added?
Some variations may include adding a sauce such as a cream sauce or béchamel on top before baking or topping with cheese or breadcrumbs for added flavor and texture.
Was this article helpful?