Who doesn't love a good barbecue? Get ready to expand your cooking repertoire because barbecued snags, Australia style, are here!
Whether you're an experienced barbecue master or just getting started, barbecued snags will tantalize the taste buds of foodies everywhere. Not only do they hit all the right flavor notes, but with recipes and tips that are Australian-inspired, grilling up a snag like a true Aussie has never been easier.
So discard those frozen patties and get ready for an authentic culinary adventure from Down Under – read on to find out what you need to know about Barbecued Snags Australia!
BBQ Snags Australia
What is a Snag in Australia?
Australians often eat hot dogs or sausages called snags. The word is reportedly derived from "light meal" as earlier British slang for sausage. However, the Dictionaries of Australian English make no comment on how it came to refer specifically to sausage.
Snag Meaning Australia
A barbecued snag can be defined as a sausage sizzle. It is a grilled or barbecued meat sausage season with salt (commonly pork or beef) and is often served in community events held in Australia and New Zealand.
Barbecued snags have become a staple in Australia and New Zealand, appearing at community events.
Barbecued Snags Ingredients
Snags (or Australian sausages) are usually served in a slice of bread or a hot dog bun with grilled onions. Some common condiments are mashed potatoes, grilled brown onions, tomato sauce, barbecue sauce, hot sauce, salads, chutneys, mustards, and artisanal bread.
Some barbecued snags also offer the option of a white bread roll as an alternative to sliced bread.
There are also different snags now with various modern, gourmet fillings such as lamb and rosemary, chicken and cheese, or beef and red wine.
Snags Food: How Do You Cook Them?
The cooking process is simple and relatively quick. All ingredients are put on a grill. The sausage is flipped regularly to ensure it's cooked evenly until it reaches desired level of doneness
For thin sausages, preheat your pan to medium-low and add a small amount of butter or oil. Add the sausages and allow them to slowly cook, turning them every few minutes until they're evenly colored.
There are many variations for sauces that go well with barbecued snags. For a complete meal, some include ketchup mixed with brown sugar, tomato sauce, Worcestershire Sauce, and spicy barbecue sauces such as chipotle mayonnaise.
Aussie Snags Recipes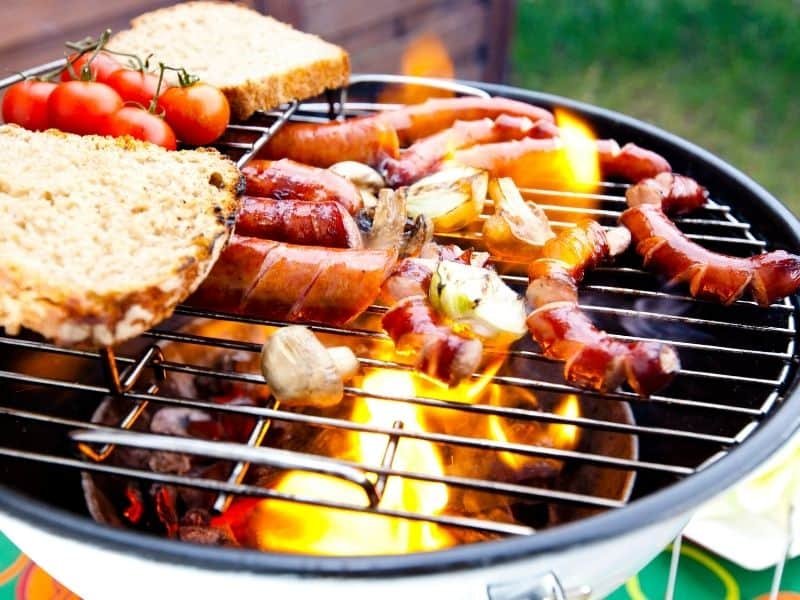 Here are some quick and easy snag recipes you can try at home.
Authentic Barbecued Snags Australia Recipe
This recipe is adapted from the YT channel Henrys HowTos.
Ingredients:
1kg beef sausages
white bread, a slice per sausage
2 onions
BBQ or tomato sauce
oil
Method:
Sauté onions in oil over medium heat until they are golden brown.
To grill sausages, add two tablespoons of oil to a pan and then cook the sausages on high heat, turning them occasionally.
Afterward, slice the sausages across -cut and flip them over so the inside can cook.
To assemble, place snags diagonally on a slice of white bread and top with onions. Drizzle with sauce.
Barbequed Snags – Honey Mustard Recipe
Ingredients:
2 tbsp honey
1 tbsp Dijon mustard
2 garlic cloves, crushed
12 thin beef sausages
Method:
Combine the honey, mustard, and garlic in a large dish.
Add the sausages, marinate, and refrigerate for 1 hour.
Preheat the BBQ plate high.
Reduce the BBQ to medium, and cook the sausages, turning occasionally and drizzle with the marinade, for 10 to 12 minutes or until cooked through.
Drizzle just before serving, so the sausage has a lovely gloss when served.
Find the Best Barbecue Snags Australia Near You
Most families might cook their snags in their own homes. However, you might sometimes want to try what restaurants' versions of barbecued snags taste and look like.
Here are several restaurants offering the best and most popular snags in Australia:
Snag & Brown – Brisbane, Queensland
Address: 97 Ekibin Rd, Annerley QLD 4103, Australia
Website: https://snagandbrown.business.site/
Vue de monde – Melbourne, Victoria
Address: Rialto Towers, 525 Collins St, Melbourne VIC 3000, Australia
Website: http://www.vuedemonde.com.au/
The Squire's Landing – Sydney, New South Wales
Address: Northern end of the Overseas Passenger Terminal, Circular Quay W, The Rocks NSW 2000, Australia
Website: https://www.jamessquire.com.au/brewhouses/the-squires-landing/
Run Amuk – Fremantle, Western Australia
Address: 386A South Terrace, South Fremantle WA 6162, Australia
Website: http://runamuk.com.au/
Where Can You Buy Australian Snags or Sausages?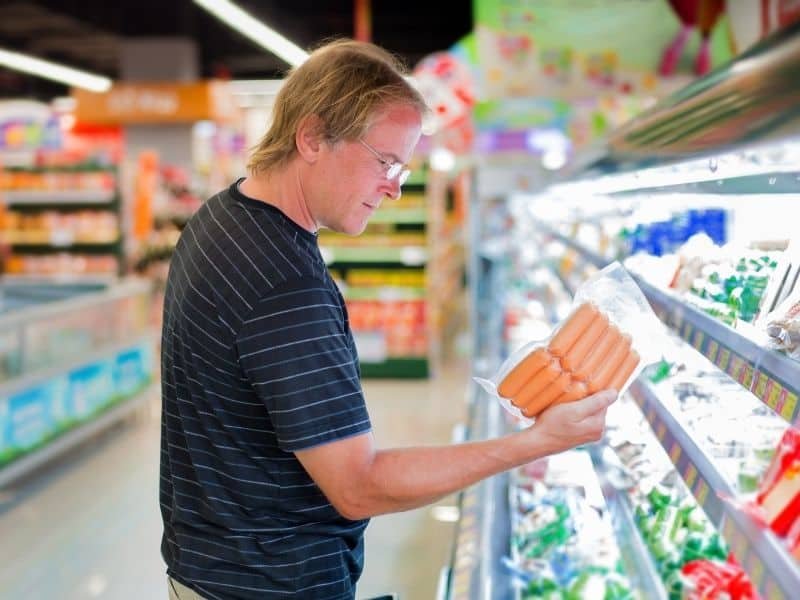 Do you know what the best thing about sausage is? You can find a variety of them in any major supermarket. Try to go to the meat products section, and you'll probably see some there. And there are just so many types of different kinds of sausages that you can choose from.
Are Australian Snags Healthy?
A sausage in bread has been called Australia's national dish. However, this Australian food can risk your health since Aussies eat around 1.1 billion snags a year–containing 1500 tonnes of salt.
A recent study from the George Institute for Global Health, VicHealth, and the Heart Foundation found that a humble snag in white bread with tomato sauce contains nearly half of people's recommended daily salt intake.
Unlike any other processed meat products such as bacon and sliced that have reduced their salt levels, sausages have no salt targets.
These high salt levels can risk health, especially the heart and blood pressure.
"Australians love our snags on the BBQ, but I think most people would be surprised to learn just how much salt is in these sausages," Jerril Rechter (VicHealth CEO) said.
The best way to enjoy barbecued snags is to limit the number of the snags, try healthier but bland sausages, or choose any alternative to sausages. To reduce the salt targets, try filling the hot plate with other healthier options like chicken or veggie skewers. Vegetables like mushrooms, onions, corn on the cob, and eggplant work well, as well as tasty salads on the side.
FAQs
What do Australians put on their hot dogs?
A sausage wrapped in bread with fried onions is called a Sausage Sizzle sandwich. The company has since stipulated that the onion be placed underneath the sausage to avoid falling to the floor, posings a potential safety risk.
Why do Aussies call sausages snags?
The word is reportedly derived from "light meal" or "snack" as earlier British slang for sausage. However, the Dictionaries of Australian English make no comment on how it came to refer specifically to sausage.
Another version is that the origins of the word "snag" can be found in football slang. The term is a shortening of "sausage roll," meaning "goal," "sausage," and now "snag."
What does Bunnings snag mean?
A Bunnings snag is a sausage cooked on a barbecue at Bunnings Warehouse, typically for charitable purposes. The organization will set up shop outside the entrance of the store with an outdoor gazebo and sell snags for $2.50 and cans of soft drinks for $1.50.
See also: Dagwood Dog Batter Recipe: How to Make the Perfect Dagwood Dog
Was this article helpful?