Brownies are one of the most popular desserts in the world. Unfortunately, many brownies recipes are packed with sugar and butter which makes them unhealthy for you to eat on a regular basis. This is why we created this healthy brownie recipe with avocado.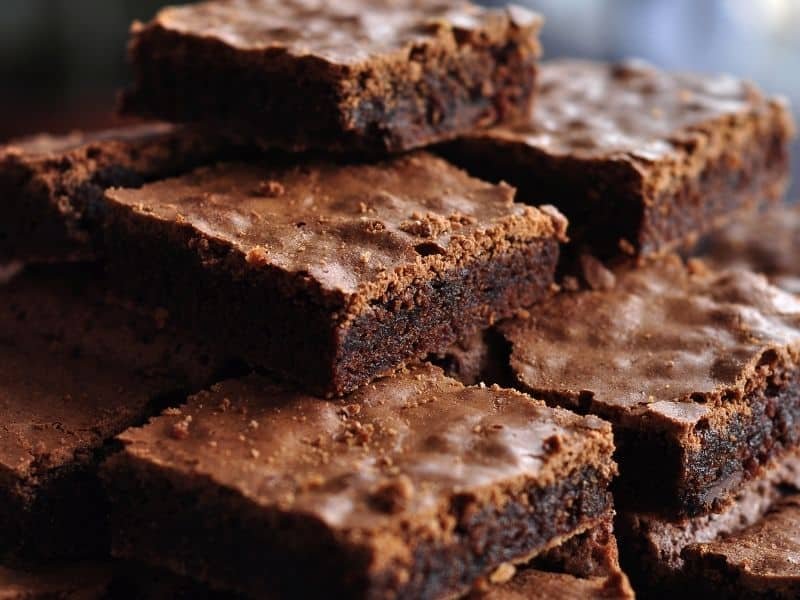 Avocado is an incredibly healthy fruit that provides us with tons of nutrients including fiber, potassium, vitamin E, and B vitamins.
About Brownies
Brownies are a delicious dessert that is enjoyed all over the world. Brownies come in many different varieties, with each having their own unique flavor and texture.
There are traditional brownies with chocolate chips, white-chocolate cherry brownies with dried cherries, or even peanut butter blondie brownies.
Brownies are a delicious dessert that can be made with many different ingredients. They are usually chocolate, but some brownies may have nuts or fruit, or even avocados in them. Brownies can also have frosting on top of them making it even more tempting to eat and enjoy!
History of Brownie Origin
When talking about the history of brownies or the word brownie's origin, then there are so many versions of them. Some versions are more popular than the others.
The all-time most popular story about brownies is that the first-known use of the word "brownie" was to describe a dessert in an 1896 version of Fannie Farmer's Boston Cooking School Cook Book. The book referred to molasses cakes baked individually in tin molds, and these recipes produced a relatively mild cake with chocolate frosting on top.
In 1725, some say the Welsh invented raisin cookies with a recipe for "brown cakes." But others have traced its origin back to an 18th century English cookbook called The Art of Cookery Made Plain and Easy. This book includes recipes for something similar to our modern-day raisin cookie: bran-y or brawney cake!
Which story is the correct one? No one knows.
Why Do We Use Avocado in Brownies?
Do you have a favorite brownie recipe? I know that my go-to is the classic mix of chocolate and sugar. But, what about avocado in brownies?
Avocado might sound like an unusual ingredient for a dessert, but it's actually quite delicious! It adds moisture to the batter without all of the added fat from butter or oil.
Here are some other reasons why we use avocados when baking:
Avocados are full of heart-healthy fats
They provide healthy monounsaturated fats, which help reduce cholesterol levels
Those healthy fats add a creaminess and richness to the brownies
They're one of nature's best sources for vitamin E; this helps keep skin looking youthful and radiant
They also provide an additional source of fiber that will make you feel full and satistfied.
If those aren't enough reasons to try out avocado in your next batch of brownies, then the earthy flavor that pairs well with chocolate or coffee flavors will do. Let's try out.
Healthy Brownie Recipe with Avocado
Easy Vegan Avocado Brownies
Ingredients
Cooking spray
2 ripe medium avocados, diced
3/4 cup packed brown sugar
1/2 cup unsweetened natural cocoa powder
1 teaspoon baking powder
1/4 teaspoon kosher salt
1/2 cup all-purpose flour
Method
Arrange a rack in the middle of the oven and heat to 350°F.
Coat an 8×8-inch baking pan with cooking spray.
Place the avocados, brown sugar, cocoa powder, baking powder and salt in a food processor. Pulse until it is all mixed up to form an avocado chocolate cake batter.
Add the flour, then pulse until the flour is completely incorporated.
Transfer the batter to the pan and spread into an even layer.
Bake about 45 minutes, until the edges pull away from the sides of the pan and a thin knife inserted into the center comes out clean.
Cool completely on a rack before slicing and serving.
Healthy Double Chocolate Avocado Brownies
Ingredients
1/2 cup dark chocolate chips or cacao chips (I used a cup!)
1 tbsp coconut oil
2 large avocados (approximately 1 cup puree)
1/2 cup honey or pure maple syrup
1/4 cup unsweetened cocoa powder
1 tbsp vanilla
1 tbsp coconut flour or oat flour
2 or 3 eggs (I used 3 in my initial pan and thought it was a bit too moist. Will use 2 next time!)
1/2 teas baking soda
1/2 teas baking powder
1/2 teas salt
1/4 C melted dark chocolate chips *Optional
Method
In a microwaveable safe dish, melt coconut oil and add to mixing bowl.
Puree the avocado in a food processor and add to mixing bowl.
Add the remaining ingredients (sans chocolate chips) and beat together with an electric mixer until batter is smooth.
Add your dark chocolate cacao chips and fold into batter with mixing spoon.
Grease with coconut oil an 8×8 baking pan. Pour the batter in it and smooth out the edges.
Bake at 350 for 30 minutes.
Let cool, slice and serve!
*For an extra added chocolate treat, melt 1/4 cup of dark chocolate chips and drizzle over brownies pieces!
Are Avocado Brownies Good?
Avocado brownies are the best because they're so chocolatey and just such a perfect dessert for those who want to eat healthy.
They have this really great fudgy texture that's not too sweet. I think people would love them if you let them try one of these Avacado Brownies!
What Does Avocado Do in Baking?
Avocado is a good food because it has fat and creamy texture. In baking, avocado replaces butter, shortening, or eggs! It makes desserts moist and rich with benefits for your health.