A spag bol is a type of pasta dish that originated in Italy. It typically contains tomatoes, onions, garlic, and fresh basil. You can also add various meats such as ground beef or chicken to the sauce as well.
But guess what? Spag bol (or formally known as spaghetti bolognese) is not actually authentic Italian food. How can it be? Let's find out.
What is a Spag Bol?
Spaghetti bolognese is a pasta dish that isn't part of traditional Bolognese or even Italian cuisine. And it's popular outside Italy. It is sometimes called spaghetti alla bolognese, or colloquially 'spag bol', spaghetti with meat sauce, or just spaghetti.
The dish is made from spaghetti served with a tomato sauce, minced beef, and garlic. Sometimes the minced beef can be used in place of minced meats.
The sauce is more similar to Neapolitan ragù from southern Italy than Bolognese. Controversially, there are UK-based preparations that contain instant coffee as an ingredient.
One might typically serve grated Parmesan cheese on top of the dish. But different types of cheese, like grated cheddar, are also sometimes used.
This spag bol is different because it has more sauce to pasta than in real Italian spaghetti dishes. People may serve the sauce on top of the pasta. Or they might serve it separately from the pasta. They may let people mix it in themselves.
Is Spaghetti Bolognese Authentic Italian Cuisine?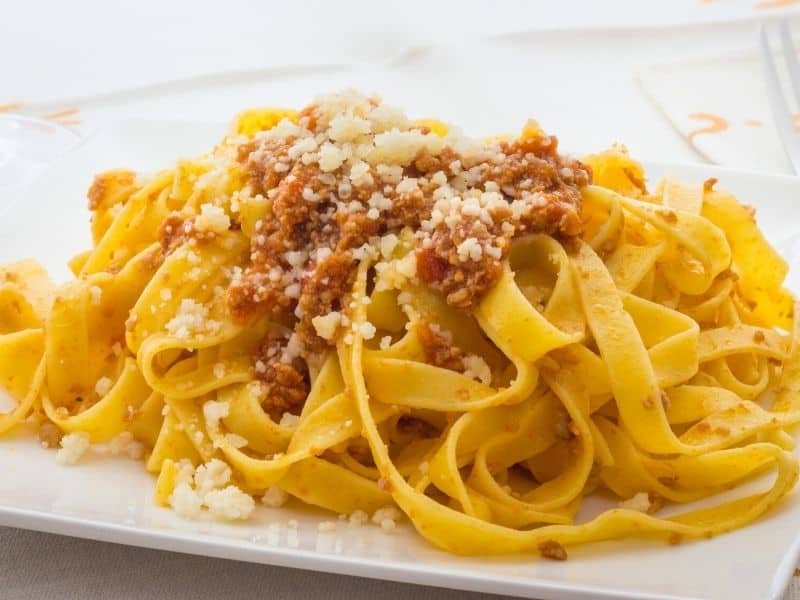 The dish is not seen as authentic when it is eaten by Italians who are away from Italy. Why?
According to the mayor of Bologna, Italy, spaghetti bolognese does not exist. The dish is supposed to be from the city, but the mayor says "this is fake news." The meat-based sauce Italians actually eat is called ragù and is rarely served with spaghetti. (Source: insider.com)
Outside Italy, people often use the phrase "Bolognese sauce" to describe a tomato-based sauce that has meat in it. However, the sauce is not the same as the original Italian version ragù alla bolognese. In fact, it is more similar to the ragù alla napoletana from the south of Italy.
In Italy, ragù alla bolognese is usually used with flat pasta like tagliatelle instead of with spaghetti. But in other parts of the world, it is very popularly used with spaghetti.
History of Spag Bol
The origins of spag bol are unclear. It's possible that the pasta dish may have evolved during the early 1900s when Italians moved to America. It might be a fusion of the tomato-rich style of Neapolitan ragù. Also, in Britain, some Italian immigrants opened restaurants. So, maybe in these restaurants were where the dish has been developed.
In some countries, the sauce is also used for lasagne instead of ragù alla bolognese.
Is Spag Bol Australian?
Spag bol is a dish that is not originally from Australia but it is still one of the most popular dishes in Australia. It is considered as one of Australia's national dish.
The 'Italian-Australian Spaghetti Bolognese' has been voted as the favorite home-cooked recipe of Australians in 2019, by food writer Jill Dupleix in the Good Food Guide.
The spag bol is a uniquely Australian version of the classic Italian tagliatelle al ragù alla bolognese. It consists of a combination of Australian beef, mushrooms, onions, carrot, celery, bacon, garlic tomatoes, and spaghetti pasta.
This dish uses Australian beef and mushrooms. This is different from dishes that use other types of meat and other kinds of mushrooms. It is best to serve the pasta first, and then put sauce on it.
How to Cook Spag Bol?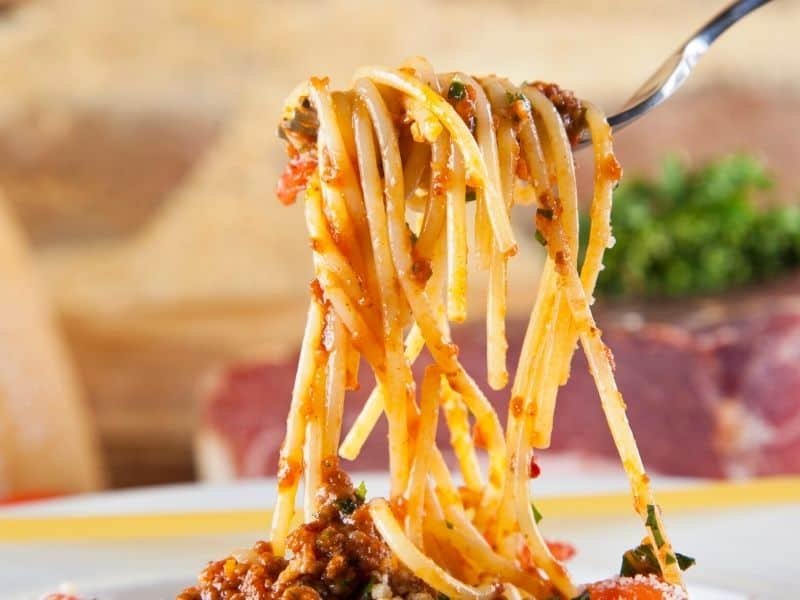 How do you make spaghetti bolognese taste better?
You can make the tomatoes taste better by adding sugar and lemon juice.
During cooking, you can make your meat sauce better by adding other things to it. You can put some Worcestershire or soy in there which is both good with beef.
Spag Bol Recipe Simple
This is a very basic and simple spag bol recipe. This spag bol is designed to be a low-cost recipe.
Ingredients:
2 tbsp olive oil
400g/14oz minced beef
1 onion, diced
2 cloves garlic, chopped
100g carrot, grated
2 x 400g tin chopped tomatoes
400ml beef stock cube
400g dried spaghetti
1 celery stalk, trimmed
salt and pepper
Method: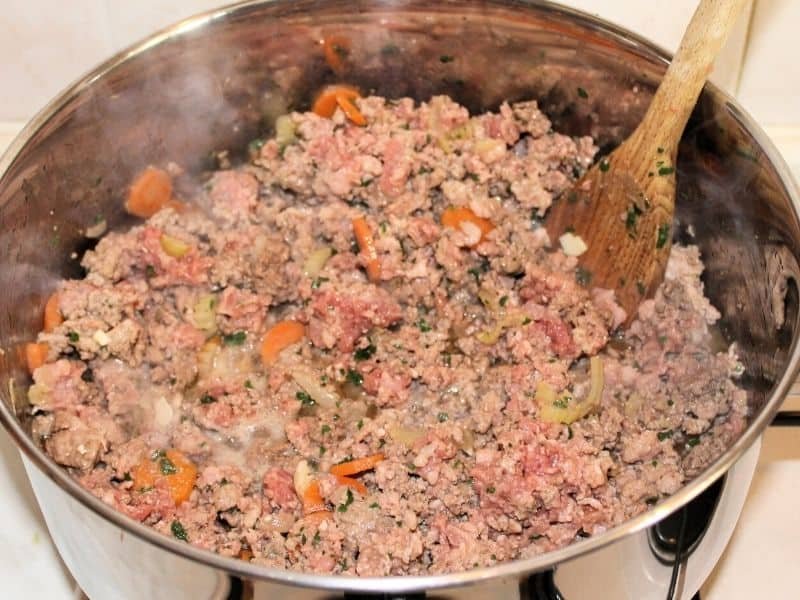 Heat the pan to medium heat. For pasta sauce, add 1 tablespoon of olive oil and cook the meat until it is brown. Add a pinch of salt and pepper. Then put the meat in another bowl for later use.
Add oil to the saucepan that you browned meat in. Add onions and season with salt, and cook until softened, then add garlic and cook for 2-3 minutes. Add grated carrots and pour meat from the bowl into the saucepan.
Add tomatoes to the pan and stir. Pour in the beef broth and simmer 15-20 minutes until it is thick. Taste and add more salt if needed.
To cook spaghetti, you need to add water and salt. Cook it until it's done. Then you can drain it and put in the saucepan with the bolognese sauce.
Stir well, and serve.
Spag Bol Recipe Healthy
This recipe is the healthier version of spag bol. We will use lean beef reduced-fat ingredients.
Ingredients:
1-2 tbsp olive oil
500 g lean beef mince
1 onion large sliced
1 garlic clove
800 g canned crushed tomatoes
2 tbsp tomato puree
1 cup dry mushrooms sliced (to taste)
1 celery stick, finely chopped
400 g spaghetti (wholewheat spaghetti if available), cooked
Method:
Heat to medium the pan. Add olive oil, and brown minced meat, and onion.
Add tomatoes, garlic, tomato paste, mushrooms, salt, and pepper.
Simmer for 10-15 minutes or until mushrooms are tender.
Add cheese and herbs if desired before serving overcooked spaghetti.
FAQs
What is the difference between bolognese?
Ragu is a sauce that uses red wine and tomatoes. Bolognese, on the other hand, uses white wine and has less tomatoes.
Is Spaghetti Bolognese bad?
A healthy spaghetti bolognese recipe usually uses beef as the 'bolognese' part. Lean beef is an excellent source of protein and has many vitamins. Beef also has minerals like iron and zinc.
What is the difference between Bolognese sauce and spaghetti sauce?
Ragù is a kind of meat sauce. Ragù originally came from Italy and it has been made in Bologna for a long time.
It's different from the sauce you usually eat in America, which is a sauce made with ground beef. Bolognese is thicker, creamier, and with just a touch of tomato.
Can spaghetti bolognese be healthy?
Use lean beef (with about 4% fat or less) and whole wheat pasta to make a healthy bolognese that you can feel good about.
This meal provides 413 kcal, 23g protein, 55.9g carbohydrate (of which 10.1g sugars), 11.2g fat (of which 3.6g saturates), and 12.1g fiber per portion.
See also: Beetroot Hamburger Recipe: Aussie Style Burgers
Was this article helpful?