Finding a halal breakfast spot in Perth can be challenging, especially if you are unfamiliar. However, Perth has many cafes and restaurants that serve halal breakfast options, from traditional Australian breakfast to Middle Eastern-inspired dishes.
I will share the halal breakfasts and cafes in Perth, so you can enjoy a delicious meal without worrying about dietary restrictions.
Selera Malaysia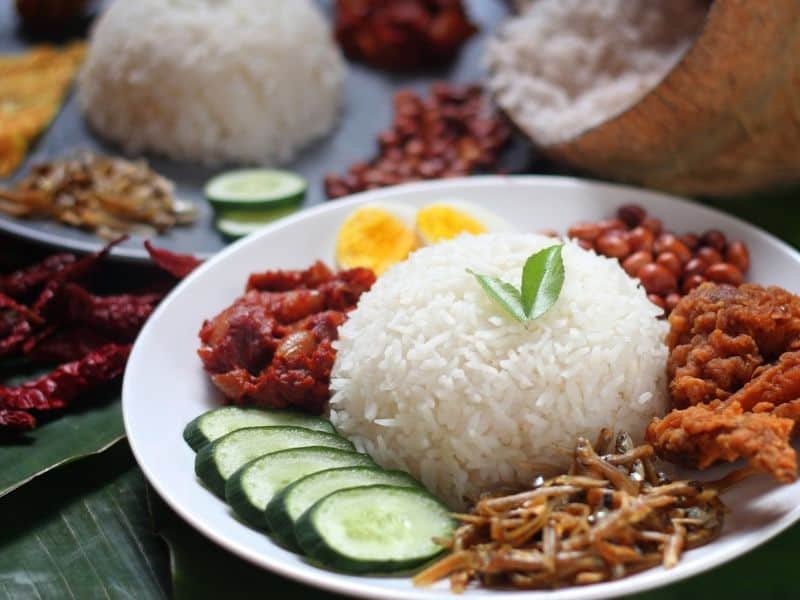 Selera Malaysia is an authentic Malaysian cuisine restaurant. It is located inside a gym, so a bit confusing. But the food is good.
Address: 1355 Albany Hwy, Cannington, WA 6107, Australia
Price range: $-$$
Opening hours: Tuesday – Saturday: 8 am – 2 pm; Sunday & Monday: closed
Recommended menu: Nasi Lemak, Roti Canai, Mee Rebus, Teh Tarik.
Website: https://www.facebook.com/seleramalaysia2017/
Google Reviews:
"Nice cozy place to be, the Malaysian food is more "healthy" and I think its for the demographic that goes there which are mostly gym goers." (Raphael Lim)
"We ordered satay and gado-gado. The tastes were authentic, typically Malaysian. It's inside a gym, not far from Rebel Sport." (Bob Chee)
Jom Kopitiam Perth
Jom is a Kopitiam (coffeehouse), but they serve various Malaysian and Chinese menus. It is an excellent place for breakfast.
Address: 310 William St, Perth, WA 6000, Australia
Price range: $-$$
Opening hours: Thursday – Monday: 8 am – 3 pm / 5 – 9 pm; Tuesday & Wednesday: closed
Recommended menu: Kopi O, Kopi C, Teh Tarik, Nasi Lemak, Roti Canai, Prawn Noodles
Website: https://www.instagram.com/jomkopitiamperth/
Google Reviews:
"Their must try – fried chicken wings (so crunchy and juicy!) & the fish hotpot, it is definitely a very unique dish that I will surely be back for. Superb service despite the busy crowd on a Saturday night. Overall, a great place to have hearty and delicious home-cooked meals 🙂 " (Eliza Lee)
"Food was great and we received service shortly upon our arrival without any delays. We ordered the dinner meals and the serving sizes were generous. The staff were lovely and attentive when we called them and they were so kind to provide us with dessert on the house for the three of us! We were also informed that university students also get 10% off upon showing student ID for their 8am-3pm menu. All food was halal friendly too. Overall, a wonderful experience. " (DC)
The Sarapan
The Sarapan is a cozy Malaysian restaurant with a great atmosphere for families and kids. It is located near the Swan River and has indoor and outdoor seating.
Address: 333 Mill Point Rd, South Perth, WA 6151, Australia
Price range: $-$$
Opening hours: 7.30 am – 1.30 pm
Recommended menu: Kopi C, Teh Tarik, Nasi Goreng, Nasi Kerabu
Website: https://www.thesarapan.com/
Google Reviews:
"Wish this cafe existed in Sydney! I stopped by before catching my flight, and very glad I did! 🙂 I ordered the 'big Sarapan' and it was a pretty intense breakfast. Everything tasted great, staff friendly and atmosphere relaxed. Hope to be back 🙂 " (Rebecca S)
"A sweet little spot with relaxed modern decor. Love the Kopi C (with "more sugar" for that Asian realness) – and the various mixed platters, which I've had on several occasions. Quite quick to your meal on a weekday mid-morning." (Sahan J)
Tempayan Bay
Tempayan Bay is a halal-inspired Indonesian and Italian cuisine restaurant. With a view of Langley Park and Swan River, the restaurant has nice surroundings. The place is also spacious; great for big families or groups.
Address: 78 Terrace Rd, East Perth, WA 6004, Australia (Westralian Apartments)
Price range: $$-$$$
Opening hours: 7 am – 9 pm
Recommended menu: Nasi Goreng, Mee Goreng, Beef Satay
Website: http://tempayan.com.au/
Google Reviews:
"Delicious Indonesian and Italian food! I ordered the Beef Satay and Mie Goreng with Prawns. The chef was really nice and greet and ensured we were all satisfied. I definitely recommend this place if you're a local and bringing a friend to try the cuisine!" (Miss Java)
Chinta Cafe
Chinta Cafe is a charming and unique Bali-inspired cafe in a converted garage. They serve Indonesian and Southeast Asian breakfast & lunch. They are famous for their cute high tea.
Address: 29 Scarborough Beach Rd, North Perth, WA 6006, Australia
Price range: $$-$$$
Opening hours: Saturday – Sunday: 7 am – 3 pm; Monday – Friday: 7 am – 2.30 pm
Recommended menu: Nasi Campur, High Tea Set
Website: http://chintacafe.com/
Google Reviews:
"Charming Bali inspired cafe if you fancy a tropical kinda breakfast. They do FANTASTIC High Teas here too! I recommend the Halal High Tea here :)" (Rinnie N)
"Went there for breaky on a Saturday. Setting makes you feel like you're in Indo and on holiday. Food was fantastic along with great service. We didn't have to wait long for food and coffee. We ordered the big breakfast and nasi campur. Would recommend!" (Mischa R)
Butter Crumbs Cakes & Pies
Butter Crumbs is a small cafe that offers much delicious variety of cakes and pies.
Address: Shop 1/669 Beaufort St, Mount Lawley, WA 6050, Australia
Price range: $$-$$
Opening hours: Wednesday – Sunday: 7 am – 3 pm; Monday – Tuesday: closed
Recommended menu: Garlic Butter Croissant, Basque Cheesecake Slice, Banoffee Pie, Lemon Meringue Cake
Website: http://www.buttercrumbs.com.au/
Google Reviews:
"Finally made it to this artisan bakery, couldn't decide with the selection available. So I went for the Banoffee Pie & Peanut Crisp. Both delicious but preferred the Peanut one. Service impeccable as per the food" (Colby L)
" … For dessert, I picked basque cheesecake slice. I had been wanting to try their basque cheesecake. It didn't disappoint. It was yum. It was not overly sweet which is good because you don't get that bleugh feeling after eating such a rich dessert. Price was slightly high but I am willing to try their other dessert/pies next time around." (Annie L)
Birue Cafe
Birue is a lovely place to have breakfast and coffee. It is located inside a shopping mall, so it is an excellent start before going around the mall.
Address: 125 Riseley St, Booragoon WA 6154, Australia (Westfield Booragoon)
Price range: $$-$$$
Opening hours: 8 am – 3 pm; except Sunday: 11 am – 3 pm
Recommended menu: Full Breakfast, French Toast, Chilli Crab Scrambled Eggs Sandwich
Website: https://www.instagram.com/biruecafe/
Google Reviews:
"So hard to come by a cafe, parked in a mall that serves exceptionally good quality meals and coffee! Each item on the menu is a banger and they're so generous with their portions. Highly recommend to try their Rendang Benny! And they're certified Halal too " (Izreen M)
"This is our first time here. But it was an exceptional experience. Everything was so good and we enjoyed thoroughly our Sunday breakfast with kids. Great job guys….. keep it up." (Sumeet)
Was this article helpful?