If you're looking for a halal breakfast and cafe in Adelaide, this blog post is what you need! We've compiled a list of amazing places to get your morning meal. There's something for everyone, from the famous 'Bacon and Egger' to more traditional Turkish breakfasts.
Several popular halal breakfasts in Adelaide include Le Souk, Ballaboosta, Loveon Cafe, and many more.
What Do You Know about Adelaide, South Australia?
Do you know about Adelaide? If not, it's time to learn! Located in the state of South Australia, this city is known for its green parks, modern buildings, and outdoor activities.
Adelaide is the capital city of South Australia and happens to be one of the largest cities in Australia. Its demonym comes from those who reside there- "Adelaideans."
Adelaide lies on top of sandy plains found north by Fleurieu Peninsula, where it borders a gulf called the Gulf St Vincent. The area is about 20 km wide (12 mi) from coast to foothills while stretching 96 kilometers or 60 miles long!
There are so many things that make Adelaide unique; one example is the River Torrens which flows through the heart of town. It's also home to some famous landmarks like Government House and Victoria Square.
If you're looking for a new adventure, why not take a trip down under to "The City Beautiful?"
Why do you want to find halal restaurants in Adelaide?
If you're new to Adelaide or just looking for a change of pace, it can be overwhelming trying to find halal breakfast restaurants.
I've compiled this list of Adelaide's seven best halal breakfast places! This post will help you decide and get on with your day.
If you want more info about any one of these places, click their name, and it'll take you to their website, where they have everything from menus, pictures, and reviews to know what to expect before going there.
Amazing Halal Breakfast in Adelaide
Le Souk
Le Souk is a halal food in Adelaide specializing in African, Moroccan, Cafe, Algerian, and Middle Eastern cuisines. The restaurant got many great reviews and was voted Traveler's Choice 2020 by Tripadvisor. A must try.
Address: 44-60 Gouger St, Adelaide SA 5000, Australia
Price range: $$-$$$
Opening hours: Monday: 8am – 5.30pm, Tuesday: 7am – 5.30pm, Wednesday: 8am – 4pm, Thursday: 7am – 5.30pm, Friday: 7am – 9pm, Saturday: 7am – 3pm, Sunday: closed
Menu: Hummus, Lamb couscous, Chicken couscous, Lentil Soup, Paella,
Website: https://lesouk.com.au/
Reviews:
"Magnificent food

Le Souk is nestled in the heart of the Adelaide Central Markets. We were looking around for lunch and immediately as you walk past this stall you stop. The smell of the food coming from within the stall is devine, my mouth began to water…. We had the slow cooked lamb couscous, chicken couscous and a vegan/vegetarian paella. All dishes were absolutely stunning, the tastes and spices were delicious. Generous serves for what you pay. I will definitely eat there again, and again…. If you're at the markets do yourself a favour and try it. Seating is hard to get as appears to be very popular." (Tripadvisor Review)
Zouk Restaurant
Zouk is a halal restaurant that specializes in breakfast. The restaurant is a part of Sage Hotel on South Terrace.
Address: Sage Hotel, 208 South Tce, Adelaide SA 5000, Australia
Price range: $$-$$$
Opening hours: 7am – 10am
Menu: local South Australian cuisine breakfast
Website: http://www.nexthotels.com/sage/adelaide/dining/zouk-restaurant/
Reviews:
"Service with a smile here, we had our breakfast included with the hotel rate.

We had the big breakfast with a large coffee and every morning they included our special requests.

Staff are very friendly at this restaurant and next time we come to adelaide we'll be staying here and eating at Zouk." (Google Reviews)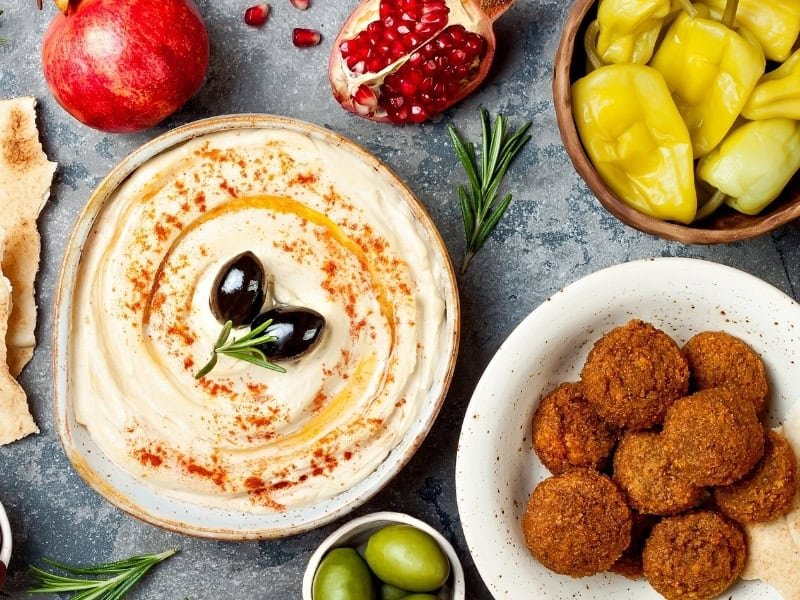 Ballaboosta
Ballaboosta is a halal restaurant that offers Lebanese, Pizza, Cafe, Mediterranean, and Middle Eastern cuisines. That provides breakfast, brunch, lunch, to dinner. The restaurant is located on Halifax St, near St Andrew's Hospital.
Address: 289 Halifax St, Adelaide SA 5000, Australia
Price range: $$-$$$
Opening hours: Monday – Friday: 7.30am – 9.30pm, Saturday: 8am – 9.30pm, Sunday: 8am – 3.30pm
Menu: Pizza, Puff pastry, Falafel, Chicken wrap, and excellent coffee
Website: http://ballaboosta.com.au/
Reviews:
"Can't believe it took me 3 years to check out Ballaboosta, after hearing recommendation by friends and reading reviews , we checked out this contemporary rustic cafe.

Located centrally close to Adelaide CBD Ballaboosta offers more of a Middle Eastern/Greek menu with their food prep being ????. Every bite in every dish took me back to my Middle Eastern days!

The lamb puff is a must try, it's listed under the tapas section.

Such a great restaurant but please do make reservation as it gets packed!" (Google Review)
Oporto
In a relaxed chain, there is flame-grilled, Portuguese-style chicken, plus made-to-order rolls and wraps.
Address:

Oporto Adelaide Drive-Thru: 139 Angas Street – corner of Pulteney Street & Angas St, Adelaide SA 5000, Australia
Oporto City Cross: Shop FC 16A/33-39 Rundle Mall, Adelaide SA 5000, Australia

Price range: $
Opening hours: 24 hours
Menu: Grilled chicken and burgers
Website: https://www.oporto.com.au/
Reviews:
"Fast, cheap, convenient

Oporto is always a favourite when craving for something cheap but not like Maccas, KFC or HJ's. I love the variety and how it resembles Nando's a bit so it's like a mix of being a fast-food chain but premium style." (Tripadvisor)
Naan Tandoori
Naan Tandoori is an Indian halal food restaurant located in Northpark Shopping Centre, in Prospect Adelaide. From Monday to Saturday, they also offer a great Indian breakfast to fill the day.
Address: Northpark Shopping Centre, Shop 5/264 Main N Rd, Prospect SA 5082, Australia
Price range: $
Opening hours: Monday – Friday: 9am – 9pm, Saturday: 9am – 5pm, Sunday: 11am – 5pm
Menu: Lamb curry, Chicken curry, Basmati rice, Chicken tandoori, Samosa, Prata bread
Website:
Reviews:
"Best place to go for Indian food in whole Australia, Jaspal is such a gentleman and I absolutely love the food here, thanks heaps for the food and service ????" (Google Review)
Halal Cafe in Adelaide that Serves Breakfast
Loveon Cafe
Loveon Cafe is a small, hippie style but beautiful and exciting cafe. It offers halal Australian food that is quite famous and delicious—a great place near Airport to hang out with friends and some tasty food and happy vibes.
Address: 39 Gladstone Rd, Mile End SA 5031, Australia
Price range: $$-$$$
Opening hours: Wednesday – Monday: 7 am – 3.30pm, Tuesday: closed
Menu: Pancakes, Kebabs, Cakes, Coffee, Juice, and Smoothies
Website: http://www.loveoncafe.com.au/
Reviews:
"Ethnic and hippy the same time

What a hidden gem , I'm so sorry I have never visited before

Lovely breakfast and lunch options , try the Turkish(?) options ,really well done and lovely presented ! Fido's ti the chef ! Stuff was nice and accomodating ! Crowd is fun ,definitely organic and hippyish ! I'm going back" (Tripadvisor Review)
Leisurely Coffee
Leisurely Coffee is serving up great coffee and an all-halal menu, including breakfast bao buns with beef bacon in the old Paddy's Lantern shopfront.
Address: 219 Gilbert St, Adelaide SA 5000, Australia
Price range: $$-$$$
Opening hours: 7 am 'til 3pm Monday to Saturday
Menu: Halal bacon bao buns and a variety of great coffee
Website: https://www.instagram.com/leisurely_coffee/
Reviews:
"Lovely little cafe with very friendly and helpful staff. I had the soft shell crab croissant which was an interesting mix, but enjoyable! My friend had the chicken burger which he thoroughly enjoyed. The Mac & Cheese spring rolls were a bit disappointing – I think I would have preferred just cheese (without the macaroni) or traditional spring rolls." (Google Reviews)
Was this article helpful?