Sydney is known for its excellent restaurants, and these places serve the most authentic hotpot places in Sydney. These restaurants are places where you get to enjoy a delicious meal with family and friends while sitting around a large pot of boiling water.
These are some of the best hotpot in Sydney: Memory Tongue, Da Long Yi, Maopai Dishes, Pei Jie, and Jiu Long Ding Chongqing. This place serves the most authentic in Sydney, and they are also very affordable.
If you are visiting Sydney, then make sure to check out those hidden gem Sydney restaurants with friendly service.
What is Hotpot?
It is a meal with many raw ingredients, including meat, leaf vegetables, mushrooms, bean products, kinds of seafood, and many more. You have to cook the ingredients first in a simmering pot. Then, dip the cooked quick bites into dipping sauce in the bowl and enjoy it.
Hotpot is one of the most popular menus in Sydney Chinatown region locations. Perfect for buffet, lunch, a la carte, or dinner. Enjoy it with noodles, congee, tea drinks, yum cha, or sushi with your favorite persons.
This meal is considered a luxurious menu in China. In the past, only emperors could enjoy it. Nowadays, most people like to eat this set menu because it contains various ingredients.
5 Chinese Hotpot Places in Sydney
Memory Tongue Sydney Central Business District.
Provide:
A variety of Broth:

Spicy, lychee flavor, tomato, chicken, and many more.

Half Soup:

Fish pickled and tomato, spicy and fish pickled, tomato and mushroom, and many more.
Premium Beef Tripe
Selected Super Prawns
Premium Beef and Lamb Combo

Signature:

Sliced beef, barbie Australian Wagyu Beef, shrimp meatballs, premium sliced lamb, and many more.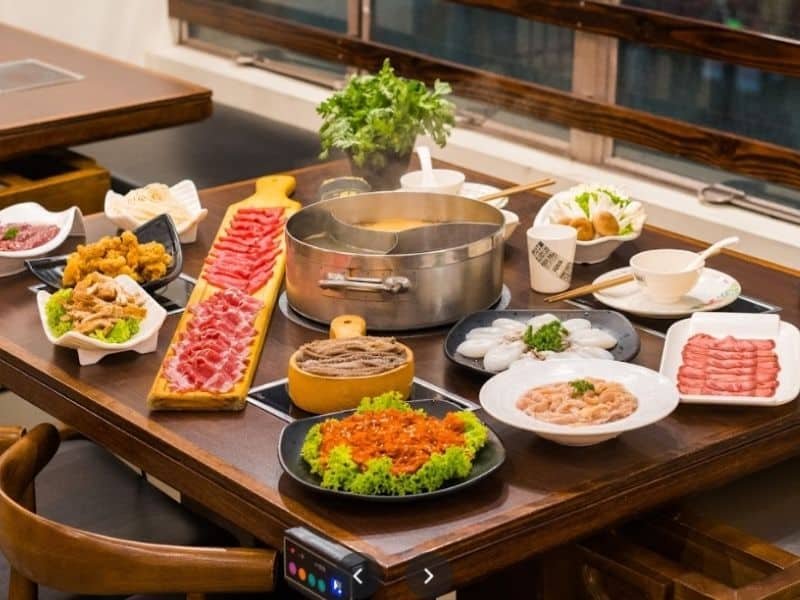 Review:
Memory Tongue Hotpot Sydney CBD offers a tasty and cozy place to eat with the entire family, friends, and colleagues. One of the customers stated, "This place has great hotpot, food, and service."
Another customer expects more vegetables by saying, "I wish they had more variety of veggies, but the soups are nice and super spicy!" It is perfect for spicy flavor lovers. Some customers are also pleased with the staff.
One of them said, "Staff is friendly, but the ones I encountered spoke limited English." It will be better if the staff can speak English fluently.
Da Long Yi
Address: Shop 72/1 Dixon St, Sydney NSW 2000, Australia
Located in: Number One Dixon Shopping Center
Phone Number: +61425318779
Open Time: Tuesday to Monday from 12 to 3 PM and 5 to 10 PM
Website/Instagram: https://www.dalongyihotpot.com.au/menu or @dalongyi.aus
Food:
Single soup base
Double flavor soup base
Sichuan base
Herbal chicken
Oxtail tomato
Mushroom
Review:
Da Long Yi is a paradise for meat and vegetable lovers. This restaurant gives a lot of ingredients to cook on the pot. One of the customers said, "Wide range selection of meat and veggies for hotpot, also come in big portions."
Customers enjoy the atmosphere due to the friendly owner and worker. A customer explained, "Anyone should try this place and experience how friendly the owner or worker is." Customers also like the various dipping sauces, including sesame, oil, coriander, and chili.
Due to the taste, the food in this restaurant is suitable for spicy flavor lovers. A customer from Chongqing Sichuan even said, "I'm from Chongqing Sichuan, and I can rate this as one of the best hotpot places I've had in Australia!"
The restaurant is ready to serve its customers with dine-in, takeaway, and delivery methods. It is more flexible to enjoy anywhere you want if you can't do it at the restaurant.
Maopai Dishes of Hotpot
Address: Event Cinemas Complex, 505 George St, Sydney NSW 2000, Australia
Phone Number: +61450688591
Open Time: Tuesday to Monday except for Sunday from 11 AM to 10 PM
Available:
Assorted vegetables
Assorted meat
Mao's special luxury
Mao's crawfish
Review:
It is one of the famous restaurants in Sydney. The popularity is about the cozy place and the flavor. That's why one of the visitors stated, "Seats are a bit crowded, but the best spicy Maocai place in this area."
This place is suitable for people who love to eat something with chicken. A visitor who had a positive experience clarified, "Very tasty chicken broth and friendly staff too." Another visitor even explained, "So recommended recipes, generous services, and the owner is a charming lady."
One of the keys to being a popular restaurant in Sydney is consistency. The team always serves the same recipes, along with high-quality ingredients. As a result, many visitors describe that this restaurant's food taste never changes after a few years.
The good thing is that you can choose your spiciness level.
Pei Jie Hot Pot
Menu:
Wagyu slices
Beef slices
Mushroom slices
Vegetable platter
Lamb shoulder slices
Review:
Most visitors are satisfied with the service and the taste of the hotpot at Pei Jie Hotpot Restaurant. One of the visitors explained, "Great service, the portion is a bit small though." This place is suitable for a small meeting or gathering with colleagues or clients.
Another visitor stated, "A new hotpot place recommended by my Chinese client. Can't deny that their food was great but way too pricey." Guests love the taste of broth and dipping sauces.
Visitors can choose a variety of menus, especially beef and vegetables. The drawback is that you can only enjoy them at the restaurant or dine-in. It seems that they are not ready with takeaway and delivery methods.
Despite this drawback, you can still enjoy yourself in Sydney with your entire family, colleagues, friends, or clients. Moreover, eating in the restaurant will give you a new experience visiting a Chinese restaurant in Australia, especially if it is your first time.
Jiu Long Ding Chongqing
Address: 71 Dixon St, Haymarket NSW 2000, Australia
Phone Number: +61292119590
Open Time: Tuesday to Thursday and Monday from 11 AM to 11 PM, Friday from 11 AM to 11:30 PM, Saturday from 12 to 1 AM and 11 AM to 11:30 PM, and Sunday from 12 to 1 AM and 11 AM to 11 PM
Website/Instagram: https://jiu-long-ding-chongqing-hot-pot.business.site/
Menu:
Soup:

Mushroom
Tomato and pork meatball
Ox fat
Fish head and pickled

Dishes

Cabbage, oyster mushroom, king prawn, ox tongue, Australian ox tripe, and live Barramundi

Snacks:

Fried rice with egg, homemade sausage, marinated combo, Chongqing cold noodle, and sweet and sour pork ribs
Review:
Jiu Long Ding Chongqing restaurant is a recommended place for meat lovers. One of the meat lovers explained, "We ordered loads of meat rolls, and the spicy beef is delicious." Another visitor even claimed, "The food tasted 10/10, and the service was very friendly and kind."
The restaurant serves a complete service from the friendly staff, refreshing base, and even reasonable price. A visitor satisfied with the service stated, "Friendly staff, fresh, delicious authentic soup base, and reasonable price."
Due to the authentic flavor, it is a recommended restaurant for Australians or anyone who wants to try Chinese hotpot for the first time.
Was this article helpful?