Tiramisu cake is one of the most popular Italian desserts in the world. Initially, only known in Italy and other parts of Europe, nowadays you can find the dish at almost every restaurant anywhere, including Sydney.
In this post, we compile a list of 5 spots that have the best tiramisu in Sydney:  Cafe Amici, Pishon Patisserie, Machiavelli, Fratelli Paradiso, and Secolo. You can enjoy the delicious dessert after a meal, or you can have it with some great coffee.
What is Tiramisu?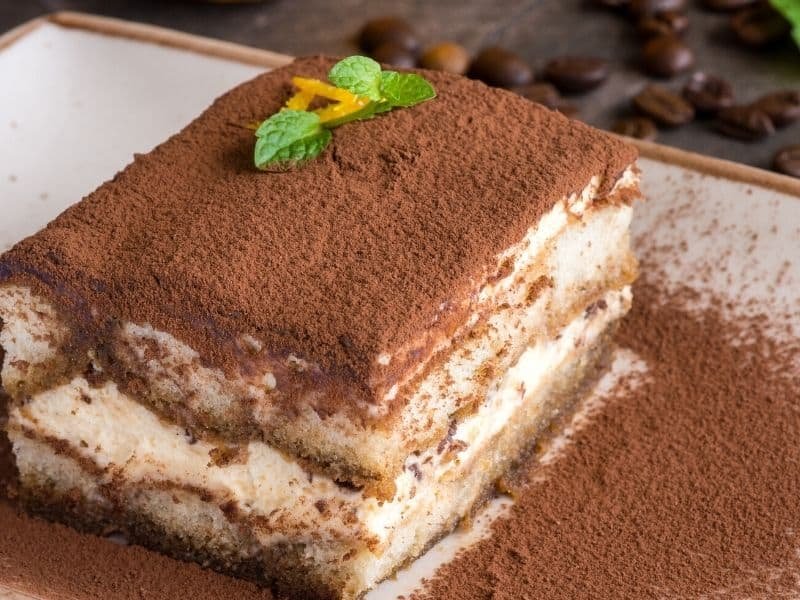 Tiramisu is an Italian dessert made of ladyfingers, egg yolks, sugar, coffee, mascarpone cheese, cocoa powder, and sometimes liquor. This dessert is popular in Veneto and Friuli Venezia Giulia.
This menu was firstly made in Italy in 1980. Then, it became popular in English in 1982.
Originally, the case was round, but now you can find it with rectangular or square biscuits. The variations include tiramisu in round glass, layered, pyramid shape, and many more. 
5 Tiramisu Restaurants and Cafe in Sydney
Caffe Amici 
Address: 1/355 Kent St, Sydney NSW 2000, Australia
Located in: The Rex Apartments 
Phone Number: +61292790953
Open Time: Tuesday to Friday and Monday from 10 AM to 2 PM and 5 to 9 PM. 
Website/Instagram: https://caffeamici.com.au/menu/ 
Menu:
Breakfast:

Amici breakfast
Vegetarian breakfast
Egg on toast
Salads
Pastries
Pasta and soup
Pizza

Dessert:

Tiramisu 
Caramel cheesecake
Review:   
Caffe Amici is one of the Italian cafes in Sydney that serve authentic food. One of the visitors explained, "Tasty Italian family dishes, and a generous portion at good prices." It means that the menu in this café is for all visitors. 
This café has a variety of menus you can choose from, including breakfast, pastries, and desserts. Indeed, tiramisu is one of the recommended desserts you should try at this restaurant.
A visitor who had a good experience stated, "The food portion is generous and delicious. Their service is great too. Highly recommended and we will definitely come back for more." 
Some people get surprised when finding a cool Italian café on Kent Street. The ambiance is good enough for breakfast, drinking a cup of coffee, or enjoying delicious tiramisu in the afternoon.
One of the visitors who passed by on Kent Street even said that Caffe Amici is a recommended place to visit to get good coffee and delicious meals at affordable prices.   
Pishon Patisserie on Pitt
Address: Shop 1/332-336 Pitt St, Sydney NSW 2000, Australia
Phone Number: +61452132332
Open Time: Tuesday to Friday from 8 AM to 7 PM, Saturday to Sunday from 11 AM to 7 PM, and Monday from 8 AM to 7:30 PM. 
Website/Instagram: https://www.pishonpatisseriepitt.com/ 
Menu:
Chiffon, fresh fruit range, fresh cream, cheesecakes, shortcakes, and vegan cakes.
Review: 
Some visitors get a good experience while visiting Pishon Patisserie on Pitt. One of them stated, "Excellent experience, delicious, and beautiful vegan chocolate cake!"
Another visitor was also impressed with this store by saying, "I was very impressed with this store! Ordered a Green Tea Chiffon Cake, which has a great taste and the cake itself was nice and fluffy. Perfect amount of sweetness as well. Would definitely order from here again!"
The store is small, but it serves a variety of desserts with fantastic decorations. It seems that you don't want to ruin and eat them when seeing them. Indeed, the beautiful decoration is not the only selling point of the desserts but also the flavor.
The various flavors give you a lot of options whether for special occasions or personal serving.  
Machiavelli 
Phone Number: +61292993748
Open Time: Tuesday to Friday and Monday from 12 to 3 PM and 6 to 9 PM, Saturday from 6 to 9 PM, and they are closed on Sunday. 
Website/Instagram: http://www.machiavelli.com.au/ or @machiavelliristorante
Menu:
Besides offering tiramisu, this restaurant also has antipasti, Antipasti Di Mare, homemade pasta, pasta, steaks, fish, and sides.  
Review:
This restaurant is perfect for any situation. One of the visitors explained, "Perfect timing for ordering and meal delivery, dessert, and coffee." It is also a perfect place for those who want to find authentic Italian meals. 
You can't only enjoy delicious meals but also an intimate atmosphere. A visitor claimed, "If you're looking for an authentic Italian dining experience, you've come to the right place. The lower ground level makes the atmosphere feel intimate yet inviting." 
Most visitors are also satisfied with the friendly staff. Indeed, you can't miss this place if you want to relax and enjoy smooth and tasty tiramisu.
One of the secrets of how the flavor of the meals is good is by cooking it classically and traditionally. It is the reason why you will get an authentic Italian flavor the same with meals when enjoying them in Italy. 
Fratelli Paradiso 
Menu: 
Besides serving tiramisu, this restaurant is also serving calamari, Lasagnetta, Insalata, Crudo, Ricotta di bufala, Antipasto, risotto, and pasta scampi.  
Review:
Fratelli Paradiso is well-known because of the menu. One of the customers explained, "The flavor of the food was delicious, especially the scampi pasta and passion fruit custard dessert."
Another customer also gets a great experience while visiting this restaurant. He said, "Great Italian menu. Huge Italian wine list from every region in Italy. Service was good, the atmosphere was good; perfect for a data place." 
It means that this restaurant covers all the things that its customers need. It seems that the restaurant needs to consider the parking area to keep customers comfortable. This restaurant is a good place for anyone who wants to get a cozy place, along with great food, coffee, service, and pastries. 
You can enjoy your day by enjoying tiramisu and other meals after working all day long. The taste of the dishes and the atmosphere seem to recharge your stamina to get ready for other tasks and challenges.
Italian Desserts in Secolo Dining 
Menu:
Breakfast: organic banana bread, ham and cheese croissant, scramble eggs Alla carbonara, and many more. 
Lunch: garlic or rosemary focaccia, cured meat and Italian cheeses, Caprese salads, and others.
Dinner: Antipasti, pasta, secondi, sides, tiramisu, and others.  
Review:
Tiramisu is one of the most favorite desserts in this restaurant. A visitor explained, "My wife and I love to share the tiramisu here after a great dinner." Some others love to eat ham and cheese croissants, pizza, and pasta. 
They enjoy their time at the restaurant due to the cozy atmosphere. A woman who visited this restaurant stated, "Nice interior, good staff, and delish ham and cheese croissant" Another visitor claimed, "Food is tasty, good, atmosphere and the service is quick." 
A pizza lover also stated, "Fabulous woodfired pizza and ambiance! A perfect little spot in the city for dinner." It seems great to go to this restaurant and have a romantic dinner with your beloved couple.
This restaurant is also a good place for LGBTQ couples who want to enjoy delicious meals and a romantic atmosphere.
FAQs
What is mascarpone cream?
Mascarpone cream is a type of cheese made with mascarpone cheese. It is similar to whipped cream but without any eggs. Mascarpone has a milder taste than regular. You can use it as a substitute for whipped cream or ice cream.
What is Dark Chocolate Tiramisu Gelato?
Dark chocolate tiramisu gelato is a dessert made with dark chocolate ice cream, mascarpone cheese, coffee syrup, rum, and cocoa powder. It is served in a waffle cone. The combination makes this a decadent treat.
What is Vanilla Sponge?
A vanilla sponge is a type of cake made with vanilla flavoring. It can be baked as a layer cake or cupcakes. It is usually frosted with buttercream icing.
What are Savoiardi Biscuits?
Savoiardi biscuits are Italian cookies made with almond flour. They are very similar to biscotti but they have a softer texture.