Pesto is a great way to add flavor and veggies to your pasta. However, developing ideas for what to serve on the side can be difficult.
Here are some suggestions of what to serve with pasta with pesto.
Traditionally, pasta with pesto is served with potatoes and string beans. However, other dishes are great with pesto pasta, such as salads, seafood, and many others.
What to eat with pesto pasta? And how to prepare them? Let's look at what other foods would go well with our favorite pasta dish.
What to Serve with Pesto Pasta?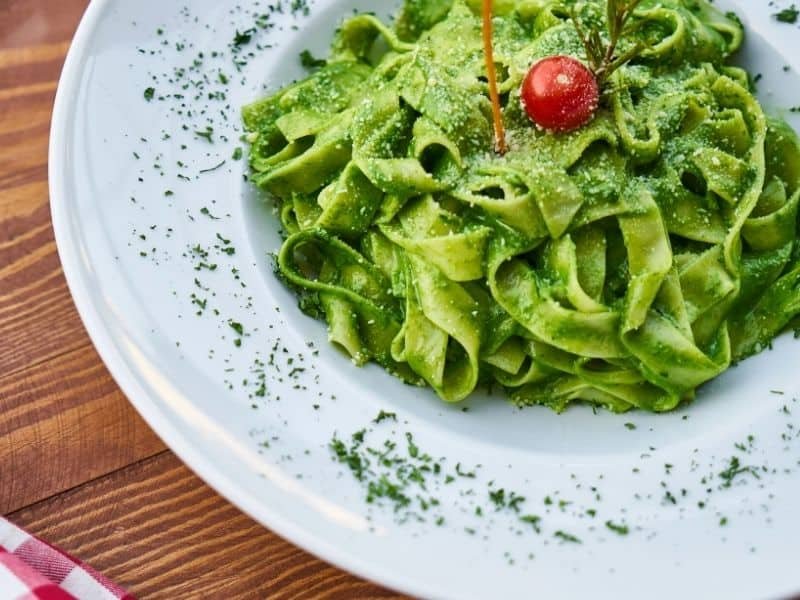 The possibilities are endless regarding what to serve with pasta with pesto.
You can also try experimenting or mixing up different foods that work together for one great dish like this.
Here is what to pair with pesto pasta.
What Salads Goes with Pesto Pasta?
Salads are one of the most common dishes served with pasta pesto.
This could be an Italian salad or something like Greek Salad. Or it can be a classic pasta salad with pesto dressing.
Either way, you'll find that they go well together.
While salads may not be the first thing that comes to mind when you think of pesto pasta, they go well together and offer a nice change from tradition.
Here is some of the great salad to go with pesto pasta.
Italian salad
Italian salad is a typical dish consisting of tomatoes, cucumbers, fresh herbs, basil leaves, and Parmesan cheese.
This makes for one excellent pasta pesto side dish.
Greek salad
Another popular salad option to get with your pesto pasta is the classic Greek salad. This version of Italian salad is made up of tomatoes, cucumbers, olives, and feta cheese.
Legume-based salads
Other legume-based salads go great with pesto pasta.
You can try Simple Chickpea Salad or Black-Eyed Pea Salad> these two are legume-based salads.
Caprese salad
One final salad that's perfect to have with your pesto pasta is the classic Caprese Salad.
This Italian dish consists of tomatoes, mozzarella cheese, and basil leaves served over a bed of lettuce.
Caesar salad
If you're looking for something a little more traditional, the Caesar Salad is another great option.
This salad consists of lettuce, croutons, and Parmesan cheese topped with your favorite dressing.
Sauteed Greens
Yet another option for what to serve with pasta with pesto is grilled or sauteed or roasted vegetables.
For example, you can grill onions, peppers, zucchini, or squash when grilling shrimp or scallops.
Here are several of the most favorite cooked greens to serve with pasta with pesto:
Grilled Onions
Grilled zucchini
Grilled summer squash
Green beans or string beans
White beans
Sauteed spinach
Braised kale
Roasted asparagus
Potatoes
One last vegetable to serve with pesto pasta is potatoes. You can make several dishes, including Parmesan garlic potatoes or French fries.
French fries
Mashed potatoes
Sweet potato fries
Parmesan Garlic Fries
Mashed potatoes
What Pairs Well with Pesto Pasta
Here are what goes well with pesto pasta:
Seafood Dishes
If you want to make a dish like the traditional Italian pasta with pesto recipe, seafood would be your best bet.
Fish, especially white fish, is also a great option. They can be made in many different ways, such as sautéed, steamed, or baked.
Salmon and pesto go well together. Some people like to put it on top of their salmon and broil it. Then, they can mix in different things, like basil or garlic. It is a favorite among home cooks who want to try new variations.
This could include shrimp, lobster, and other types of seafood such as scallops and crab.
Meat Dishes
The versatility of pesto allows chefs to infuse it into almost any meat in nearly any preparation.
It can complement grilled, roasted, baked, or even fried meats.
It is equally welcome alongside simple roast chicken, bold beef dishes, and even gamy lamb or goat recipes.
If you have a meat lover in your family, delicious and savory pork chops would also go well with the meal!
Sides for Pesto Pasta
Here are what to have with pesto pasta.
Desserts
Cheese and crackers
If you want a dish to serve alongside your main course, then cheese and crackers are always an excellent option! This would be great for helping before the meal or just as something light to snack on throughout your meal.
Cheesecake
While many people think of dessert as something to serve after the main course, some options would be great to have with pesto pasta! Cheesecake is one such dish because it goes well with both dishes' basil and garlic flavors.
Wine
Basil pesto presents a bit of a wine-pairing challenge.
Chardonnay
Pesto, being so herbaceous, may seem to go well with Chardonnay, which is known for complementing fresh, herbal tastes.
However, the oakiness associated with Chardonnay varietals generally clashes with the complex blend of tastes that may be tasted in a high-quality pesto.
Sauvignon Blanc
When making pesto, a good rule of thumb is to concentrate on the "green" flavor.
A flavorful basil pesto may go well with a grassy Sauvignon Blanc or a savory, herb-driven Grüner Veltliner.
What is Pasta with Pesto?
Pasta with pesto is a dish that typically consists of cooked pasta and some pasta sauce containing basil or other fresh herbs.
This sauce may be either fresh or store-bought pesto paste.
It is a trendy dish but can be made in many variations.
What is Pesto?
Pesto, or (to refer to the original dish) pesto alla Genovese, is a sauce produced in Genoa, the capital city of Liguria, Italy.
The pesto sauce traditionally consists of crushed garlic, European pine nuts, coarse salt, basil leaves, and hard cheese such as Parmigiano-Reggiano (Parmesan cheese) or Pecorino Sardo (cheese made from sheep's milk). And all is combined with olive oil.
What is Pasta with Pesto (Pesto Pasta)?
You typically serve pesto on pasta with mandilli de sa ("silk handkerchiefs," in the Genoese dialect), trofie or trenette.
Potatoes and string beans are traditionally added to the mix, and simmered in the same saucepan prepared by the pasta.
Pasta with pesto has become a well-known meal in numerous nations today. There are many recipes available on the internet for "pasta with pesto."
What Pasta Goes with Pesto?
There's no wrong answer when it comes to pairing pasta with pesto. Any type of pasta will taste great with this flavorful sauce.
Whether you prefer long strands of spaghetti or short, bite-sized pieces of rotini, pasta is perfect for your next pesto dish.
Here are a few ideas to get you started:
Spaghetti
Spaghetti with pesto is the perfect dish for when you want something simple yet flavor-packed. The pesto is full of garlic, basil, and Parmesan cheese, which all come together to create a bold and distinctive taste. And when paired with the right pasta, like spaghetti, it creates a dish that is both easy to make and simply irresistible.
Penne
Try pairing penne with classic basil pesto for a simple and tasty meal.
Fusilli
Try sun-dried tomato pesto with fusilli or farfalle for something a little different.
Ricotta Cheese
If you're looking for a creamier option, try blending your favorite pesto with ricotta cheese.
How to Make Pasta with Pesto?
Tips for making creamy pesto pasta
Add pasta water
This is a typical Italian technique for cooking pasta. You will add cheese to the pasta and stir it with the water used to cook it. This creates a quick sauce for your pasta.
The pasta water and pesto make a very thick and creamy sauce.
Homemade pesto is the best.
Pasta with pesto tastes the best with homemade pesto sauce.
This is because the homemade sauce has the freshest ingredients.
You can adjust this to your preferences, making it spicier or more flavorful with garlic and other spices.
Store in Refrigerator
Store the leftover in an airtight container, then put it in the refrigerator.
Note that leftover pesto pasta can get gummy when reheated. So it's best to eat leftovers cold or at room temp.
How to make pesto
Place 1/4 cup toasted pine nuts in a food processor with 1 teaspoon minced fresh garlic, lemon juice, and 1/2 cup grated parmesan cheese.
Pulse until finely ground. Add 3 cups of fresh whole basil leaves to the food processor with salt and pepper to taste.
Turn the food processor on a low speed and slowly drizzle in 1/2 cup olive oil. Process until the sauce is smooth. Taste and add more salt and pepper if necessary.
Simple and Easy Pasta with Pesto Recipes
Vegetarian Spaghetti Pesto Recipe
This recipe is for vegan pesto, plant-based, dairy-free pesto, gluten-free, or legume-based pasta.
Prep Time: 10 minutes
Cook Time: 10 minutes
Total Time: 20 minutes
Ingredients
12 ounces spaghetti or bucatini pasta
½ cup pasta water, plus more as needed Kosher salt
1 large handful of fresh basil leaves to garnish (optional)
Parmesan cheese to garnish (optional)
Instructions
Fill a pot of salted water. Boil the pasta until al dente. Before you drain the pasta, reserve one cup of pasta water from cooking it in a cup.
Place the pasta in a bowl (not the pasta pot). Stir together the pasta, pesto, and ½ cup of pasta water, tossing with tongs until the pesto is well distributed and the pasta water forms a creamy sauce.
Add more pasta water if desired. Stir in ¼ teaspoon kosher salt and taste. . Serve immediately.
Chicken Pesto Pasta Recipe
This is chicken, pasta, and tomatoes with basil pesto. It has cheese on it too.
Ingredients
1 tablespoon olive oil
1 lb boneless skinless chicken breasts cut into bite-sized pieces
salt and pepper to taste (or freshly ground black pepper)
1 1/2 teaspoons minced garlic or garlic powder
3/4 teaspoon Italian seasoning
12 ounces short pasta such as farfalle
1 cup basil pesto. Look for it in the refrigerated section
1 cup cherry tomatoes halved (or sun-dried tomatoes if you like)
1/4 cup finely grated parmesan cheese and provolone cheese
1 tablespoon chopped fresh parsley can also use basil
Pepper flakes
Instructions
Bring a large pot of water to a boil and add salt to taste, then cook the pasta as directed on the package.
In a large pan, warm the olive oil over medium-high heat.
Place the chicken in the pan, and season with salt and pepper to taste.
Cook the chicken on each side for 3-4 minutes until golden brown. Add garlic and Italian seasoning to the pan and cook for 1 minute.
Drain the pasta and transfer pasta into the pan with the chicken. Add pesto and mix.
Add the cherry tomatoes and gently fold them into the pasta.
Sprinkle the cheese, parsley, or pepper flakes on the dish. Serve.
How to Serve Pesto on Pasta?
There are many ways to serve pesto on pasta. Some common methods include:
Add pesto to cooked pasta and top with Parmesan cheese or pine nuts. For a quick and easy meal.
Make a simple pesto sauce by heating some olive oil in a pan, adding the pesto, and then simmering until heated through
Mixing cooked pasta with homemade or store-bought pesto sauce.
Add the pesto sauce to the pot of boiling water while cooking the pasta. You can also use pesto as a topping for pizza or grilled chicken.
Stuffing cooked pasta shells with a mix of pesto and ricotta cheese, then bake in the oven until hot and bubbly.
FAQs
What is pesto traditionally served with?
You typically serve pesto on pasta. Potatoes and string beans are traditionally added to the mix, and simmered in the same saucepan prepared by the pasta.
What protein goes well with pesto pasta?
Typically, chicken is the protein of choice with pesto. However, the dish can also be prepared using shrimp or salmon as a source of protein.
How do you pair pesto with pasta?
The best way to pair pesto with pasta is by adding cheese. Parmesan, feta, or ricotta are all excellent choices of cheeses that go well with this dish.
What side dish is good with pasta?
The best side dish to serve with pesto pasta is a salad. A simple green salad goes well with this meal and can be paired nicely by adding nuts or cheese for an extra flavoring boost.
Was this article helpful?