Jamie Oliver's Mayonnaise Recipe is a healthy, easy-to-prepare recipe for mayonnaise that includes whole eggs.
What is the whole egg mayonnaise recipe Jamie Oliver? It makes use of the egg yolk to emulsify the oil and vinegar into a creamy sauce. The result is light, fresh, tangy, and delicious!
What is Mayonnaise?
About Mayonnaise
Mayonnaise is a thick, creamy sauce made from oil, vinegar, and eggs. It is used as a condiment for salads, sandwiches, and other dishes.
How to Make Mayonnaise?
There are many different recipes for mayonnaise, but the original recipe includes some combination of egg yolk, oil, and vinegar.
The egg yolk helps to emulsify the oil and vinegar into a creamy sauce. This process traps air in tiny droplets throughout the mixture, giving it its light, fluffy texture.
The main difference between mayonnaise recipes is their ratio of egg yolk to other ingredients (oil and/or vinegar).
The more oil used relative to the amount of egg yolk, the thicker and creamier the mayonnaise will be.
Whole Egg Mayonnaise Recipe Jamie Oliver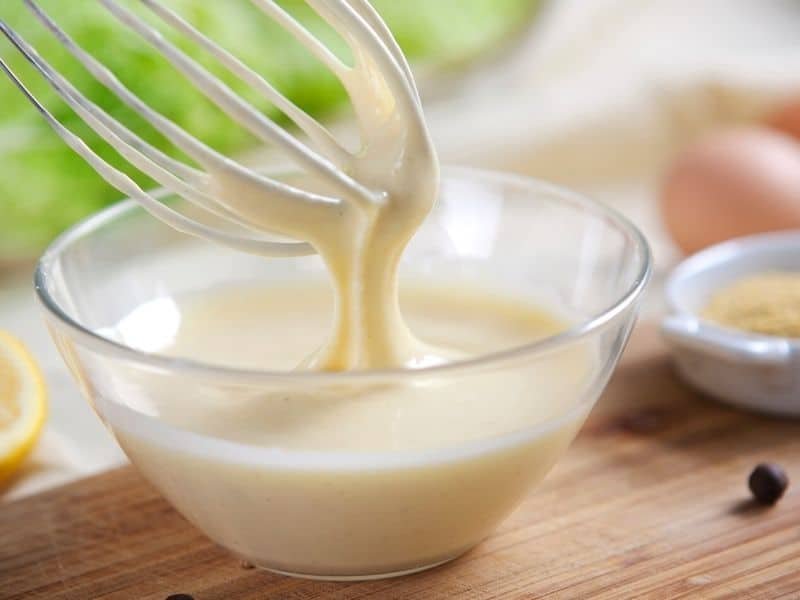 Basic Mayonnaise Recipe by Jamie Oliver
Jamie Oliver's Mayonnaise Recipe is a healthy, easy-to-prepare recipe for mayonnaise that includes whole eggs.
It makes use of the egg yolk to emulsify the oil and vinegar into a creamy sauce. The result is light, fresh, tangy, and delicious!
The key is whisking, whisking, and whisking.
"Mayonnaise is simply egg yolk, vinegar or lemon juice and oil… who regularly makes their own? 🙂 " Jamie said on his Twitter.
Ingredients
2 free-range egg yolks
1 heaped teaspoon Dijon mustard
500 ml mixed oils (use rapeseed and virgin olive oil)
1-2 tablespoons white wine vinegar
½ lemon
sea salt
Instructions
To a large clean bowl, add the egg yolks, mustard, and whisk until combined.
Add about half the oil in a thin, steady stream, whisking constantly for around 3 to 5 minutes, or until thickened.
Whisk in 1 tablespoon of vinegar after about half the oil has been added. This will lighten the mixture somewhat and give it a paler color.
Continue to gradually add the remaining oil, whisking continuously.
Season with a pinch of salt, a squeeze of lemon juice, and/or a touch more vinegar if necessary.
For storage, place in a clean jar in the fridge for up to a week.
Whole Egg Mayonnaise Recipe (In Food Processor or Blender)
If you don't like to waste any part of the eggs, you can also use the whole eggs for making mayonnaise. It's a bit different, but it works nicely.
Also, you can save time and energy by using a food processor or immersion blender instead of whisking and whisking by hands.
Ingredients
2 eggs (whole)
2 tablespoons vinegar (or 1 Tsp lemon juice)
1 tablespoon Dijon mustard
1/2 teaspoon salt (or to taste)
1/2 teaspoon pepper (white)
2 cups vegetable oil
Instructions
Immersion Blender Mayonnaise
Mix the ingredients in a mixing medium bowl, then pour into the blender.
Process on high speed until mayonnaise forms, usually taking only half a minute.
To be sure everything is completely mixed, move the blender up and down, in a circular motion, and around.
Taste the mayonnaise. Adjust salt or lemon juice, if desired.
If the mayonnaise is too thick, thin it with one teaspoon of very hot water at a time. If it's too runny, add a few extra drops of oil, little by little.
Food Processor Method
In a mixing glass, combine the eggs, vinegar, mustard, salt, and white pepper. Blend on slow speed until completely combined.
Increase the speed to high and slowly drizzle vegetable oil through the feeder tube until the mayonnaise is thick enough. The amount of oil required depends on how big the eggs were.
Season to taste, then add more lemon juice or vinegar if necessary. Blend briefly to combine any additions.
If the mayonnaise is too thick, add one teaspoon of hot water at a time with the motor running until it reaches the desired consistency.
Mayonnaise Recipe without Mustard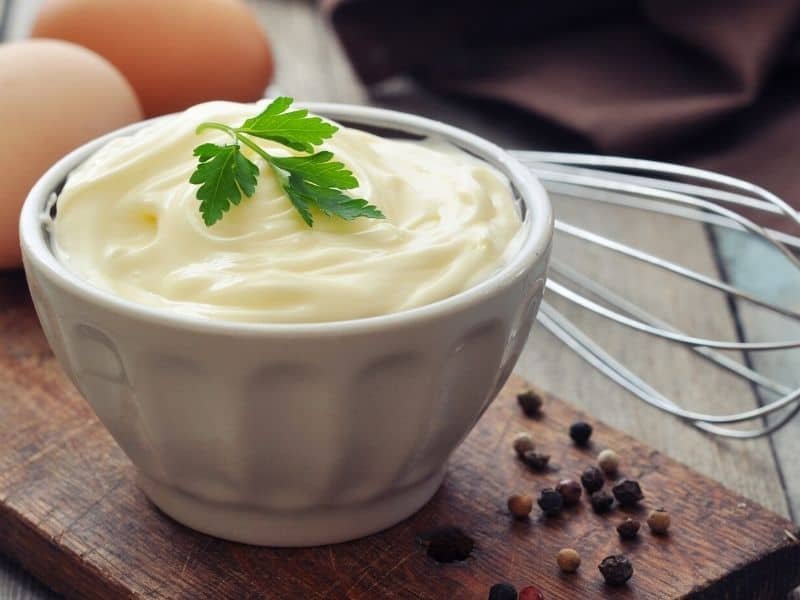 Not everyone loves mustard.
If you don't like the mustard's flavor, are allergic to it, or even just run out of it, don't worry. You can still make some delicious and thick mayonnaise.
Contrary to common belief, mustard is not always required in mayonnaises. Prepared mayonnaise from a store does not necessarily contain mustard.
In this instance, we employed cooked eggs to replicate the effect of mustard.
Ingredients
2 egg yolks
1 tbsp (15 ml) white wine vinegar
1 tbsp (15 ml) water
1 cup (250 ml) canola oil
1/2 clove garlic, finely chopped (optional)
Salt and pepper
Instructions
In a large heat-proof bowl over a double boiler of simmering water, whisk the egg yolks, vinegar, and water until thick, warm, and frothy. Do not overcook the egg yolks to avoid curdling.
Remove the bowl from the double boiler. Off the heat, gradually add about a third of the oil while whisking constantly.
Add the oil in a slow, steady stream while whisking constantly until the mayonnaise thickens. If desired, add the garlic.
Season with salt and pepper.
Pour into a sealable container and keep in the refrigerator for up to 1 week.
Tips
Tips for Making Mayonnaise
If you are concerned about eating raw eggs, buy pasteurized eggs. They are sold in the egg section of the grocery store. 
If you want to use blender, avoid using a regular blender, however, as it does not work as well. Use immersion blender instead.
If you don't like mustards, or even allergic to it, you can substitute it. For Dijon Mustard or Spicy Brown Mustard, you can use a small amount of prepared horseradish or Wasabi in its place.
One other secret is that you can use cooked egg to make mayonnaise without mustard. It can even solve the concerns regarding using raw eggs.
For extra flavor, try using some olive oil in place of vegetable oil or add a pinch of cayenne pepper.
Tips for Storage
Immediately store the homemade whole egg mayonnaise in a jar or plastic container in the refrigerator.
Discard unused homemade mayonnaise after 7-10 days.
Other Related Recipes by Jamie Oliver
Tartar Sauce
Tartar sauce is one sauce that uses mayonnaise. 
It's easy to make homemade tartar sauce. However, if you don't have time, store-bought tartar sauce is also delicate.
Tartar sauce is excellent for delicious recipes of fish & seafood, including salmon cakes, fish sticks, fish chips, fish fettuccine, fish pie, fish fingers, or any other seafood dishes.
Ingredients
1/2 medium size red onion
1 tsp capers
3 mini dill pickles
1/2 small bunch Italian or fresh parsley
1-2 lemons
4 oz mayonnaise
Instructions
Put first 4 ingredients into a food processor and pulse until roughly chopped.
Grate zest of half the lemon into the processor, cut lemon in half and put a good squeeze of fresh lemon juice in as well.
Add dollops of Mayonnaise, whip till combined, add sea salt and black pepper to taste.
For battered fish fillets, take ciabatta bread and whiz in a food processor till you like the consistency.
Add Olive oil to bread crumbs, salt and pepper to taste.
Wash fish, dip in flour, beaten eggs, and bread crumbs.
Fry in oil, use tartar sauce on fish to your taste.