There's nothing quite like a fresh, hot slice of pizza. But let's be honest—pizza isn't the healthiest meal. If you're looking for a healthier, quick, easy pizza alternative, look no further than your air fryer!
This air fryer pizza with pita bread is a delicious and simple way to satisfy your pizza cravings without all the guilt. You only need a few simple ingredients, and your air fryer does all the work.
So, what are you waiting for? Try this delicious pita bread pizza today!
Pita Bread Pizza
There are a few reasons why you might want to make pizza with pita bread.
For starters, it's a great way to use up leftover pita bread.
Pitas are usually store-bought, making them quicker and easier to prepare than traditional pizza crusts.
They're also smaller, which can be convenient if you serve a small group.
And finally, because they're made with whole wheat flour, pitas provide some extra fiber and nutrients that traditional pizza crusts don't.
How to Make Air Fryer Pizza with Pita Bread
Easy Recipe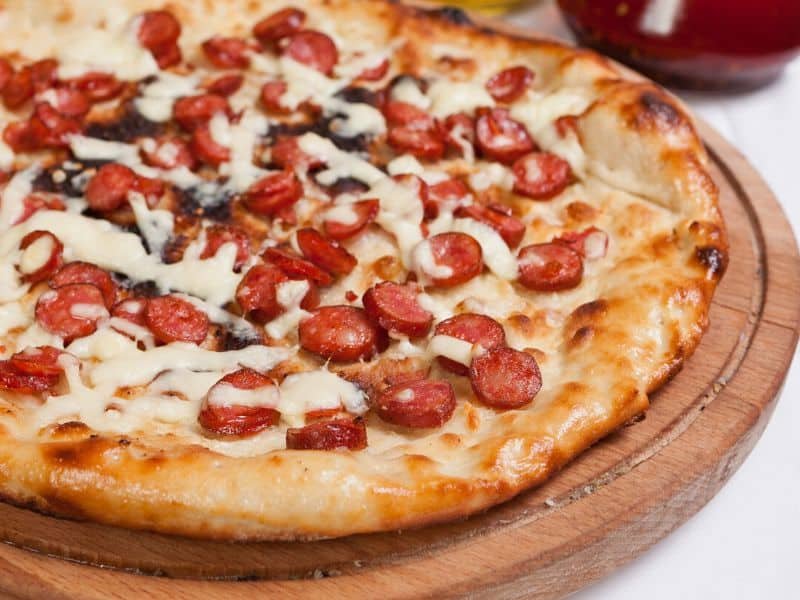 This recipe only takes a few minutes to prepare and cook, and it's a fraction of the calories of traditional pizza. Plus, it's a great way to use any leftover pita bread in the pantry.
Ingredients:
1 pita bread
1/4 cup tomato sauce
1/4 cup mozzarella cheese, shredded
1 tablespoon Parmesan cheese, grated
1 teaspoon Italian seasoning
1/8 teaspoon garlic powder
Pinch of salt and black pepper
Optional toppings: pepperoni, mushrooms, onions, peppers, olives
Instructions:
Preheat the air fryer to 400 degrees F.
Lay the pita bread flat in the bottom of your air fryer.
Spread the tomato sauce over the top, followed by the mozzarella cheese and Parmesan cheese.
Sprinkle with Italian seasoning, garlic powder, salt, and black pepper.
Add any desired toppings to the pizza, then close the air fryer lid.
Cook the pizza in your air fryer for 5-7 minutes at 400 degrees until golden and crispy.
Serve immediately, garnished with fresh herbs if desired.
Comparison: Taste and Texture
A few notable differences exist between pizza with pizza dough and pizza with pita bread.
The taste is going to be different. Pizza dough has a more yeasty flavor, while pita bread tastes more subtle, like a simple flatbread.
Texture-wise, pizza dough is more dense and chewy than pita bread, while pita bread is more light and fluffy.
Tips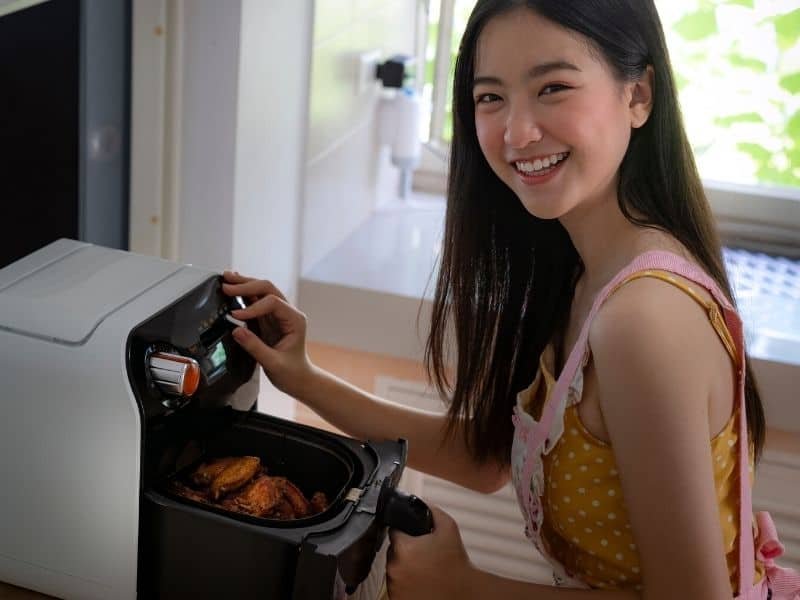 If you're making pita bread pizza for the first time, keep these tips in mind:
Don't overload your air fryer. The more surface area your pizza has, the quicker it will cook. Overloading it can also lead to uneven cooking and soggy pita bread.
Be sure to cook your pizza on the lowest rack of your air fryer, if possible. This will help prevent burning around the edges.
Don't forget to preheat your air fryer before you begin cooking! This ensures that your pizza will cook evenly and quickly.
FAQs
Can the pita bread fit in a small air fryer?
It all depends on the size and make of your pita bread. Some pitas are larger than others, so it's important that you measure your pita to ensure it will fit in your small air fryer.
If it is too large, you can always cut it in half or third to ensure it fits comfortably. Happy frying!
Can these pizzas be made without using pita bread?
Yes, you can make these pizzas without using pita bread. You could use a thinner crust like naan or lavash or spread the toppings on a flatbread.
How long does it take to cook the pizza in the air fryer?
The time it takes to cook the pizza in the air fryer will depend on the size and thickness of your pizza.
However, as a general guideline, I would say that it should take about 10-15 minutes to cook a pizza in an air fryer.
Can other toppings be added to the pizza?
Yes! You can add any toppings you like to your pizza. Some people prefer to keep their pizzas simple with cheese and pepperoni, while others like to add lots of different toppings, such as vegetables, meat, or seafood.
So feel free to experiment and see what you like the best.
Is there a vegetarian option for this recipe?
Yes, there is a vegetarian option for this recipe! To make your pizza vegetarian-friendly, omit the meat toppings and replace them with vegetables.
Some good options might include mushrooms, peppers, onions, or olives. Add enough cheese and seasoning so the pizza doesn't taste bland or dry.
Can leftovers be reheated in the air fryer?
Answer: Yes, you can reheat leftovers in the air fryer. The best way to do it is to place the leftovers in a single layer on a baking sheet, and then air fry them at 400 degrees for about 10 minutes.
Can these pizzas be made ahead of time and frozen for later use?
Yes, you can make these pizzas ahead of time and freeze them for later. Just wrap the pizza tightly in foil or plastic, so it doesn't dry out.
Then, when you are ready to reheat the pizza, stick it in the air fryer frozen and cook it according to your recipe's instructions.
Was this article helpful?