This blog post will discuss how to make perfect mini pavlova. These recipes for mini pavlova are a must-try if you love meringue, whipped cream, and fruit.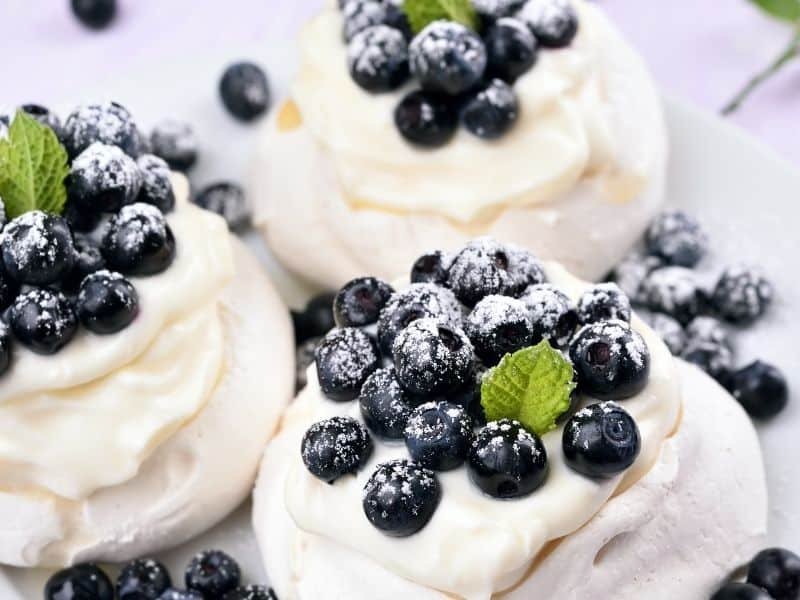 This little dessert packs a lot of flavors but it doesn't take too long to make. The best part about this recipe is that you can choose any type of fruit that's in season or your favorite kind!
What is A Mini Pavlova?
Pavlova is a classic dessert that originated in Australia. It's typically made with egg whites and sugar, whipped to stiff peaks before being baked in the oven until crisp on the outside and marshmallowy on the inside.
It can be served with whipped cream, fruit, and nuts but it is also possible to have a mini pavlova without the whipped cream or other toppings.
The mini version of this treat consists of meringue discs layered on top of one another and finished off with chocolate sauce and fresh fruit. This simple recipe proves how easy it can be to whip up an impressive-looking dish for your next gathering! 
In contrast to its larger counterpart, the mini pavlova requires less time to bake which makes it perfect for entertaining guests who are coming over quickly. Especially if you're short on oven space or cooking time. Even though they take less time than usual, these little pavlovas are just as mouthwatering.
What is the difference between a meringue and a pavlova?
Meringue and pavlova are both egg white desserts that use a similar process, but they differ in texture. While meringues have an airy crispness throughout, the inside of a pavlova is soft like marshmallows – not dry!
A Pavlova's crispy crust makes this dessert different from other sweet dishes so it's definitely worth trying to see for yourself how these differences really affect the taste.
Can I make a pavlova the day before?
The most important thing is that you don't refrigerate your Pavlova because then they'll lose their texture. They need at least an hour of rest before serving so be sure to take this into consideration
if you're making them in advance or plan on using those leftovers after a day's worth of fridge life has passed!
Why do you add vinegar and cornflour to Pavlova?
For making pavlova, use cornflour and vinegar as an insurance policy.
If you notice, most pavlova recipes add cornflour and something acidic. Often that is vinegar, but sometimes it is lemon juice or even cream of tartar.
Here is why: Adding starch and acid to the mixture helps make a more stable foam. This prevents many problems, such as when the mixture splits.
How long will Mini Pavlovas keep?
Undressed pavlovas can be kept in an airtight container for up to 1 day. (Martha Stewart)
Can Mini Pavlovas be Frozen?
Mini pavlovas are likely to have the same keeping qualities as a regular pavlova shell. If you store them in an airtight container in a cool, dry place then they're likely to last 1-2 days. However, if your environment is humid (especially during summer), these little goodies might only keep for one day!
When you freeze a meringue, it's important to make sure that they don't absorb any moisture when thawing because this will soften the outside and turn your dessert into mush.
Freezing is a great way to store your bread for up to 1 month. You should put them in airtight containers, layered with baking parchment (parchment paper), taking care not to crush them and freeze away!
For the best results, be sure to thaw your meringues before using them. They should take less than an hour and you'll want to use them as quickly as possible so they don't go bad!
Mini Pavlova Toppings
What are the options for Mini Pavlova Toppings? There are many different options you can use to top off your mini pavlovas.
Some of these toppings include fresh fruit, whipped cream or ice cream, chocolate or caramel sauce, and nuts. What is your favorite topping?
Mini Pavlova Nests
Mini pavlova nests are also called pavlova bases. They are basically the meringue nests of pavlovas.
A Pavlova nest is a sweet, fluffy, and light basket of dessert that is typically served as a show-stopping finale. It's composed of egg whites, sugar, cornflour (cornstarch), vinegar, or cream of tartar and vanilla extract.
Mini pavlova nests are easy to make. However, the process takes time. If you are looking for a quick and easy way of preparing this dish then the ready-made pavlova base or nests are available on the supermarket!
How to Pipe Mini Pavlovas?
Piping mini pavlovas are not as easy as it may seem. It's a long process with many steps. However, can be a fun and challenging task.
Here are some of the steps.
Use a Piping Bag
Use a large piping bag and add a large tip. Or you can just cut a corner in the bag and use that without a tip. Or, you can use a spoon. The bar is low for success with these things. They're all great.
Fill your piping bag using a spatula or large spoon. Twist the top and pipe your nests or cookies. Be warned, this part is a little messy.
Create Little Nests 
If you want to make little nests – or baskets – pipe small circles onto parchment paper and build up the walls a bit with a few extra twists of meringue. Move onto the next one. These can be created really quickly.
You can make these pretty close together because they don't really spread at all. They might rise a tiny bit.
Easy Mini Pavlova Recipe
Prep: 35 mins
Total: 2 hrs 45 mins
Yield: Makes 12
Ingredients
4 large egg whites, room temperature
Kosher salt
1 1/4 cups granulated sugar
1 teaspoon cornstarch
2 teaspoons white-wine vinegar
1 teaspoon pure vanilla extract
1 1/2 cups heavy cream
2 tablespoon confectioners' sugar
1 pint blueberries
Zest of 1 lemon
Methods
Step 1
Preheat your oven to 250 degrees with the racks in both thirds of the oven.
Trace 6 circles on each of 2 sheets of parchment paper using a 3-inch bowl or round cutter.
Transfer each sheet of paper to a baking sheet tracing-side down.
Step 2
In the bowl of an electric mixer fitted with a whisk, beat egg whites and salt until it creates soft peaks.
With the mixer running, add granulated sugar 1 tablespoon at a time.
Beat the egg whites until stiff and glossy, about 5 minutes more.
Sprinkle in cornstarch, vinegar, and vanilla; gently fold to combine.
Step 3
Using two spoons, scoop a mound of meringue in the center of each circled sheet of paper. 
Using a spoon, make an indentation in the center of each mound.
Transfer baking sheets to oven. Bake for 35-40 minutes until they are dry and firm but not browned, then take them out!
Turn off the oven and let meringues cool for 1 hour. Transfer to a wire rack to cool completely.
Step 4
Whisk cream and sugar until it forms soft peaks.
Top meringues with a dollop of whipped cream and a spoonful of blueberries.
Sprinkle lemon zest over the blueberries.
Serve immediately.